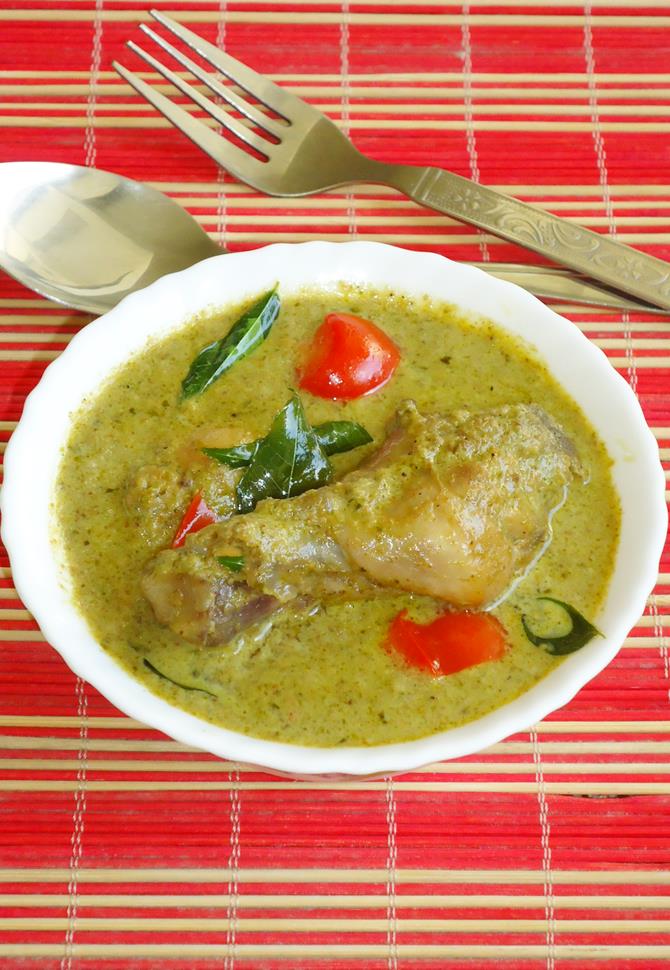 hariyali chicken recipe – a delicious green chicken curry made in Indian style. Chicken is cooked in spices and freshly ground green masala.Very flavorful and delicious gravy that pairs well with rice or any chicken biryani and a easy raita.
 
Most Asian countries have their own version of this green chicken curry, while Indian recipe calls for more hot and spicy ingredients. Many years. Back, I got a bunch of these Hariyali Murgh recipes from a Muslim friend's mom who originates from hyderabad. I do not know if it is a Andhra chicken recipe, but I had enjoyed this in their home for more than a decade during the festive occasions. What is special about this curry, is the simplicity when compared to the other chicken recipes.
 
hariyali chicken gravy has a great aroma of spices, coriander and mint. It is just finger licking good and is gentle to the stomach.
 
find the complete recipe of hariyali chicken below
hariyali chicken recipe - green chicken curry - hariyali murgh masala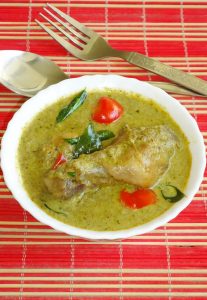 Ingredients (240 ml cup used)
300 gms chicken (bone-in or boneless)
1 cup water or thin coconut milk or 12 cashews ground to milk
¼ cup capsicum (optional)
1 sprig of curry leaves (optional)
½ tsp shahi jeera or cumin
1 tsp ginger garlic paste
1 tbsp. lemon juice
Salt to taste
2 tbsp. oil
Spices (to powder)
1 tbsp. Coriander seeds
1 small black cardamom
3 green cardamom
2 inch cinnamon stick
4 cloves
1 strand mace
½ small nutmeg
½ tsp cumin or shahi jeera
Few pepper corn
To Grind for making hariyali chicken
1 cup packed coriander leaves
½ cup packed mint leaves
⅓ cup of chopped onions
3 hot green chilies
½ tbsp. ginger garlic paste
How to make the recipe
Powder all the spices mentioned (to powder)
Add the ingredients under To Grind and grind to a smooth paste
Heat a pan with oil, add shahi jeera and curry leaves, sauté
Add chicken, fry till it turns white in color.
Cover and cook for 2 to 3 mins to release the moisture.
Add green masala paste, fry for 2 mins to get a nice aroma.
Cover and cook for another 2 mins, this way the aroma of green masala and spice is absorbed by the chicken. Add capsicum if using. Fry for another two minutes.
Add coconut milk or cashew milk, lemon juice & water if needed and salt. Cover and cook till the chicken is fully done and the desired consistency is achieved.
Serve hariyali chicken with Rice, roti or pulav.