Green chutney recipe for sandwiches, chaat and snacks. Recipe of green chutney was requested by few readers so sharing it. I have already shared this recipe on many snacks recipes to accompany them. Now since I am mentioning this most often in other recipes, thought of making this separate post. Green chutney is one of the healthiest addition and is used often in Indian cuisine as a side with snacks, sandwiches and also to make chaats. This chutney aids in good digestions and enhances the taste, aroma and nutrition of any dish .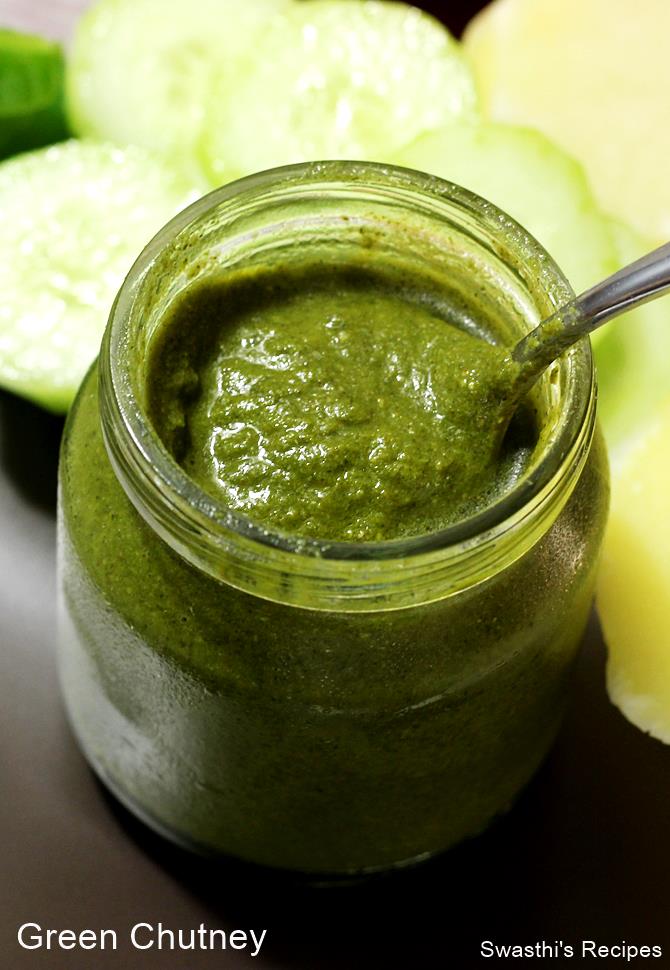 I usually make this when I plan to make wraps / kathi rolls, sandwiches, Indian style burgers or snacks. I store it in a glass jar, refrigerate and use up in the next 2 days. But I have seen a few of my friends freezing them in the Ice tray for about a month and using whenever needed. But nothing beats the aroma of the freshly ground mint, coriander, garlic, ginger and cumin which go into making of this flavorful chutney.
I made this green chutney sometime ago when I made the bombay veg sandwich for a weekend snack and the kathi rolls for dinner.
To make the best green chutney full of flavors, make sure you use fresh pudina and daniya/ coriander leaves.
You may like to check these snacks to enjoy with this chutney
Samosa
Aloo tikki
Veg cutlet
Bread rolls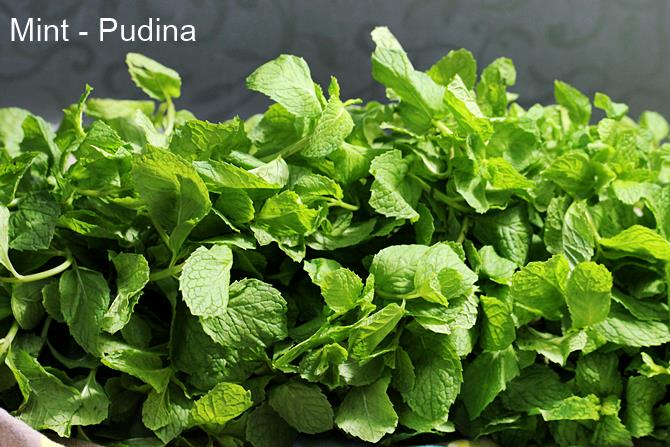 You can also check these Chutney recipes. Some of them are
Pudina chutney
Peanut chutney
Coconut chutney
How to make Green chutney recipe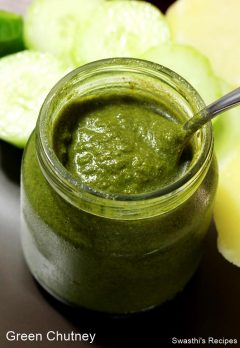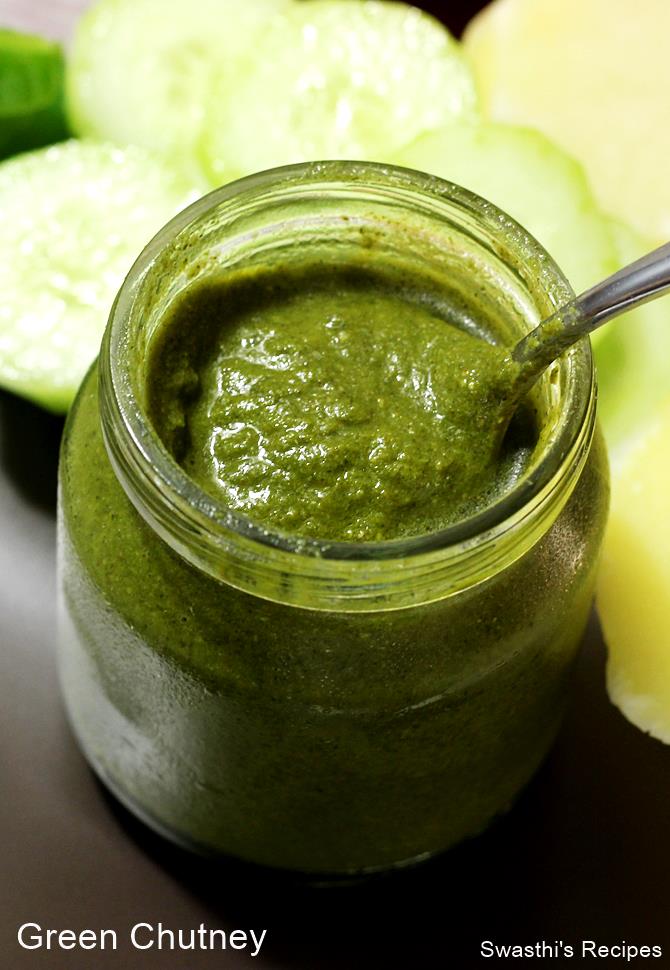 Green chutney recipe for sandwich, chaat and snacks
Green chutney to accompany Indian snacks, sandwiches and chaats. It is made with fresh herbs hence aids in good digestion.
Ingredients (240 ml cup used)
2

cups

coriander / daniya

1

cup

mint/ pudina

1.5 to 2

tbsp

dalia / fried gram (can replace with coconut)

1

tsp

cumin / jeera

2 to 4

hot green chilies (adjust as needed)

2

small garlic cloves / lahsun

¼ to ½

inch

ginger / adrak

1 to 1 ½

tbsp

Lemon juice or as needed

Salt as needed
How to make the recipe
Pluck mint and coriander leaves. Rinse them well in lot of water a few times. I spray some vinegar and leave for about 10 minutes. Then rinse well. Drain them well in a colander.

Add all the ingredients to a blender jar. Make a thick paste by adding 1 tbsp water at one time and blending until smooth.

Adjust salt, lemon juice and green chili to suit your taste.

Store this in a clean dry airtight glass jar. Refrigerate and use whenever needed. Use dry spoons to serve it. This green chutney keeps good for about a week in refrigerator and 1 month in freezer.
Nutrition Facts
Green chutney recipe for sandwich, chaat and snacks
Amount Per Serving
Calories 20
* Percent Daily Values are based on a 2000 calorie diet.