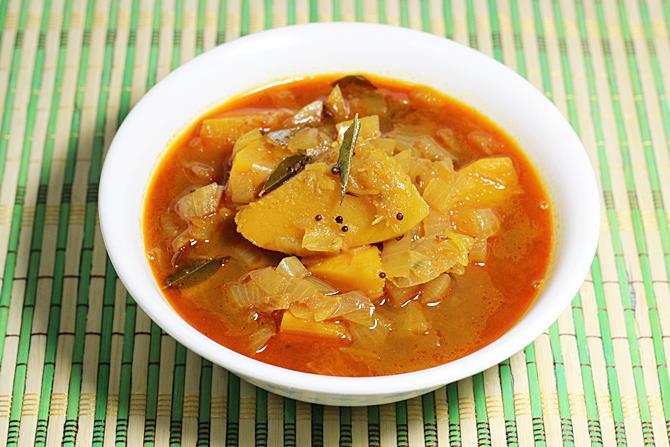 gummadikaya pulusu – pumkpkin is called as gummadikaya in telugu . Pulusu is a simple sweet, sour stew of andhra. pulusu made using gummadikaya is gummadikaya pulusu. It is served with rice and makes a comfort meal during summers.
 
Pulusu can be made with most vegetables like potato, drumstick, pumpkin, ladyfinger, yam, bottle gourd and ridge gourd. No garlic, no garam masala is needed for pulusu. Some folks use rice flour, methi powder or coriander powder to make the pulusu slightly thick.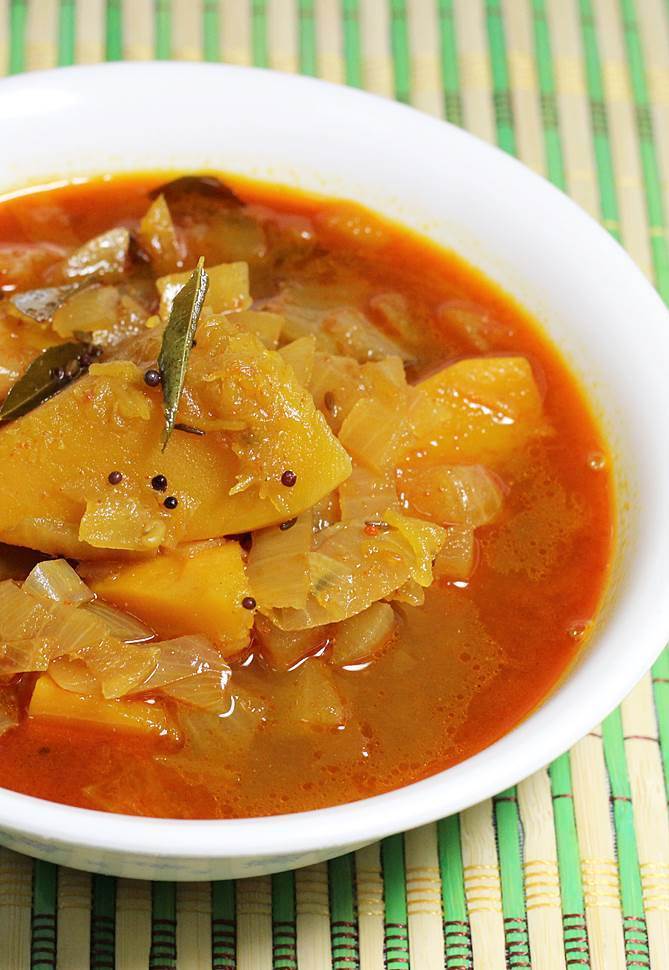 find complete recipe of gummadikaya pulusu below
gummadikaya pulusu recipe - andhra recipes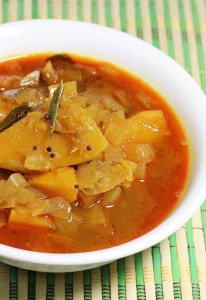 Ingredients (240 ml cup used)
1½ cup of cubed pumpkin pieces
1 green chili
½ cup of onions
1 sprig curry leaves
pinch of mustard
pinch of cumin / jeeera
pinch of fenugreek seeds / menthulu
tamarind juice as needed
1 tsp red chili powder(adjust as per your taste)
1 tsp coriander powder
grated jaggery as needed
salt to taste
coriander fistful chopped (optional)
Oil 2 tbsp
How to make the recipe
Wash and soak tamarind in warm water, squeeze and filter the thick juice.
Heat oil in a deep pan, add cumin, mustard and methi, when they begin to splutter add curry leaves and green chili. sauté for a min.
Add onions and sprinkle salt and fry till they turn slightly pink, needs no browning of onions
Add the pumpkin pieces, fry on high for 2 mins.
Add red chili powder, turmeric and fry for a min.
Add jaggery and pour the tamarind juice, mix, cover and cook on a low flame for 3 to 4 mins. this enhances the taste of the pumpkin pieces.
Add enough water to cover the pumpkin pieces , add coriander powder.
Cover and cook till pumpkin is fully done. cooking on a very low flame makes the pulusu tasty.
Off the heat and add coriander if using. Keep covered until served.
more pulusu recipes on the blog
bendakaya pulusu
kanda gadda pulusu
egg pulusu
sorakaya pulusu