Gutti vankaya recipe, gutti vankaya kura or curry recipe that I am sharing today is a popular stuffed egg plant curry from Andhra Cuisine and is often made in my home. It is the same as enne badanekai, a north Karnataka recipe. Sesame seeds are used in north Karnataka which I do not use, as I personally feel it does not add any special taste to this stuffed brinjal curry. You may also like this dry gutti vankaya fry. To make most stuffed brinjal recipes ingredients like onions peanuts, coconut, red chilis and mild spices are used.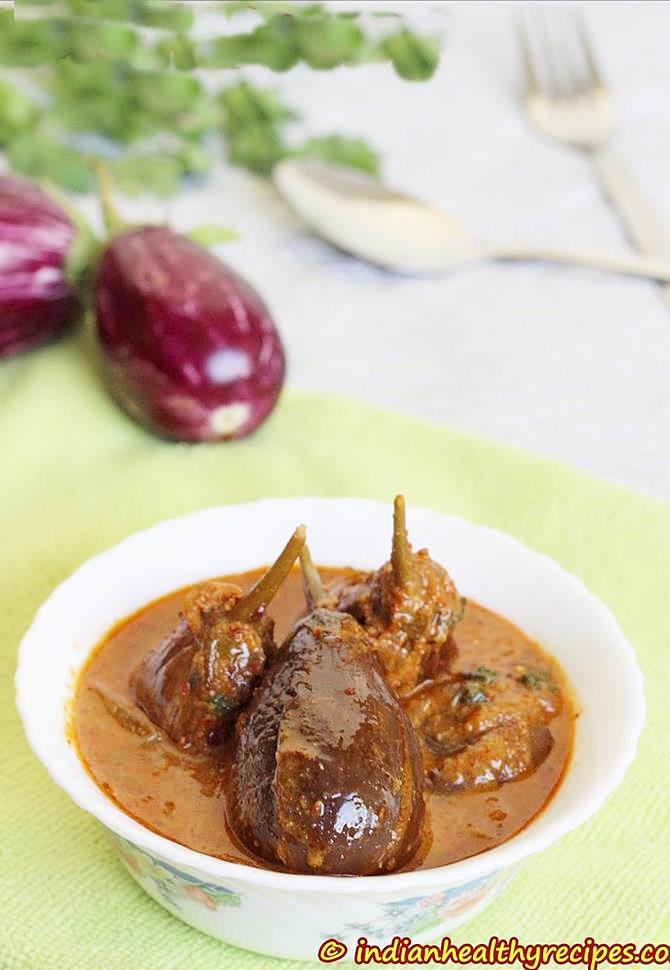 This andhra style brinjal curry goes perfectly well with white rice, chapathi or even with biryani. Yes, in tamil nadu, biryani is served with egg plant curry. Even in Hyderabadi cuisine, this bagara baingan / brinjal is served with biryani.
To make enne badanekai or nune vankaya, brinjal is first stuffed with masala and then shallow fried in oil. To make this healthy, i haven't used much oil, i just sauteed in little oil.
If you love brinjal, You may like this collection of brinjal recipes. For more brinjal curry recipes, you can also check Aloo baingan masala and simple Brinjal curry.
Find gutti vankaya curry or kura recipe below
Gutti vankaya kura or curry | Stuffed brinjal curry for biryani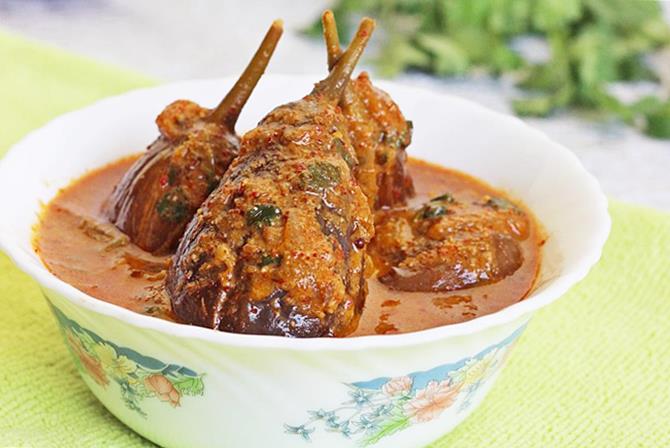 Gutti vankaya kura - Stuffed egg plant curry popularly known as gutti vankaya in andhra pradesh and enne badanekai in karnataka
Ingredients (240 ml cup used)
4 to 6 small young brinjals / vankayalu
1 tsp ginger garlic paste
¾ cup of thinly sliced onions
1 small onion chopped (optional)
2 green chili slit
1 to 1½ tbsp lemon juice or tamarind paste as needed
fistful of chopped coriander
a sprig curry leaves
¼ tsp mustard
¼ to ½ tsp cumin
2 tbsp oil
to roast and powder
4 tbsp peanuts
2 tbsp coconut desiccated or fresh coconut
1 to 2 tbsp sesame seeds / nuvvulu (optional)
1 tbsp coriander seeds
½ tsp cumin
1 small cinnamon stick (optional)
2 cloves (optional)
2 green cardamom (optional)
4 to 6 red chilies or 1 tsp red chili powder (use byadgi chilies if possible else any red chili pow)
How to make the recipe
Preparation
Roast and powder all the ingredients under to roast and powder. Each ingredient to be roasted separately/ add salt and lemon juice and mix well.
Wash and cut brinjals with one end of the brinjal and the stalk leaving intact.
keep them immersed in salted water till you use.
making gutti vankaya kura
Heat oil in a pan, add mustard, cumin and curry leaves,
Once they begin to splutter, add onions and green chilies, fry till they turn golden.
Add ginger garlic paste and fry until the raw smell goes away. Add chopped tomato, turmeric and salt. Cook until the tomato turns mushy. If needed cover and cook on a low heat.
Stuff the brinjals and add them to the pan and fry just for 2 to 3 minutes. Make sure the brinjals are coated with enough oil. do not burn
Pour water just enough to cook brinjals. Adjust salt. Cover and cook on a low to medium flame.
Once they are fully cooked and tender, add the finely chopped coriander leaves. cover and off the heat.
Serve gutti vankaya kura with rice or chapathi.
Notes
using some variety of red chilies lends a slightly bitter taste to the gravy. so if you do not have byadgi chilies, use the regular chili powder.
How to make stuffed brinjal curry for biryani
1. Dry roast red chilies and peanuts on a low to medium flame. Peanuts must turn golden, must be roasted well. Chilies must turn crisp. If using red chili powder, skip using chilies.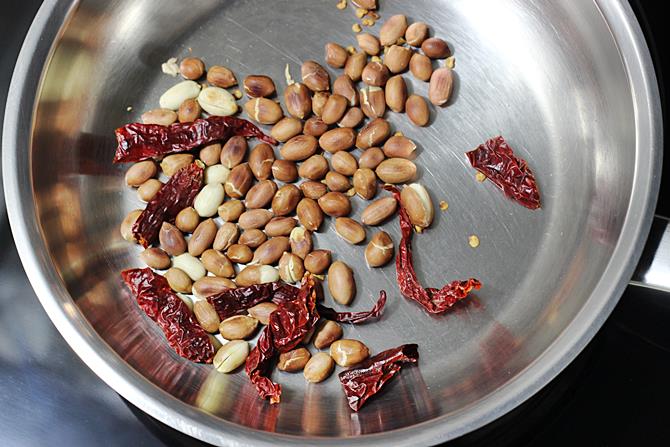 2. Lower the flame completely.Add coriander, cumin, cinnamon, cloves, cardamom. Toss for a minute without burning.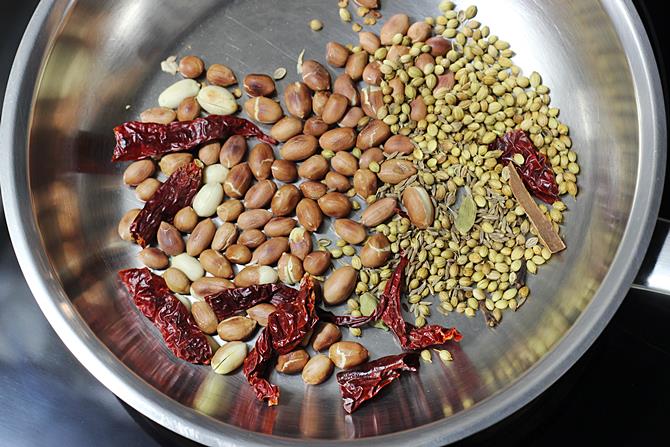 3. Add grated or chopped coconut. Saute until it turns aromatic.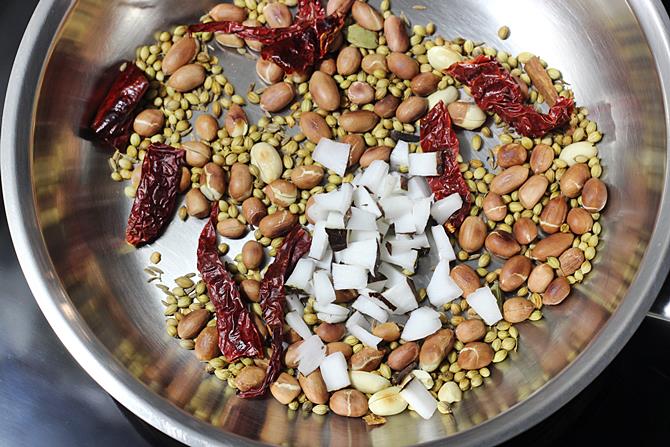 4. Wash brinjals and slit them diagonally with the stalks intact. Keep them in salted water till we use. Cool them and add to a blender with salt and lemon juice or tamarind paste.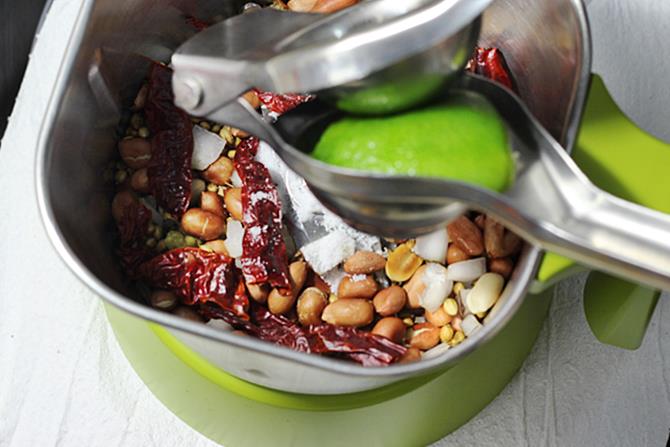 5. Blend well to a fine powder. Check the taste and if needed add more chili powder, salt or lemon juice.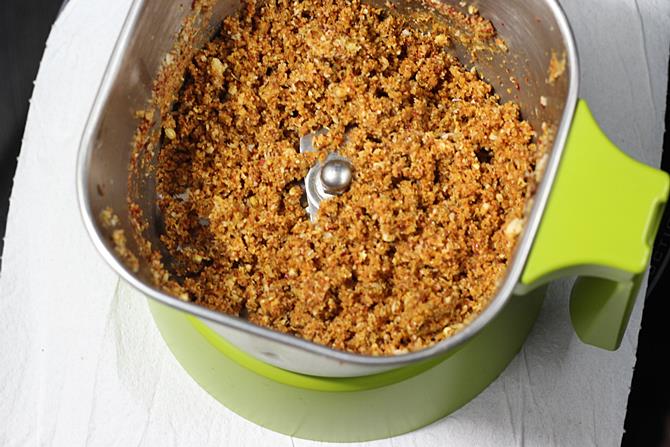 6. Stuff the brinjals with the ground powder.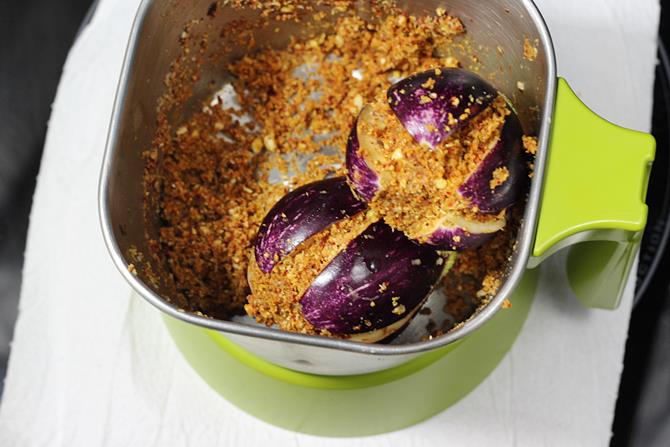 7. Heat a pan with oil. Splutter mustard and cumin. Add curry leaves and hing too.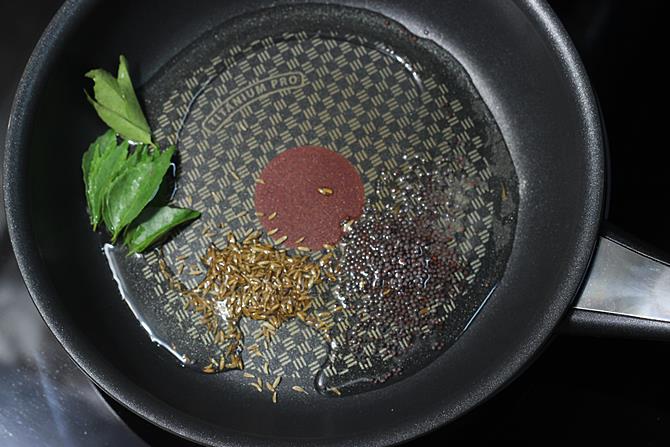 8. Add onions and slit green chili. Fry until they turn golden.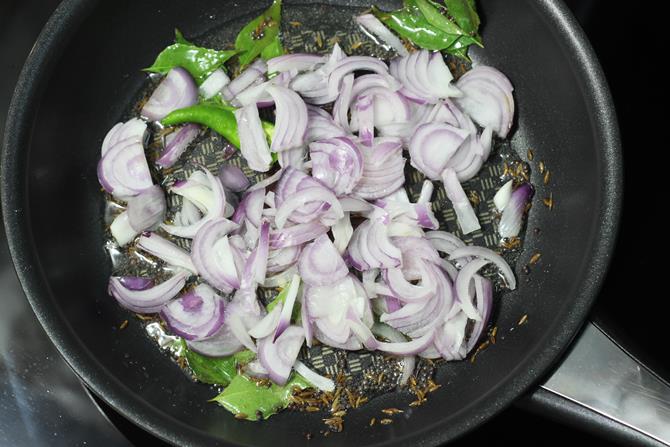 9. Add ginger garlic paste. Fry until the raw smell goes away.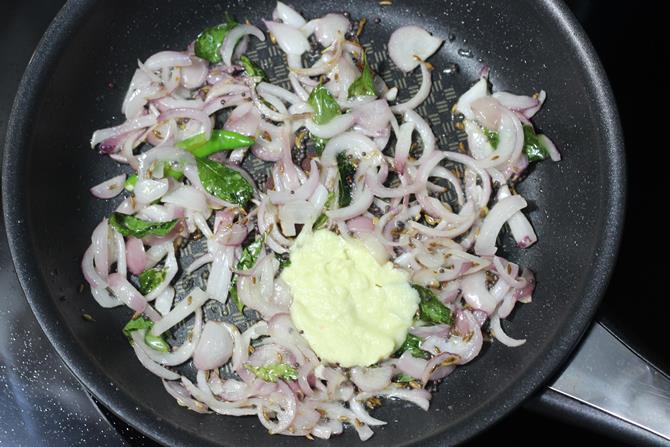 10. This step is optional. You can also skip using tomato. Add tomato, very little salt and turmeric. You can also add a bit of chili powder if desired.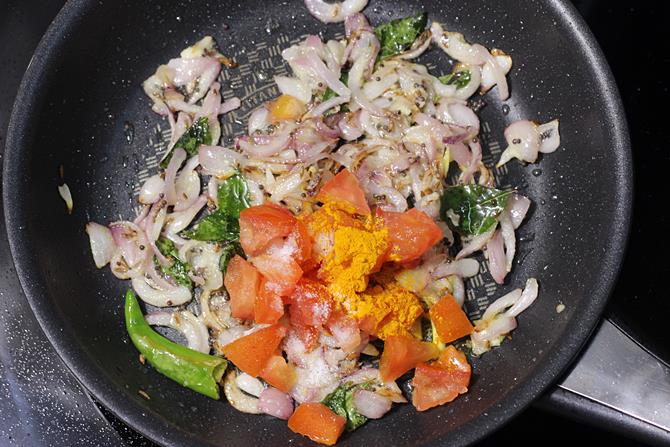 11. Saute until the tomatoes turn mushy and blend well with onions.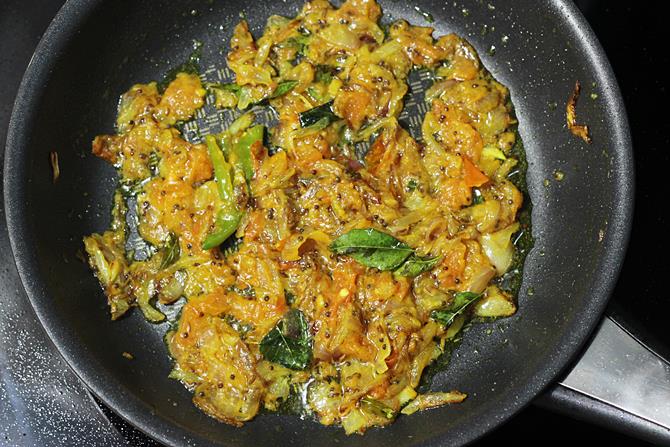 12. Add the stuffed brinjals. Saute them well for 2 to 3 mins.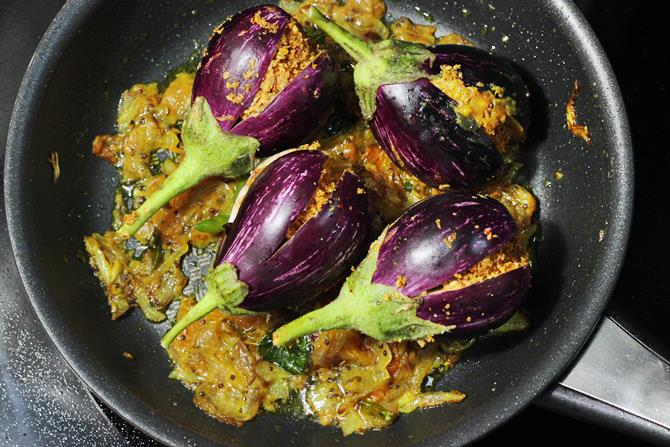 13. Add water just enough to cook them and make a gravy. If any powdered stuffing is left, you can add that now to the pan.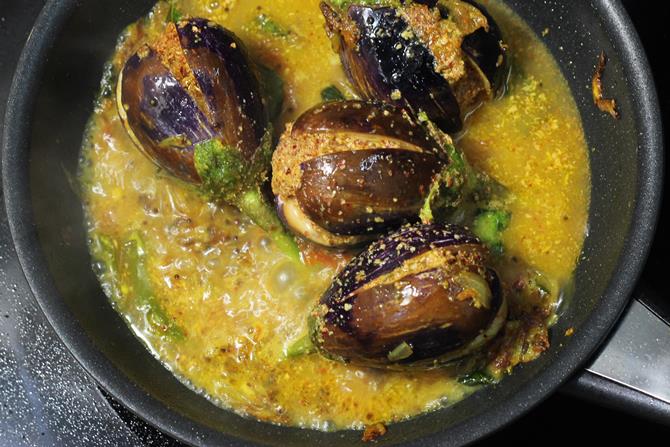 14. Cook covered on a low to medium heat, stirring occasionally. Adjust the amount of water to make thin gravy.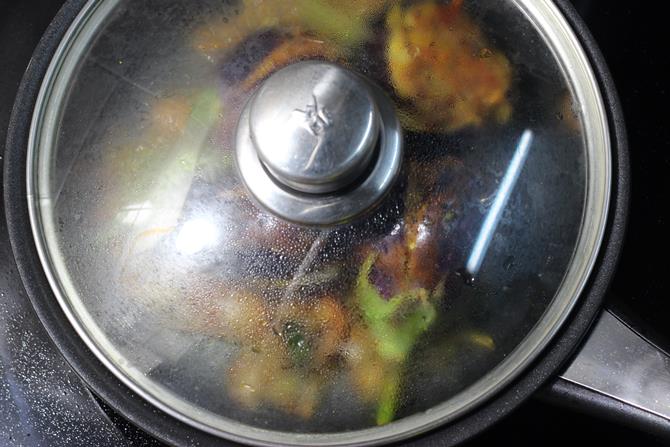 15. When the brinjals are wilted off completely and the skin looks loose, it means they are cooked well. Check the gravy and adjust the salt. Sprinkle coriander leaves.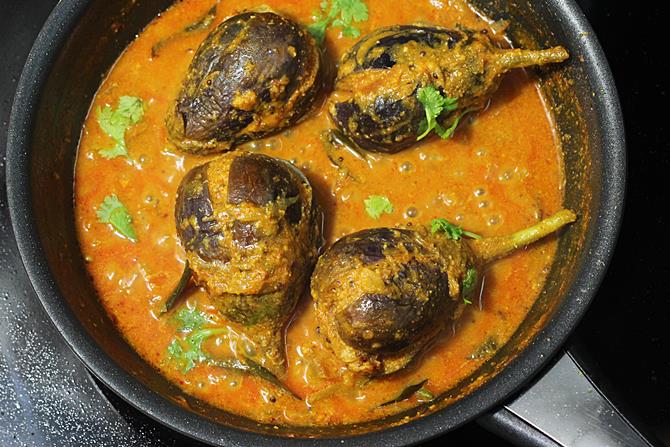 Serve gutti vankaya kura with rice, roti or plain biryani.