Hara bhara kabab recipe – A healthy & delicious Indian vegetarian snack made with spinach, potatoes and green peas. Kabab is a piece of meat or vegetable most commonly char grilled. Rajma kabab, soya kababs & hara bhara kabab are some of the vegetarian kabab that make a perfect snack, can also be served as a part of a meal. They are a quick energy booster suitable to all including toddlers. They can be served any time of the day.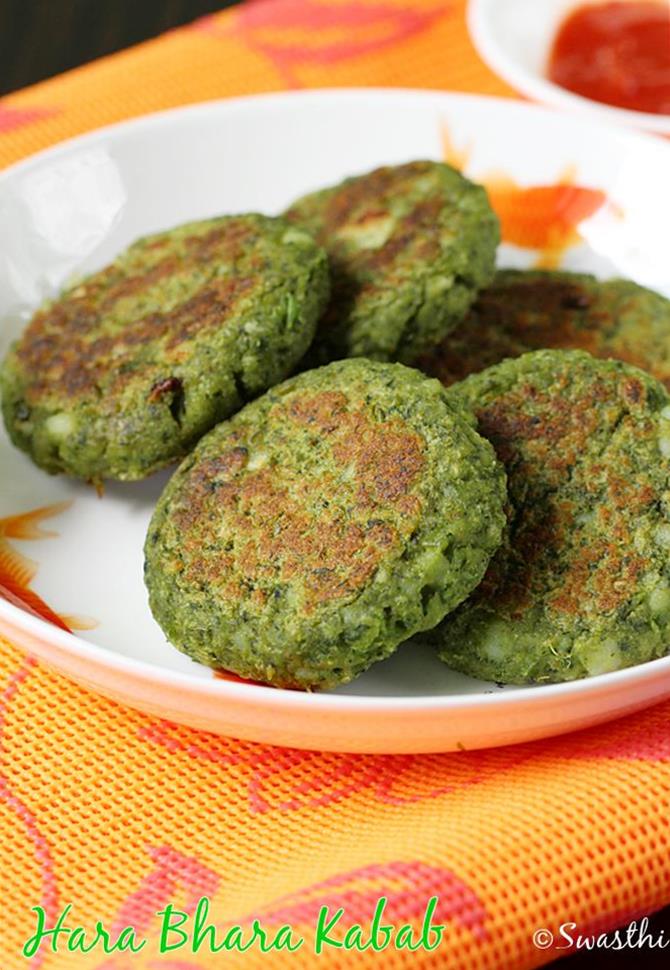 Hara bhara kabab are best when served just out of the pan since they are crispy and tend to loss the crispness when cooled down because they are not deep fried. Instead of deep frying, alternately these kababs can be baked.
For more kabab recipes, you can check
Veg seekh kabab
Chicken kebab
Reshmi kabab
You can also find more healthy snacks recipes here.
If you have kids who love burgers, they may like these hara bhara kabab as patties in veg burger with some tomato ketchup or eggless mayo. You can also make a yummy chaat by adding dates tamarind chutney and some sev, onions, tomatoes topped over it.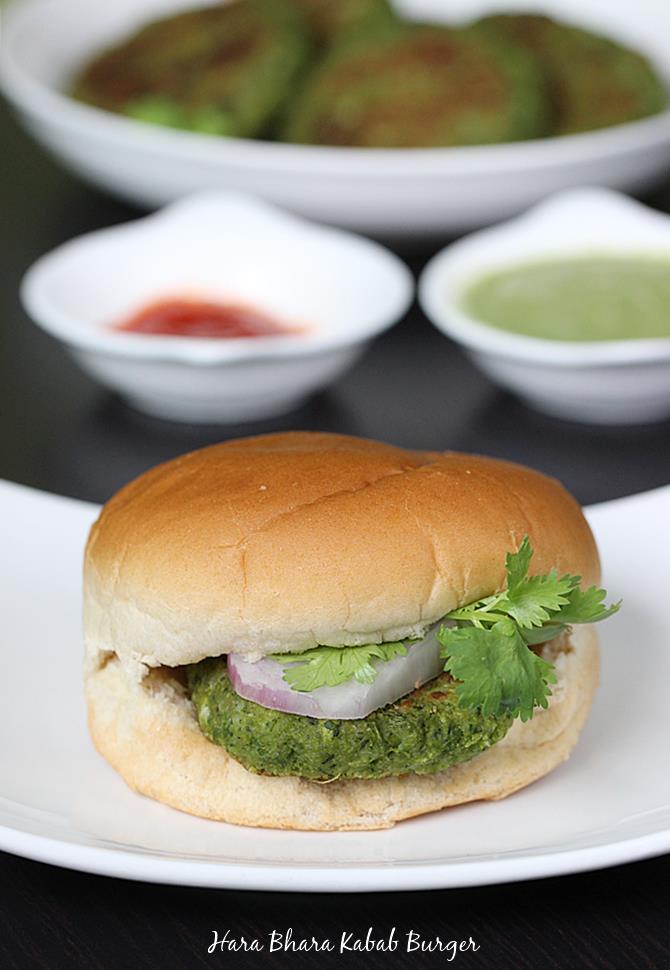 Hara bhara kabab recipe
Hara bhara kabab recipe | How to make hara bhara kabab | Veg kabab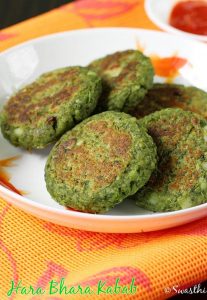 Hara bhara kabab are spinach patties made with mixed vegetables. They can be served as a snack or as a patty in veg burger
Ingredients (240 ml cup used)
300 grams potatoes
½ cup coriander leaves
1 cup green peas
1 to 3 green chilies
1 medium sized bunch palak (spinach bunch weighing 120 grams)
3 tbsp. besan / chickpea flour (can replace with bread crumbs)
¼ cup bread crumbs (optional, use if dough not stiff)
1 ½ tsp ginger garlic paste
salt as needed
½ tsp garam masala
¼ tsp amchur powder
2 to 3 tsp oil for frying
How to make the recipe
Prepration
Boil potatoes until just cooked. Make sure they are firm and not mushy.
Dry roast chickpea flour till it turns aromatic.
Blanch the spinach. Drain off completely. Make sure there is no water left otherwise kabab will turn soft.
saute ginger garlic paste in oil till the raw smell is gone. Add peas and chilies , stir fry until peas are cooked.
Saute the spice powders and salt. Cool completely.
Blend together peas mixture, spinach and coriander leaves to a smooth paste.
Mash the potatoes and add the ground paste, chickpea flour and mix to make a uniform non-sticky dough.
If the dough turns sticky, then add bread crumbs to absorb excess moisture.
Making hara bhara kabab
Make patties and fry on hot tawa till golden.
Serve hara bhara kabab with ketch up or chutney.
You may like to check this collection of
Palak recipes
. Some of the popular ones are
Palak paneer
Palak paratha
Dal palak
How to make hara bhara kabab with step by step photos
1. Boil potatoes in whatever way you prefer to. They should be just cooked and not mushy. I cooked in a pot with little water. You can steam them as well. Take care not to overcook. Once done, remove them with a slotted spoon to a colander to drain off any excess water. Reserve the stock if cooked in a pot.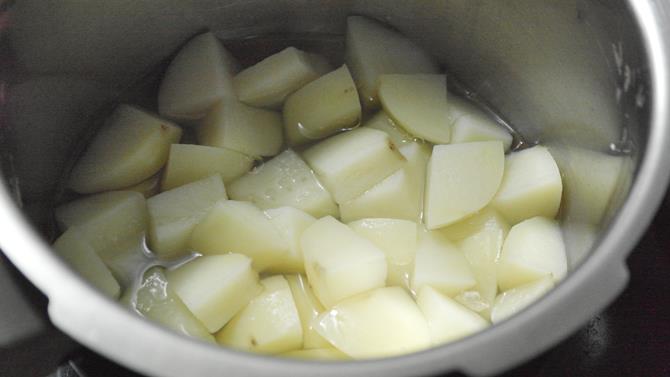 2. Fry besan/ chick pea flour till the raw smell is gone and you begin to smell the flour good. Transfer this to a plate to cool.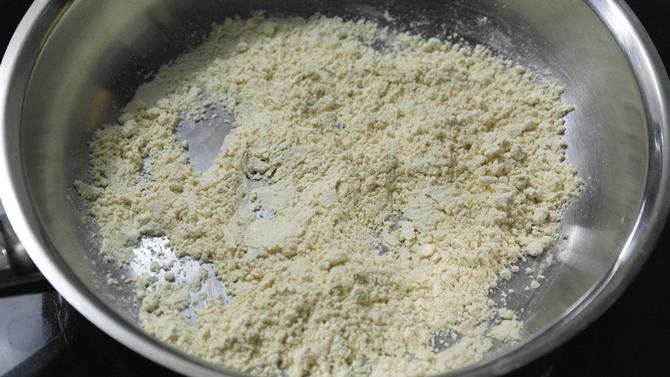 3. Add 1.5 tsps oil to a pan and fry ginger garlic paste till the raw smell is gone.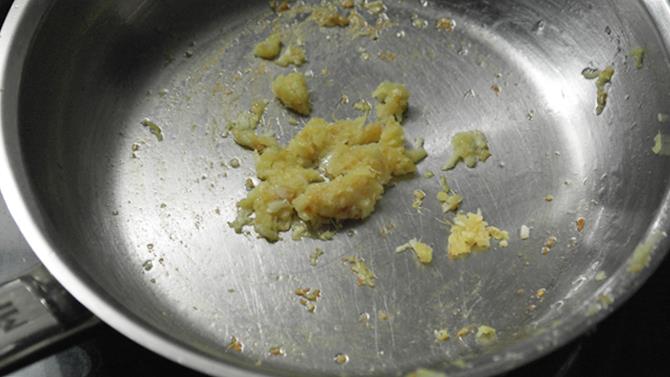 4. Add green peas and chilies. Fry for about 4 to 5 minutes. If the peas are not tender, you will have to cook for a little longer. Since we are not going to deep fry the patties, peas will not be cooked much further, so we need to cook until the raw smell of the peas is gone.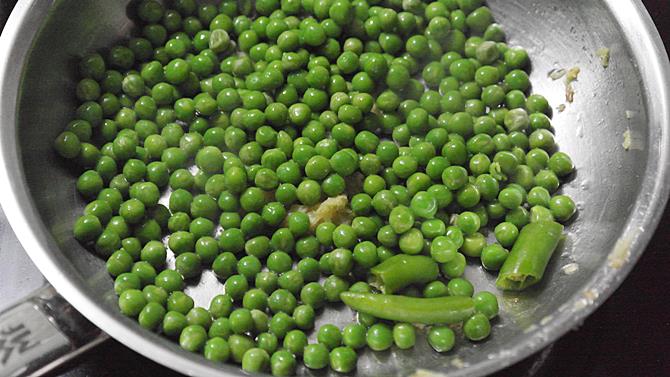 5. Add amchur, garam masala and salt. Stir it and saute for a minute. Set aside to cool completely.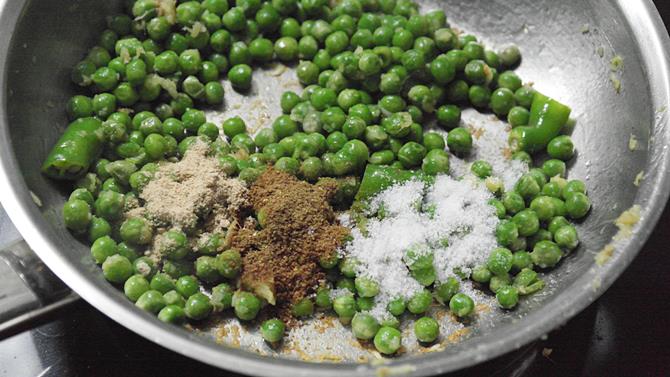 6. Clean and wash spinach several times. Bring little water to a boil and add spinach to the boiling water. I used the potato stock from step 1.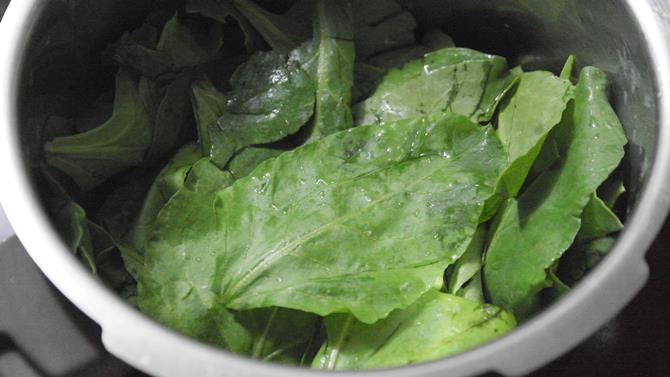 7. Boil it just for 2 minutes. Same here spinach doesn't get cooked much further in patties, so we need to boil for 2 minutes for the raw smell to go away.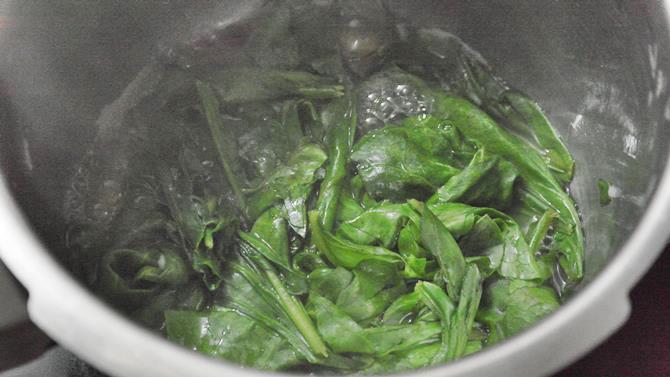 8. Immediately remove the spinach using a slotted spoon and add to a bowl filled with cold water. Drain off to a small colander. Discard the cold water. You can add the potato spinach stock to soups or refrigerate for further use.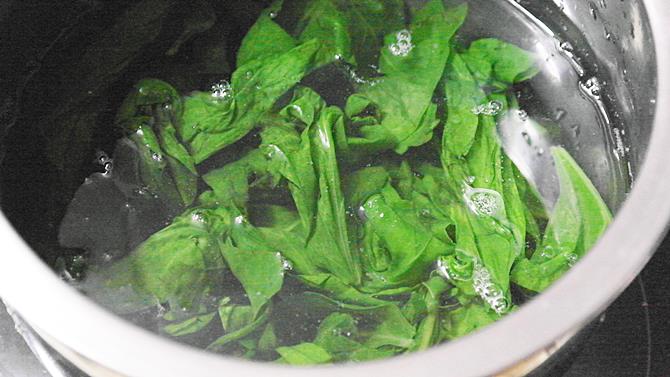 9. Add spinach, green peas masala and coriander leaves to a blender and blend till smooth.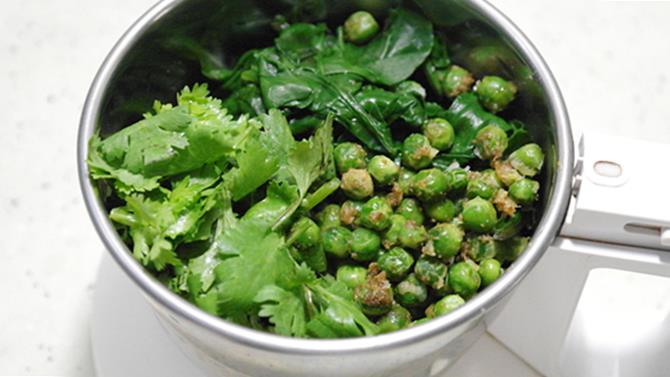 10. Mash the potatoes. my kids like tiny chunks of potatoes in the kebab so i left some tiny bits.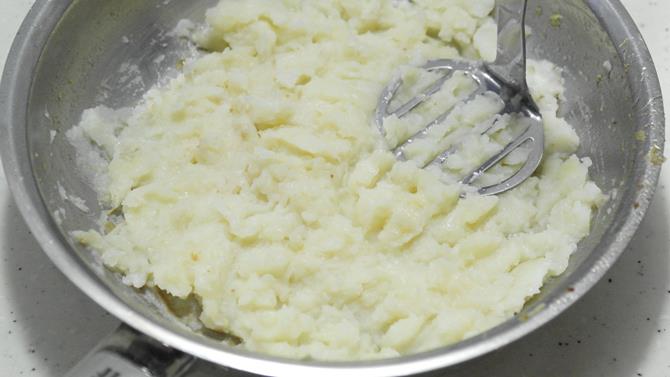 11. Add the pureed peas mixture and chick pea flour. If you do not have chick pea flour, you can replace it with dried bread crumbs. But flour lends a nice flavor.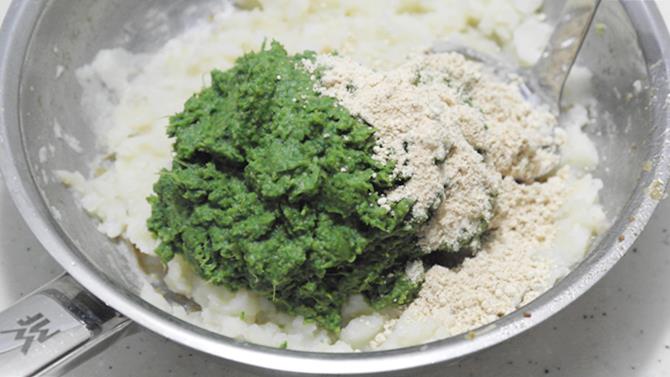 12. Mix everything well. You should get a fairly stiff dough otherwise the kebab will turn soft and soggy from inside. Add bread crumbs as needed if the mixture is not stiff enough or you want the patties to be very crispy.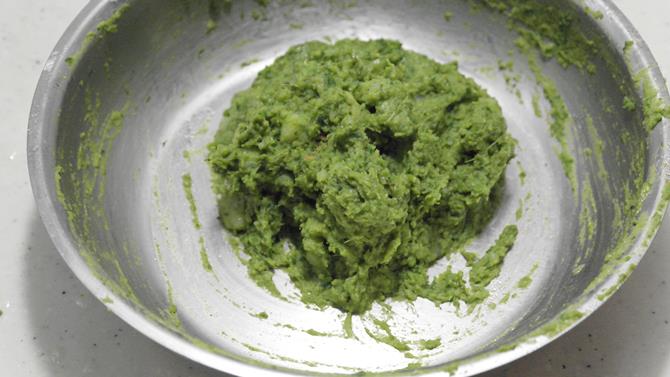 13. Heat a tawa and add 1 tbsp oil for each batch. Take small portions of the dough and make balls. Flatten them as needed. Fry on both the sides. You can even coat the patties in dry bread crumbs. Set the patties aside for 5 to 7 minutes for the crumbs to stick well.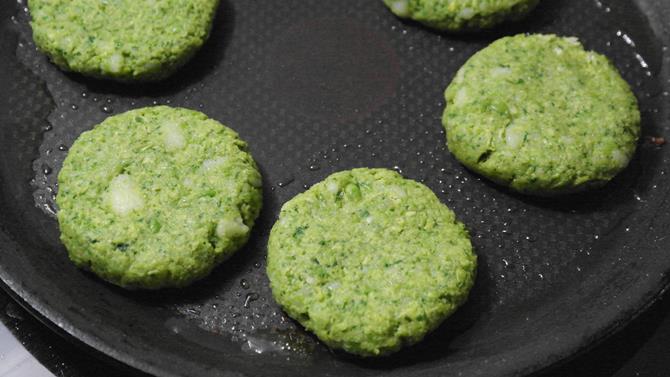 14. You may get a green colored to deep brown patties depending on the flame. A high flame yields fairly browned but crispy patties in little time. If frying on a low flame, you can prevent them from turning brown but takes a lot of time to make them crispy.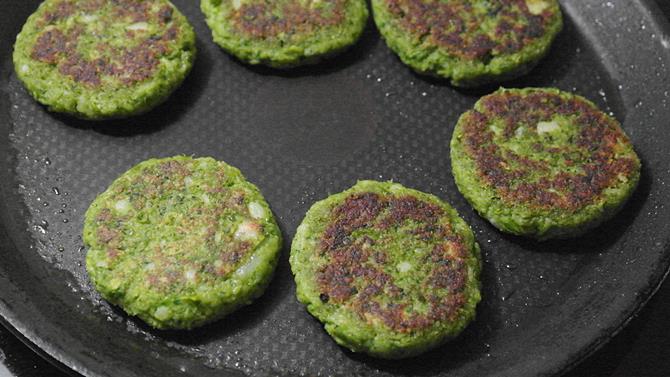 Serve hara bhara kabab with a sauce or chutney. We served with mint chutney and homemade tomato ketchup. These can also be served as patties to make a burger.