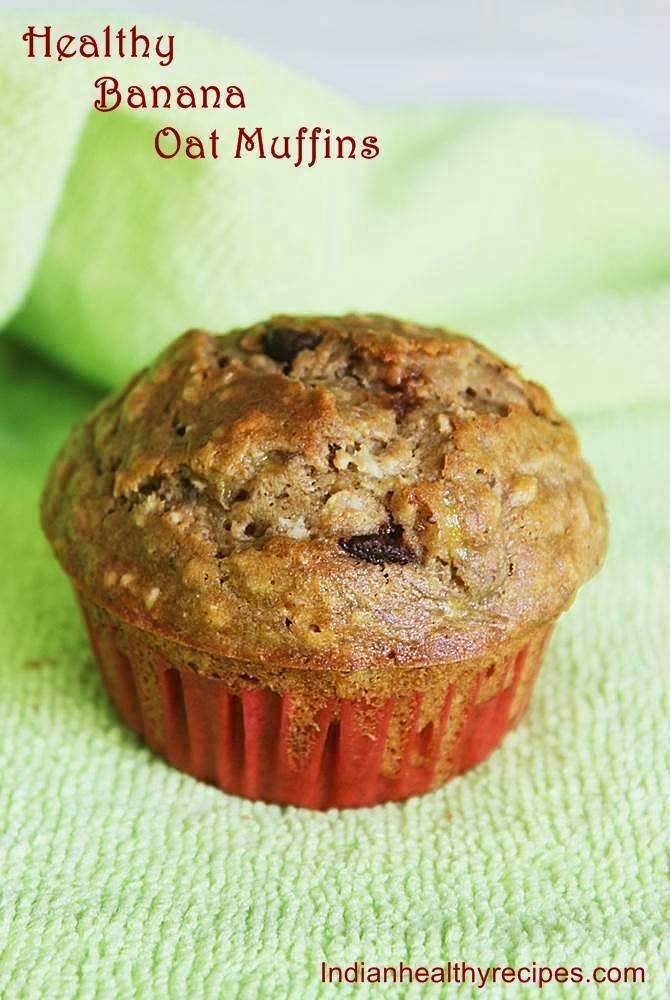 Healthy Banana Oat Muffins Recipe
These Banana Oat Muffins are one of the best and healthiest I have ever tried so far. They are so delicious, moist with a hint of cinnamon flavor that takes these muffins to the next level. They make a healthy breakfast with a cup of milk especially on a busy day. These freeze well and can be a good stand by when you run out of time to prepare breakfast. They are slightly chewy due to the oats but light.
 
Using buttermilk in place of milk gives a great fluffy texture to these. I have used choco chips, it is optional or you could even use chopped chocolate, raisins or nuts. I have reduced a bit of oil and added extra mashed banana, a small variation from the amount mentioned by Ria. So each muffin contains only 1 tsp of oil  and 2 tsps of coconut palm sugar.
 
I use refined coconut oil from MCT which works wonderfully for most of my bakes and deep fried foods.
 
more muffin recipes on the blog,
chocolate chip muffins
eggless banana chocolate muffins
 
step by step pictures on healthy banana oat muffins
1.In a bowl whisk together oats, flour, cinnamon, baking powder, soda, salt and sugar
2.In another large bowl, whisk together mashed banana, egg, oil, buttermilk and vanilla
3.Mix the wet and dry ingredients gently along with choco chips. Do not over mix, it makes the muffins harder
4.Fill the muffin cups till ¾ and bake them for 18 to 20 mins. A skewer inserted in the center must come out clean. Keep an eye on these after 15 minutes
5.After 5 minutes, transfer to a wire rack.
Healthy Banana Oat Muffins Recipe below
Healthy Banana Oat Muffins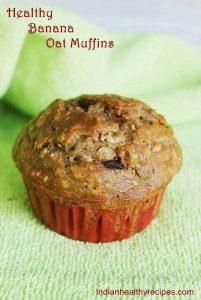 Healthy banana oatmeal muffins
Ingredients (240 ml cup used)
1 cup rolled oats
¾ cup wheat flour
¾ cup unbleached white flour or plain flour
½ cup coconut palm sugar or dark brown sugar or refined sugar (as always i went ahead using powdered coconut palm sugar)
2 tsps. Baking powder
¾ tsp. baking soda
Pinch of salt
¾ cup butter milk or plain milk (butter milk yields the best results)
1 egg
60 ml coconut oil or vegetable oil (4 tbsps. or ¼ cup)
1 cup mashed banana (I used 2 tbsps. more)
½ tsp. vanilla extract
⅛ tsp. cinnamon powder (do not miss this)
1 ½ to 2 tbsps. Choco chips or nuts or raisins(optional)
How to make the recipe
Preheat the oven to 400 F and line the muffin cups in a tin
Whisk together oats, flour, salt, baking powder,cinnamon, soda and sugar in a large bowl.
In another bowl, whisk mashed banana, buttermilk, egg, oil and vanilla
Next mix the dry and wet ingredients gently along with choco chips. Do not over do, it makes the muffins tough
Fill the muffin cups till ¾ and bake for 18 to 20 mins. Skewer inserted in the center should come out clean. Check after 15 minutes
After 5 minutes, transfer to a wire rack and cool