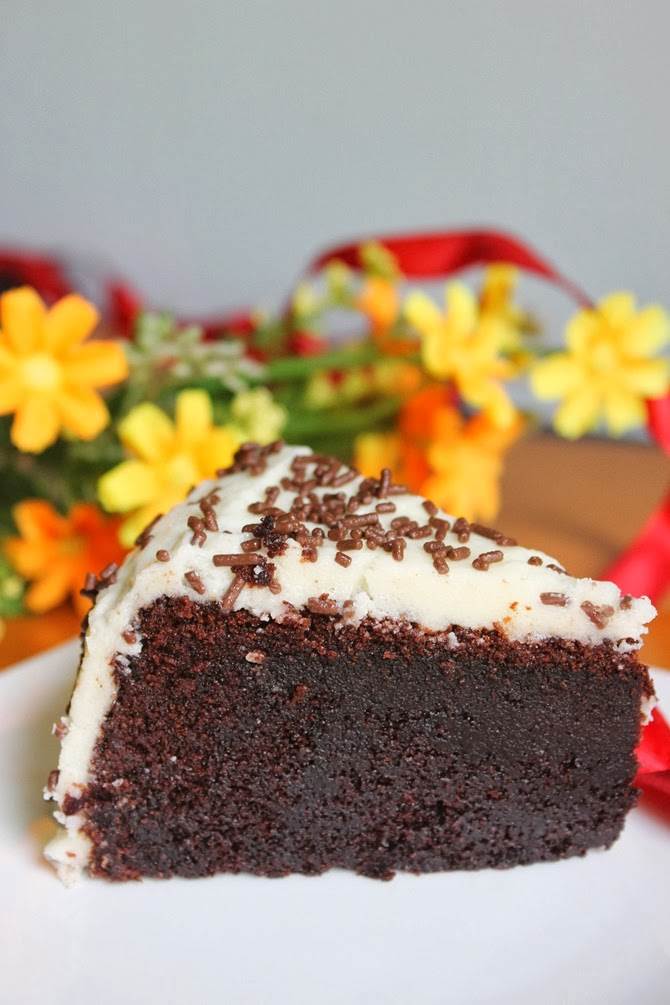 hershey's chocolate cake recipe
This is the only kind of chocolate cake that can mesmerize me and my kids with its deep chocolate flavor. It is one of the best among all other chocolate cake recipes, i have tried so far. It is a cake that is dense,moist and delicious. The best frosting to go with is the chocolate frosting but my kids preferred a butter cream frosting. I baked this dark chocolate cake for my son's birthday to make his day special since he is a chocolate lover. I prepared a butter cream frosting and handed it to the hubby and kids to frost and I got to see this hotchpotch frosting with in few minutes.
 
how to make hersheys chocolate cake recipe
1.Preheat the oven to 170 C for at least 15 mins
2.Grease a cake pan and drizzle some cocoa
3.Mix well sugar, flour, cocoa, baking powder, baking soda and salt.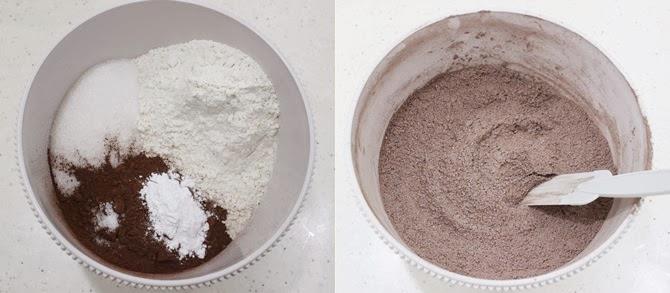 4.In a bowl, add eggs, milk, oil, vanilla and hot water. Mix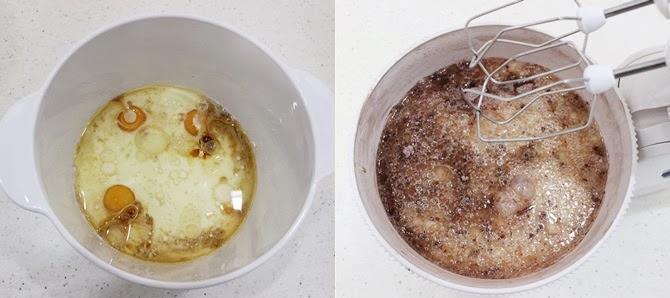 5.Add the wet ingredients to the dry ingredients and run the mixer on a medium speed for 2 mins. The resulting mix will be very runny, just go ahead it is normal.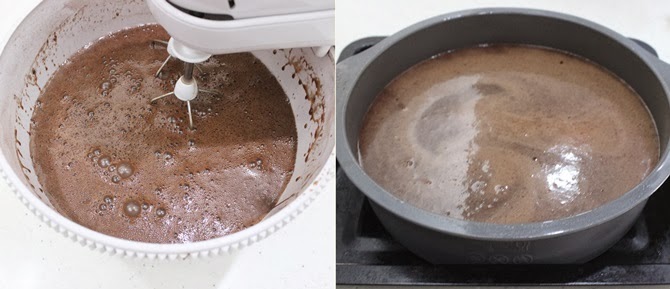 6.Pour this to the greased pan and bake for 40 to 50 mins. A skewer inserted must come out clean. However I don't get it clean. I put it out of the oven when I see slight crumbs over the skewer. After 30 mins, i cover the pan with a foil to prevent the top being over baked while inside it is still undone.
7.After 10 mins, transfer to a wire rack. Cool it completely and then frost it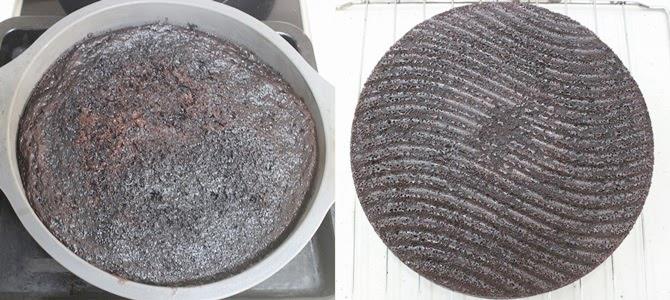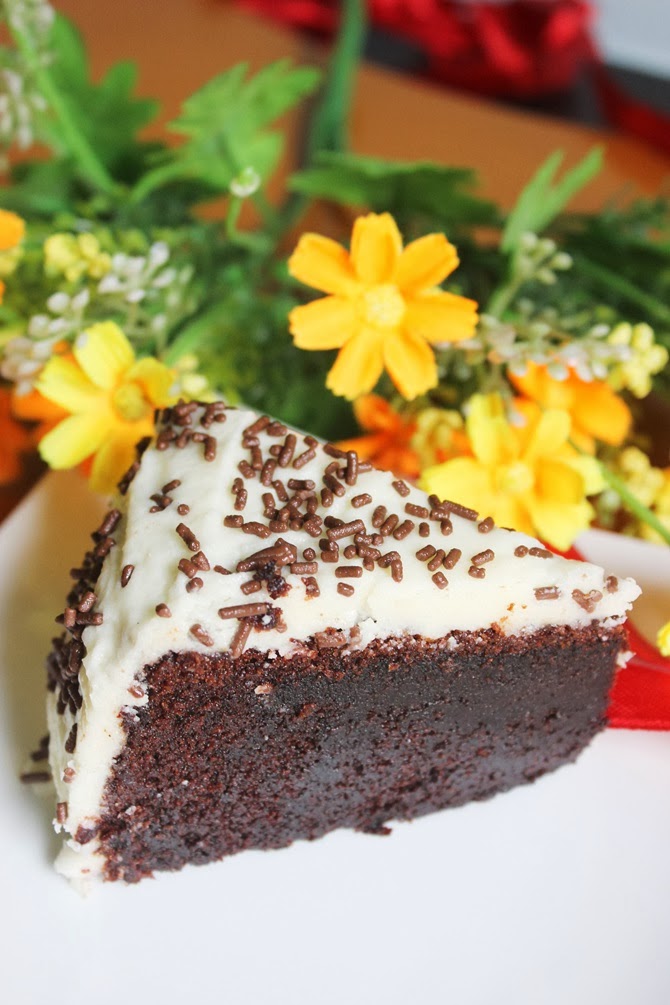 hersheys chocolate cake recipe below
hersheys chocolate cake recipe, how to make chocolate cake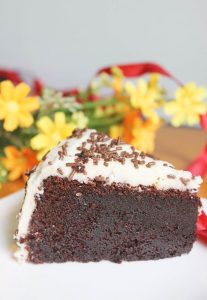 hersheys chocolate cake recipe from hershey
Ingredients (240 ml cup used)
240 ml cup used
2 cups sugar
1-3/4 cups all-purpose flour
¾ cup Cocoa powder (I reduce 2 to 3 tbsps. cocoa)
1-1/2 teaspoons baking powder
1-1/2 teaspoons baking soda
Generous pinch of salt
2 large eggs (I use 3 small eggs)
1 cup milk (I use whole milk)
½ cup vegetable oil (I use additional 3 tbsps. Oil) (I use melted refined coconut oil)
2 teaspoons vanilla extract
1 cup boiling water
How to make the recipe
Grease a cake pan and drizzle some cocoa lightly and evenly.
Preheat the oven for at least 15 mins at 170 C
Mix well sugar, baking powder, flour, cocoa,baking soda and salt.
In another large bowl, add eggs, vanilla,milk, oil,and hot water. Mix
Pour the wet ingredients over the dry ingredients and run the mixer on a medium speed for 2 mins.Batter will be very runny and thats fine.
Transfer the batter to the greased pan and bake for 40 to 50 mins. A skewer inserted has to come out clean or with slight crumbles.
While baking after 25 mins, you could cover the pan with a foil to prevent the top being over baked while the inside is still undone.
once the cake is finished baking, put it out of the oven and leave it for 10 mins in the pan, later transfer to a wire rack. Cool it completely and go ahead frosting
Notes
I have been baking this for several years and these come from my experience else the cake could come out dry and crumbly.

1.This recipe does not work with 2 small eggs. Note that 2 large eggs or 3 small eggs are needed

2.It is a deep dark chocolate cake. Even half a cup of cocoa would work fine. If u don't like deep chocolate flavor, can reduce the cocoa to your liking. I usually reduce 2 to 3 tbsps of cocoa from what is mentioned below in the ingredients list.

3.I also like to use additional 3 tbsps. Oil than what is mentioned in the Hershey's original recipe which otherwise yields a dry cake.

4.I have never tried this with low fat milk

5.After 25 mins, i cover the pan with a foil to prevent the top being over baked while inside it is still undone
I had baked 2 cakes and few cupcakes too. The cupcakes were gobbled up while they were still warm and didn't get to take the pictures. You can half the recipe and make cupcakes too. For more details on the pan sizes and chocolate frosting you could check out the original recipe here from
hershey's
for more easy cake recipes, check
simple chocolate cake
simple butter cake recipe
chocolate poke cake with coconut cream
chocolate coconut cake