Biryani masala powder recipe – This homemade masala powder can be used to prepare any kind of Biryani like a hyderabadi veg dum biryani or a simple chicken hyderabadi biryani. It can also be used to make chicken curry of your choice. Todays markets are flooded with ready made powders and masalas that many buy them instead of preparing at home.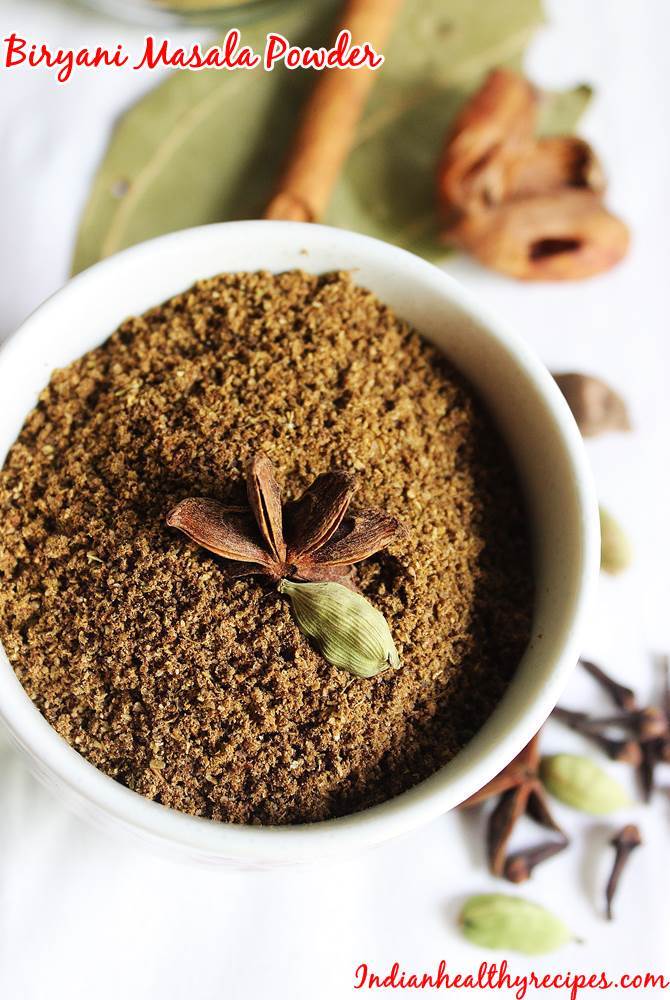 But making biryani masala powder at home is very easy. The aroma of fresh homemade spice powder is always superior to the store bought ones. It can be prepared in bulk and freezed. It lasts for an year, if packed in separate containers or foils and handled with moist free spoons and hands.
For years i had been hunting for a good homemade biryani masala powder recipe that is suitable for home cooking that is not very pungent nor very spicy but should have a good and moderate aroma of spices. This recipe has been updated overtime for making it better.
The original recipe that many of my blogger friends have tried from my blog is still the same except that i have added new ingredients to make it the best. To reduce your dish from becoming pungent, use in moderate quantities.
To retain the aroma of the biryani masala powder , make small packs of the powder using foil or freezer safe jars and freeze them. Open and use them one after the other when you need it. You can even mill the ingredients which is often the best. Please stick on to the quantity of ingredients mentioned for best results.
More Masala powder recipes on the blog
Punjabi garam masala powder
Sambar powder
Pav bhaji masala powder
Simple garam masala powder
Ingredients or spices used to make biryani masala or chicken masala powder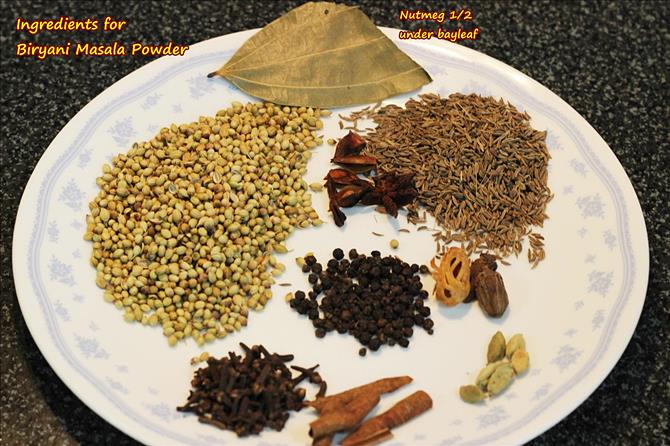 Homemade biryani masala powder recipe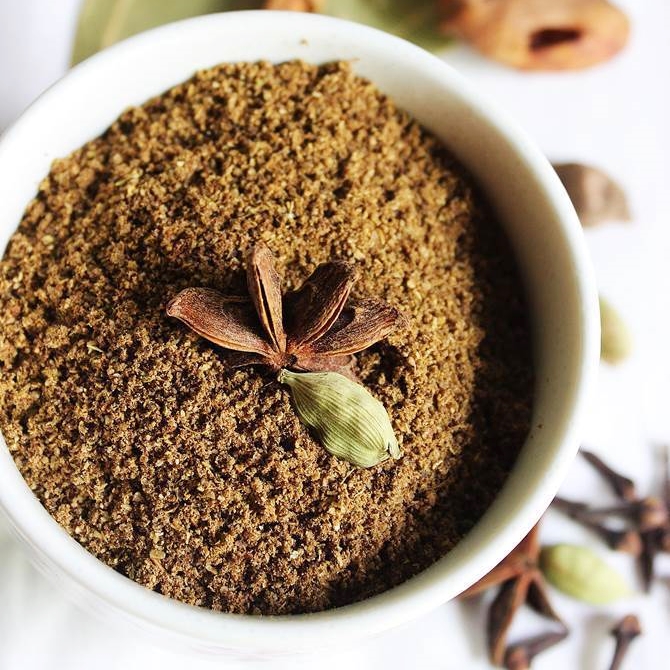 Biryani masala powder recipe | How to make biryani masala recipe
Biryani masala powder or chicken masala powder, a spice mix that is used to prepare fragrant biryani rice like chicken biryani or vegetable biryani. It can also be used to make chicken masala curry
Ingredients (240 ml cup used)
1

bay leaf or tej patta

1 ½

tsp

saunf or fennel seeds or sompu or sombhu

2

star anise or biryani flower

10 to 12

Green cardamom or elaichi

2

Black cardamom or badi elaichi

1

tsp.

Pepper corn or kali mirch

5

two inch cinnamon sticks or dalchini

1

tbsp

cloves or lavang

4

tbsps

Coriander seeds or sabut daniya

2

tbsps

Shahi jeera

1

Mace flower or strands from 1 flower or javitri

½

tsp

grated Nutmeg or jaiphal

3

medium sized stone flowers or kalpaasi or dagad phool
How to make the recipe
Clean up the spices one after the other to pick and discard stones and debris.

On a low flame, dry roast the spices each separately until they begin to smell good. You can skip roasting and just sun dry them for few hours until crisp.

Cool them completely.

Blend them in a blender jar. They can also be milled to a fine powder.

Sieve and store biryani masala powder in an airtight glass jar.

Use biryani masala powder as needed while making any kind of biryani. To make chicken masala curry, use as needed based on the recipe.
Recipe Notes
Left over coarse powder after sieving can be used for curries or for making masala tea. Do not use coarse masala for making biryani as it totally spoils your dish.
Roasting and sun drying are done to bring out the aroma of the spices and to prevent the masala powder from getting worms or going rancid. If you are going to refrigerate the powder, you can skip the roasting part. i just take my spices right from the freezer , measure and make the powder. The powder warms up on its own by the time it is fine powdered.
Saunf or fennel seeds can be increased to 1 to 1.5 tbsps. if you like the flavor.
Nutrition Facts
Biryani masala powder recipe | How to make biryani masala recipe
Amount Per Serving
Calories 234
Calories from Fat 72
% Daily Value*
Total Fat 8g 12%
Sodium 26mg 1%
Potassium 741mg 21%
Total Carbohydrates 49g 16%
Protein 8g 16%
* Percent Daily Values are based on a 2000 calorie diet.
How to make biryani masala powder at home
1. Dry roast the spices one after the other on a low flame to prevent burning them. You could sun dry too instead of roasting or you could totally skip the process of roasting as i sometimes do and i find no difference.
2. Cool the spices and powder in a blender or you can mill it, sieve and store in an airtight jar. I powder the left over again and sieve, repeating the process thrice.
3. Store biryani masala powder in a clean airtight glass jar.



An image of kalpaasi, stone flower called as dagad phool in hyderabadi langauge. This is my latest addition to the biryani masala powder. Do not skip this if you intend to use it for chicken recipes.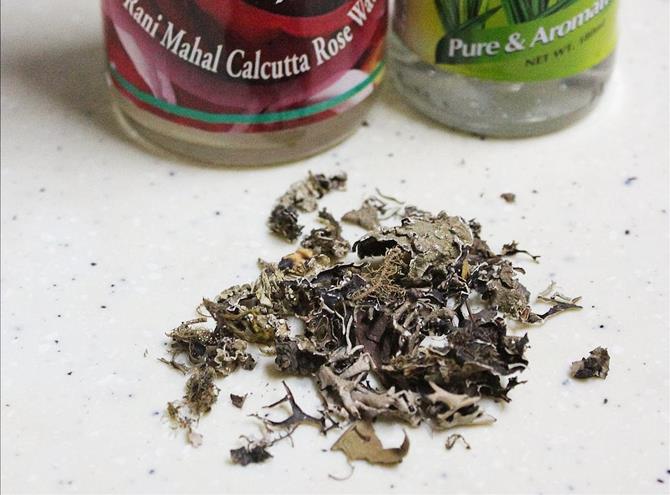 Biryani masala can also be stored in refrigerator.