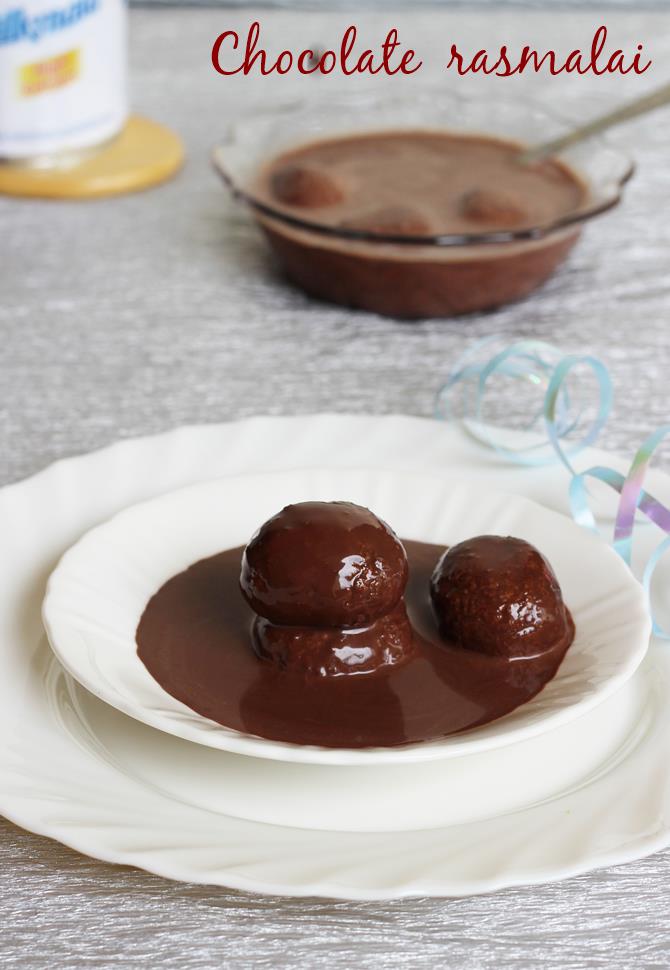 Chocolate rasmalai, rasgulla dunked in hot chocolate condensed milk
 
This rasmalai can drive any chocolate lover crazy for their unique taste and texture. It is a quick and easy recipe like the instant rasmalai in 10 minutes made from readymade rasgulla and condensed milk.
 
I treated my family with this chocolaty treat on the New Year eve since I had no time to make anything elaborate.
 
I do have a couple of easy Bengali sweet recipes on this blog, which I scan when I run out of time. If interested check out 10 minutes sweets: kalakand, sandesh, rasmalai, paneer kheer
 
These sweets definitely make your day special and it's going to surprise everyone at home.
 
chocolate rasmalai recipe below
chocolate rasmalai recipe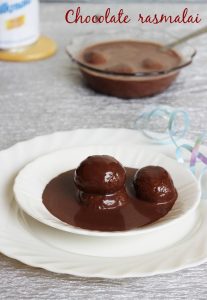 Chocolate rasmalai is a variation to popular bengali sweet rasmalai
Ingredients (240 ml cup used)
140 ml of sweetened condensed milk (adjust as needed)
1 cup milk
4 tbsp. cocoa powder
1 tsp vanilla extract
Few tbsp. Pistachios or other nuts as desired
12 to 14 rasgulla
How to make the recipe
Squeeze off the sugar syrup from rasgullas gently. Do not overdo as they turn shape less. Set aside
Heat up the milk and whisk the cocoa powder till smooth and stir in vanilla extract.
In a wide pot, add condensed and filter the cocoa mixture to this. Bring it to a boil and consistency you desire by cooking on a low flame stirring constantly. You can add more condensed milk or milk to adjust the sweetness and consistency.
Add the squeezed rasgulla and simmer for about 2 to 3 minutes with the pot covered
Chill for about 2 to 6 hours. Ensure the balls are fully dunked in chocolate condensed milk to get a uniform chocolaty color
Garnish with nuts and Serve chilled or warm