KFC style fried chicken recipe, how to make crispy fried chicken in KFC style at home. With time and experience we get better in cooking, day after day and this is what happened with me. After numerous trials, I felt this is one of the best and easy recipe to make KFC fried chicken at home.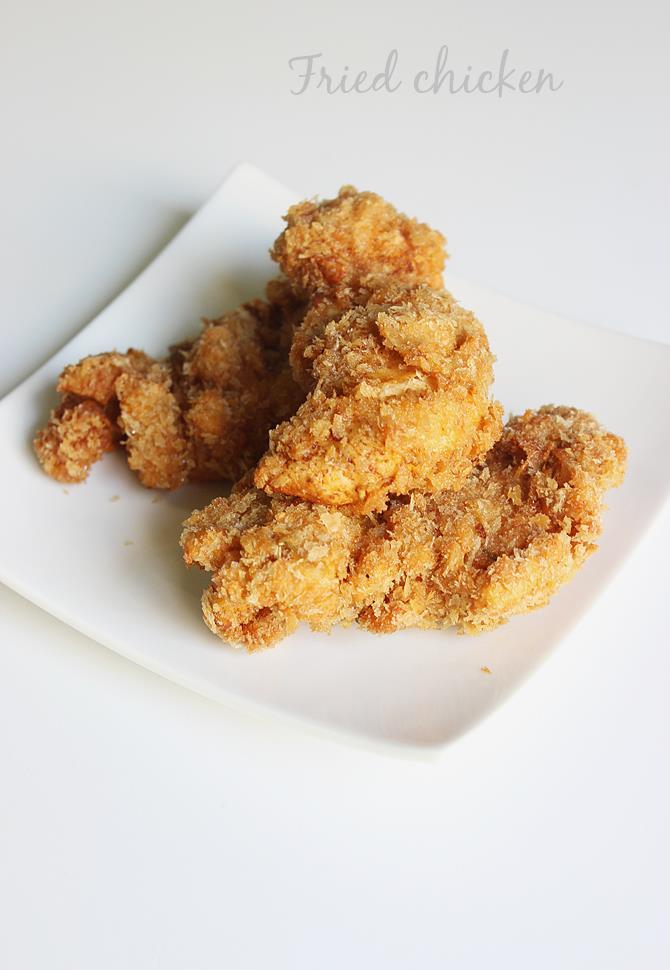 How KFC makes the best tasting fried chicken is a trade secret which no one knows. But there can definitely be a no better and healthier way to enjoy a fried chicken than to prepare at home. Healthier and a deep fried chicken! Not really though.
There are no pesky ingredients like MSG / ajjinomotto or what so ever in my recipe. You can try using brown bread crumbs or pulsed oats or pulsed corn flakes for a healthier choice.
For the best look, use bread crumbs or panko crumbs that are not too large. Using large crumbs makes covering look husky like the one in pictures. If using dried rosemary, crush it well and then add.
However an healthiest way is to bake the chicken, check out my baked chicken fingers to learn how to bake it.
This best fried chicken recipe can be used to fry drumsticks too, but i had a not so good experience frying them. The drumsticks were cracked and the inner part began to splash on to me while frying. I suggest drumsticks if you are experienced in choosing the right ones for deep frying else it will mess up the oil and discolor the chicken.
If you are looking for more chicken recipes , check out
KFC style popcorn chicken
Chicken shawarma
Dry chilichicken – chinese style
garlic chicken
chicken 65
chicken tikka in oven
KFC style fried chicken recipe
KFC style fried chicken recipe | How to make crispy fried chicken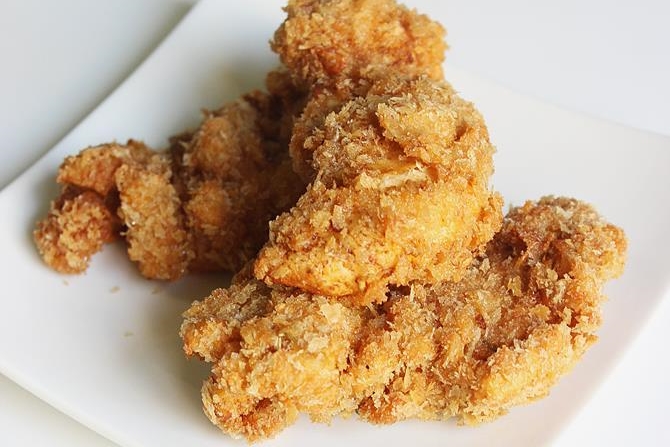 Kfc style fried chicken at home , better than kfc
Ingredients (240 ml cup used)
250 grams chicken drumsticks or fillets
Oil for deep frying
1 large egg
¾ tbsp. lemon juice
¼ tsp. Pepper powder
Pinch of turmeric
1 tsp. Ginger garlic paste
½ tsp. Dried rosemary or garam masala powder for Indian version
¼ tsp. onion powder
¼ tsp. garlic powder (optional)
¼ to ¾ tsp. paprika or Kashmiri chili powder
Salt as need
2 to 3 tbsp.cornflour
Bread crumbs or powdered oats or cornflakes as needed
How to make the recipe
Beat an egg and set aside.
Wash chicken and remove off all excess water. you can use fillets or drumsticks
Marinate with lemon juice, pepper powder, ginger garlic paste, salt , garam masala or rosemary and red chilli powder.
Add corn flour and egg. Mix well. Set aside for at least 45 minutes in a refrigerator.
Pick up each of these pieces and roll them in the bread crumbs. or pour crumbs over the meat and mix. You could leave them in the crumbs for a while. If you do not have bread crumbs, pulse the oats coarsely in a mixer and use.
Add oil to a hot pan, preferably a heavy bottom pan. When the oil is hot enough, fry them on medium high heat till golden. If the flame is too high, meat gets browned without getting cooked inside. Serve hot.
Nutrition Information
Calories:
550
Fat:
40g
Carbohydrates:
15g
Sodium:
900mg
Protein:
30g
Cholesterol:
200mg
How to make KFC fried chicken at home
1. Wash chicken well. you can use either large fillets or drumsticks. drain off excess water.
2. To the chicken, add ginger garlic, lemon juice, red chili powder, turmeric, rosemary, salt, pepper powder, flour, garam masala and egg. Marinate well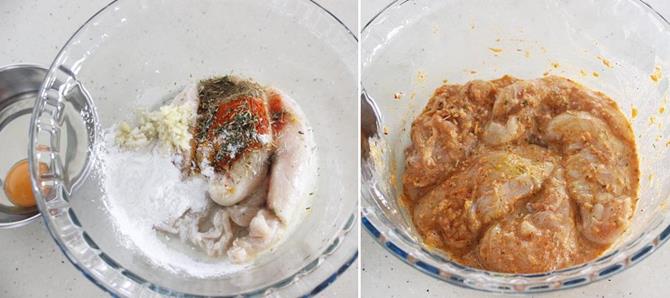 3. If you have enough time, you can refrigerate for about 45 minutes.
4. Pour the bread crumbs over the chicken. Mix well and set aside for at least 10 minutes for the bread crumbs.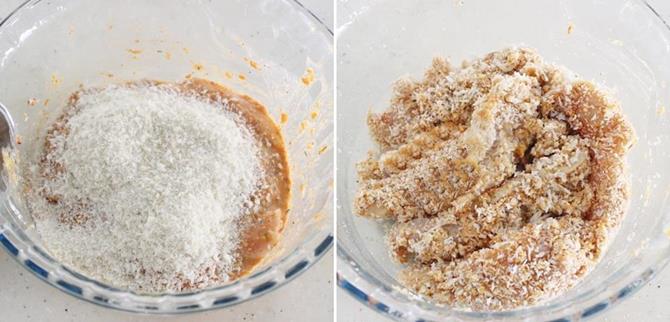 5. Heat oil in a heavy bottom deep pan/kadai and fry till golden at medium high temperature. If the oil is very hot or is at very high temperature, meat gets browned fast without getting cooked inside. The oil should be hot enough and the flame at medium high.



Enjoy fried chicken with your favorite ketchup.