Hyderabadi chicken biryani recipe. Learn how to make chicken biryani in a dum style with step by step photos. Making a good hyderabadi chicken biryani is just very simple and this recipe is perfect for a home preparation. This is easier than any chicken dum biryani since it needs no sauteing of spices or meat. Just marinate the meat with the spices & other ingredients, layer partially cooked basmati rice over it and cook on a slow dum process, trapping the steam to retain the aroma. To get an authentic flavor and taste of Biryani, do use all the mentioned ingredients and if desired can substitute ghee for oil.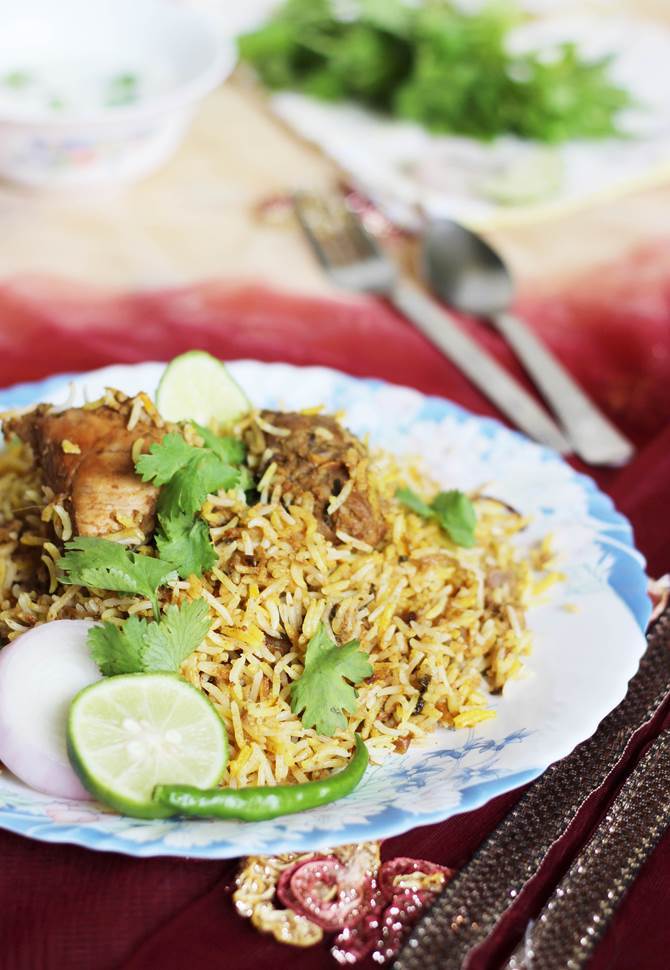 This is one of the best hyderabadi chicken biryani recipe I have made for years and has been a favorite among the readers of this blog. It is very easy and even a beginner can try without any troubles.
This is a kacchi chicken biryani, meaning partially cooked rice is layered over the marinated raw meat. To make the best out of this recipe, chicken needs a proper marination which mainly helps to tenderize it, resulting in juicy, flavorful, soft and tender chicken. It can be marinated the previous night and refrigerated to make the best flavorful biryani.
You can also check this link on easy chicken biryani recipes. Here are some
Chicken hyderabadi biryani – restaurant style.
Chicken biryani in cooker
Pakki chicken biryani (cooking chicken first then layering)
Muslim style biryani
Awadhi biryani
Hyderabadi chicken biryani recipe
Hyderabadi chicken biryani recipe | How to make chicken biryani recipe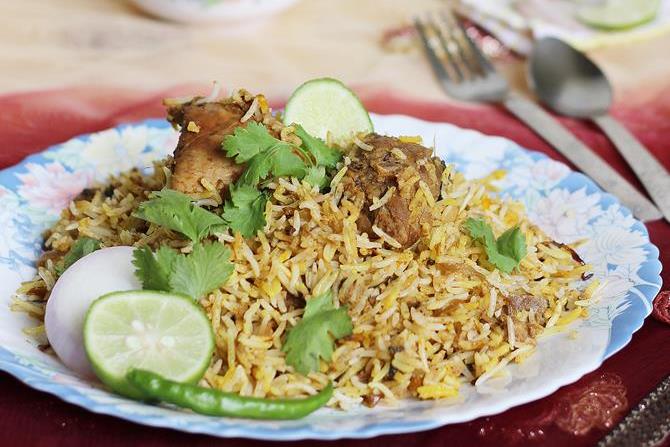 Chicken biryani recipe made with basmathi rice and chicken marinated in spices and cooked in a dum style to yield a flavorful biryani
Ingredients (240 ml cup used)
1 ½ cups aged basmathi rice (soaked for 20 to 30 mins, drain and set aside)
½ kg or 1 lb bone-in-chicken or boneless
¼ to ½ tsp. biryani masala powder for sprinkling in between layers
Fried onions from 1 large onion (Learn to make Fried Onions for Hyderabadi Recipes )
Fistful of finely chopped coriander leaves
Fistful of finely chopped mint leaves
2 to 3 tbsp. Sunflower oil or ghee
¼ tsp saffron strands soaked in 3 tbsps. hot milk
Marination for hyderabadi chicken biryani recipe
1 tbsp. ginger garlic paste
¼ tsp turmeric
3 green chilies slit (adjust to suit your taste)
½ cup + 1 tbsp. yogurt or curd
2 tbsps. Lemon juice (adjust)
1 ½ tsp Kashmiri or byadgi red chili powder
½ tsp biryani masala powder
¼ tsp green cardamom powder
Salt to taste
Dry Spices for rice
6 to 7 cups water
1 tsp oil
2 small strands of mace
1 large or 2 small black cardamom
4 green cardamom
3" cinnamon stick
6 cloves
1 large or 2 small bay leaf
½ tsp pepper corn
½ tsp shahi jeera / caraway seeds
How to make the recipe
Preparation
Marinate chicken with ginger garlic paste, turmeric, slit green chilies, yogurt or curd, lemon juice, red chili powder, biryani masala powder, green cardamom powder, Salt to taste. Set aside for at least 2 hrs. Overnight is best. To get really juicy and soft chicken, it is highly suggested to keep it marinated for overnight in the fridge.
This step is optional. Tie up all the dry spices for rice in a muslin cloth. Set this aside.
Wash rice till the water runs clear. Soak for 20 to 30 minutes.
Heat 6 to 7 cups water in a pot to cook rice. Add 1 tsp oil, dry spices and salt. Let the water boil rapidly for 5 mins, this way the aroma released is best.
Add the soaked rice and cook till it is ¾ done. The center of the rice must be still slightly uncooked. Remember this is very important. Do not make the rice mushy. Drain off the rice to a colander.
Making chicken biryani
While the rice cooks, transfer the marinated chicken to a heavy bottom casserole, handi or non-stick pan.
Add fried onions, green chilies, ½ of the mint, coriander leaves and pour in the oil or melted ghee. Mix well and level the surface.
Layer the cooked rice evenly, add fried onions, mint and coriander leaves over the chicken.
Sprinkle ¼ tsp to ½ tsp. biryani masala powder.
Repeat steps of layering rice, coriander mint leaves and then fried onions.
Pour the saffron milk all over.
Cover the rim of the casserole with foil to trap the dum or steam. You can also use a cloth to cover. Rinse a thick kitchen cloth and squeeze off the excess water, it must be just moist and not with dripping water. Make a double layer. Spread this cloth over the rim and cover the lid over the casserole.
Place this over a thick hot tawa or griddle. Set the flame to medium high such that the flame reaches all over the diameter of the casserole. Cook this way for exactly 20 mins. After 20 mins, if you have a see thru lid you can see the vapour filled.
Now reduce the flame to min (as low as in Indian stoves or burners, where the flame barely touches tawa/ griddle). Cook this way for exactly 10 to 15 mins. You can see the vapour dripping on the moist cloth. Off the flame and leave it as it is for at least 20 to 30 mins.
Garnish chicken biryani with fresh chopped coriander leaves and serve with raita.
Notes
If you do not like to use a cloth for trapping the steam or dum, you can use dough to seal the lid of the utensil, but cleaning up the mess is difficult. An aluminium foil too works ok.
Nutrition Information
Calories:
650
Fat:
25 g
Saturated fat:
6 g
Carbohydrates:
85 g
Sugar:
5 g
Sodium:
160 mg
Fiber:
2 g
Protein:
20 g
Cholesterol:
60 mg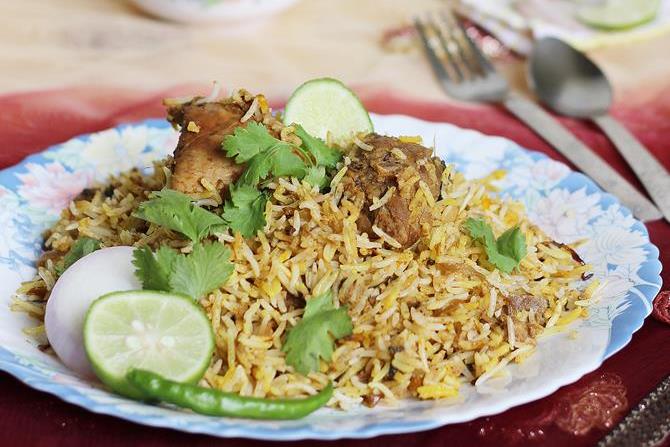 How to make hyderabadi chicken biryani recipe
1. Add all the marination ingredients to a bowl. yogurt, salt, red chili powder, biryani masala, turmeric, ginger garlic paste, lemon juice, cardamom powder, Mix them well to make a paste.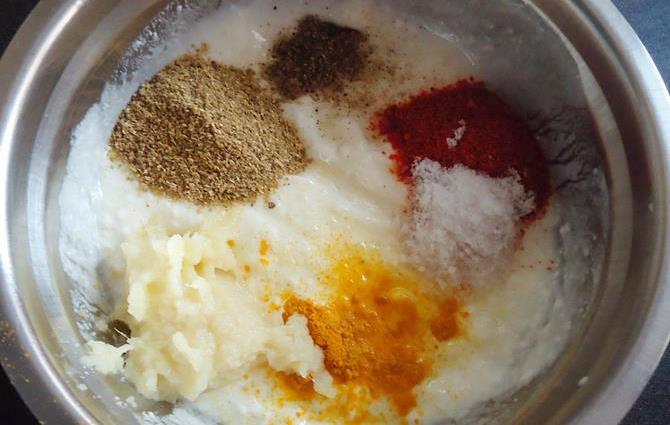 2. Marinate the chicken with the prepared yogurt and masala paste prepared in step 1. Allow it to sit for overnight in the fridge or for at least 2 hours. Keeping overnight makes the chicken very soft once the biriyani is cooked. If you are marinating it just for 2 hours, i suggest keeping the pieces to small to medium and not very large.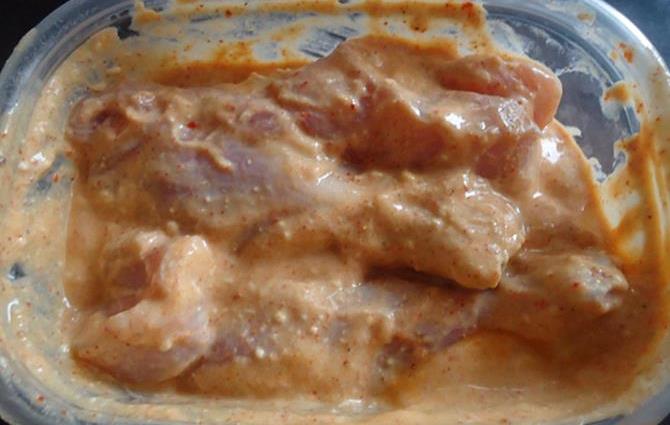 3. Add dry spices to a pot of boiling water along with few drops of oil. You can add the dry spices to a muslin cloth and make a knot if you don't like to get a bite of the spices. Add soaked rice and cook till ¾th cooked. The rice must be grainy and you must get a bite into it meaning it has to be slightly under cooked. If you are a beginner, please take a look at this detailed post on how to cook basmati rice for biryani.
4. Add the chicken marinade to a heavy bottom pot. Sprinkle fried onions, chilies, coriander and mint leaves. Add oil and mix it.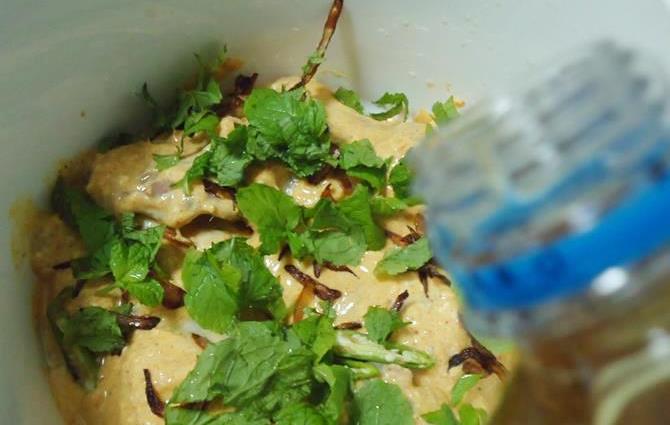 5. Layer the rice over the chicken. The rice must be moist and not with dripping water. It should not be dry either.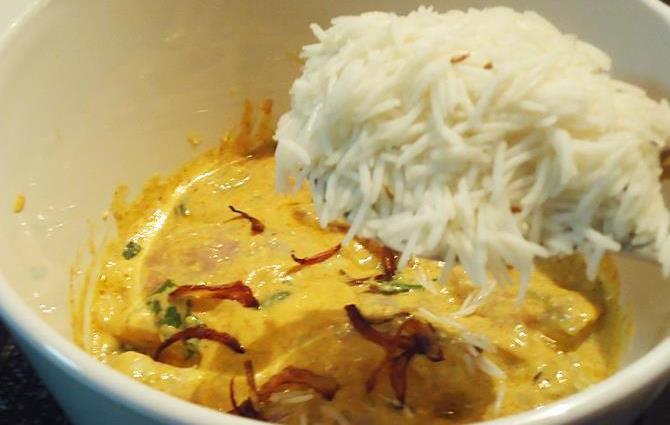 6. Add fried onions, mint and coriander leaves. Sprinkle biryani masala.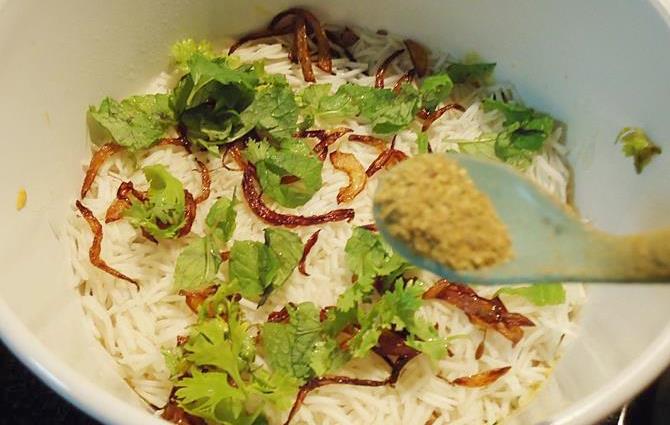 7. Layer the rice again.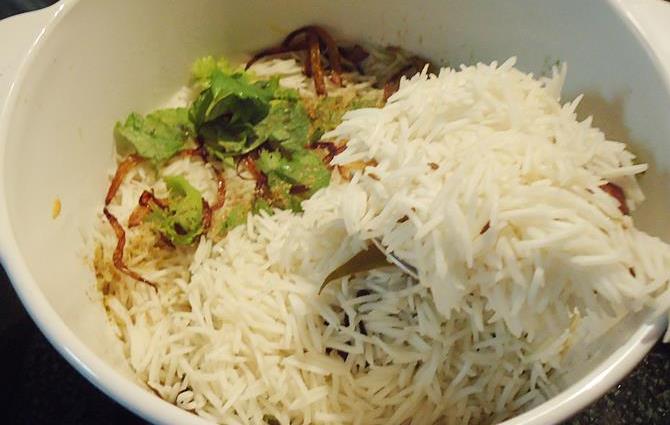 8. Sprinkle fried onions, mint and coriander leaves and biryani masala. Pour the saffron milk.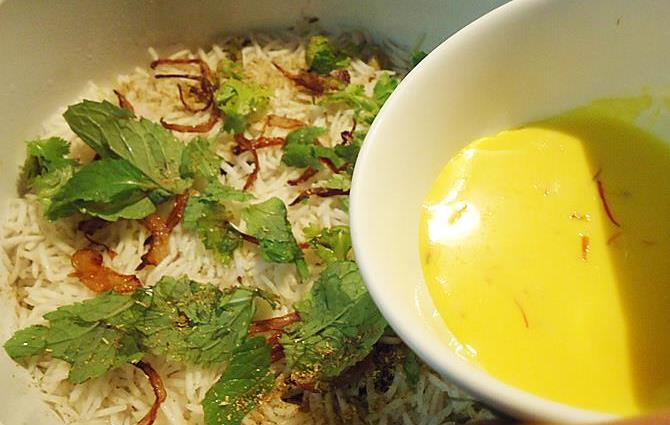 9. Use a foil to cover the rim. You can also use a thick clean kitchen cloth. or make dough and stick to the rim of the pot.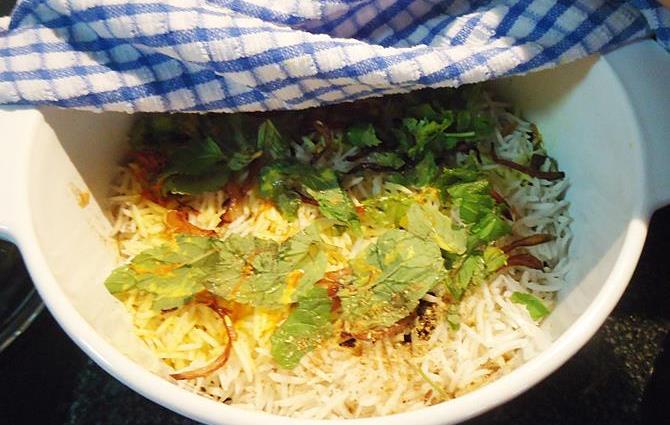 10. Cover the pot with a lid. If using dough. make sure the lid sits on the dough.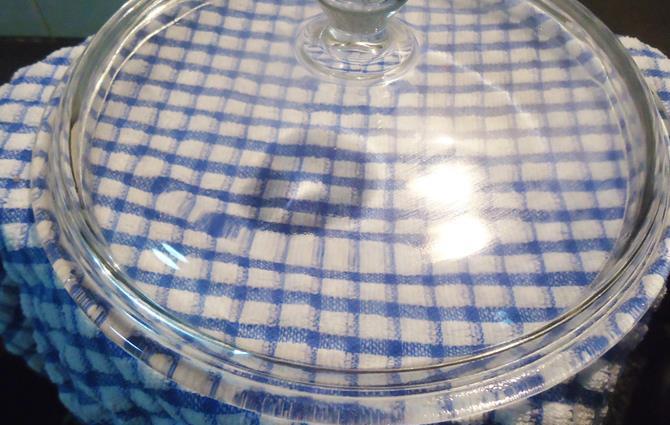 11. Place the pot over a hot old tawa. Cook on a medium high for about 15 to 20 minutes.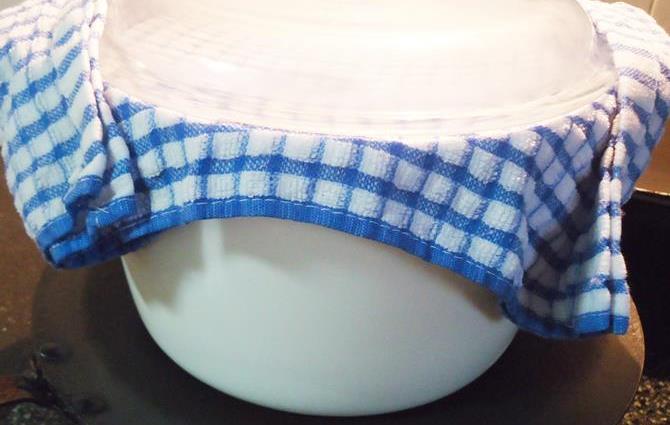 12. Lower the flame to very low and cook for another 15 minutes. Switch off the stove and let it rest for sometime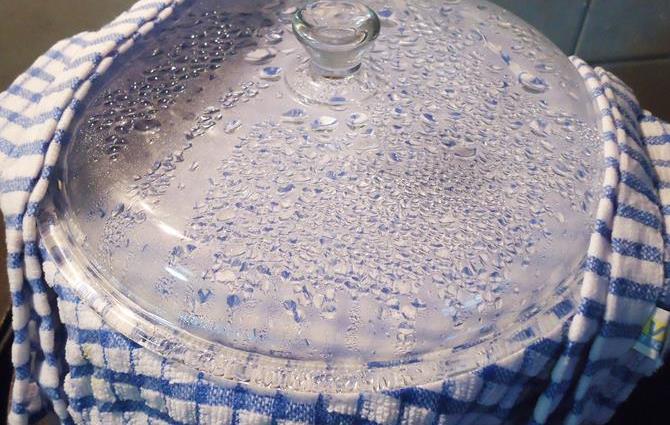 13. Flavorful dum hyderabadi biryani is ready.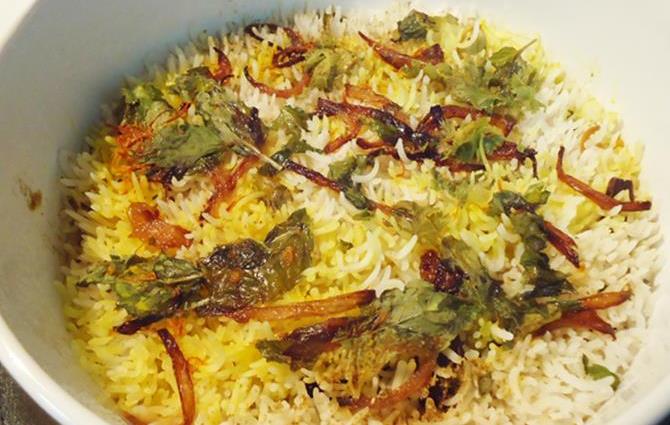 14. Fluff up the rice gently and serve with raita or shorba.
you can find raita recipes here
you can also find easy biryani gravy recipes.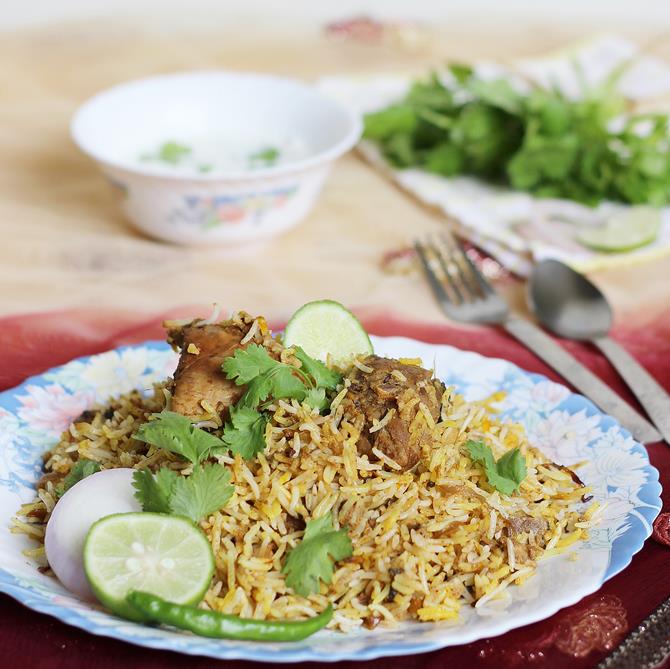 Hope you liked the hyderabadi chicken biryani recipe.