Idli sambar recipe – A quick tiffin sambar recipe that goes good with idli, medu vada, khara pongal, Crispy dosa and most other South Indian breakfast. On most weekdays, we eat the typical South Indian breakfast like idli, dosa and pesarattu since they are high in protein and healthy as well. Sometimes I make mini idli for dinner when the kids ask for it. This sambar along with the mini idli and ghee is one of my kids' favorites.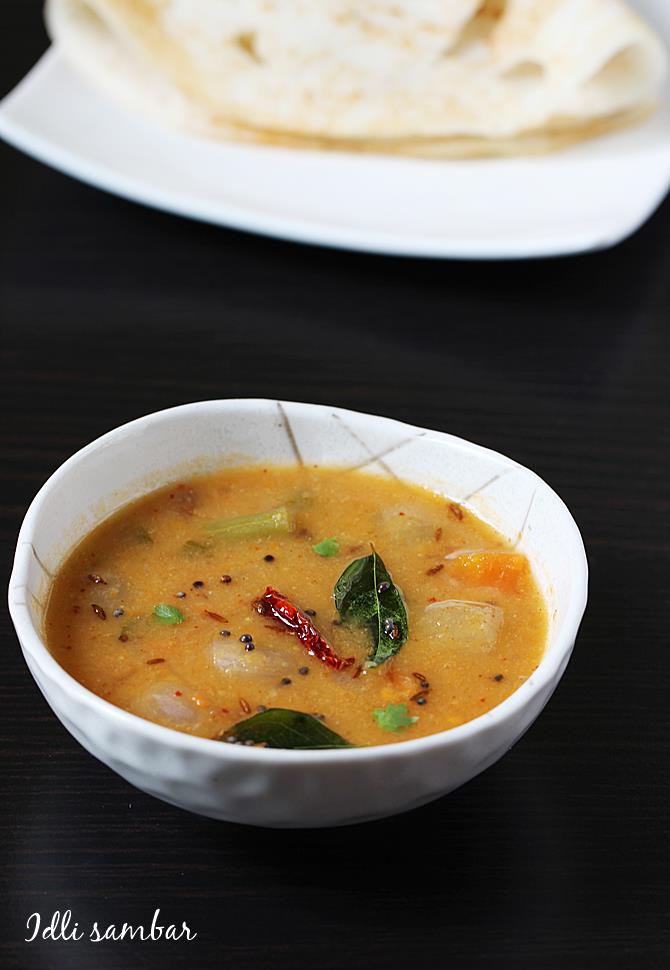 There are few different ways a sambhar is made, one of them is the south Indian sambar which i shared before. But today's recipe is made in a very simple method using quick cooking veggies like shallots, carrots and beans. Hence it doesn't take much time to prepare and can be made even in the early morning.
I am also sharing how to make instant sambar powder just enough for this recipe. I always make this tiffin sambar with homemade powder. The taste and aroma of a sambhar depends on the powder used. So if you like to use a ready powder, use one that has a good aroma. You can also make the powder from this sambar powder recipe.
Idli sambar or Tiffin sambar recipe
Idli sambar recipe | How to make Tiffin Sambar Recipe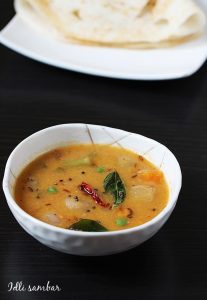 Idli sambar recipe - a quick cook sambar made with fast cooking veggies. It is served with plain rice or south Indian idli, dosa, vada, pongal.
Ingredients (240 ml cup used)
for sambhar powder
1 tbsp chana dal
1 tbsp coriander seeds
½ tbsp urad dal
½ tsp cumin/jeera
¼ tsp methi seeds
3 red chilies (adjust as needed)
2 tbsp. grated fresh coconut (optional)
other ingredients
¾ cup dal (refer notes)
2 cups water to cook dal
Lemon sized ball of tamarind
Salt as needed
12 to 15 shallots/ sambar onions
6 to 8 beans
1 medium carrots
½ cup of chopped pumpkin (optional)
1 large ripe tomato
⅛ tsp turmeric
handful of coriander leaves with stalks chopped
4.5 cups water (adjust depending on quality of dal)
tempering
2 sprigs curry leaves
1 red chili broken
¾ tsp cumin
¾ tsp mustard
pinch of methi
pinch of hing
How to make the recipe
Wash and pressure cook dal with 2 cups of water for 2 whistles or until soft. Or cook in a pot until soft. Mash it and set aside. If you like the hotel style tiffin sambar, you can also add pumpkin to the dal for cooking. Mash everything together and set aside.
Soak tamarind in little hot water, squeeze and extract the pulp. Keep this aside.
Dry roast the ingredients for sambar powder as mentioned in the step by step instructions above. Cool them and powder.
Add oil to a pot and heat up. allow cumin, mustard and methi to splutter. Add Red chilies, curry leaves and hing. When the leaves turn crisp, set aside half the tempering if you wish to add at the end.
Add veggies and saute for 2 to 3 minutes. Add tomatoes and saute until soft.
Add sambhar powder and saute for a minute without burning.
Pour water and cook until the vegetables are soft cooked.
Add filtered tamarind and dal. Stir and bring it to a boil.
Add the rest of the tempering and coriander leaves. When it begins to bubble. Switch off.
Serve hot with idli, dosa, uthappam, pongal.
Notes
You can make this idli sambar recipe using toor dal alone or ½ cup toor dal ,¼ cup moong dal. Hotel style sambar is made using masoor dal. You can use whatever you like.
Nutrition Information
Calories:
380
Fat:
11g
Carbohydrates:
33g
Protein:
36g
For more sambar recipes you may like to check
Drumstick sambar
Mullangi sambar
Andhra pappu chaaru
How to make idli sambar recipe – step by step photos
1. Pressure cook dal for 2 whistles or until soft. You can also add a piece of red pumpkin to the dal. When the pressure goes off, mash it well to very smooth. If using red pumpkin, mash that as well to smooth. That lends a unique sweet flavor that we often find in South Indian Hotels.
2. On a medium to low flame, dry roast chana dal, urad dal until golden. Add red chilies towards the end and fry until they turn crisp.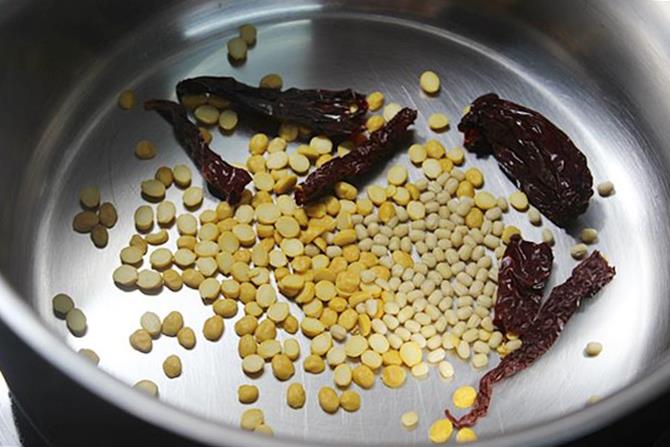 3. Fry coriander seeds until they begin to crackle. Off the heat and add methi, cumin. If using coconut you can add it now and saute for a minute. This time i did not have so i skipped it. Cool this and make a fine powder.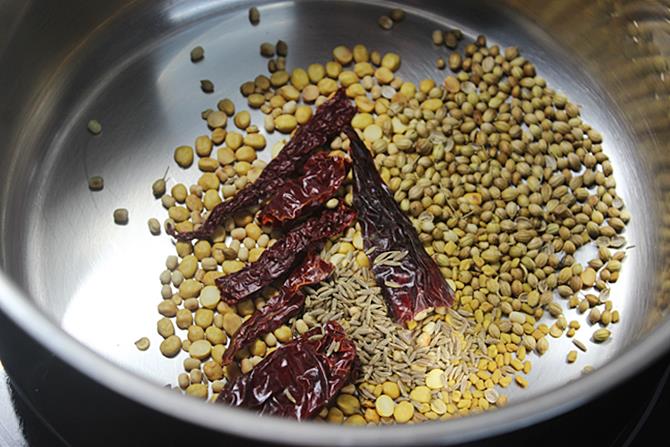 4. Soak tamarind in hot water, you can also use tamarind paste as needed.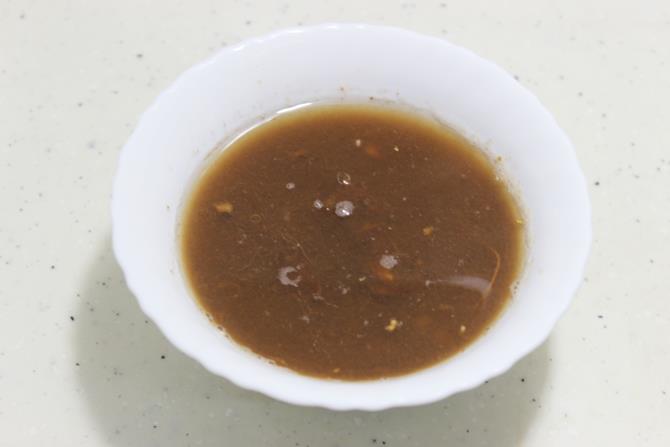 5. Heat oil in a pot. Add cumin, mustard, methi seeds. When they begin to splutter, add curry leaves and red chilies. Saute until the red chilies turn crisp. Add hing. I set aside half of this tempering to add at the end.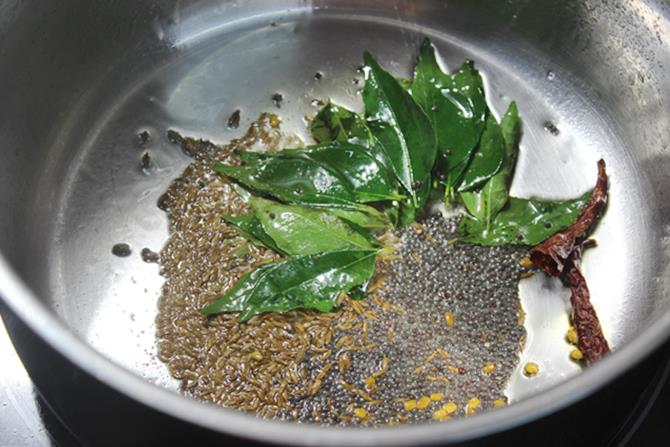 6. Add shallots, carrot and beans.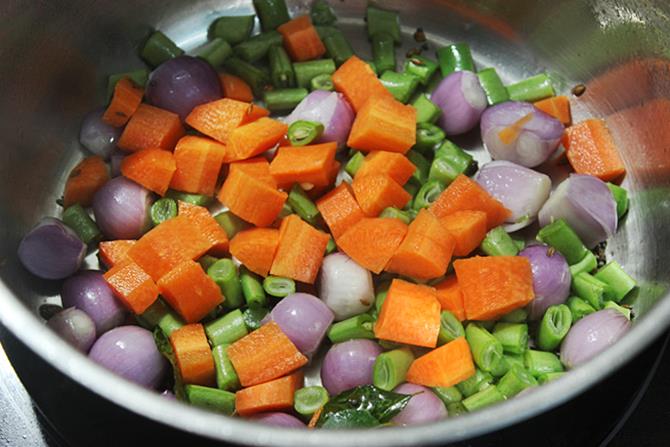 7. Saute for 2 to 3 minutes.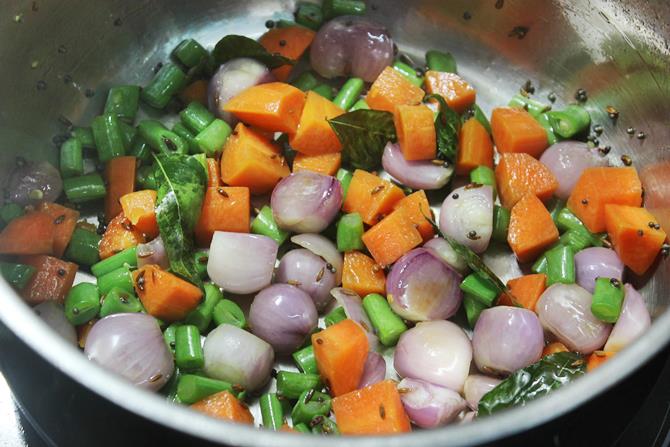 8. Add chopped or mashed ripe tomatoes, turmeric and salt.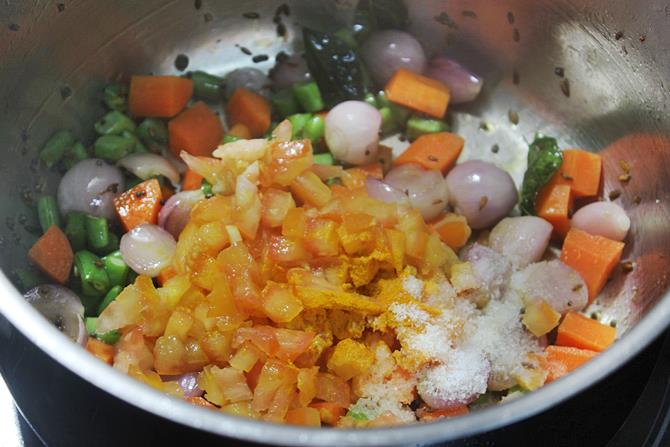 9. Saute until the tomatoes turn mushy. Since they are fine chopped they get cooked fast.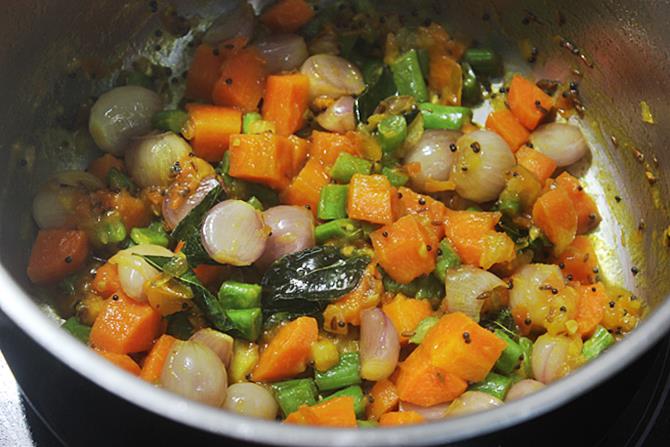 10. Add sambar powder, saute for a minute without burning. this brings out the aroma of sambar powder.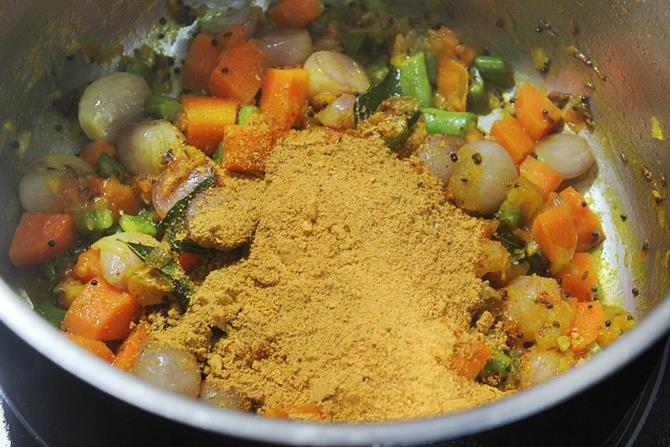 11. Pour water and add a bit of jaggery. It is optional to use jaggery.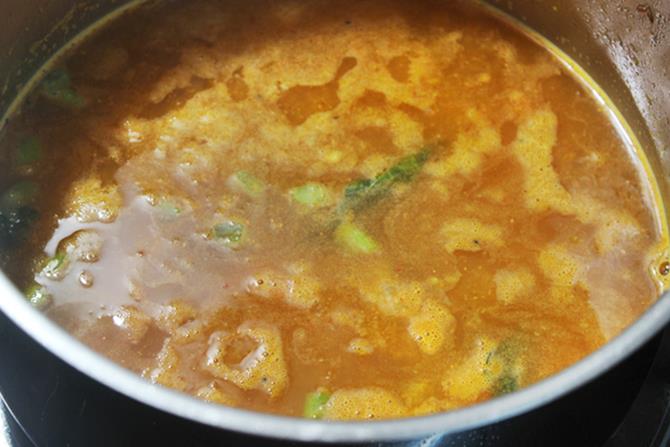 12. Cook until the veggies are soft cooked. Filter tamarind to the pot. If you do not like the flavor of tamarind, you can boil the sambar for a while before adding the dal.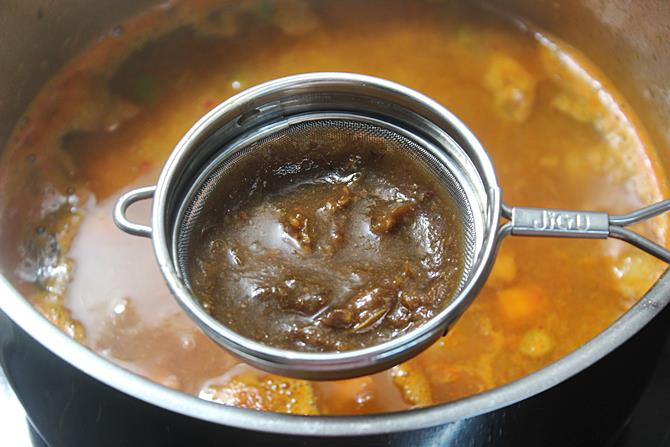 13. Add mashed dal to the pot. Dal must be mashed completely. Mix and allow to bubble.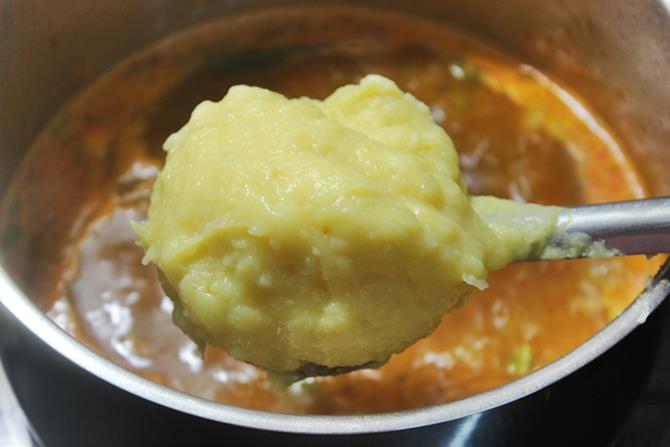 14. This step is optional. Add the tempering that was set aside along with coriander leaves. When the sambar begin to bubble, switch off the stove.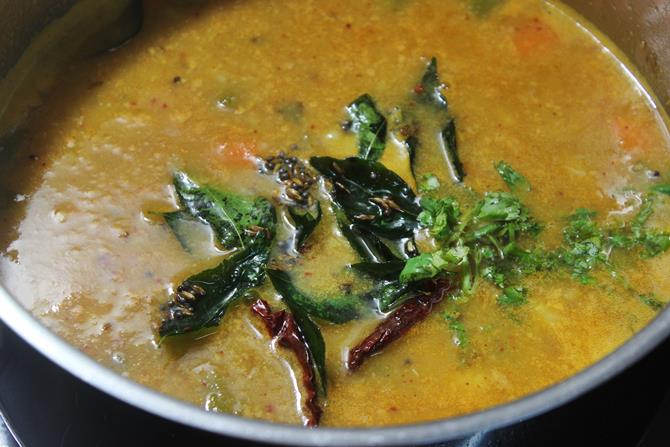 You may want to check this detailed recipe of soft idli. I usually make mini idli or the regular idli to go with this sambar. But this also goes well with other breakfasts like pongal, dosa, uthappam , vada .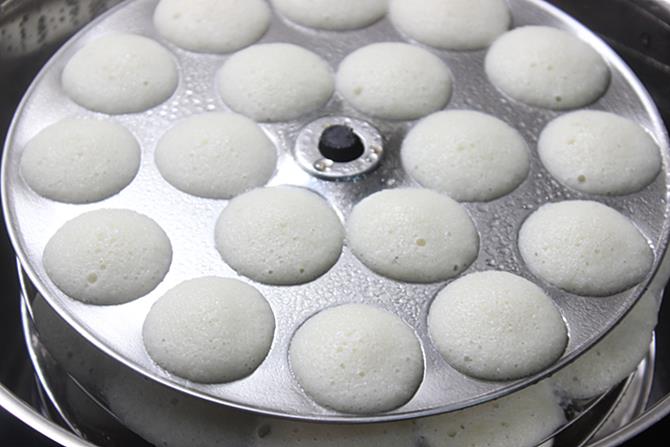 Place the idlis in a deep serving bowl or plate. Add ghee and then pour the sambhar. Serve hot.