Indian baby food recipes – a collection of baby food recipes for Indian babies. All the recipes are tried and tested and have been served for both my babies. Any suggestions and queries can be left in the comment section below. Your queries will be answered.
If you are a new mum, you can view the Indian baby food chart here to get more ideas. You can also take a look at the best foods to gain weight in babies & toddlers. This post contains a list of all Indian baby food recipes available on this blog.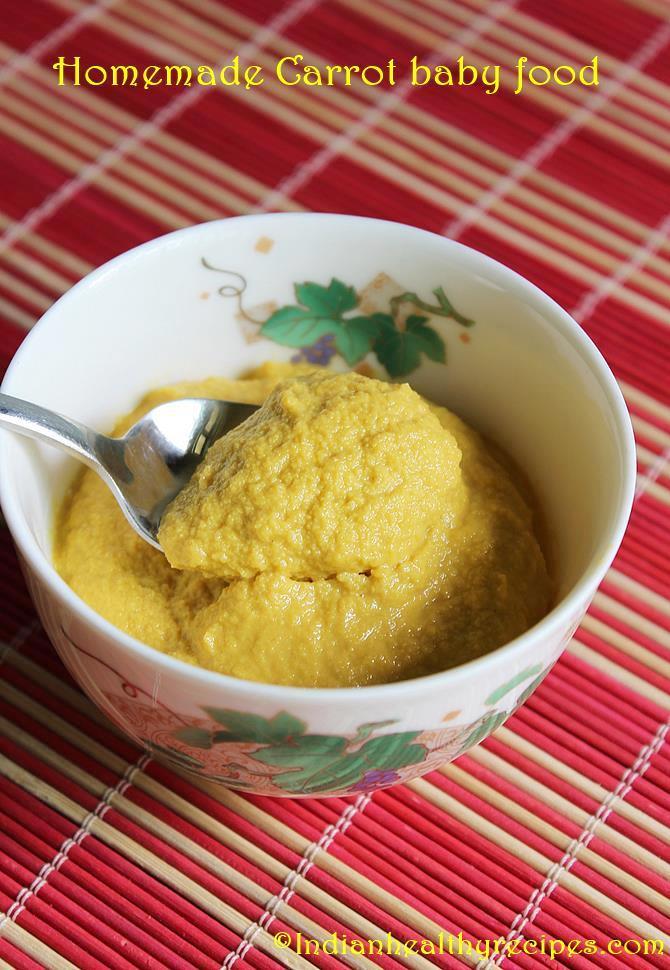 Indian baby food recipes for babies below 6 months old
It is good to wait until your baby turns 6 months old before you introduce solids, but in special cases doctors advice to start off with solids for some babies from 4 months. Sometimes underweight or preterm born babies, formula fed babies are suggested to start off with solids from 4 months. If your pediatrician has suggested you to start, then these recipes can be useful. I suggest you read this post on baby food chart for 6 months baby where you will find the tips on how to start solids and the acceptable first foods . You can also try the following recipes. I highly recommend reading every line of the baby food posts on this blog as they can guide you extensively.
ragi porridge for babies
milk oats porridge
how to make ragi flour for babies
apple ragi (try ragi and apple separately first, then try together)
Indian baby food recipes for babies above 6 months old
methi khichdi
khichdi for babies
moong dal soup
carrot almond baby food
potato rice
ragi porridge for babies
barley baby cereal
sago carrot kheer for babies
sabudana kheer for babies
wheat cereal for babies
soft idli recipe
oats porridge with vegetables (blend till smooth)
new addition
sweet potato rice
Indian baby food recipes for babies above 11 months old
These need to be pureed
sweet corn soup
barley soup with vegetables
chickpeas toddler food
chickpeas soup (for babies above 15 months)
healthy drinks to beat the heat, summer drinks for babies above 9 months – for babies above 6 months please consult your doctor before you try these.
Do not use sour fruits as it contributes to colic. Please watch the quantity you serve, a 90 ml serving for a 9 month old, 120 ml serving for a 10 months old, 150 ml for an year old suits well for my babies. Serving large quantity or adding milk to fruits in not a good idea. It leads to indigestion and may upset the tummy. These are best when served alone without any food.
buttermilk or plain unsalted lassi is one of the best to beat heat. To make buttermilk, just beat curd till smooth, add enough water and serve at room temperature.
barley water
dry dates juice (an ultimate drink for babies during summer)
carrot almond smoothie
badam milk
orange banana smoothie
apple orange smoothie
curd rice made using homemade curd can also be served after 6 months. Try to use half brown rice and half white rice to make curd rice.
unsweetened and unsalted homemade curd alone can be served for babies from 6 th month.
dal ka pani made from moong dal can also be served to beat the heat.Serve at room temperature.
Here is a simple recipe, one of the Indian baby food recipes for babies above 11 months old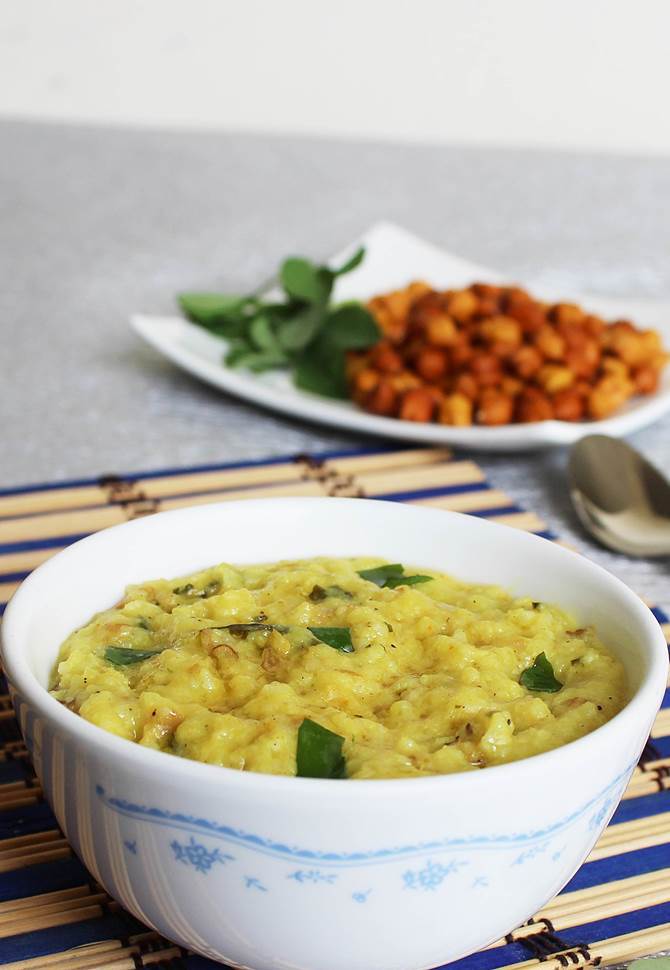 Indian baby food recipe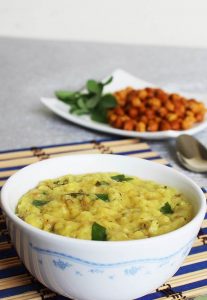 Simple baby food recipe using chickpeas and rice
Ingredients (240 ml cup used)
1 tbsp. Chickpeas / kala channa
2 tbsp. aged rice
1 tbsp. of methi leaves / fenugreek leaves / menthakku
1 tsp. ghee
Tiny pinch of organic turmeric (optional)
Tiny pinch of pepper powder (optional)
⅛ tsp of ajwain powder / caram seeds powder
salt to taste
How to make the recipe
Wash and soak chickpeas 12 hrs., water must be replaced every 4 to 6 hrs. to prevent colic and bloating.
Wash rice and soak for at least 30 mins.
Rinse methi leaves thoroughly and chop just before cooking.
Add rice, chickpeas, methi leaves , salt to a bowl with 1 cup water. Pressure cook for 4 to 5 whistles or cook till soft in a soft with more water. If cooking directly in pressure cooker, just cook for one whistle on a low flame.
once cool, puree the food as babies cannot eat the chickpeas skin.
Add pepper powder, turmeric and pour 1 tsp of hot ghee and mix.
Babies do not need tadka. But if you wish you can with mustard and cumin.
serve warm. Warm foods digest better.
Notes
aged rice aids in better digestion and the pesticide residue is less.
removes vata from chickpeas.
You can read the benefits of carom seeds /
ajwain for babies here