chilli garlic fried rice is a variation to the basic veg fried rice from the Indo chinese cuisine. It turns out aromatic, mildly hot, spicy and delicious. Quite popular in the Indian chinese restaurants and is made on the same lines as the chilli garlic noodles.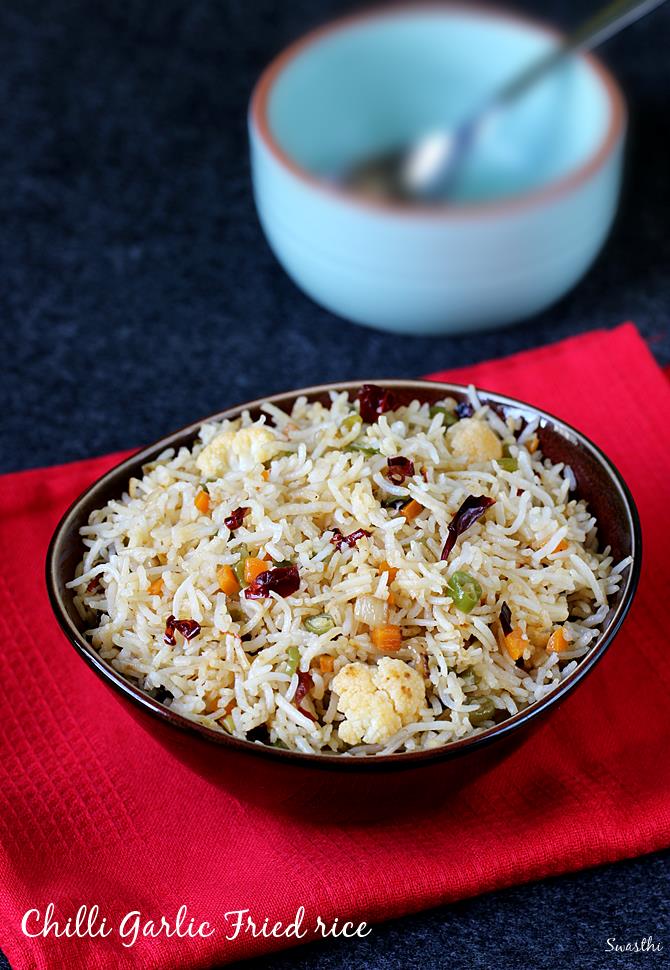 As such this fried rice doesn't demand a side dish since it is aromatic, spicy and good to serve on its own. But sides like chilli chicken, garlic chicken, chilli mushroom or any other Indo chinese gravy dishes go very well with this rice. If you have a side dish, you can skip using the mixed veggies in this recipe. The rice would still turn out great.
 
step by step photos on chilli garlic fried rice
Please do not gauge the quantity you see in the pan, I had doubled the recipe to make 4 servings.
1. Prepare garlic and red chili. Chop garlic finely and cut deseeded red chilies to flakes with a food scissor. You can also blend these both and make a chilli garlic paste and use in the recipe. If you like a very aromatic fried rice, then i suggest crushing to a coarse paste in a hand pestle or blender. Since i have young kids home, i have not crushed them.
2. Wash and soak rice for about 30 mins. Cook al dente. Set aside to cool completely.
3. Heat oil in a wok or pan, saute red chili and garlic along with a broken red chilli for just 1 min. Do not do this on a high flame and do not over cook too. This may lead to bitter taste.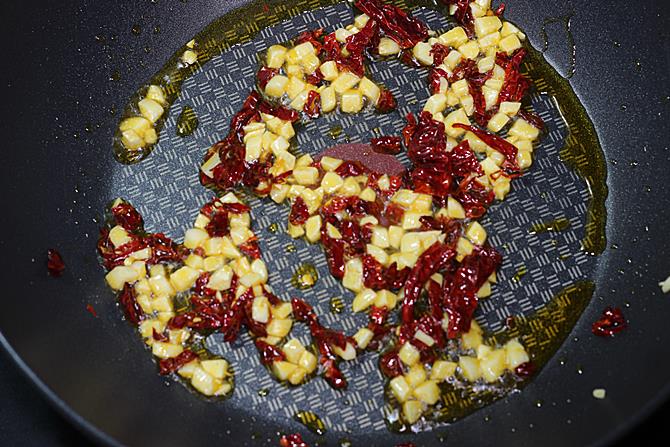 4. Add thinly sliced onions or spring onion whites. Saute on high flame from now on.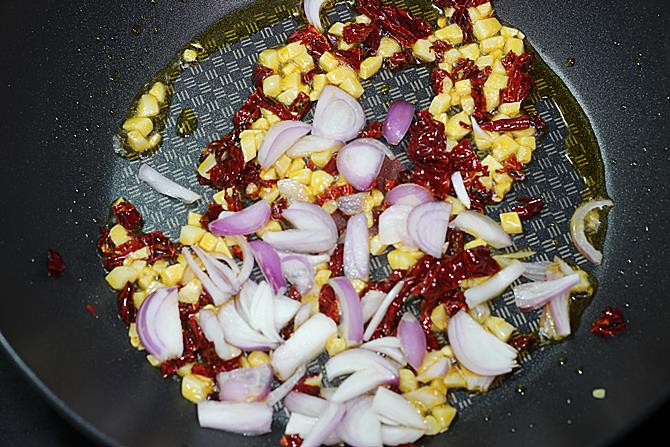 5. When the onions turn lightly pink, add the rest of the veggies. I have used carrots, capsicum, beans and cauliflower. You can also use cabbage, bean sprouts etc.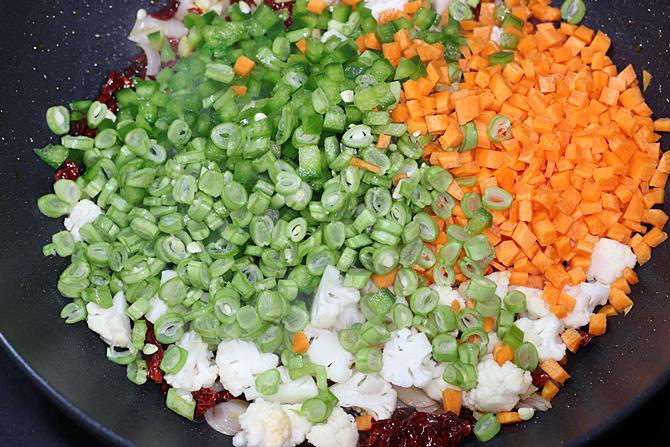 6. When the veggies turn slightly tender or half cooked, add soya sauce.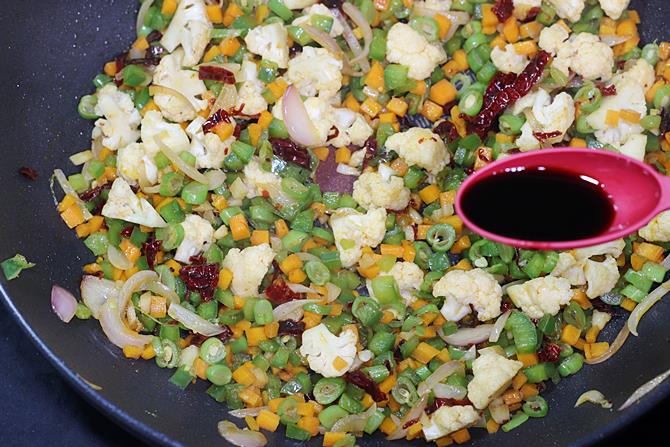 7. Add vinegar and sugar. Saute for a min.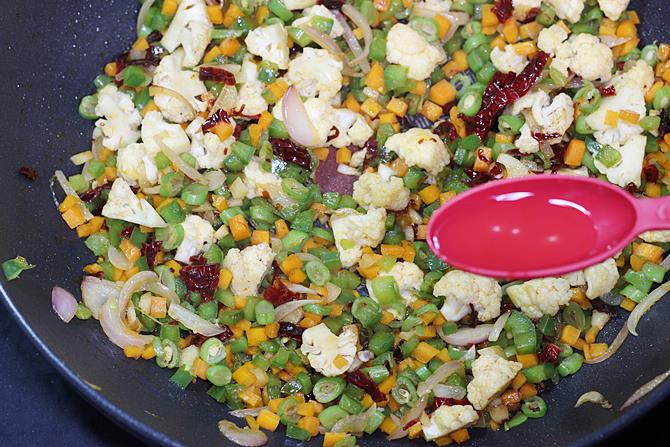 8. Add cooled rice and salt. I also prefer to add a bit of olive oil now. If you have celery or spring onion greens you can add it now.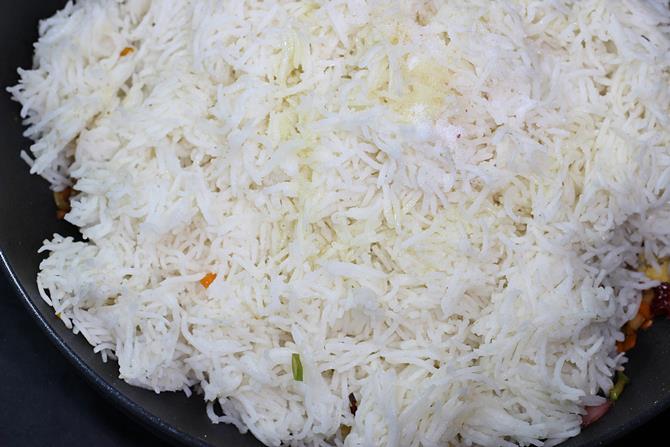 9. Mix and fry for 2 mins.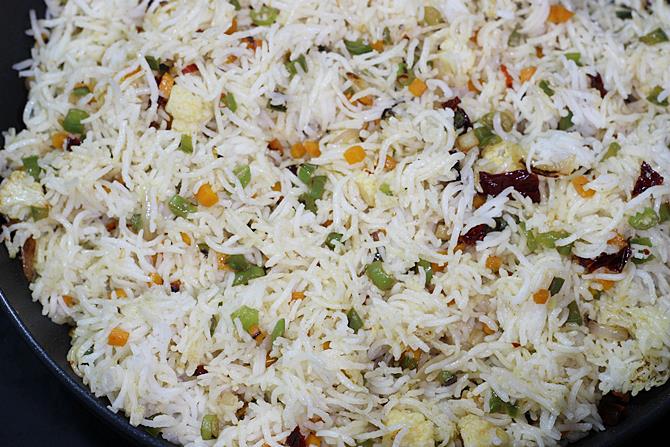 Serve hot.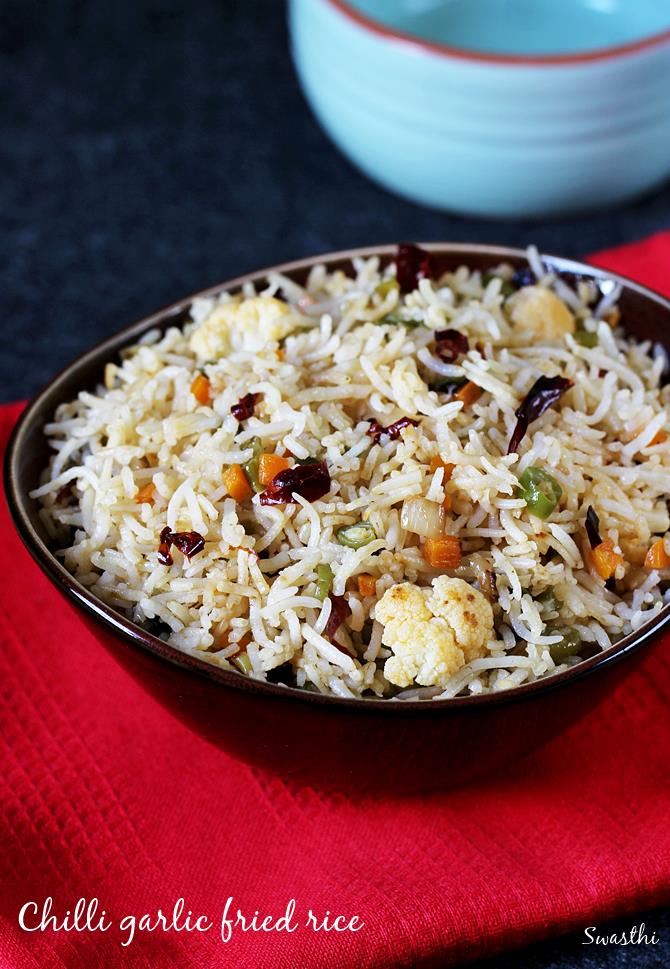 chilli garlic veg fried rice recipe below
chilli garlic fried rice, how to make chilli garlic veg fried rice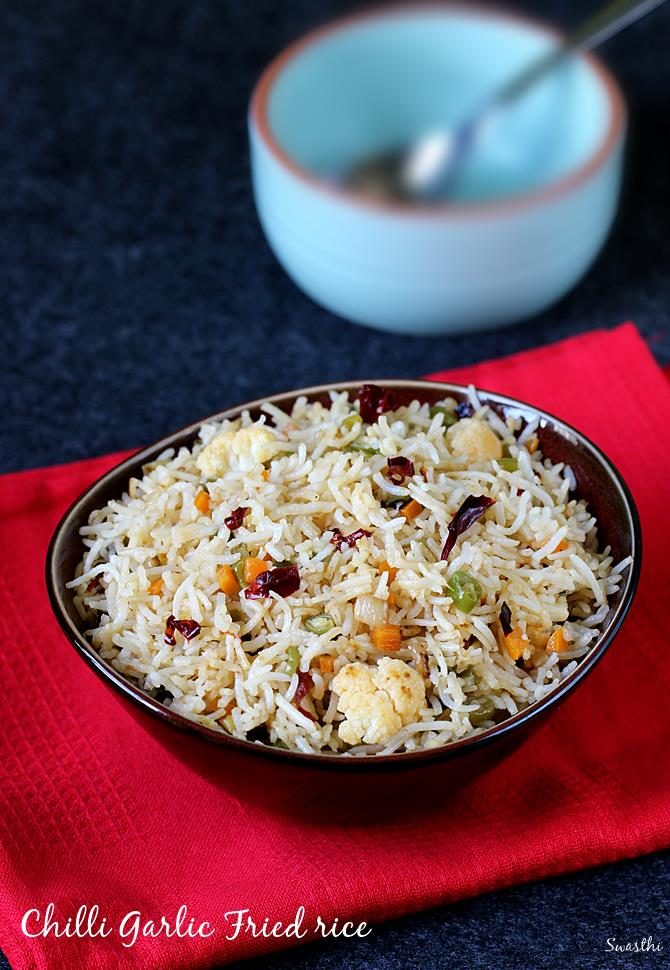 Ingredients (240 ml cup used)
1 cup long grain rice (uncooked)
4 large garlic cloves about 1.5 tbsp chopped finely
2 to 4 red chilies deseeded
½ broken chili deseeded for seasoning
1.5 to 2 tbsp olive oil
½ tsp sugar
¾ to 1 tbsp. soya sauce (adjust as needed)
1 ½ tsp vinegar (adjust as needed)
Salt as needed
Optional veggies
1 medium carrot ½ to ¾ cup chopped
¼ of a medium capsicum ¼ to ½ cup chopped
5 to 6 beans chopped finely
2 sprigs of spring onions (green & white separated)
How to make the recipe
Wash and soak rice for 30 mins. Cook al dente / grainy (not mushy) and cool completely.
You can use garlic chopped & chilli cut to flakes or blend them to a coarse paste in blender or hand pestle. Set aside.
Heat oil and saute chilli garlic , broken chilli on a medium flame for 1 min.
Add the onions and saute for a min. Increase the flame to high.
Add mixed veggies and saute until half done yet crunchy.
Add soya sauce, vinegar and sugar. Saute for amin.
Add cooled rice, salt and more oil if desired.
Mix and fry for 2 mins. Serve with or without side.