Jeera rice recipe with video & step by step photos – one of the most commonly made flavored rice from the North Indian cuisine. To make this simple and easy rice recipe, basmati rice is cooked with jeera (cumin) and other mild spices. It is served with veg and non-veg gravy side dishes like veg kurma curry, paneer butter masala, navratan korma, palak paneer, simple dal tadka, paneer tikka masala or even with dal fry.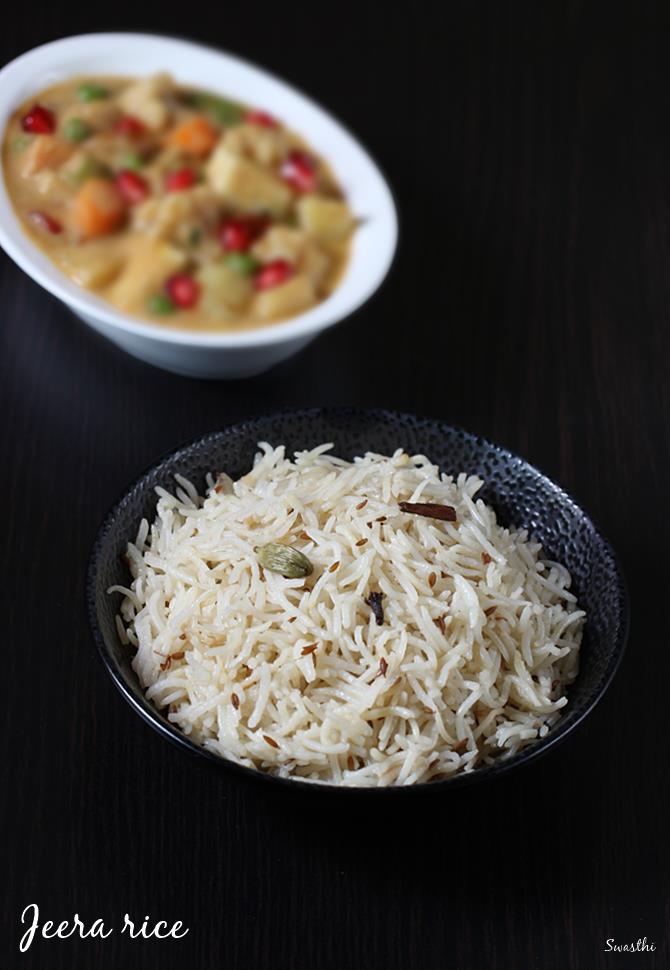 This is one of the most after sought rice dishes in our home especially when we have heavy sides like chicken butter masala or chicken tikka masala or even for dal makhani. Cumin / jeera helps to digest the foods better, so it is ideal to make it when planned for a heavy meal.
Sharing 2 methods of making jeera rice. In the first method, rice and jeera are cooked together along with spices. In the second method, rice is cooked first and then seasoned with cumin, spices and butter. This method is often followed in the restaurants.
Video of jeera rice recipe
Jeera pulao or Jeera rice recipe
Jeera rice recipe | How to make jeera rice (jeera pulao)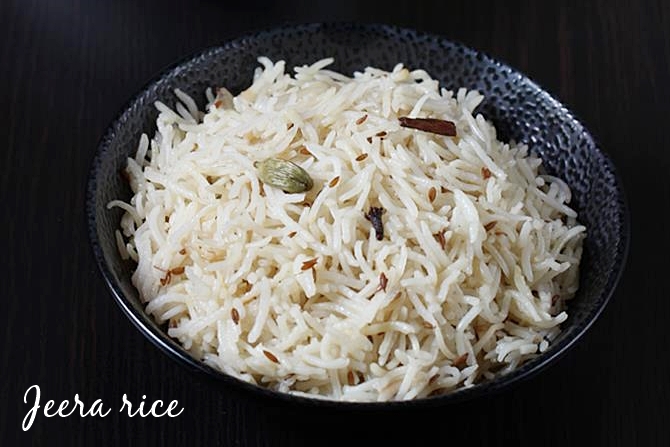 Jeera rice is made with cumin and basic Indian spices. It is served with a gravy side dish.
Ingredients (240 ml cup used)
2 cups basmathi rice (aged)
2 ½ to 3 tsps. Jeera / cumin (adjust)
1 bay leaf
1 strand mace
2 to 4 green cardamoms
2 inch cinnamon stick
4 to 6 cloves
Salt as needed
2 tbsp ghee or oil
1 large onion thinly sliced
2 to 3 green chili slit and deseeded
3 ½ cups water(adjust if needed)
How to make the recipe
Preparation
Wash and soak rice for at least 20 to 30 mins.
Drain it completely in a colander. Slice onions and chilies.
Making jeera rice
Heat ghee or oil in a pressure cooker or a pot.
Saute spices until they begin to sizzle. Roast cumin on a low flame until they get roasted well.
Add sliced onions and green chili. Fry until they turn golden.
Add drained rice and roast for 2 to 3 mins.
Pour 3.5 cups water and add salt.
Bring it to a boil and cook. Cover the pressure cooker with a lid. Cook on a high heat for 1 whistle. For cooking in pot, cook on a medium heat until the water is absorbed. when the rice is still soggy, cover and cook until done.
When the pressure goes off. Open the lid and fluff up with a fork.
Nutrition Information
Calories:
276
Fat:
4g
Protein:
2g
Method 1
How to make jeera rice recipe or jeera pulao
1. Wash basmathi rice until clear and soak it for at least 20 mins. Drain and set aside.
2. Heat ghee or oil in a pan. Saute bay leaf, cinnamon, cloves, cardamom, mace and jeera on a medium to low flame until jeera begins to smell good. You can also skip all the spices and just use jeera.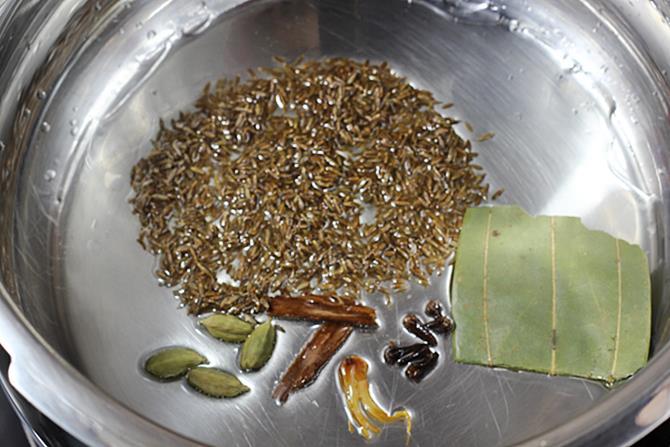 3. Add thinly sliced onions, slit and deseeded green chilies. Some folks also use red chilli. If you like you can deseed and use them now.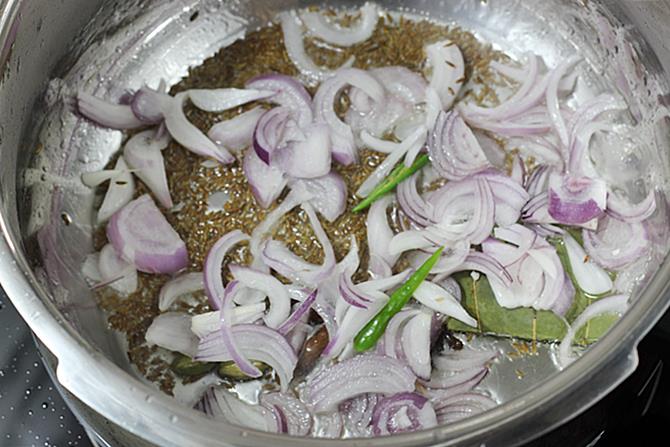 4. Saute until the onions turn golden. I fry a little more than you see in the picture.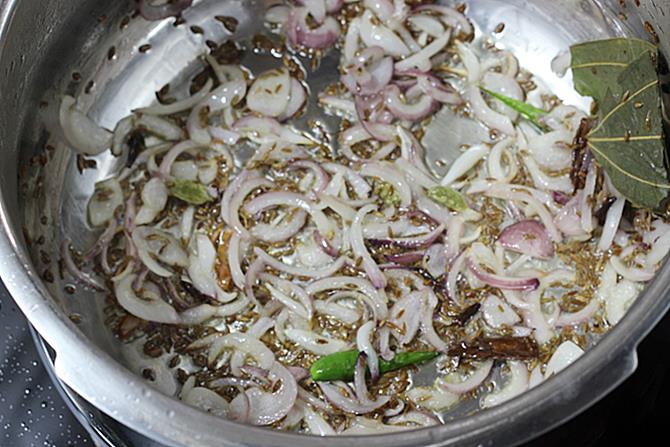 5. Add rice.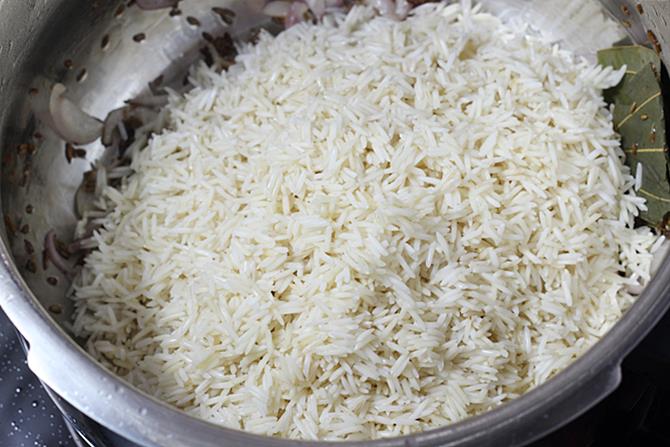 6. Saute for 2 to 3 mins.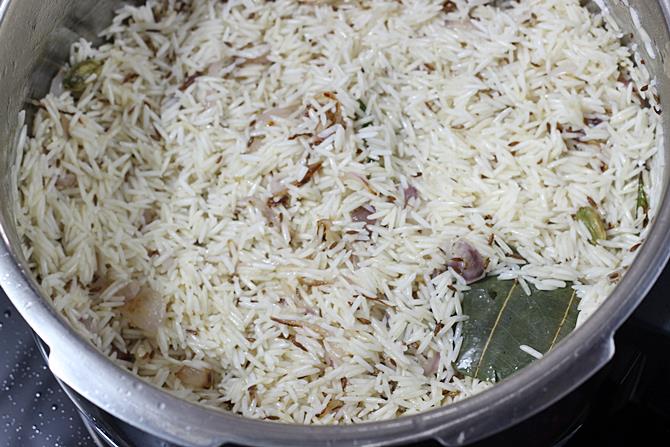 7. Add water,salt and stir. Taste the water and adjust salt as needed.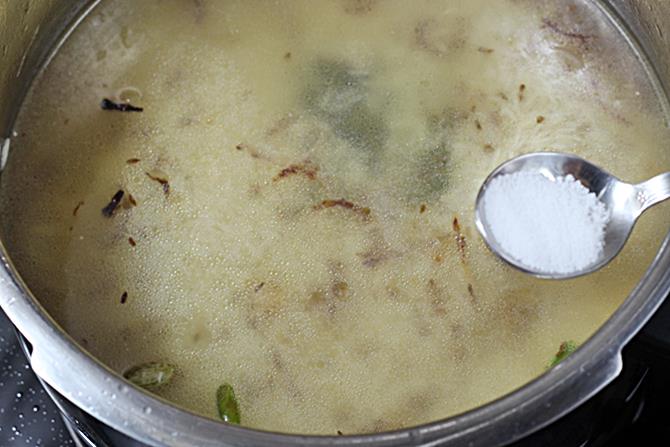 8. Cover and pressure cook on a high flame for 1 whistle. Or cook on a medium flame until the water is almost absorbed. When there is very little water left, cover and cook for just 5 mins on a low flame. Switch off before it whistles if making in cooker. You can follow the same method to make it in pot.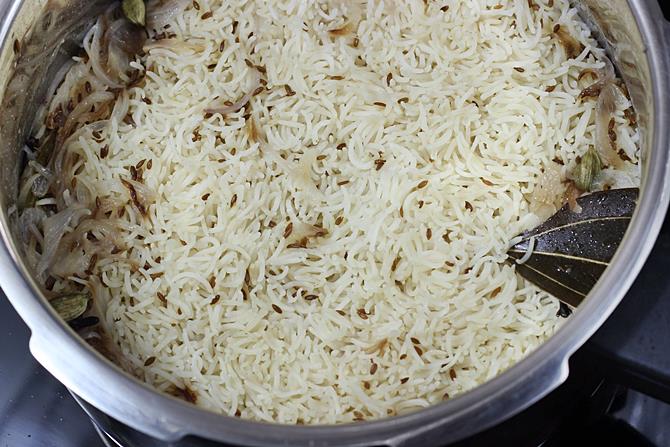 9. When the pressure goes off, open the lid.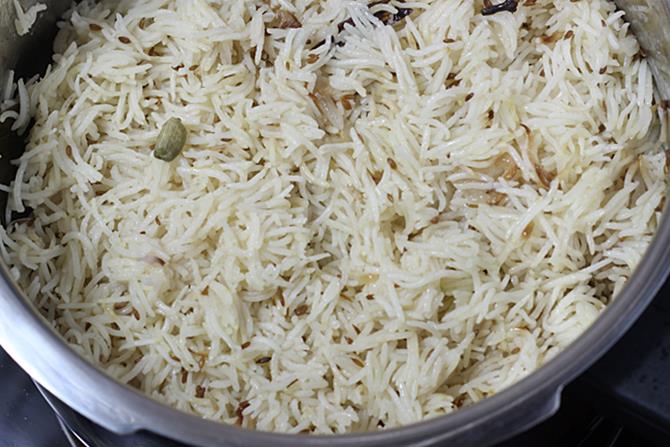 10. Fluff up gently . you can also add a bit more of ghee if desired.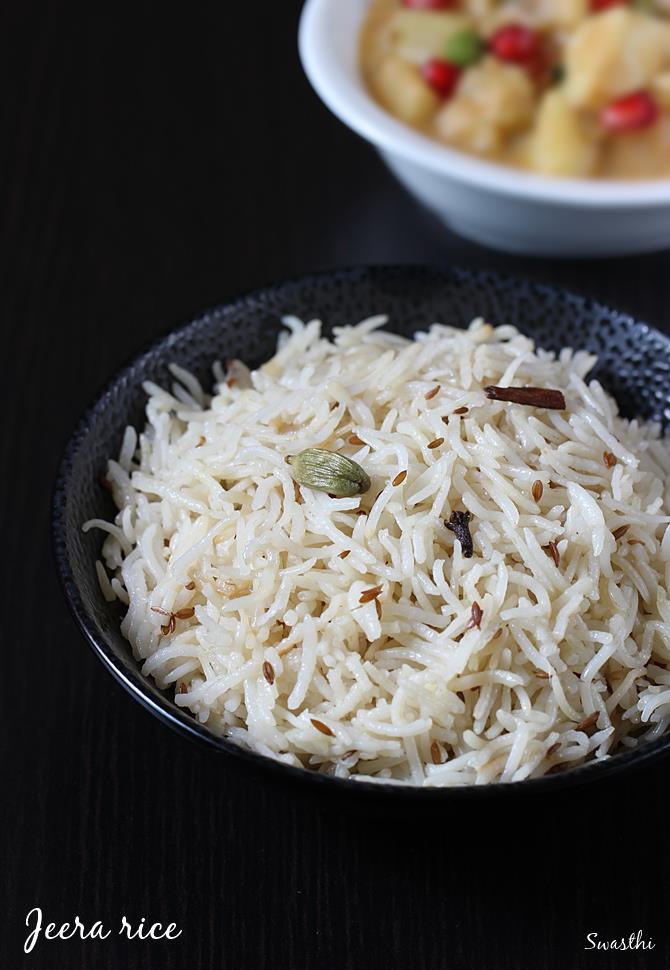 Method 2 – Jeera rice recipe This method is more flavorful with the aroma of butter and cumin. This is good to make for occasions or when you have guests home since a good amount of butter goes into this.
1. Cook rice with salt to grainy and set aside to cool.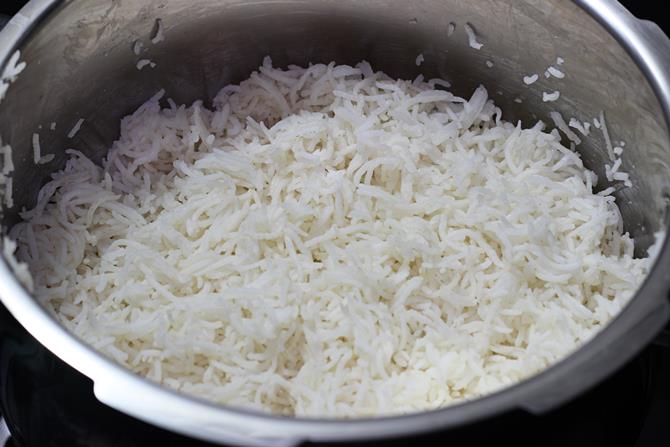 2. Add 1 tbsp butter to a hot pan.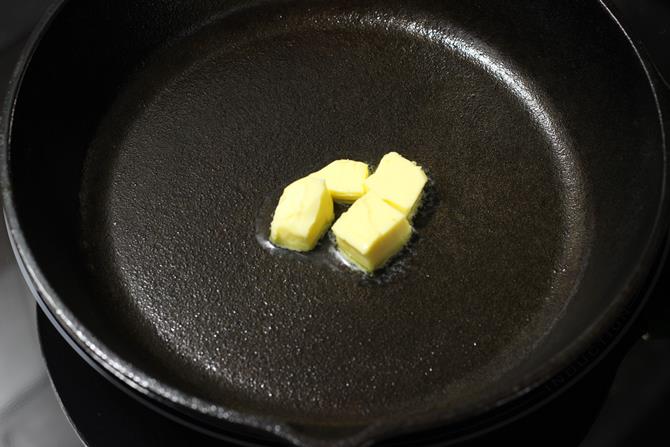 3. Add star anise, mace, cloves, cinnamon, cardamon, bay leaf and green chili. Saute for 1 to 2 mins.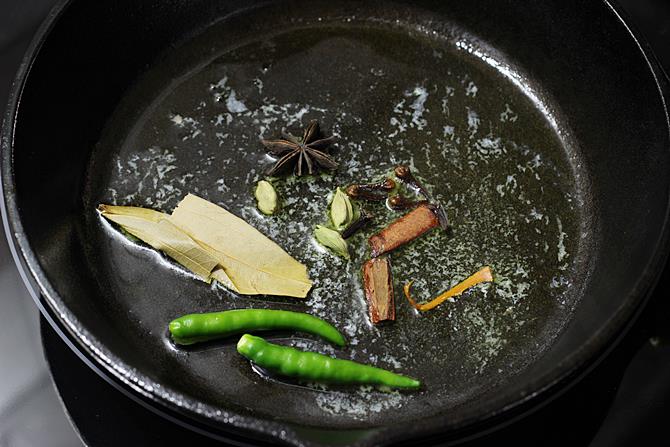 4. Lower the heat, add jeera.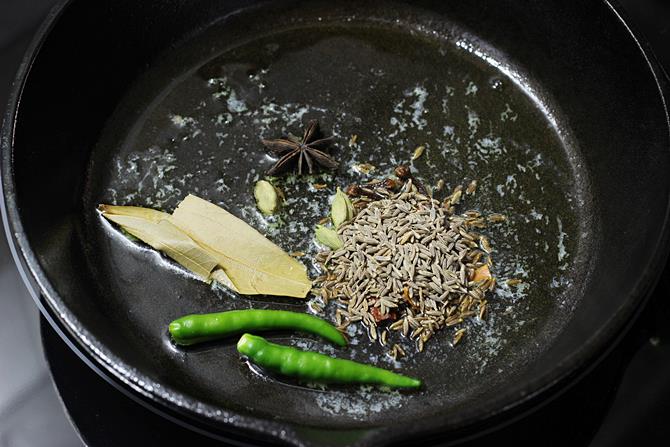 5. Saute until you begin to smell them good. It takes around 2 to 3 mins. Switch off the stove.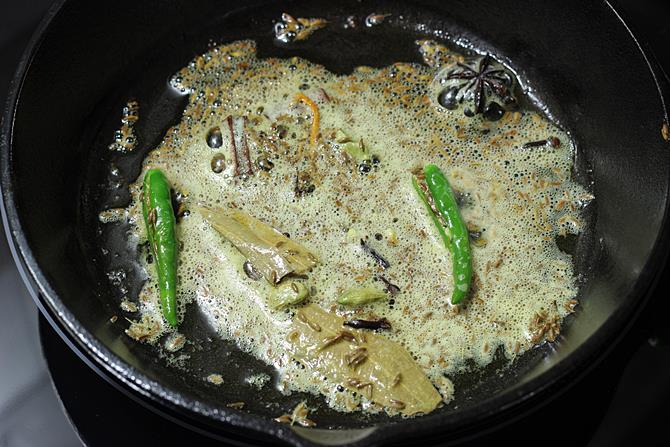 6. Add 1 tbsp more of butter along with finely chopped coriander leaves. If your rice isn't got enough salt you can add a bit more to the pan.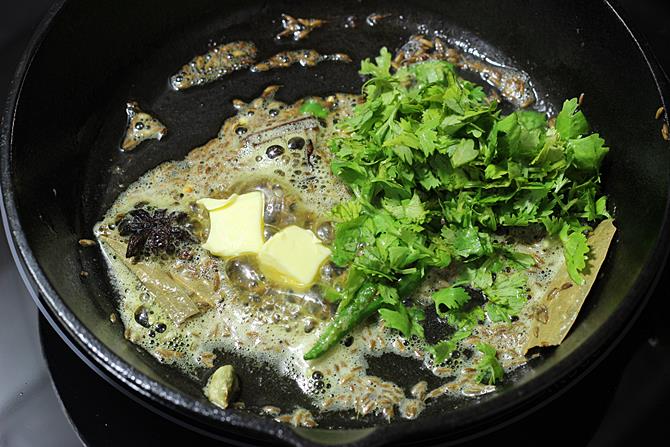 7. Add it to the rice. Mix gently. Make sure the rice is cooled completely before mixing it.