Kakarakaya fry recipe video – Sharing a simple bitter gourd stir fry recipe made in South Indian style. This goes very well with plain rice and ghee or as a side with the rasam rice, sambar rice and curd rice. Bitter gourd is said to be one of the veggies that regulates blood sugar levels, so it is good to use them atleast occasionally. This bitter gourd recipe is from my mum, very simple to make and turns out to be very good. If you are one who does not like the flavor of bitter gourd then this is a must try recipe.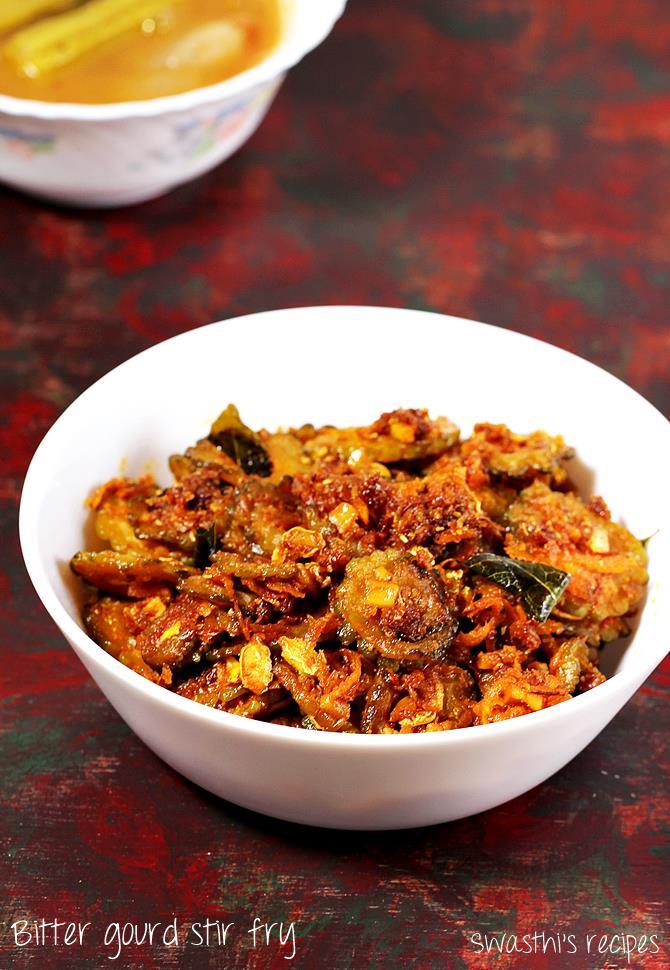 The flavors of garlic, coriander powder, tamarind, dried coconut (copra) and jaggery are the key to making this delicious kakarakaya fry. There is no substitute for any of the ingredients used. To make it the best tasting, use all the ingredients in the below specified quantities. You can also check this healthy bitter gourd curry recipe which doesn't use any jaggery or tamarind and is even suitable to folks with diabetes.
This is the first bitter gourd recipe on the blog, so sharing a few important notes. If you are a first timer, you can research more about this veggie to find if it is suitable to you.
1. Bitter gourd is not suitable to everyone, especially to women and kids. Pregnant women, those with a history of miscarriage, those planning pregnancy and women suffering from Menorrhagia should avoid this veggie to reduce the risk. While it is considered to be safe if consumed in small quantities, it is still a risk.
2. Bitter gourd seeds are said to be toxic if consumed in large quantities or eaten often. So you may remove them before cooking if you eat bitter gourd regularly. There are also evidences that these seeds have medicinal properties and are helpful to people with certain health conditions.
3. Avoid bitter gourd if you are on medications to lower blood sugar. Otherwise it may drop the sugar levels too low.
I do not remove the seeds since we do not eat this veggie often. I make it only once in few months & I do not serve this to my kids. The seeds turn crunchy in the stir fry, so I prefer to keep them. If you are making this recipe for a diabetic family member, then use little bit of karupatti or thati bellam. That balances the bitter flavor.
I will be sharing more bitter gourd recipes that are diabetic friendly.
Video of bitter gourd stir fry recipe
Kakarakaya fry or bitter gourd stir fry recipe below
Kakarakaya fry recipe | Bitter gourd stir fry recipe | Pavakkai fry recipe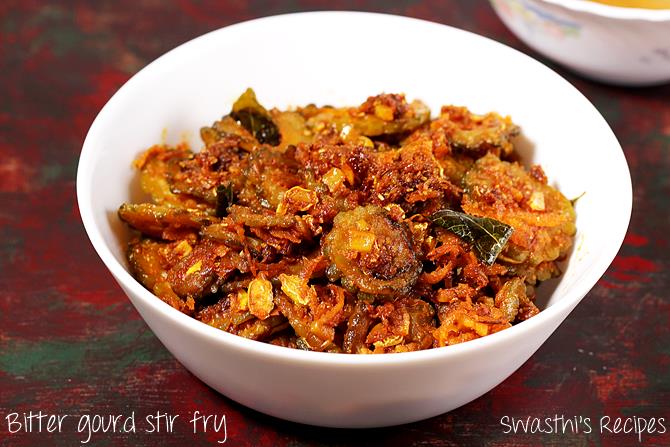 Kakarakaya fry - South Indian style bitter gourd stir fry recipe. It is best served with rice or millets.
Ingredients (240 ml cup used)
250 grams karela / bitter gourd/ kakarakayalu
1 ½ to 2 tbsps Oil
Pinch of hing
salt as needed
Turmeric little
½ to ¾ tsp cumin/ jeera
1 tbsp garlic chopped
1 to 1 ½ tsp red chili powder (I used 2 tsps)
1 tbsp coriander powder / daniya powder
50 grams jaggery / palm jaggery/karupatti (about 2 to 3 tbsps)
3 to 4 tbsp grated dried coconut / copra
Tamarind lemon sized ball soaked in ¼ cup hot water.
1 sprig curry leaves
How to make the recipe
Soak tamarind in ¼ cup hot water.
Wash bitter gourd thoroughly. Cut off both the ends. Cut to thin round slices.
Squeeze up the tamarind very well and make a thin liquid by adding another 2 to 4 tbsp water. Make sure tamarind water is thin otherwise it may prevent the gourd from getting cooked.
making bitter gourd stir fry
Heat a pan with oil and add cumin.
When they begin to splutter, add garlic and fry for 2 mins.
Add the curry leaves, hing and turmeric. Saute for a minute.
Add the bitter gourd and begin to stir fry for 2 to 3 minutes.
Add salt and filter the tamarind across the pan. Use only as needed.
Mix well. Cover and cook on a medium heat until the bitter gourd is cooked well. Keep stirring in between to prevent burning
Add coriander powder, red chili powder and mix. Saute for 2 mins.
Add coconut and jaggery. On a low to medium heat stir fry until the jaggery completely dissolves. Takes about 3 minutes. Check the taste. We prefer to make it slightly hot, sweet and tangy. You can add in more chili powder, jaggery and tamarind water at this stage. Cook until everything dries up well.
Kakarakaya fry is ready to serve with rice and ghee.
These are the ingredients I used to make kakarakaya fry.