kashmiri pulao has been our kids' favorite at home ever since I made it the first time. This is one of the best classic pulao or rice based dishes not only for kids, but for all those who like the mild and sweet flavors in this pulao. kashmiri pulao is cooked in saffron soaked milk and mild spices. Garnished with lot of nuts and fresh fruits like pomegranate, pineapple and apple chunks.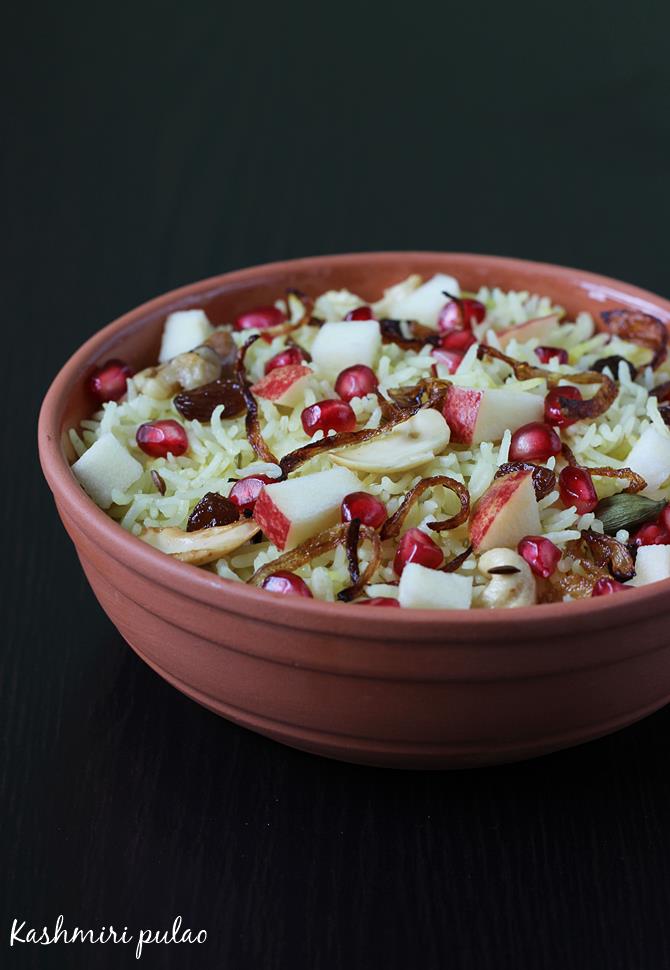 We get to see a lot of variations in kashmiri pualo, especially in the restaurants. One of the popular variations is a kashmiri zarda recipe, will share that some time. Few even use rose water or fresh rose petals to flavor the rice apart from saffron.
 
I often make a simple pomegranate raita to go with this pulao. Add some pomegranate seeds along with cumin powder, salt to whisked yogurt. pomegranate raita is ready to serve.
 
This pulao goes good in kids' lunch box and kids will love this. Fruits can be packed separately in a container and layered just before serving.
 
step by step photos on how to make kashmiri pulao
1. Heat up 3 tbsp. milk and soak saffron strands in it. Keep this aside.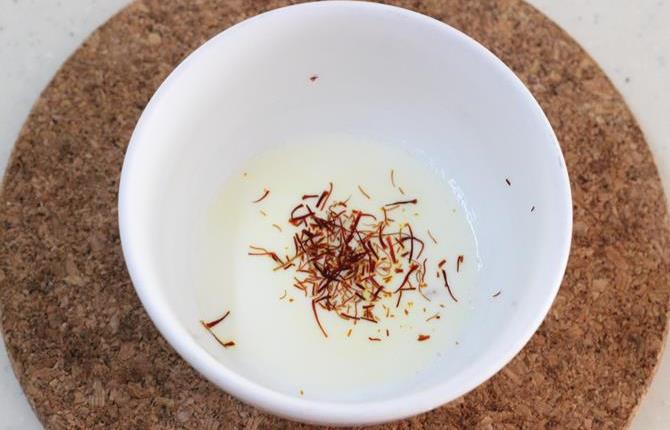 2. Add ghee and fry nuts till lightly golden. Add raisins and fry. Set this aside.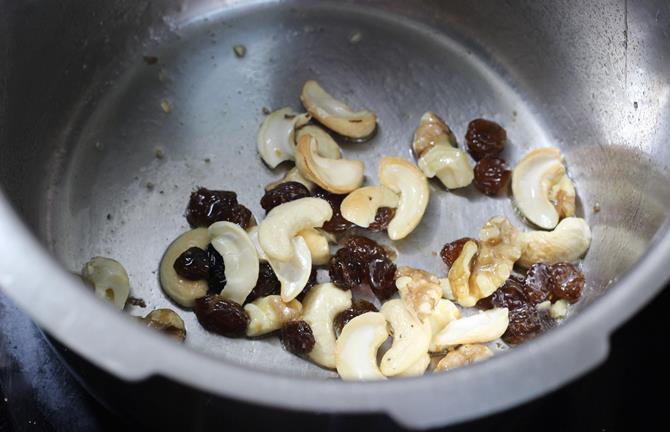 3. To the same pan, add little more ghee and fry sliced onions till golden. Set these aside as well with the nuts.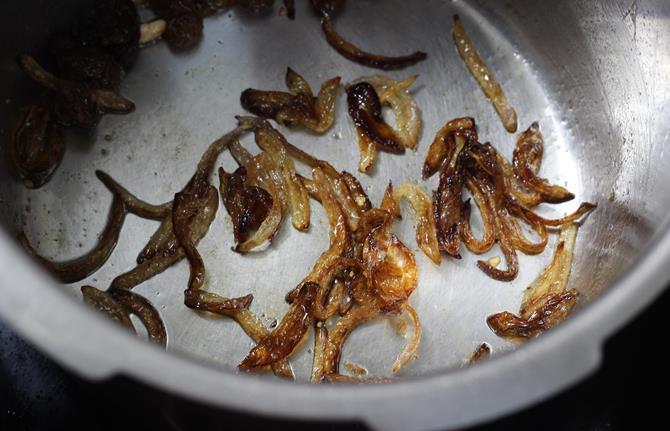 4. Add spices along with crushed fennel. Saute till the spices smell good.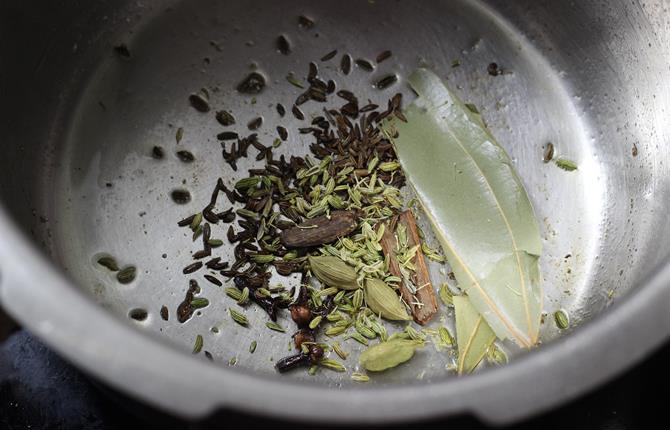 5. Add soaked and drained rice, salt and 1/2 tbsp. ghee. Fry for about 3 to 4 minutes. Roasting of rice in ghee along with spices gives a good aroma to the kashmiri pulao.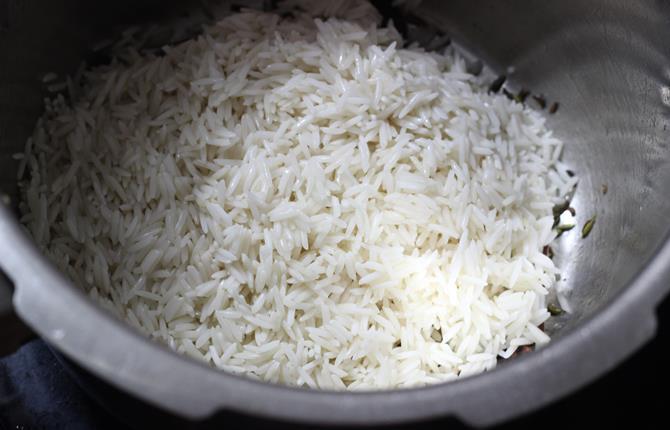 6. Pour saffron milk and water. Stir and cook the rice until done. Sprinkle rose water or rose petals just before covering the pot. If using a pressure cooker, close the lid when water almost evaporates, but the rice is still soggy. Lower the flame and cook for 3 to 5 minutes. Switch off the stove. Do not let the cooker whistle. If using normal rice, let it whistle once.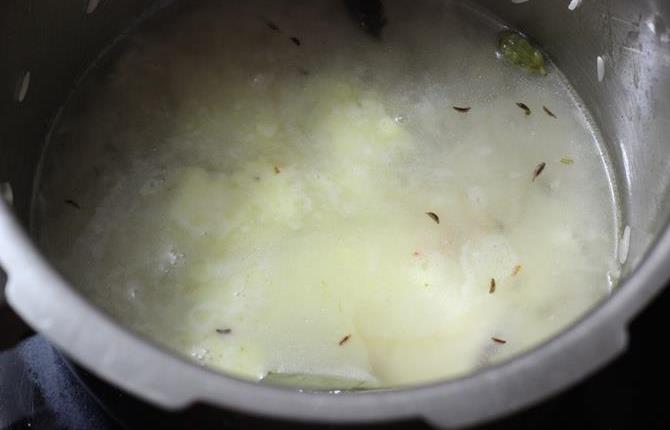 7. When the pressure goes down. Open the lid and fluff the rice.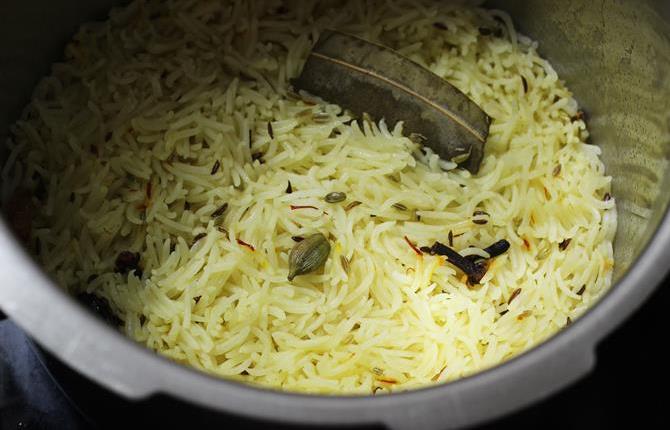 8. Transfer the rice to a serving bowl.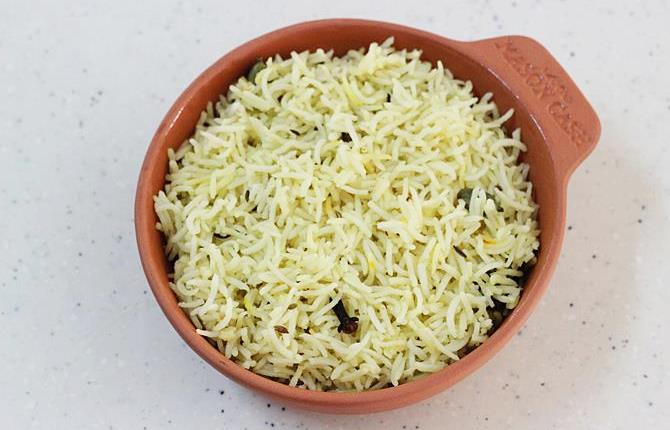 9. Garnish with fried onions, nuts, raisins and chopped fruits.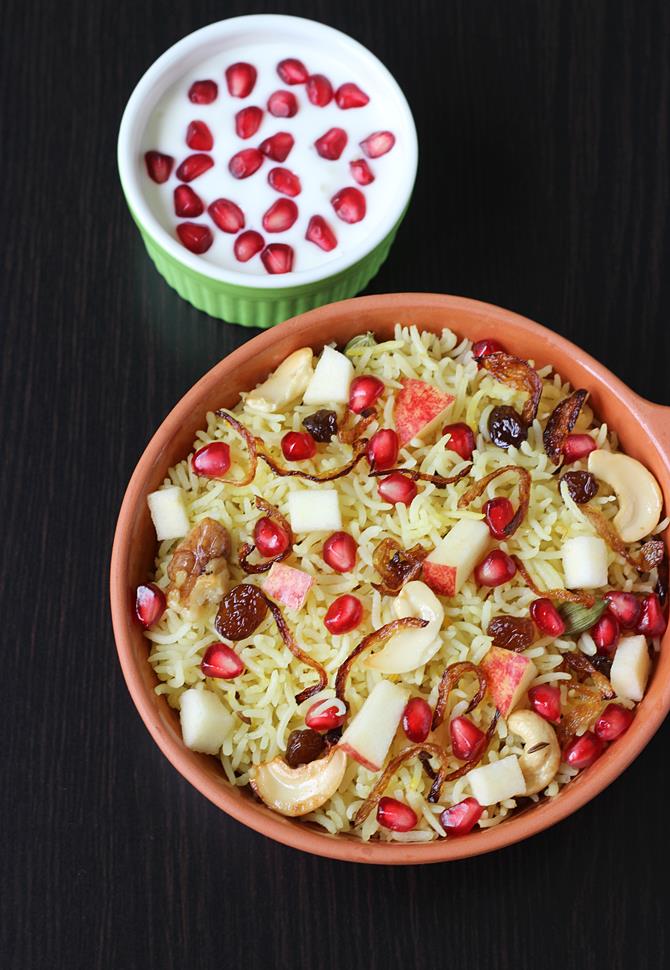 Related recipe : simple vegetable pulao recipe
 
find veg kashmiri pulao recipe by swasthi below
kashmiri pulao recipe, how to make kashmiri pulao | pulao recipe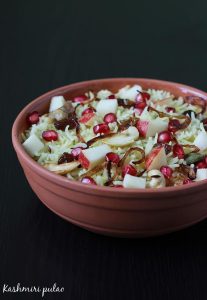 Ingredients (240 ml cup used)
1 ½ tbsp. ghee
1 cup basmathi rice
1 small onion sliced thinly
Generous pinch of saffron
3 tbsp. milk
6 to 8 cashew nuts
4 to 6 walnuts (optional)
4 to 6 Almonds
1 tbsp. raisins
1 ½ cup water (adjust to suit your rice)
spices
½ tsp. fennel seeds/ saunf
1 bay leaf
½ tsp shahi jeera / black cumin
1 small black cardamom (optional)
1 small cinnamon stick
3 green cardamoms
4 cloves
½ tsp dry ginger powder (optional)
fruits
2 tbsp. pomegranate
Few chopped chunks of apple and pineapple
How to make the recipe
Heat up milk and soak saffron in milk. Set aside. You can microwave milk for 20 to 25 second and soak it.
Crush fennel seeds coarsely if possible. Set aside.
Heat 1 tbsp. ghee in a pot, add nuts and fry till golden, add raisins and just stir them. Set these aside.
To the same pan, add sliced onions and fry till golden. Set these aside as well.
Add all the dry spices including fennel seeds and fry till they begin to smell good. Do not burn.
Add rice, salt, ½ tbsp. ghee and fry for about 3 minutes.
Pour the saffron milk and water. Stir and check salt.
Cook the rice till fully done. If cooking in a pressure cooker, cook till almost water evaporates. When it is still soggy, add rose water. Cover the lid and simmer for 5 minutes. Switch off before it whistles. When the pressure goes down switch off. If cooking in a pot, when the water almost evaporates fully, sprinkle rose water. Cover and cook.
Fluff up after 10 minutes.
Transfer kashmiri pulao to a serving bowl, Garnish with fried onions, nuts, raisins, and pomegranate, apple and pineapple chunks.