Kodi vepudu is a andhra chicken fry made with fresh ground spices – Learn to make spicy guntur chicken with step by step photos. Chicken fry can be as simple as a potato fry and can be made in many ways. Most of the times, it is the fry that gets done at home since the gravy dishes are difficult to finish. I have already posted an Andhra chicken fry recipe in a restaurant style which is mildly spiced, flavorful, simple to prepare and can be prepared even by bachelors. But today's kodi vepudu recipe in Guntur or Andhra Style is a fiery hot and spicy dish that is deep red in color, as it is prepared with the Guntur red chilies.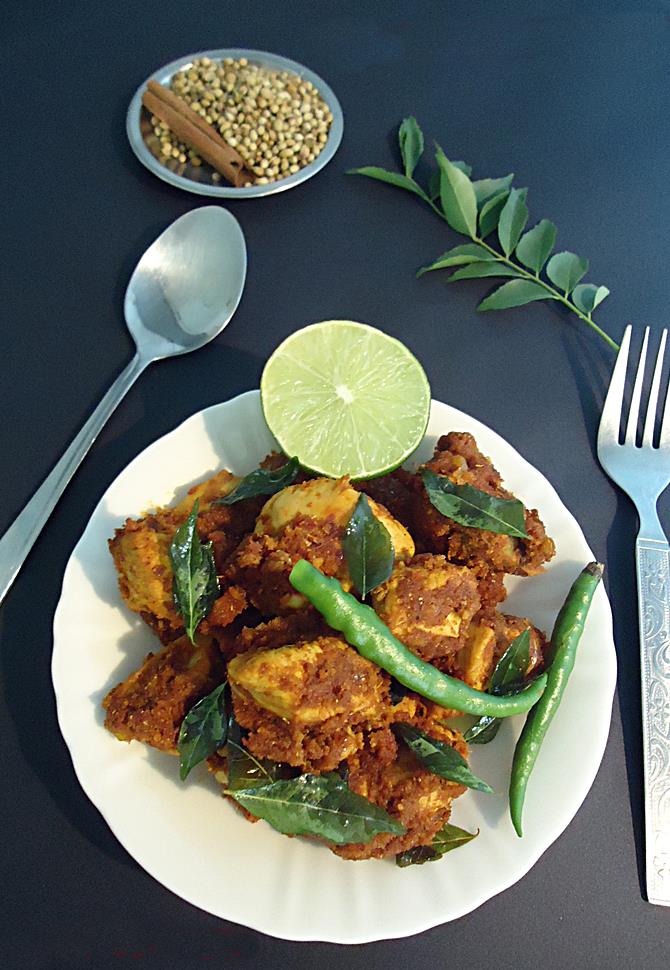 I have mentioned what i use, you can adjust the quantities to suit your family's taste. There is no separate garam masala needed since i have mentioned the spices to powder.
For more chicken fry recipes, you can check
chicken varuval
chicken roast
pepper chicken
restaurant style chicken fry
Recipe of kodi vepudu or andhra chicken fry below
Kodi vepudu | Andhra chicken fry recipe | Guntur spicy chicken recipe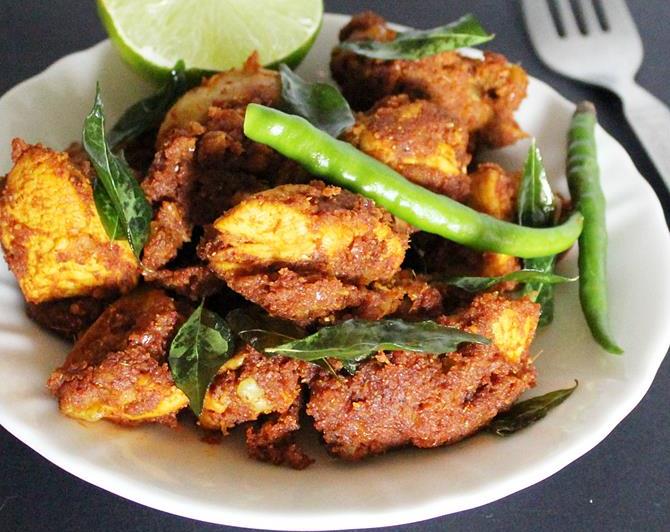 Hot and spicy guntur chicken fry with fresh ground masala
Ingredients (240 ml cup used)
250 grams of chicken
2 sprigs of curry leaves
2 tbsp. oil
few tbsp. Cashew powder
¼ tsp pepper powder
1 tbsp. Ghee
To marinate and cook
Salt to taste
¼ cup of coarsely crushed onions
1 ½ tsp. Lemon juice
1 green chili slit
1 tsp red chili powder
⅛ tsp turmeric
1 tbsp ghee melted
1 tsp ginger garlic paste
to roast and powder
3 to 4 guntur chilies (remove the seeds)
1 ½ tbsp coriander seeds
1 tbsp. Desiccated coconut / endu kobbari
¼ tsp cumin / jeera
2 green cardamom
2 inch cinnamon stick
3 to 4 cloves
2 garlic cloves
few pepper corn
How to make the recipe
Marinate chicken with marination ingredients, set aside for at least 30 mins.
Cook till the chicken is fully done. If needed can add few tbsp. Of water. No moisture must be left at the end.
Heat a wide tawa with ghee or oil, add curry leaves and fry till crisp, set aside half for garnish.
Add the chicken with left over stock if any, on a high flame let the water evaporate.
Add the ground masala and fry till you get a good aroma. This takes around 8 mins.
Add the pepper powder, almond powder and ghee. Mix well and fry for another 2 to 3 mins or till the raw smell goes off. You can taste and check if the masala tastes raw.
Serve with rice.
Step by step photos to make kodi vepudu or andhra chicken fry
1. Marinate chicken with all the marination ingredients and set aside for 30 minutes. Cook the chicken till soft. While the chicken cooks, dry roast all the spices.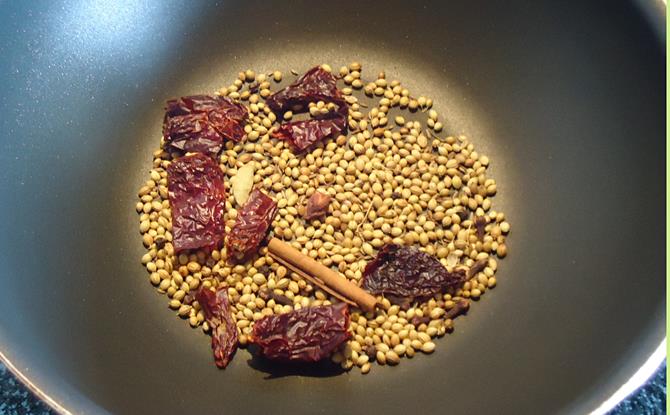 2. Cool them and powder them. Add coconut and blend.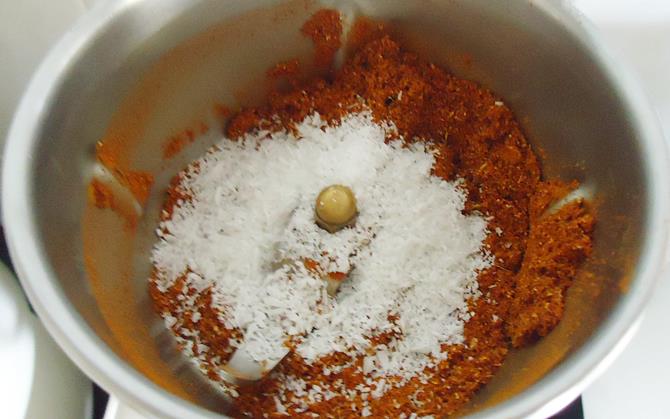 3. Add garlic and blend. Do not add garlic at step 1.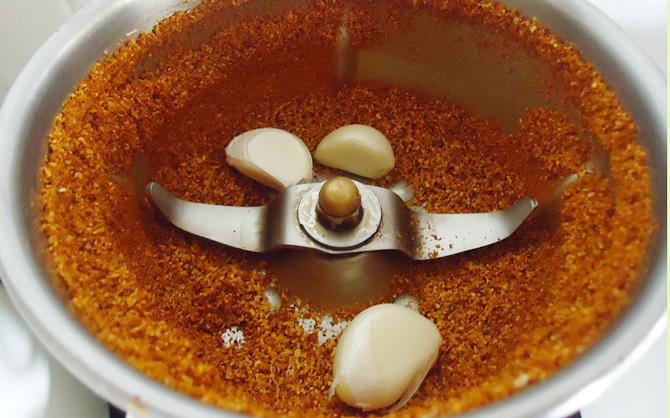 4. Add oil and heat a pan. Add curry leaves and fry until crisp.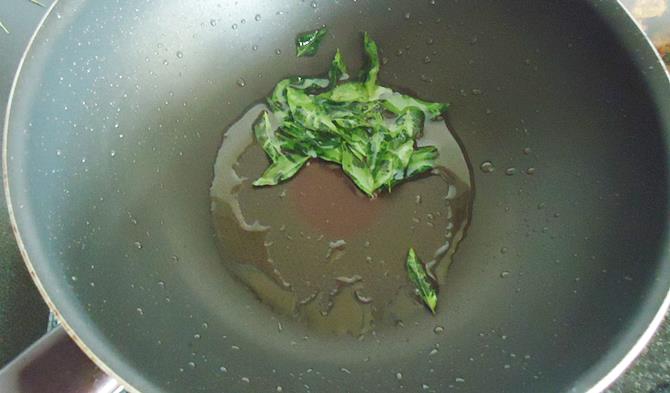 5. Add cooked chicken. Fry till the moisture evaporates.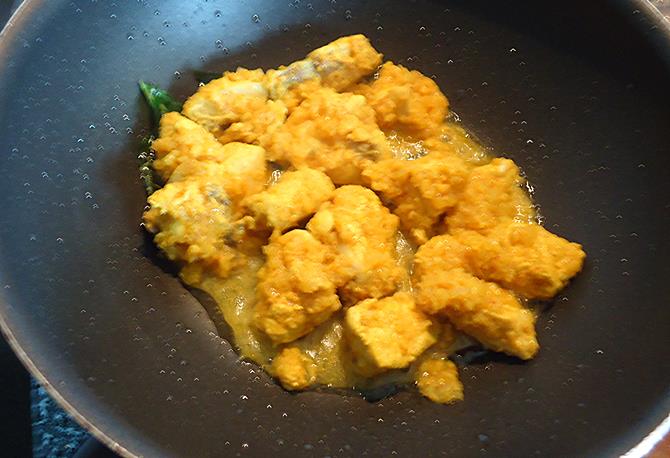 6. Add ground masala powder. Mix well and fry until the masala gets roasted well and moisture dries up.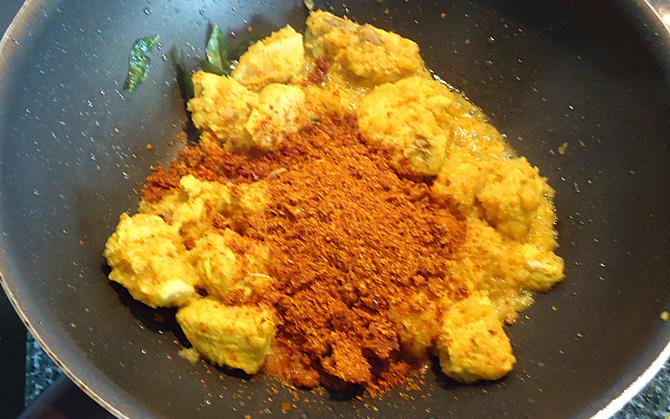 7. This is optional. Sprinkle powdered cashews to give a restaurant style taste. Fry for about 2 to 3 minutes.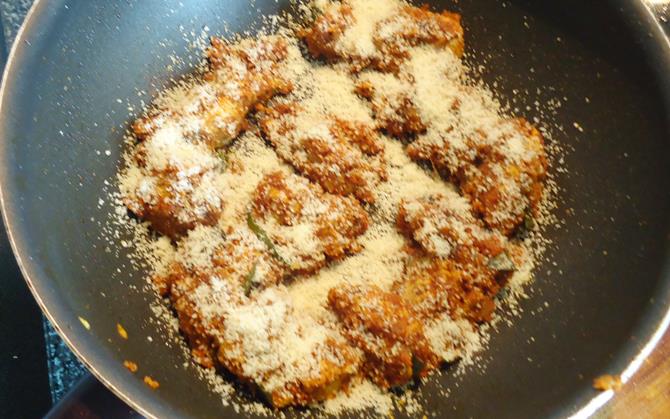 8. Serve with rice and rasam or as a starter. Guntur chicken is ready.