Kolhapuri chicken recipe with video – Learn to make spicy chicken kolhapuri curry with fresh ground masala. Kolhapuri cuisine is popular for the spicy & flavorful foods. Kolhapuri misal pav, veg kolhapuri, paneer kolhapuri, mutton and chicken kolhapuri are some of the popular foods that are found on restaurant menus.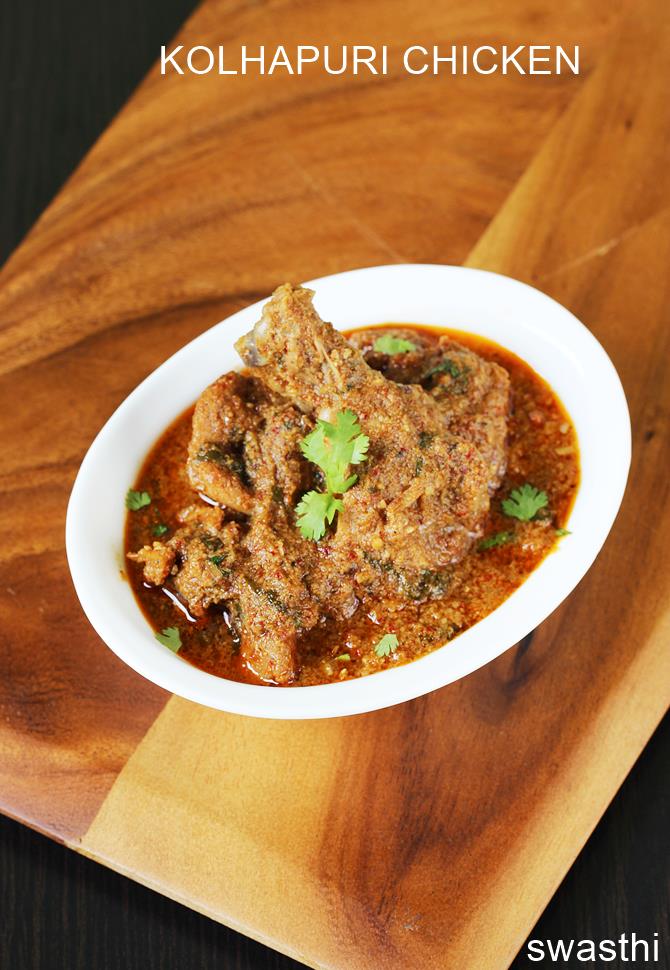 The uniqueness, flavor and taste of these dishes come from the roasted & freshly ground spices. I have also mentioned how to make the kolhapuri masala in this post, however you can also use ready made kolhapuri masala.
The key ingredients used in the masala are spices, poppy seeds, dry coconut (copra) and sesame seeds. Since poppy seeds are banned in Singapore I made this without using them. The gravy turns out exceptionally good if poppy seeds and dry coconut / copra are used. If you do not have them replace poppy seeds with cashew nuts and dry coconut with desiccated coconut.
This spicy chicken curry goes very well with plain steamed rice or even with chapati or roti.
You may like to check
70 chicken recipes
Top 10 chicken recipes
Top 10 chicken curry recipes
Video of kolhapuri chicken recipe
Kolhapuri chicken recipe card
Kolhapuri chicken recipe | Spicy chicken kolhapuri recipe | Chicken recipes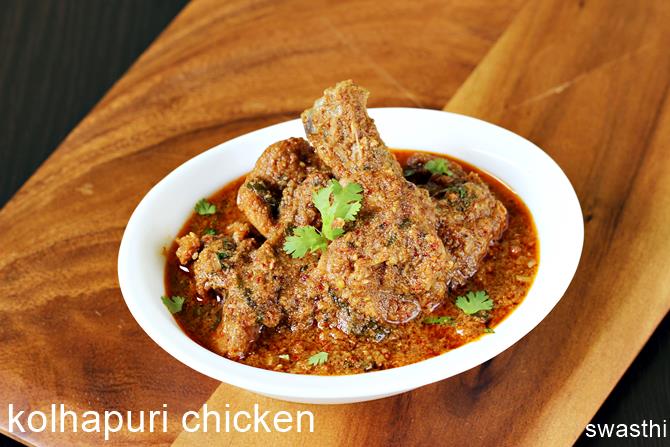 Kolhapuri chicken is quite popular in the restaurants. It is well known for a spicy and aromatic flavors.
Ingredients (240 ml cup used)
400 to 500 grams chicken (bone-in)
1 large onion chopped or sliced
2 tbsp oil
1 medium tomato chopped finely deseeded
¼ tsp turmeric
¾ tbsp. ginger chopped (or ¾ tsp paste)
¾ tbsp. garlic chopped (or ¾ tsp paste)
Salt
Chopped coriander leaves handful
spices to roast and powder
¼ tsp nutmeg powder or small piece
4 cloves
1 strand of mace
1 ½ tbsp poppy seeds (substitute with 5 to 6 cashewnuts)
1 tbsp. sesame seeds
4 to 5 pepper corn
4 to 5 red chilies (lavangi chillies or byadgi)
¼ cup dried coconut (preferably copra)
2 tbsp coriander seeds
1 inch cinnamon stick
3 green cardamom
1 black cardamom
1 tsp cumin
How to make the recipe
Heat a pan on a low flame and saute red chilies, coriander seeds, cinnamon, cloves, cardamoms, pepper, mace and nutmeg until golden. If using nutmeg powder, add it in the next step.
Add coconut, cumin, sesame seeds and poppy seeds. Saute until all the ingredients turn to golden. Do not over roast as the spices will taste bitter.
Set these aside and cool.
Meanwhile add oil to a pan and saute onions until golden.
Add chopped ginger garlic and saute without burning until the raw smell goes off. Set these aside to cool.
Meanwhile blend spices to a fine powder. Add onion and ginger garlic to the powder and blend again to a fine powder. It will be slightly oily and lumpy but make sure ginger garlic is ground well.
Add this masala to the chicken and marinate. Set this aside for at least 45 mins to one hour.
Add oil to the same pan and add tomatoes. Sprinkle salt and saute until the tomatoes turn soft.
Add marinated chicken and saute well for 3 to 5 mins on a medium heat.
Add salt to the chicken.
Pour water just enough to partially cover the chicken.
Mix well. Add coriander leaves. Regulate the flame to low flame and cook chicken until done.
Serve kolhapuri chicken with plain steamed rice or chapati, onions slices and lemon wedges.