Lemon rice recipe with video – lemon rice is one of the most commonly made south Indian rice dish. It is usually eaten alone or with pickle, yogurt, raita, pachadi / chutney or kosambari. Some even like to enjoy with masala vada, papad or pakora. I make lemon rice only as a quick fix when i feel lazy. It has been quite hot in Singapore for the past 2 weeks and don't feel like cooking much. Lemon rice is something very easy so i made it along with carrot, cucumber kosambari, they both go well together with a bowl of yogurt.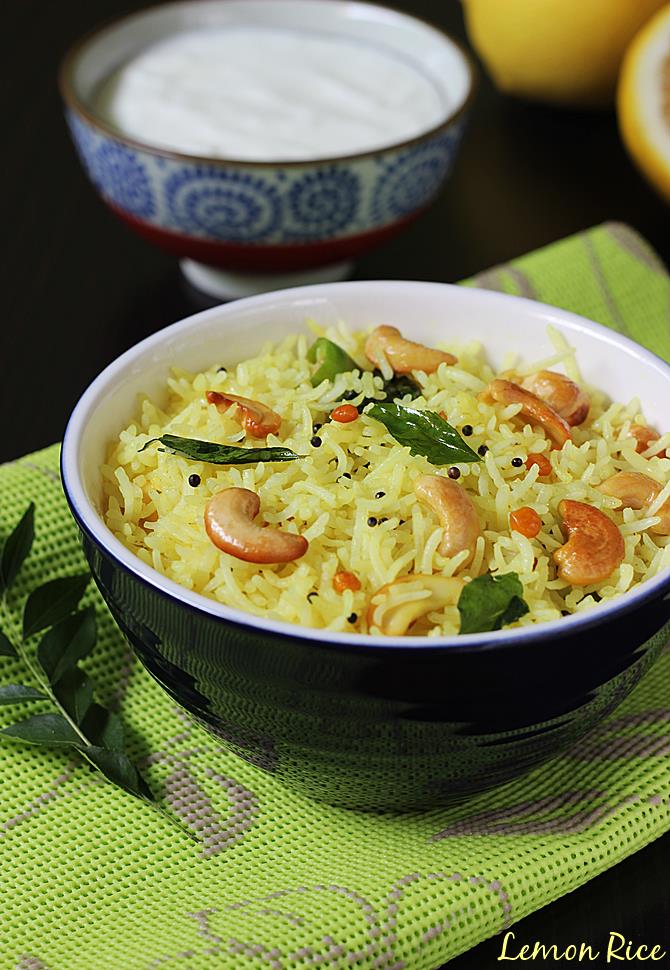 Since this is a simple recipe i had not taken the step by step photos and a initially. But later I have updated with step by step photos & even with a video, you can find them at the end of this post. So the main picture is with cashews and step by step pics & video with peanuts.
I like to add little extra virgin olive oil towards the end of making lemon rice. Olive oil doesn't really go well in Indian foods but there are few foods which are an exception and lemon rice is one of them. If you like to increase the intake of olive oil in your diet, this may be a good option. I make this for my kids' lunch box only if i miss my alarm and wake up late as this needs no chopping or any additional work. But i do pack it with kosambari. The flavor of lemon is more dominant than olive oil, so extra virgin oil just goes good for lemon rice even if made for the lunch box. Sometimes I also use virgin coconut oil but that tastes best when consumed immediately.

We also use a bit of grated or minced or thinly sliced ginger as it adds a good aroma to the rice and keeps fresh for hours. Peanuts are used to make lemon rice, since i didn't have them i used cashews. To make a good refreshing lemon rice always use fresh lemons. I personally like the large variety of lemons as they are really flavorful.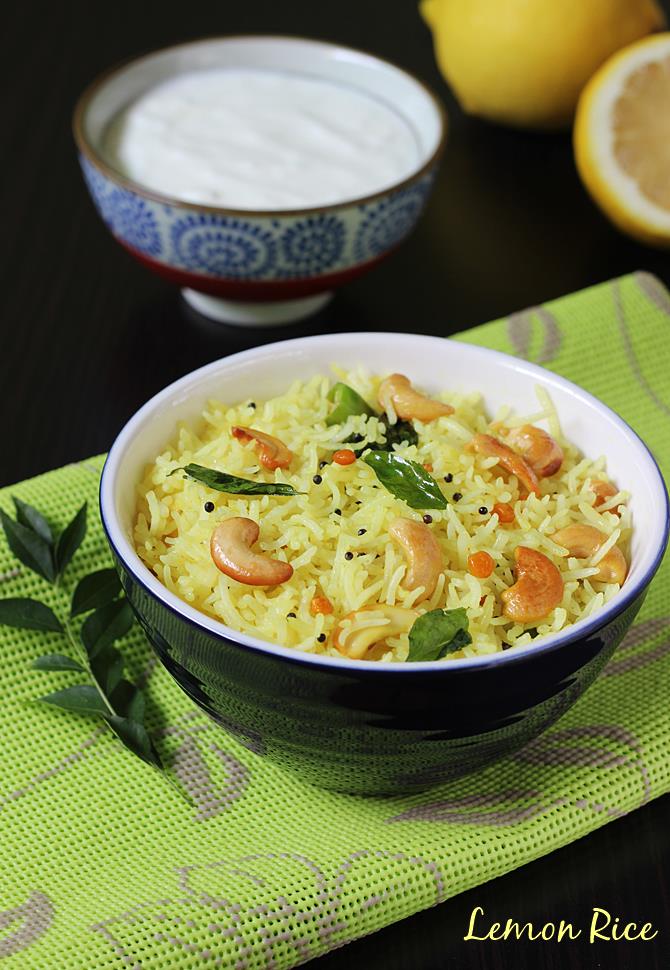 find more rice recipes on the blog,
coconut rice
potato rice
tomato rice bath
pudina rice
Video of lemon rice recipe
Find the lemon rice recipe card below
Lemon rice recipe | How to make south indian lemon rice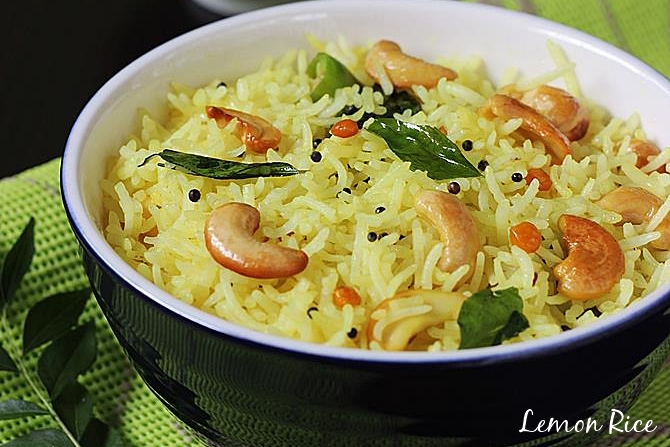 Lemon rice recipe, a popular south Indian food made for a meal. It is served with curd, pickle, papad.
Ingredients (240 ml cup used)
1.5 cups rice
lemon juice as needed
salt as needed
1 tbsp. cooking oil
¾ tsp mustard
1 tsp urad dal
1 ½ tsp chana dal
2 to 4 tbsp. peanuts or cashews
⅛ to ¼ tsp turmeric powder / haldi
1 to 2 dried red chilies broken
1 to 2 green chili slit (skip if making for kids)
pinch of hing
1 large sprig of curry leaves / kadi patta
optional ingredients
½ tbsp. grated or minced ginger
How to make the recipe
Wash rice few times or until the water runs clear.Soak for at least 15 mins.
Cook it till fully done but not mushy. I usually cook it on a medium flame in a 3 liters pressure cooker for 1 whistle. When the pressure goes off cool it completely.
When the rice cools, Sprinkle salt, lemon juice and 1 tsp oil evenly. This helps to keep the rice grainy. Mix well and check the salt and lemon juice. Adjust as needed.
Heat a pan with oil on a medium to low flame. When it turns hot, add peanuts or cashews. When they are half roasted, add chana dal and urad dal. When the dal turns golden, add mustard. Allow to crackle. Add ginger, chilis and curry leaves. When the leaves turn crisp. Off the stove, add hing and turmeric. Do not burn the ginger else it will make the lemon rice bitter.
Pour this to the cooled rice. Mix everything well. Serve hot or cold.
Nutrition Information
Calories:
500
Fat:
15g
Carbohydrates:
85g
step by step photos on how to make lemon rice
1. Wash and soak rice for at least 15 mins. Cook the rice and cool it completely. Sprinkle salt, lemon juice and 1 tsp oil evenly. Mix lightly. Adjust salt and lemon as needed. Set this aside.
2. Heat oil in a pan. Set the stove flame to low to medium. Add peanuts or cashews and roast them until half roasted.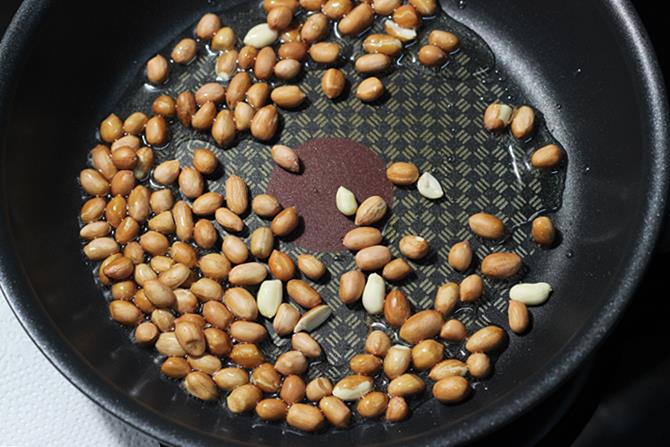 3. Then add urad dal and chana dal. Saute until lightly golden on a medium flame.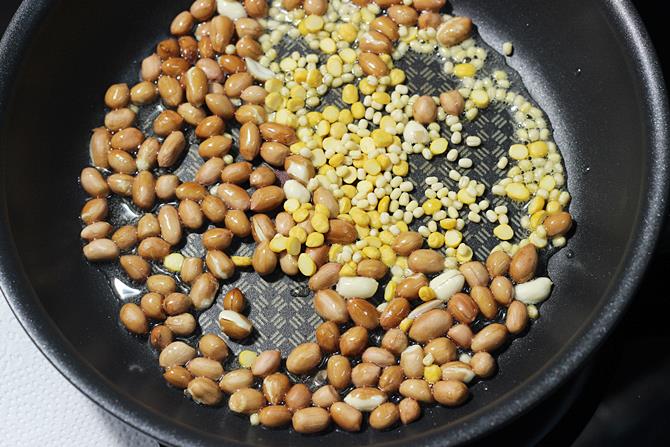 4. Add mustard first and saute until they crackle. Add curry leaves, ginger slices, green chilies and red chilies.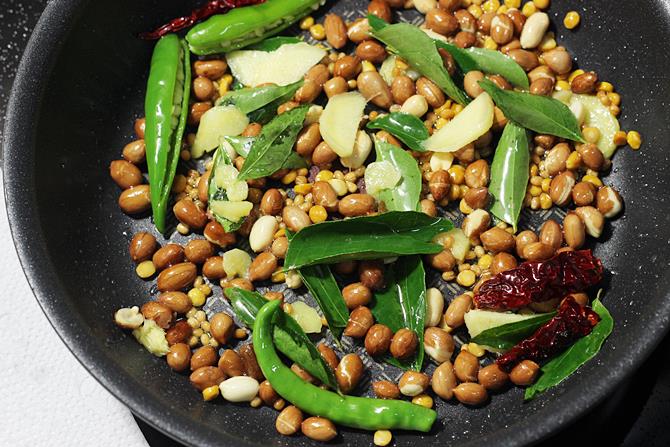 5. Saute until the curry leaves turn crunchy. Switch off. Add hing and turmeric.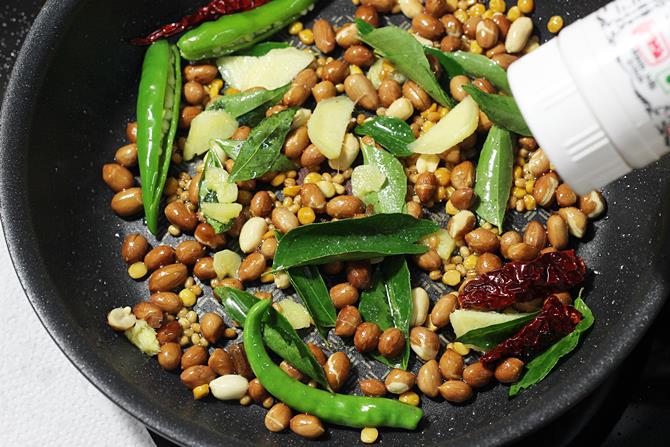 6. Add this to the cooled rice. Mix well. Lemon rice is ready to serve.