Mamidikaya pappu recipe – Learn to make andhra style mango dal recipe, a delicious tangy dal. Mango is called as mamidikaya in telugu and mango cooked with dal called as mamidikaya pappu. Andhra pappu is mostly made with vegetables like bottle gourd, ridge gourd, tomato, spinach and even with raw mango. Mamidikaya pappu is one of the most commonly made Andhra pappu varieties.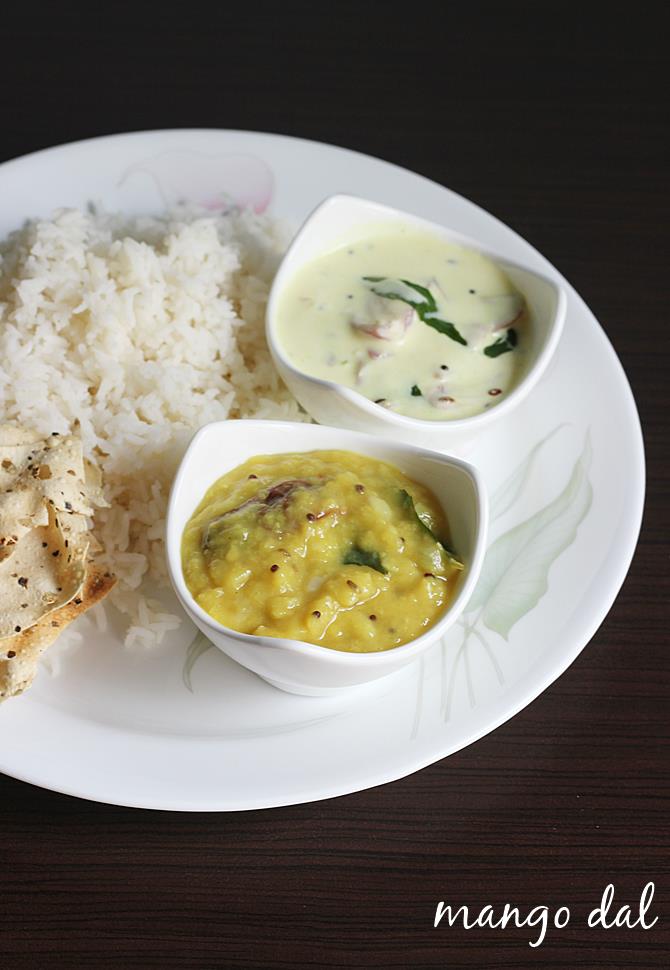 Mamidikaya pappu or mango dal tastes tangy, slightly hot from green chilies and is one of the best andhra pappu recipe. Mamidikaya pappu can be had with rice or chapathi and makes a simple and hearty meal when accompanied with papad, pickle and yogurt or rasam. Mangoes are available through out the year in Singapore, for a change I make this dal sometimes.

A sour mango that is not young is best suited to make this mango dal. Chopped raw mango pieces with skin are cooked with dal and green chilies to smooth and then tempered.There are variations to making this mango dal, but I like to keep it simple, not to loose the taste and flavor of raw mango.

More andhra pappu recipes on the blog,
Gongura pappu
Tomato pappu
Palakura pappu
Beerakaya pappu
Gummadikaya pappu

How to make mamidikaya pappu or mango dal recipe
1. You can use a single variety of dal or mixed varieties like moong dal, tuvar dal. I used moong dal and toor dal in equal quantities. Wash dal thoroughly till the water runs clear.Drain off the water and add chopped mango, green chilies and salt.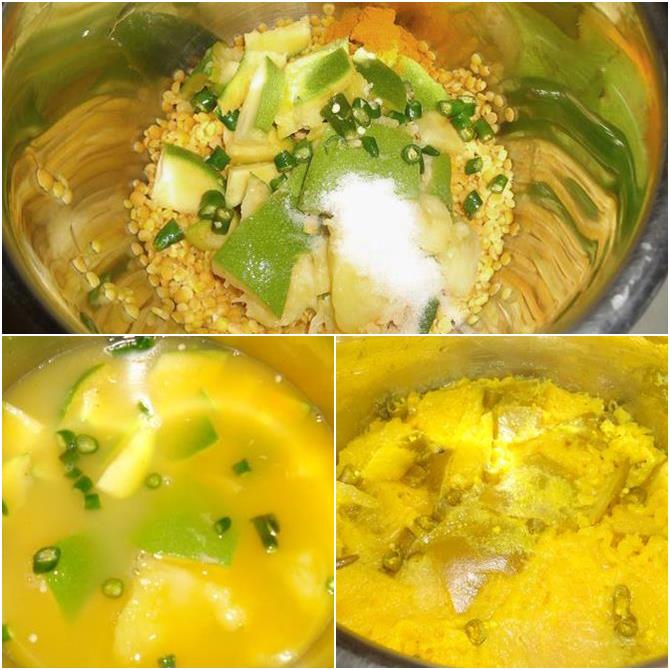 2. Add water and pressure cook for 2 to 3 whistles or you can cook in a pot till soft. When the pressure goes down, mash the dal to smooth if you like smooth dal or skip mashing if you like coarse texture.
3. Heat ghee or oil, add mustard, cumin, red chili and garlic or ginger. when they begin to sizzle, add red chili and curry leaves. Fry till crisp. Add hing and turmeric.Pour this to the dal and mix.
Serve mango dal with rice,papad, yogurt or rasam.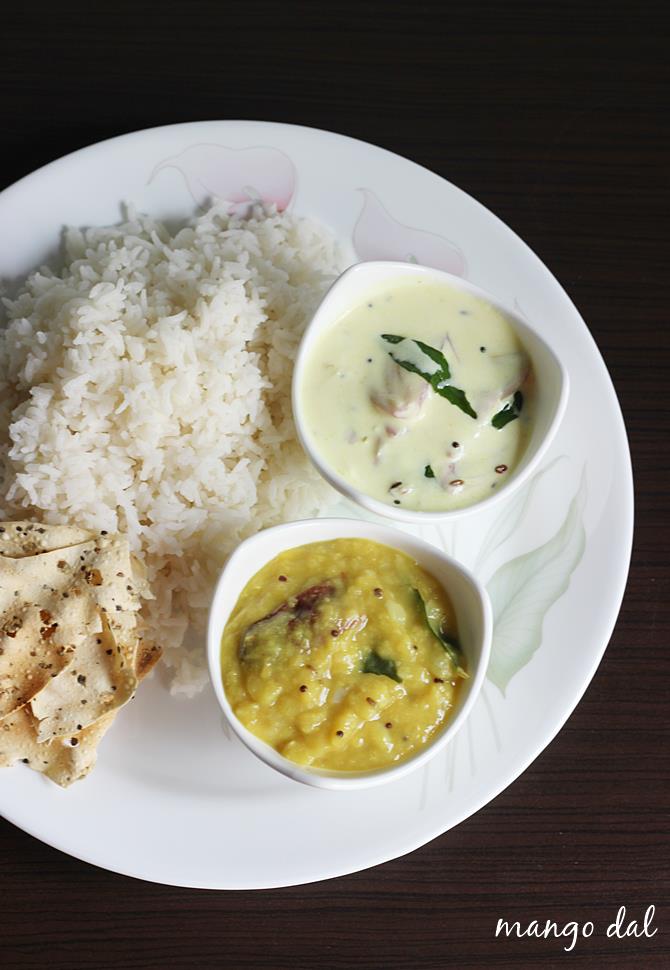 Mamidikaya pappu recipe or mango dal recipe below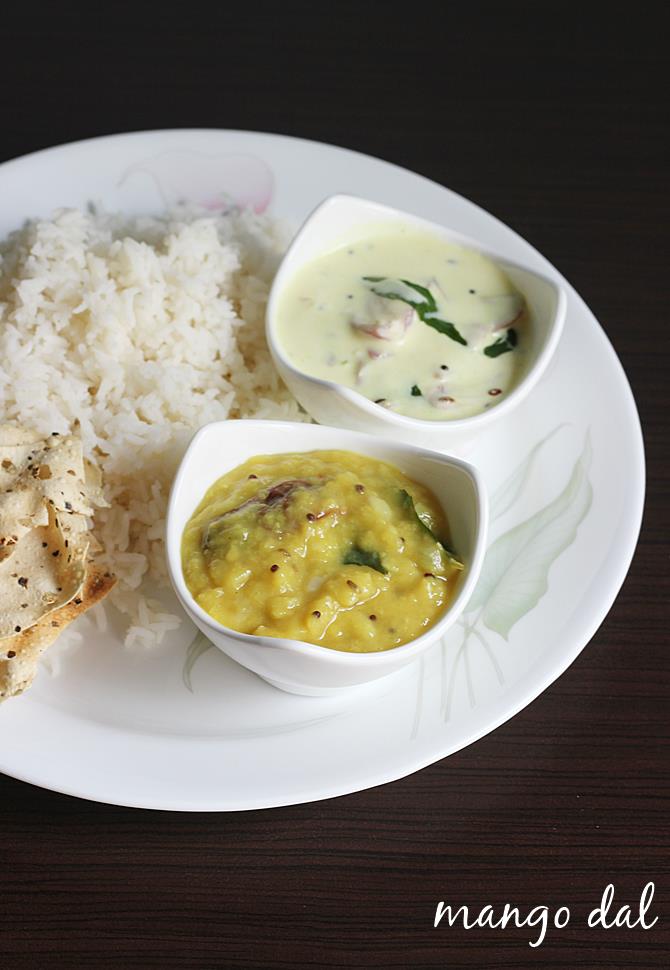 mamidikaya pappu recipe | mango dal | andhra pappu recipe
Lentils cooked with raw mango and then seasoned with spices.
Ingredients (240 ml cup used)
1

cup

dal (toor/ kandhi pappu or moong dal/ pesarapappu)

3/4 to 1

cup

raw mango

2 to 2 1/4

cups

water

salt to taste

2

green chilies
seasoning
1

tbsp.

ghee or oil

1

garlic clove crushed or 1/2 tsp. grated ginger

pinch

of hing

1/8

tsp.

turmeric

1/2

tsp.

mustard

1/2 to 3/4

tsp

cumin

1

broken red chili or few curd chilies

1

sprig curry leaves
How to make the recipe
Add dal to a pressure cooker and wash it few times and drain off the water.

Add 2 to 2 1/4 cups of fresh water to the pressure cooker.

Wash mango and chop it to pieces, discard the seed.

Pressure cook for 1 whistle if cooking directly in the cooker, for 3 whistles if cooking in a bowl placed inside the cooker. you can cook this in a pot as well till soft.

Mash the dal to smooth.

Add ghee or oil to a pan and heat. Add mustard, cumin and garlic. When they begin to sizzle, add curry leaves and red chili or curd chilies. fry till they turn crisp.Add hing and turmeric.

Pour this to the mamidikaya pappu and stir.

Serve mango dal with rice or chapathi