Mango rice recipe – A simple South Indian style mango rice made with raw sour mango. This recipe is almost similar to the lemon rice or the coconut rice which most of us make at home. The flavoring and the actual taste in this mango rice comes from cooking the mango in oil thoroughly.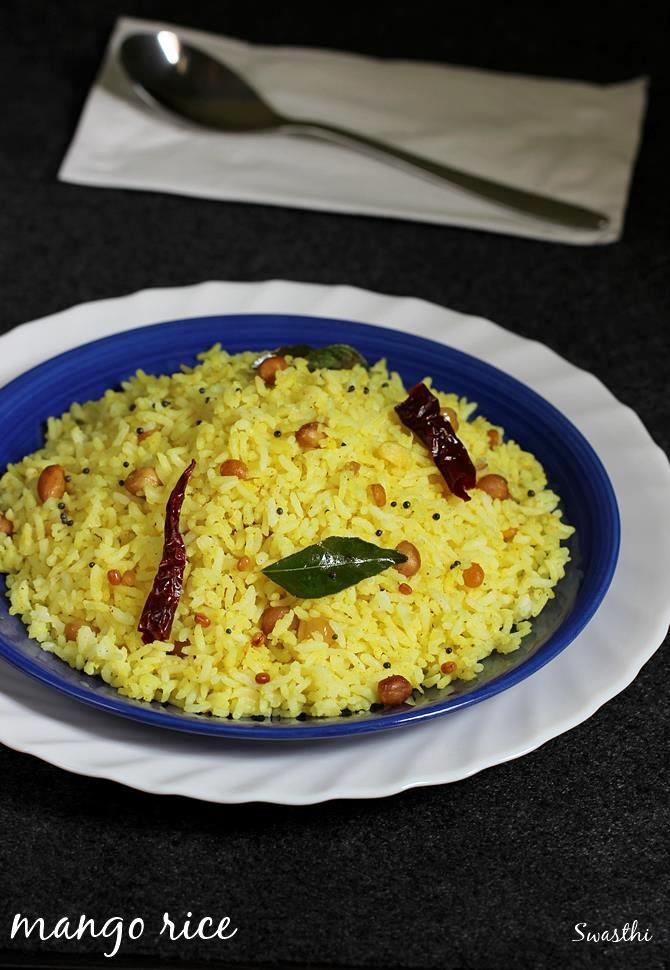 Most days I do not go for a elaborate meal. My menu is usually very simple, When i made this we just had it with papad and veg salad. You can also make the spiced and seasoned mango mixture in bulk and refrigerate. It stays good for several weeks if prepared properly. When you are short of time, just cook the rice and add this to the warm rice along with little oil and mix up. Mango rice will be ready in minutes.
You may also like these raw mango recipes
Easy mango pickle
Avakaya pickle
Mango dal
Raw mango chutney
There are so many ways a mango rice is made, I am sharing the simplest one. To make karnataka style mavinakayi chitranna, add 1 cup grated coconut and handful of finely chopped coriander leaves towards the end of sauteing the mango.
Video of mango rice recipe
Mango rice recipe
Mango rice recipe | Mamidikaya pulihora | Mavinakayi chitranna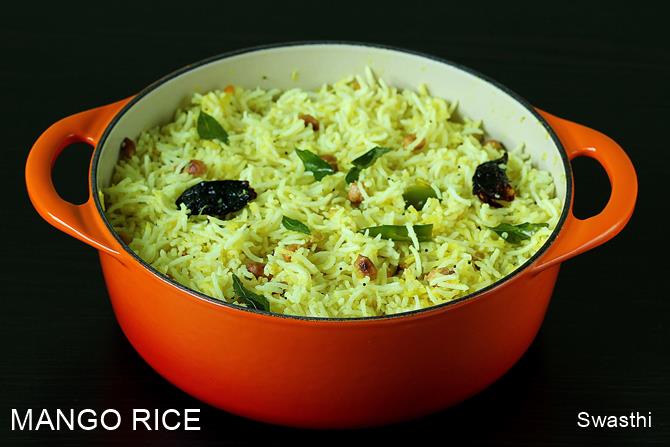 Mango rice recipe is one of the most basic rice dish made in south Indian homes during the mango season.
Ingredients (240 ml cup used)
2 cups rice
1 medium sized sour raw mango
1 to 2 sprigs of curry leaves washed
2 to 3 green chilies slit or chopped
1 to 2 red chilies
salt as needed
¼ tsp turmeric (prefer organic)
3 tbsps peanuts
1 tbsp chana dal
1 tbsp urad dal
1 tsp mustard
1 inch piece ginger chopped or sliced (optional)
3 tbsps oil
To make mavinakayi chitranna
1 cup grated coconut
handful of coriander leaves finely chopped
How to make the recipe
Preparation
Cook rice as you would do regularly but do not make it mushy. Cool it completely. Wash, peel and grate or chop the mango.
Making mango rice
Heat a pan with half the oil. Fry peanuts until half roasted. Fry dals until lightly golden. Add mustard. When they begin to crackle, add ginger, green chilies, red chilies, curry leaves.
When the curry leaves become crisp, add hing. Transfer this aside to a bowl.
Add the rest of the oil and add grated mango, salt and turmeric.
Saute for a min. Cook covered until the mango turns pulp and completely soft.
Add the seasoning back and mix. Keep covered for 2 to 3 mins. If making mavinakayi chitranna, add coconut and finely chopped coriander leaves. Mix well.
Add this to the cooked rice. If needed add in little more oil and salt.
Gently mix the mango rice.
How to make mango rice recipe
1. This recipe makes about 4 servings, you can scale down as needed. But the amount of mango to use depends on the variety or sourness. I used one medium sized very sour & dark green mango that is used for pickle. Wash, soak and cook 2 cups rice the way you would cook your rice regularly. The cooked rice must be grainy and not mushy. Cool it down.
2. Wash, peel and grate a mango. You can also chop them finely. Keep this aside.
3. Heat about 1.5 tbsp oil in a pan. Fry peanuts until half done.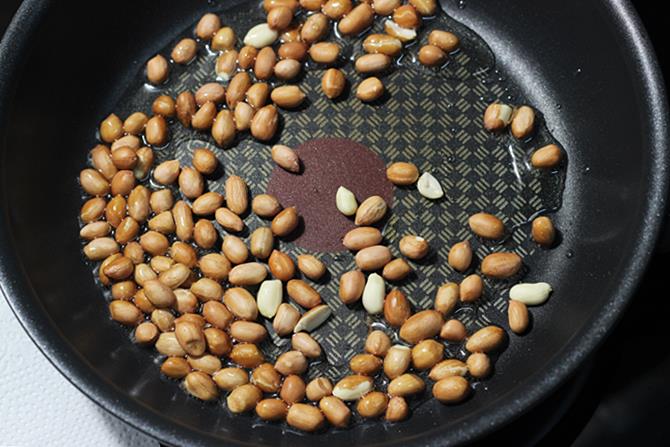 4. Add chana dal and urad dal. When they turn lightly golden, add mustard seeds. Allow them to splutter.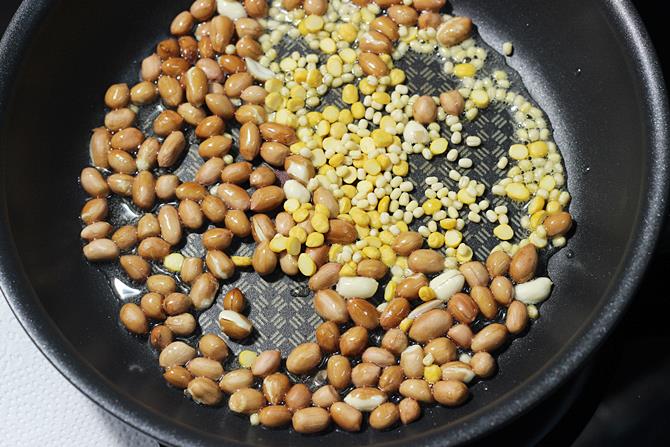 5. Add thinly sliced ginger (optional), broken red chilies, green chilies and curry leaves. For more heat, you can add the chopped green chilies along with peanuts at step 3.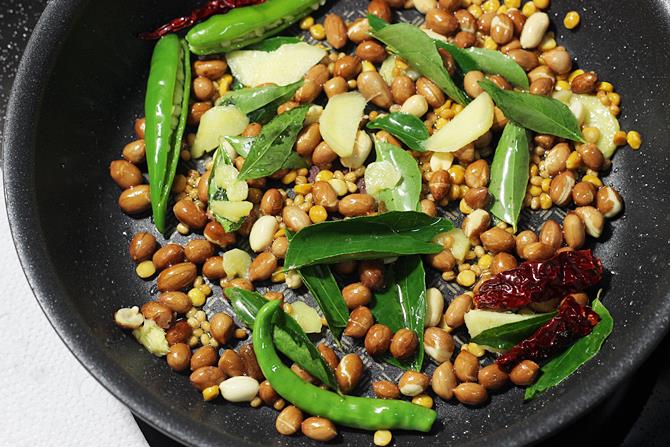 6. Saute everything until the curry leaves turn crisp. Add hing. Transfer this to a plate. You can also continue to cook with the seasoning in pan. I prefer to set aside since the peanut skin begins to separate from the nut.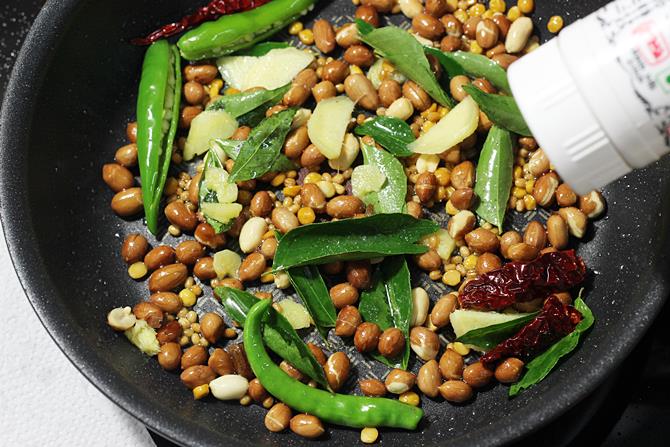 7. To the same pan, add another tablespoon oil. Add the mango.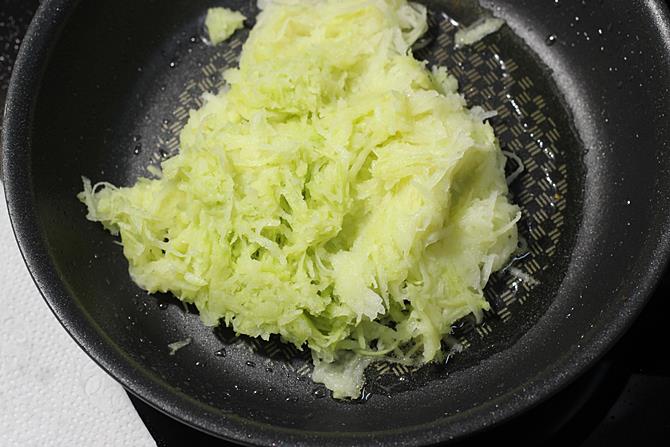 8. Add salt and turmeric. Mix well.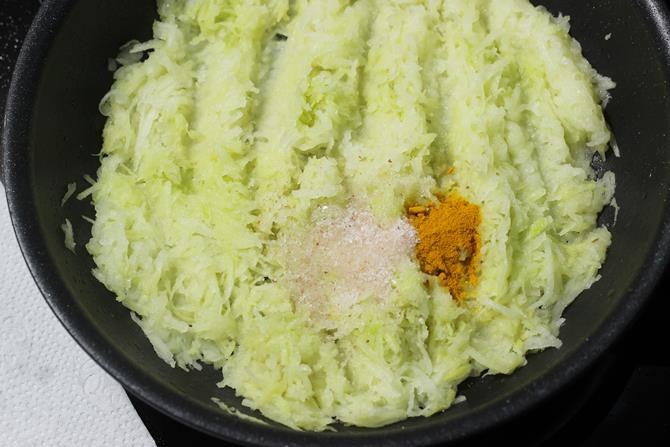 9. Lower the flame completely and cook covered. Stir in between. Mango must be cooked completely and must turn soft. It must also begin to leave the sides of the pan. If your mango is very dry with no moisture to cook, you may sprinkle a tbsp of water. Stir and cook covered.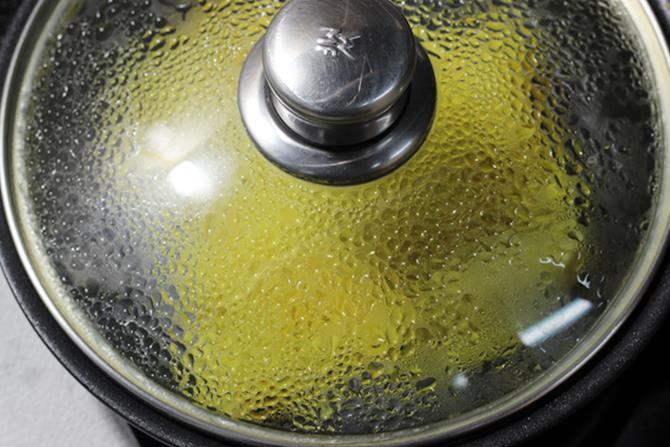 10. Add back all the seasoning and Mix up. Keep covered for 2 mins. At this step you can also add a generous pinch of mustard powder. It is optional. If you like to save it for later use, Once cooled completely you can store it in a glass jar and refrigerate.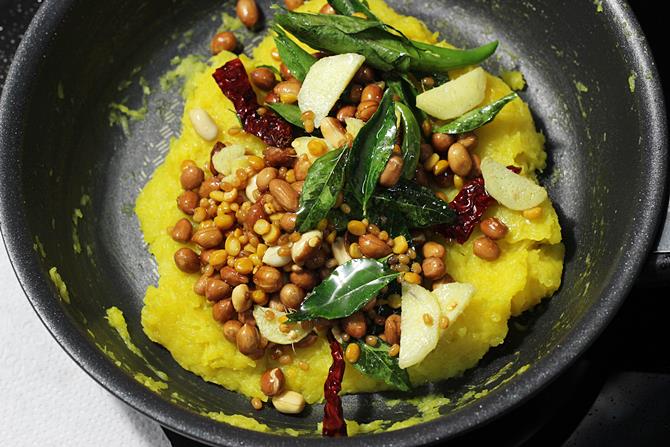 11. Add this little by little to the cooled rice. You may need to add more oil and salt. Do not use less oil, the rice will turn out very dry. I used up the entire mix. You may be left with more mango mixture , you can bottle that and refrigerate. Use within few weeks.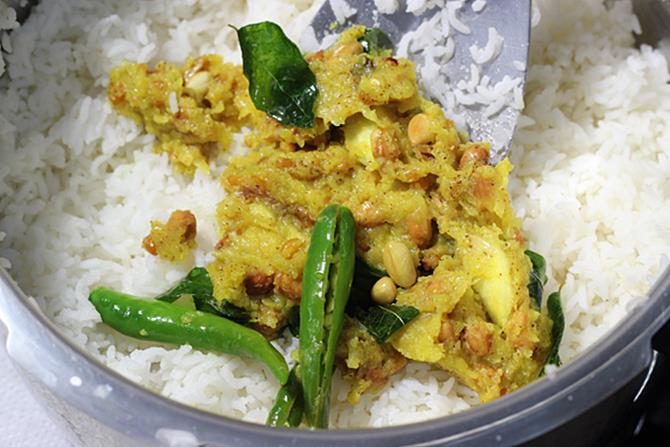 12. Mix it up gently.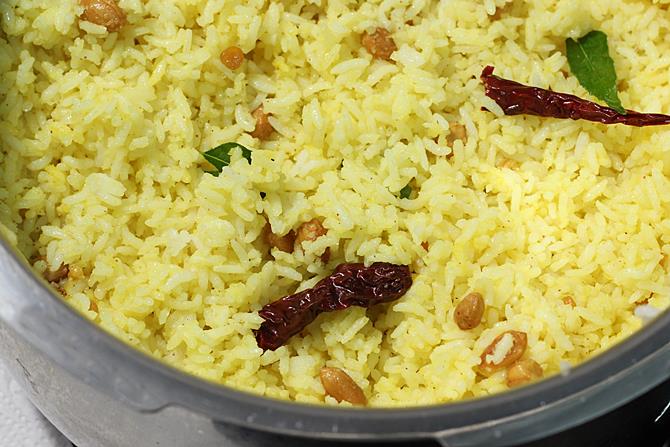 Serve mango rice with papad or veg salad.