Meal maker fry or soya chunks fry recipe in 20 minutes.Soya chunks also called as meal maker or vegetarian textured protein is a good source of protein for vegetarians.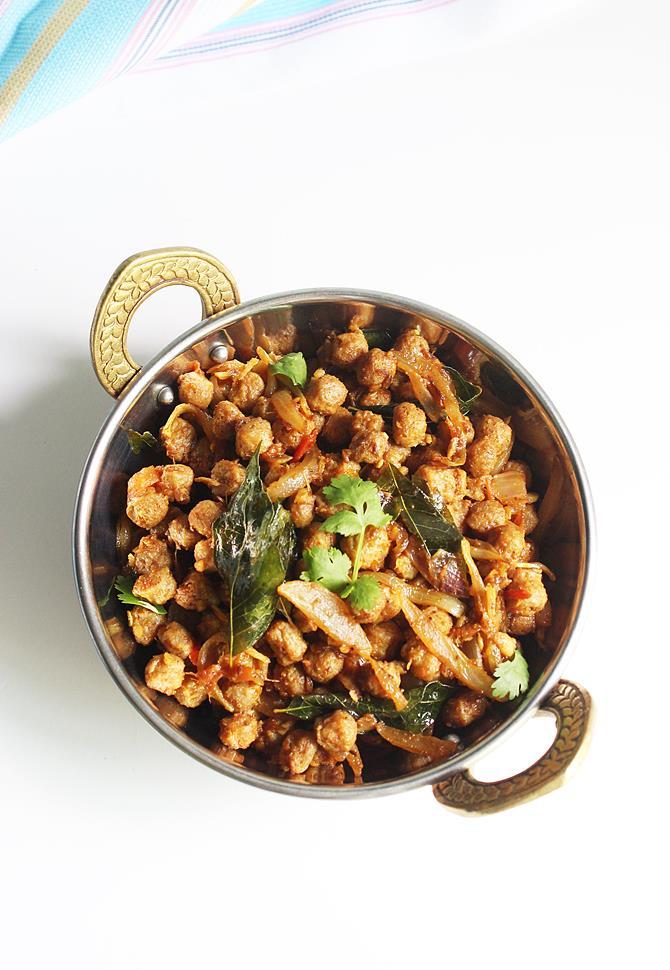 To make the soya chunks, soya bean is soaked, grinded, milk is extracted and used for other purpose and only the pulp is made into chunks and then dehydrated. Quite a lengthy process and hence they have a good amount of dust or impurities accumulated in them.
To remove the impurities, soya chunks need to be soaked thoroughly, softened and left in the water for a while, for the debris to melt and get settled at the bottom.
Soya chunks fry recipe, that I am sharing today is a simple stir fry that can accompany your meal either with rice or chapathi.
One important ingredient that brings a great flavor to this meal maker fry recipe is the saunf or the fennel seeds. If your garam masala already has fennel, you could skip it, I just pulse a bit more of the fennel seeds in a jar with the garam masala to make it more flavorful.
Meal maker fry or soya chunks stir fry recipe
Meal maker fry | Soya chunks fry recipe | Soya chunks recipes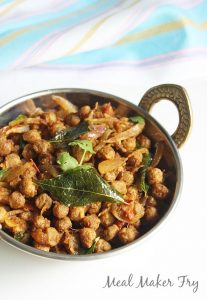 Soya chunks fry also known as meal maker or vegetarian textured protein is stir fried in onion tomato mixture.
Ingredients (240 ml cup used)
1 sprig curry leaves
¼ tsp. cumin
¾ to 1 cup soya chunks
2 tomatoes
1 very large onion sliced
Pinch of hing
1 to 2 green chilies sliced
¾ to 1 tsp ginger garlic paste
Salt as needed
½ tsp. red chilli powder
½ to ¾ tsp garam masala
2 tbsps. Oil
Coriander leaves to garnish
How to make the recipe
Boil soya chunks in lot of water for 3 to 5 minutes depending on the size, Leave them in the water for a while. Rinse them at least twice and squeeze off the excess water and keep it aside.
Heat oil in a pan, add cumin and curry leaves and saute till cumin begins to splutter.
Add hing, chili, onions and fry till they turn translucent.
Add ginger garlic and fry till the raw smell goes away.
Add tomatoes, salt and fry till mushy.
Add chili powder and masala powder. Mix and fry.
Add soaked nuggets and mix everything well.
Cover with a lid and cook on a low heat for 3 to 5 minutes without burning.
Garnish
Nutrition Information
Calories:
160
Fat:
7g
Carbohydrates:
13g
Protein:
12g
for more
soya chunks recipes
, check
easy south indian style kurma
meal maker fried rice
soyachunks biryani
soyachunks curry
soya keema curry
beans soya kheema masala
How to make meal maker fry or soya chunks fry with step by step pictures
1. Bring 6 cups of water to a boil, add soya and cook for about 3 to 5 minutes till they soften. Leave them aside for some more time for the dirt to settle down.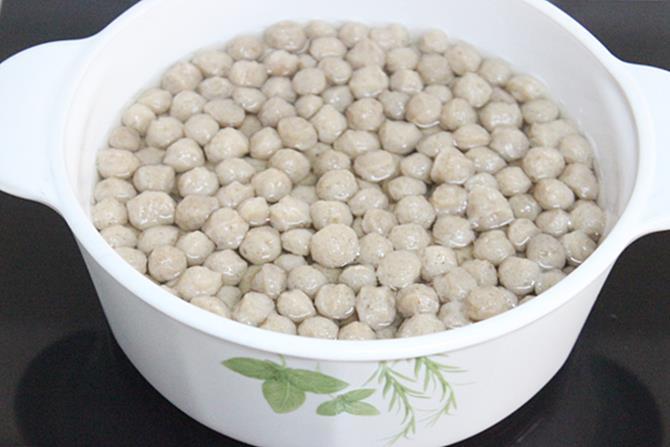 2. Rinse them off in water and squeeze to remove frothy water inside the chunks
3. Repeat the rinse. Squeeze off the water and keep them side. If you are using large chunks, you could chop one chunk to 2.
4. Slice onions and chop tomatoes
5. Heat a pan with oil, add curry leaves, cumin when they begin to splutter, add onions and green chilies.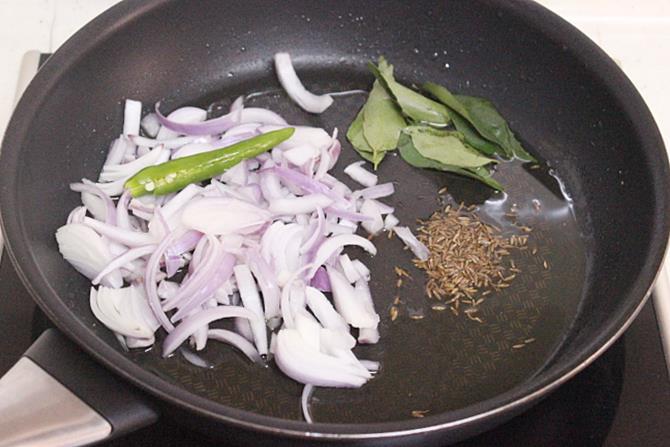 6. Fry till the onions turn transparent. Add grated ginger garlic. Fry till you get a nice smell. Do not burn.


7. Add tomatoes, sprinkle salt and turmeric.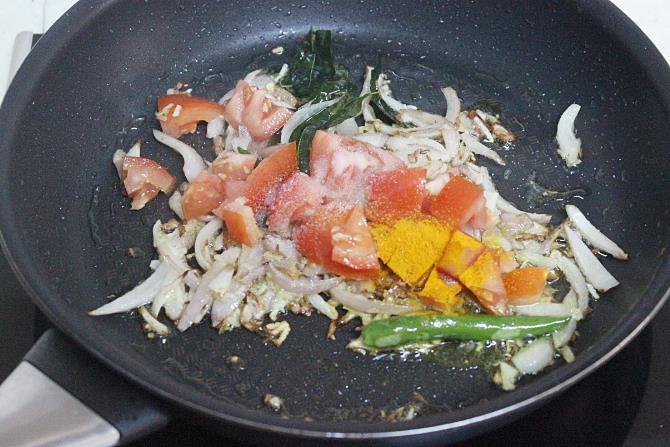 8. Fry till the tomatoes turn mushy. Now you must be left with a moist onion tomatoes mix that is sufficient to coat the nuggets well. Otherwise add in another chopped tomato and to the pan and cook further till it turns moist and soft.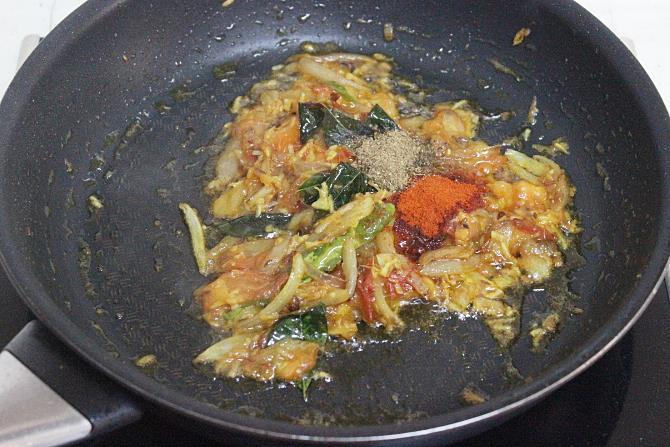 9. Add red chili powder, garam masala powder and mix well.
10. Add soya chunks. Mix everything well.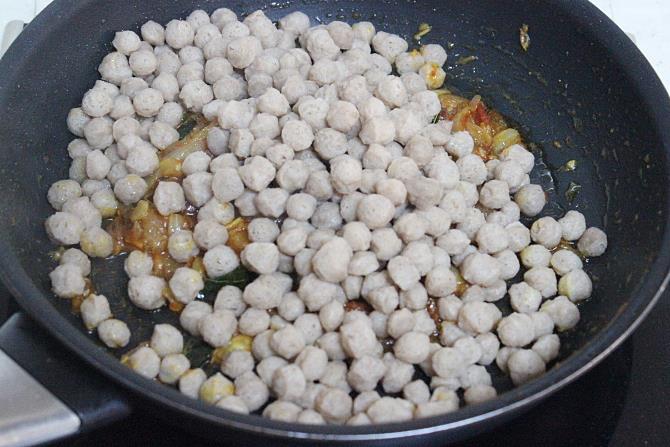 11. Cover and cook till they turn soft, moist and flavorful. This takes about 3 to 5 minutes.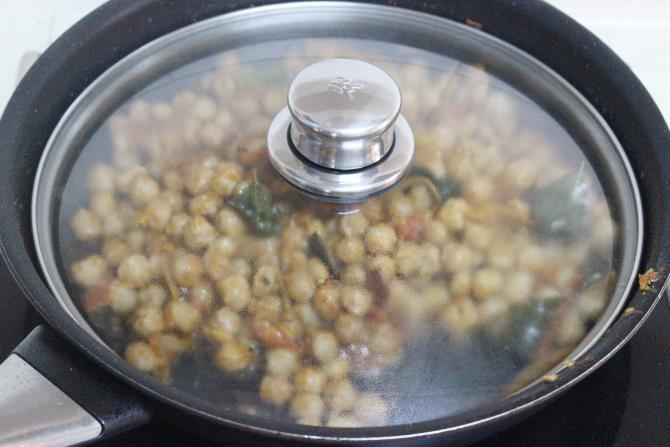 12. Garnish soya chunks fry with coriander leaves.