Milk poha recipe – Easy healthy, quick and no cook snack or breakfast recipe using poha or flattened rice. Poha or flattened rice also known as beaten rice is made by parboiling the paddy or rice with husk and then steamed and pressed to make flakes. Since they are processed with the husk, most nutrients are intact. Some of the dishes made using poha are chivda (mixture), poha upma, kanda batata poha and poha dosa.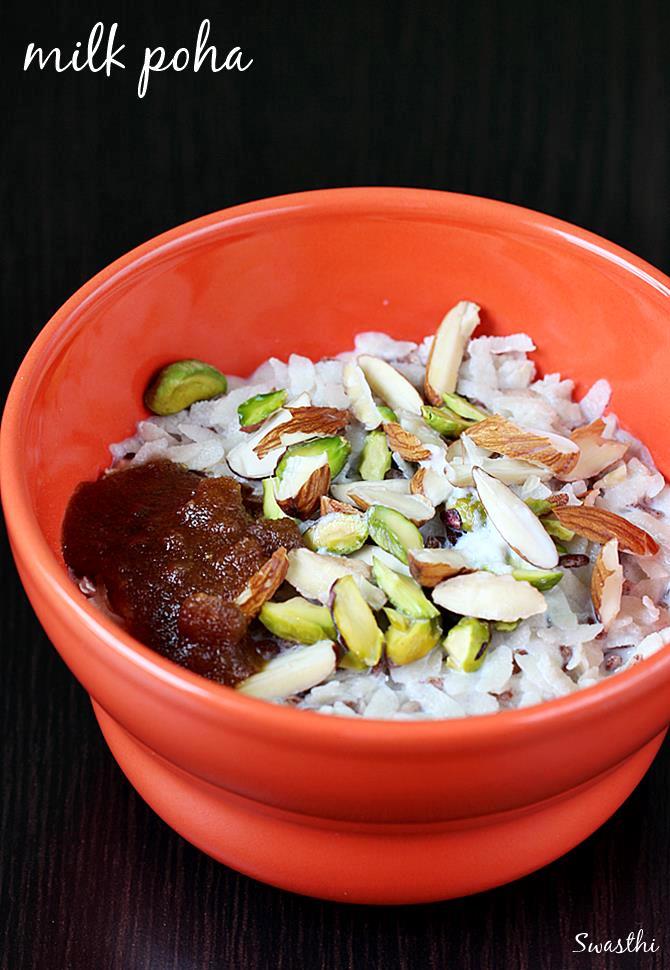 However most of these preparations take some time to make but this milk poha is an instant recipe, good one for beginners and bachelors. All we do is, just bring together the ingredients, add milk and enjoy.
If served with nuts and full fat milk, this easy breakfast will keep you full till noon.
How to make milk poha recipe
1. Clean poha well. You can use white or red poha. I generally dry roast them and sieve to remove fine debris if any. Store them in a jar. Roasting is optional. If you are particular about hygiene, you can rinse them well in water and use. If using for toddlers, Rinse in clean filtered water. use hot milk and soak for a while. I have used 2/3 rd portion white and 1/3 portion red. The red flakes I used are thick and quite hard so i used in lesser quantity. If you like to use all red poha, then you will need to soak them for at least 30 mins in hot milk.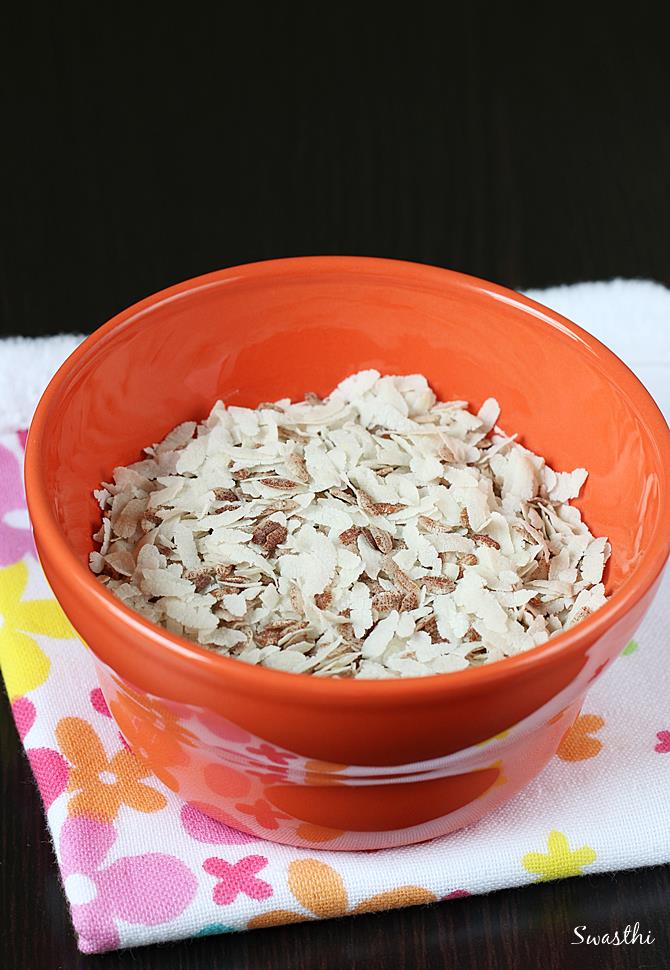 2. Add your favorite chopped or sliced nuts and dates. I used sliced pistachios and almonds. Since I did not have dates I used thickened jaggery syrup. You can also use organic sugar or any other sweetener.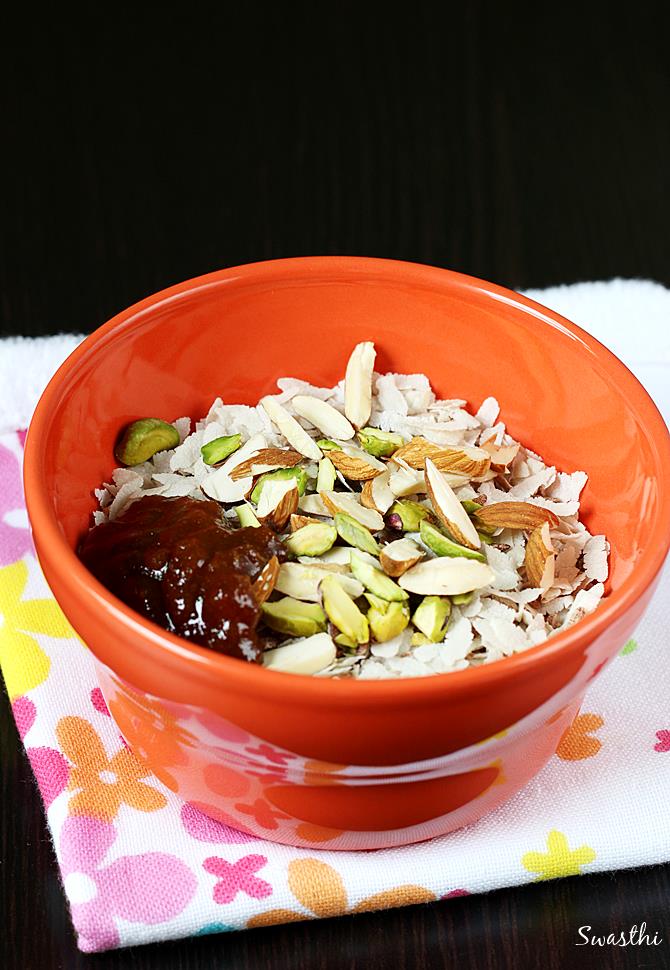 3. Pour hot or at least warm milk as desired. If You like soft poha, soak it for a while. We like to have it after 5 mins when they are slightly softened.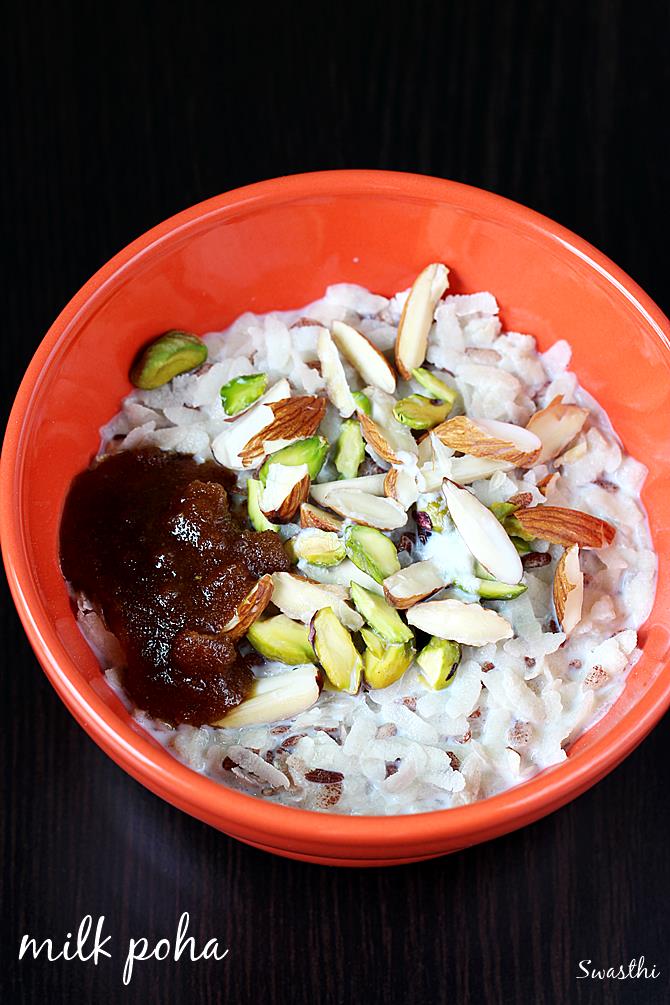 Milk Poha recipe | Paala Atukulu | Breakfast recipe in 10 mins.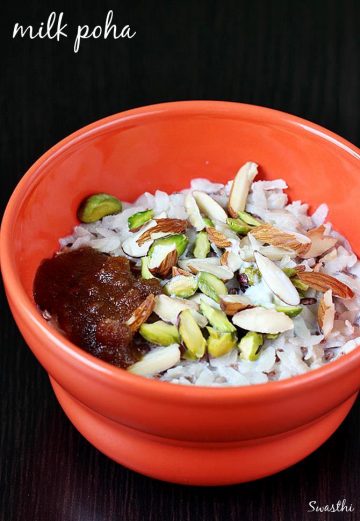 Flattened or beaten rice with nuts and milk, makes a healthy breakfast.
Ingredients (240 ml cup used)
1 to 1 ¼ cup poha (red or white) (can use more or less)
8 almonds
8 pistachios
dates as needed or any sweetner
Milk as needed (or 1 cup)
How to make the recipe
Clean poha very well. If desired you can rinse them or dry roast them.
Add the rest of the ingredients. Pour milk.
Serve as breakfast.