Modak recipe – Modak are sweet stuffed dumplings offered to Lord Ganesha as prasad / naivedyam during Ganesh Chaturthi puja. Some women also make these for the Sankasti chaturthi puja every month. Lord Ganesha loves modak hence he is also called as modaka priya, one of the 108 names mentioned in the Ganesha Ashtothram. Kudumu, kadubu, modakam or kozhukattai are the other names to modak.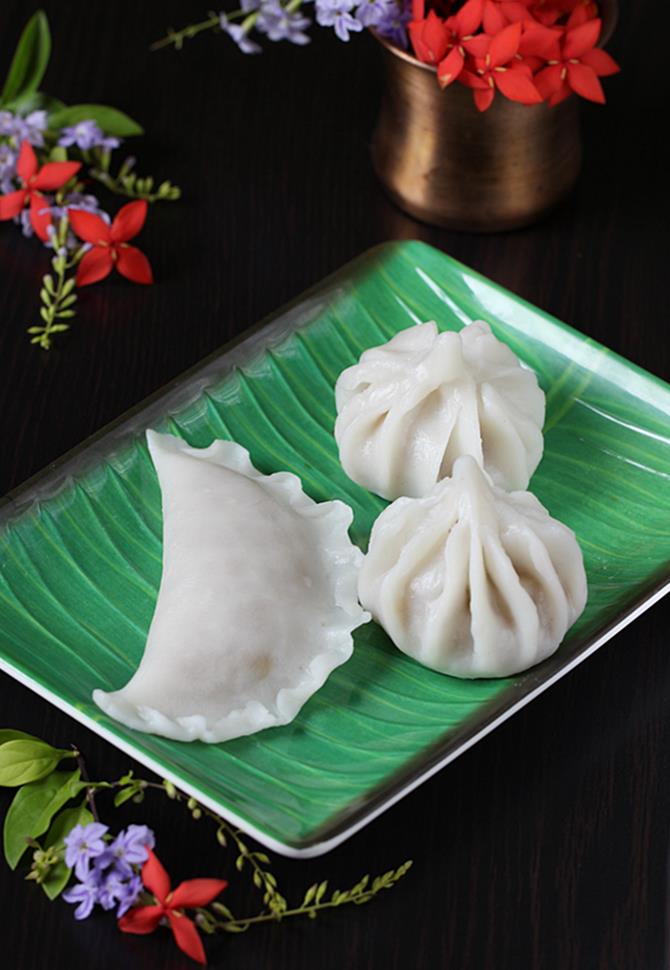 These sweet stuffed dumplings are made in different shapes according to beliefs or traditions. This recipe makes 11 modakam, if you have the tradition of offering 21 to the Lord, double the recipe. You can find the complete collection of ganesh chaturthi recipes here.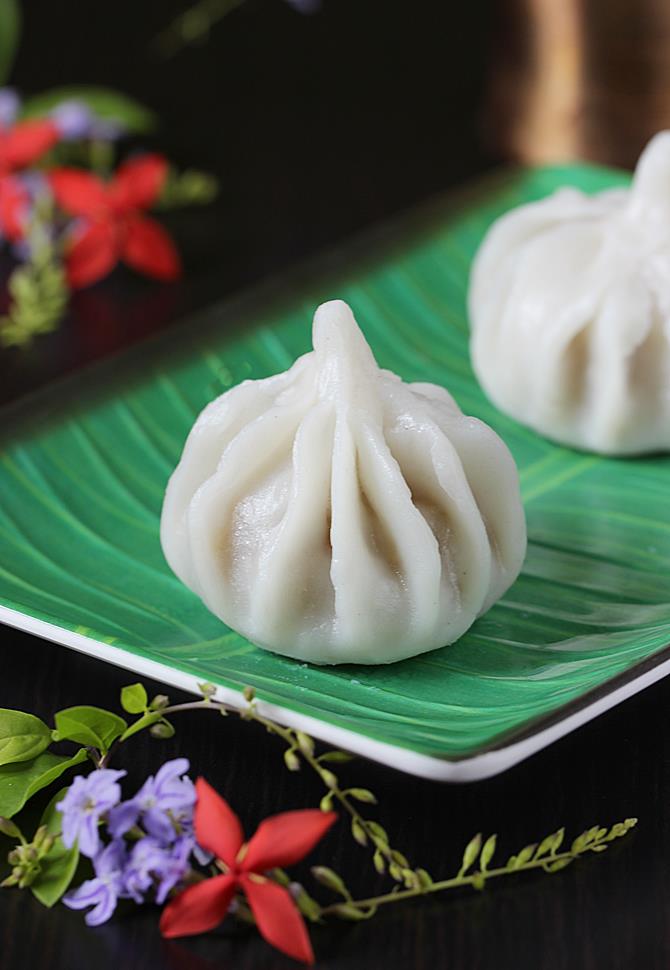 Make sure to use jaggery that is clean free from stones and dust. You can also hand pick the dust particles and discard while you grate.
Check out more modak recipes on the blog,
Chocolate modak
Rava modak
sesame seeds modak
dry fruits modak
malai modak
Ragi modak
You may also like to check these 16 best Ganesh chaturthi sweet recipes
Modak recipe card below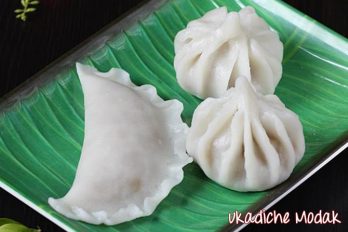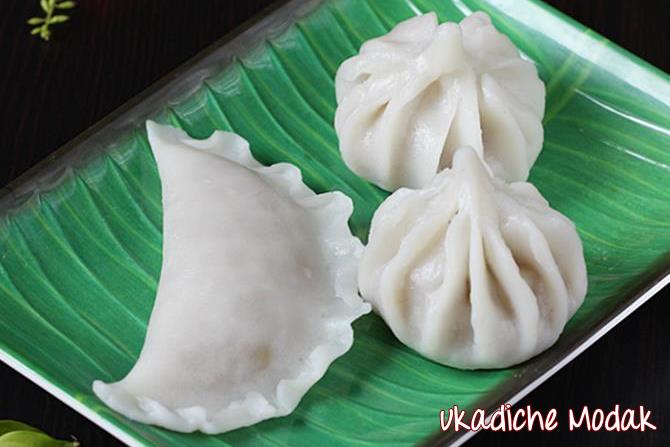 Modak recipe | Modakam | How to make modak without mould
Modak recipe , a dish often made during Indian festival ganesh chaturthi. Also known as modakam or kudumu.
Ingredients (240 ml cup used)
Filling/puran for modak recipe
2

cups

grated coconut

1

cup

grated or powdered jaggery

2 to 3

green cardamoms powdered / elaichi

1

tsp

ghee
for the outer cover
1

cup

rice flour (fine flour)

1

cup

water

generous pinch of salt

1

tsp

ghee.

1

tsp

ghee for greasing
How to make the recipe
Add ghee to a hot pan. Saute together jaggery and coconut until both blend well and the mixture turns thick. Add cardamom powder and switch off. Cool this completely.

Bring 1 cup water to a rolling boil along with salt and ghee. Switch off the heat.

Add the flour. Mix well. Cover and set aside until the temperature comes down a bit.

While the mixture is still hot, knead it to a soft dough and make 11 equal sized balls.

Take a ball and make a dent in the center. Dip the fingers in water. In a circular motion begin to spread the dough to make a thin disc using thumb and forefingers on both the hands.

Pinch off little dough on the outer side of the disc to make pleats at a distance of 1/2 to 3/4 inch.

Place the coconut mixture in the center. Bring together all the pleats and join them carefully. If needed moist the fingers and join them.

Place all the modakam in a steamer basket layered with a moist cloth.

Bring water to a rolling boil in a steamer and steam the modaks for 10 minutes.

Rest modak for 10 minutes and serve.
Nutrition Facts
Modak recipe | Modakam | How to make modak without mould
Amount Per Serving
Calories 100
* Percent Daily Values are based on a 2000 calorie diet.
Step by step photos on how to make modak without mould
1. Heat a pan with 1 tsp ghee. Add 2 cups grated coconut with 1 cup grated or powdered jaggery. Stir and begin to cook on a medium flame.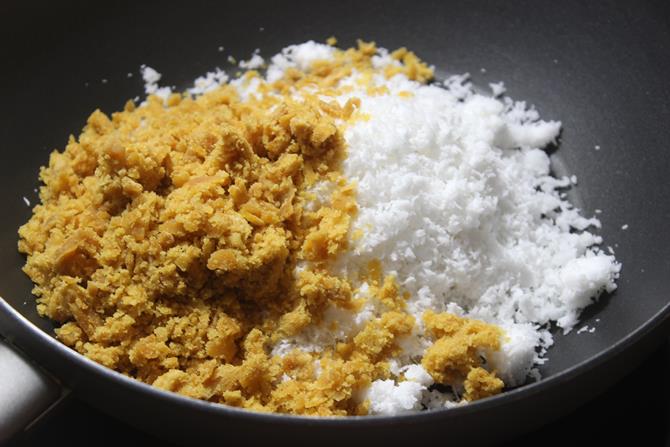 2. The mixture turns gooey after a while. Continue to cook. Keep stirring to prevent burning. When the moisture evaporates and the mixture thickens, add cardamom powder and switch off the stove. Set this aside to cool.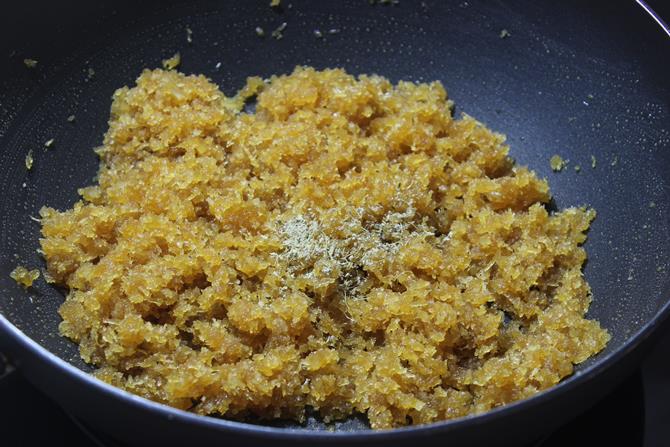 3. Add 1 cup water to a pot or pan. Add salt and 1 tsp ghee to the water.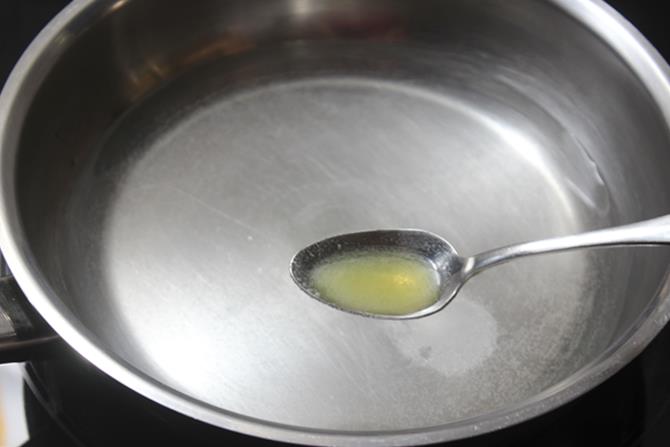 4. Bring it to a boil. Switch off the stove.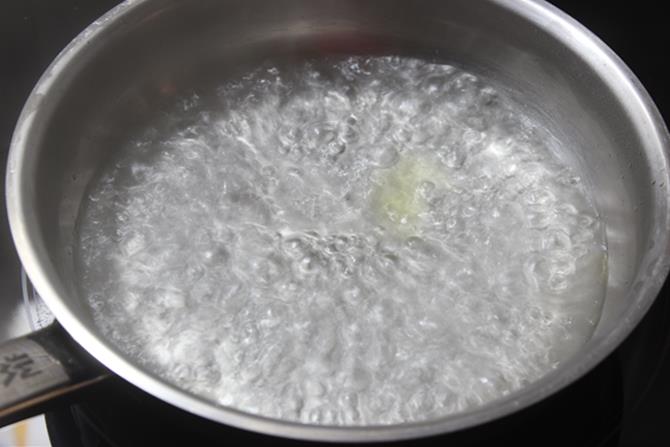 5. Add 1 cup flour and stir well.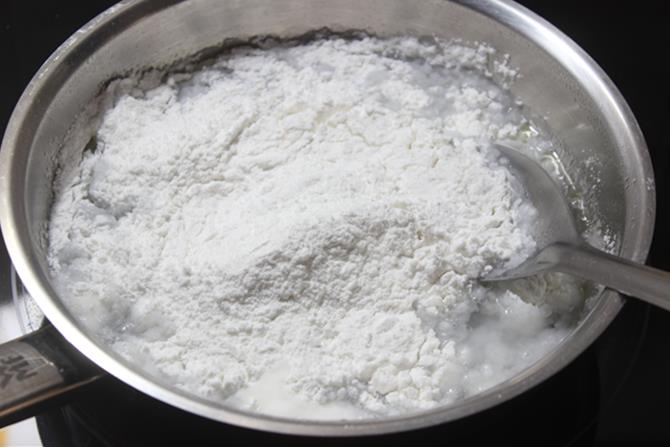 6. The flour turns to a lumpy mixture.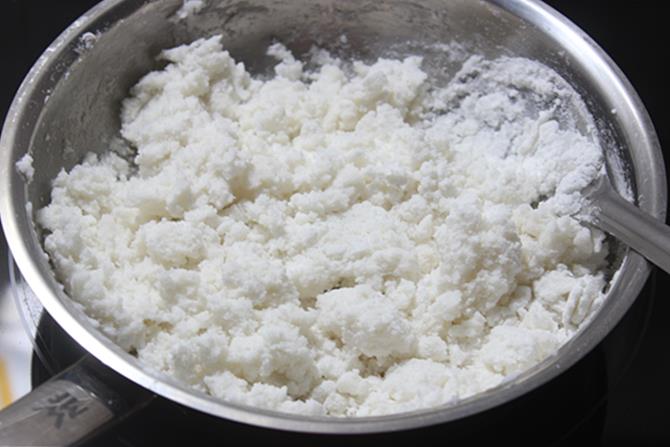 7. Cover and set aside to cool down little.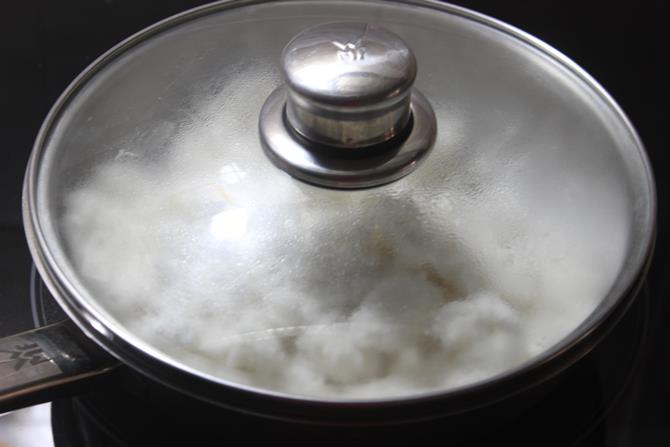 8. Transfer the mixture to a bowl. Knead it while it is still slightly hot. Do not allow to cool down completely.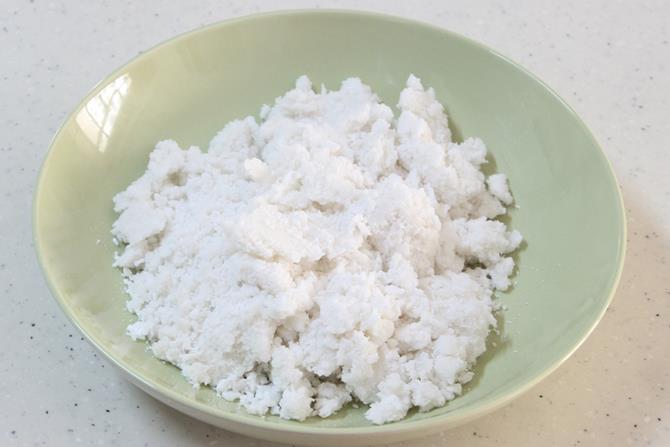 9. If needed, dip your fingers in more water and knead the mixture to a soft but non sticky dough.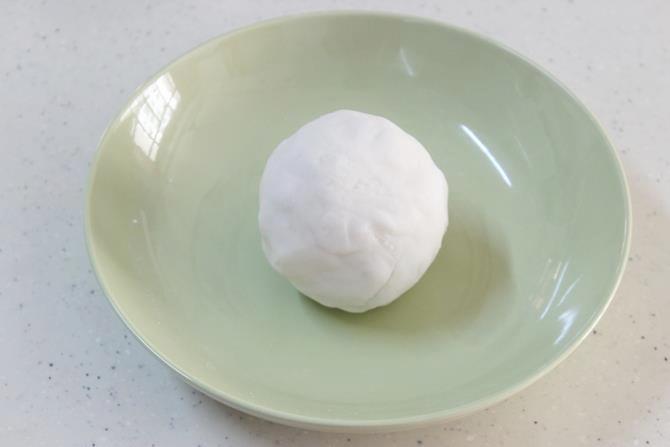 10. Divide the mixture to 11 balls.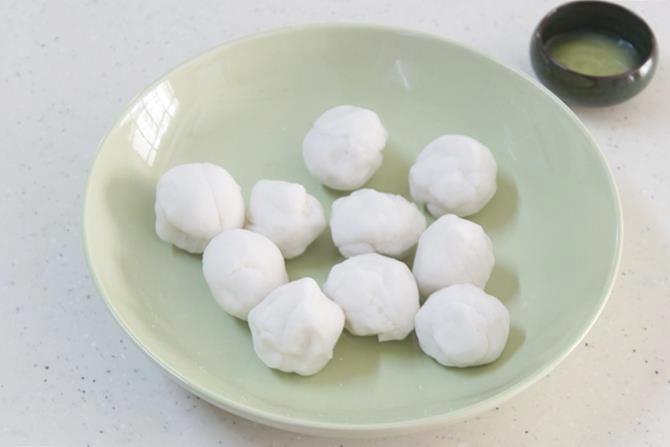 11. Knead each ball to soft. Cover them with a moist cloth. Take a ball, dip your fingers in water. Using your thumb make a dent in the center. Begin to spread the dough in a circular motion with your thumb and fore fingers using both hands. When ever needed, you can dip the fingers in water. When the dough turns sticky, you can use ghee instead of water.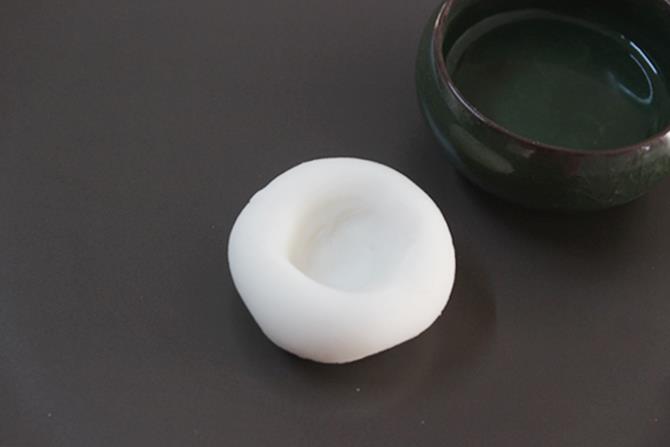 12. We need a evenly shaped round puri. The edges have to thin than the center.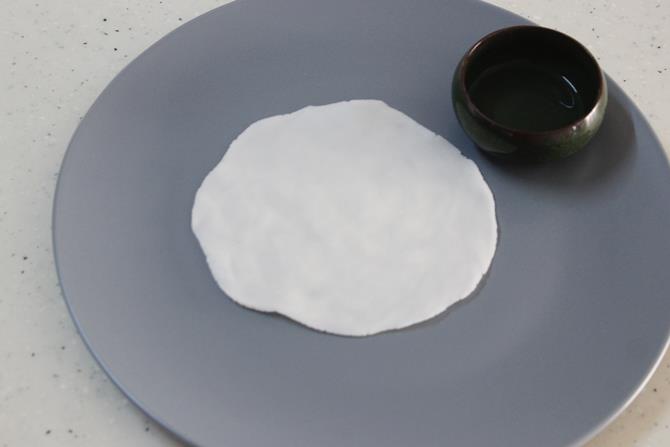 13. With the help of thumb and forefinger gently pinch off very little dough to make a pleat on the outer side. With half to 3/4 inch apart you can make as many pleats as possible.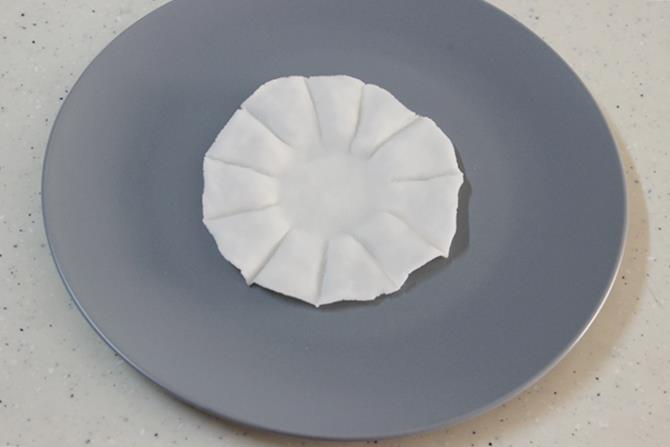 14. Place 1 to 1.5 tbsp. cooled coconut jaggery mixture.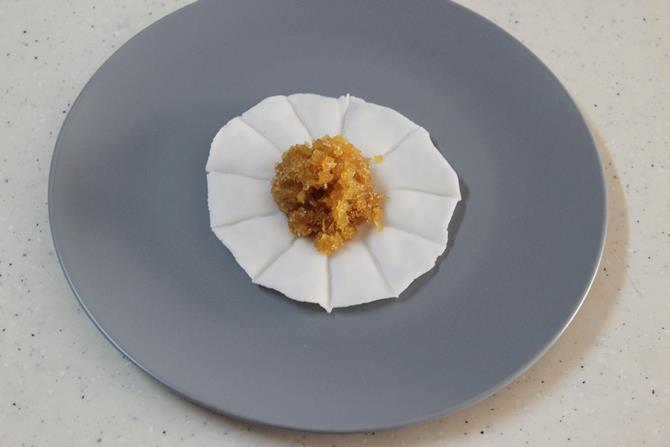 15. Bring together all the pleats gently and seal giving a good shape.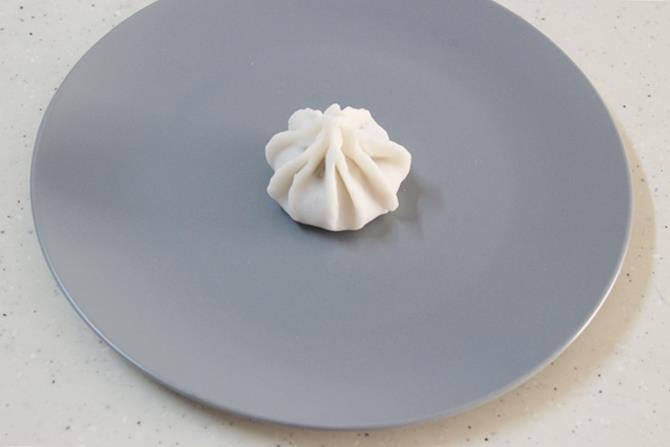 method 2 of making modak
You can also make a cup shape out of the rice flour first and then pinch of little flour to make pleats. Put the filling in the center.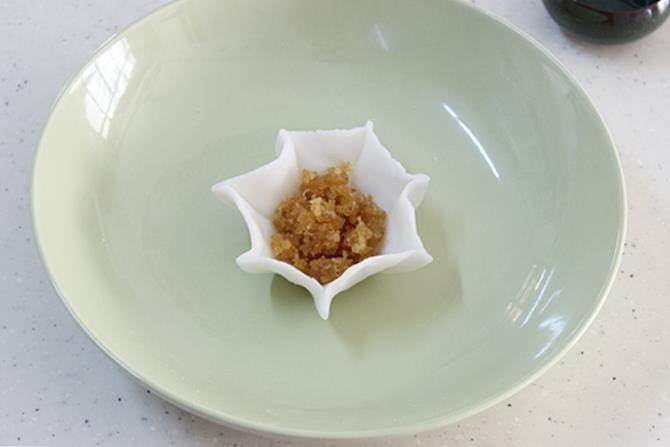 join the edges. But the first method i showed is fairly easy for beginners.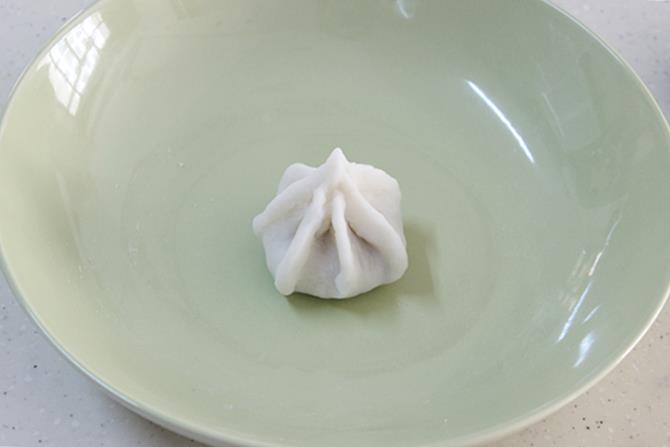 16. If you find the above method difficult, you can try this one. You can also shape this like a Kadubu or Nevri or karanji. Make a puri, place the coconut jaggery on one half.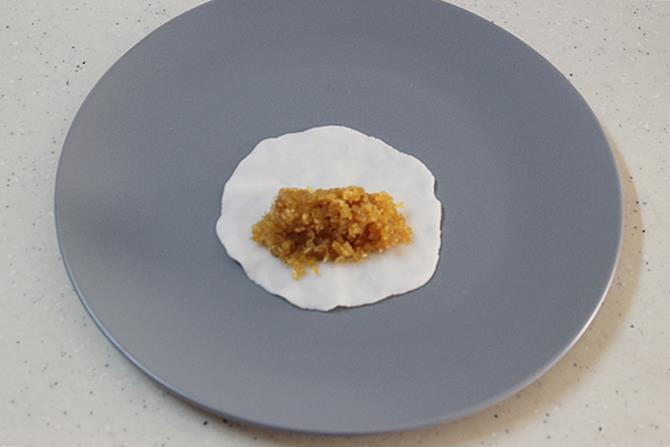 17. Cover with the other half. Seal off by pressing both the edges with moist fingers (dip fingers in water). Tuck in little dough from the edges to give a nice finish. You can also use a greased fork to give a nice design. Keep the modakams covered with a moist cloth.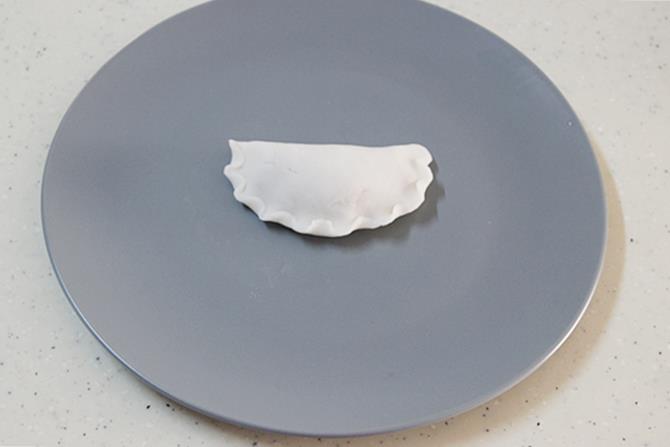 18. Bring water to a rolling boil in a steamer. Place a thin cotton cloth in a wide bowl or steam basket. Place the modak in the basket and steam for 10 minutes. SWitch off and rest for a while.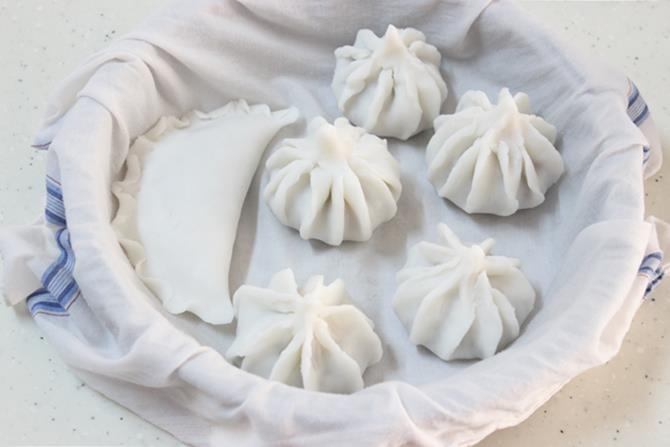 Offer steamed modak to Lord Ganesha.