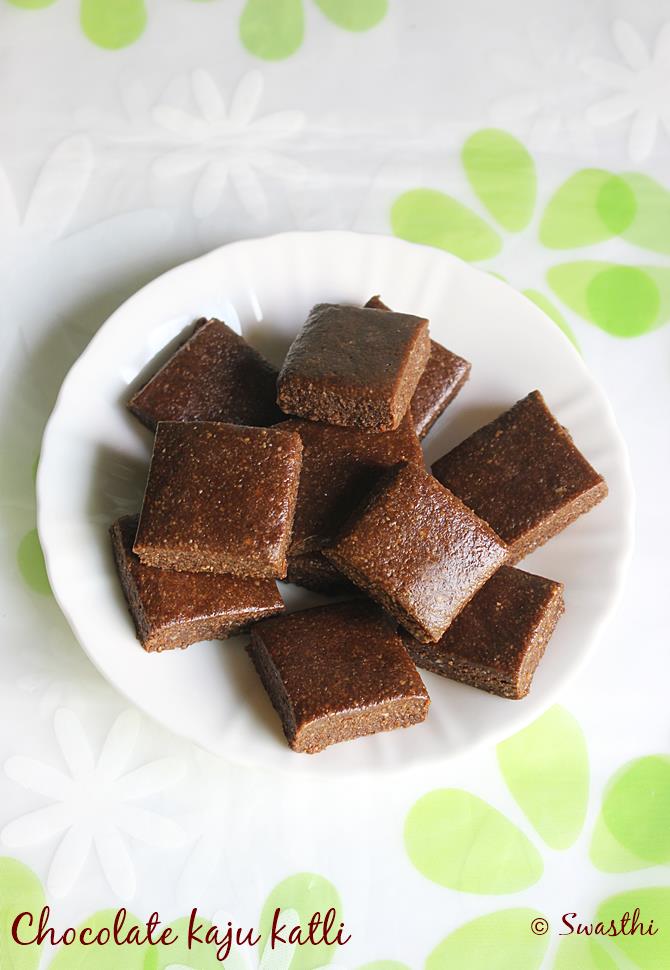 Sharing an easy delicious and guilt free chocolate kaju katli (barfi) for dussehra and Diwali
 
To make this chocolate kaju katli, we need cane sugar or sugar, cashews, cocoa and vanilla extract. In just 30 minutes we end up making this great no ghee no milk low fat sweet that is healthy if eaten in moderation.
 
Cashews are low in fats than any other nuts, high in unsaturated fats and a major portion of these fats are monounsaturated that are heart healthy.
 
Cane sugar is made from sugar cane, is unbleached and unrefined meaning it is processed minimally to retain the nutrients. It is well known for its high mineral content,  high calcium and magnesium.
 
It is widely available in super markets, grocery and health stores even in India. It is used for making desserts and syrups, can be used to make burfi too. When used in combination with cocoa or chocolate, it enhances the flavor and taste, taking the desert to a next level.
 
You see the glossy rich look that the barfi got is due to the fats in the cashews, i did not grease my palms, just lazily kneaded the mix twice.
 
How to make chocolate kaju barfi with step by step pictures
1. Break the cashew nuts and clean them . Dry roast on a low flame till they turn crunchy. They should not get discolored. I prefer to do them in a microwave for 2 minutes, stirring every 30 seconds
2. Cool them completely and add to a blender and powder finely.

3. Add 1 cup cane sugar, 80 ml water and 1 tsp. vanilla extract or 1/4 tsp. cardamom powder.  Bring it to a boil on a medium flame.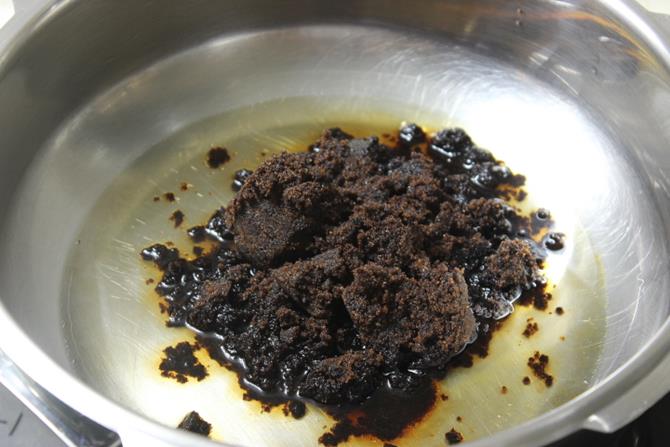 4. Once it begins to boil, stir well and continue boiling for just a minute, it must boil rapidly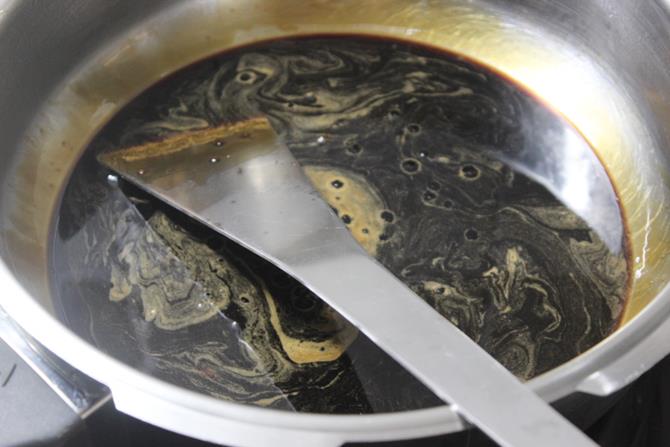 5. Add the powdered cashews, take off the pan aside. You are no more cooking this at this moment.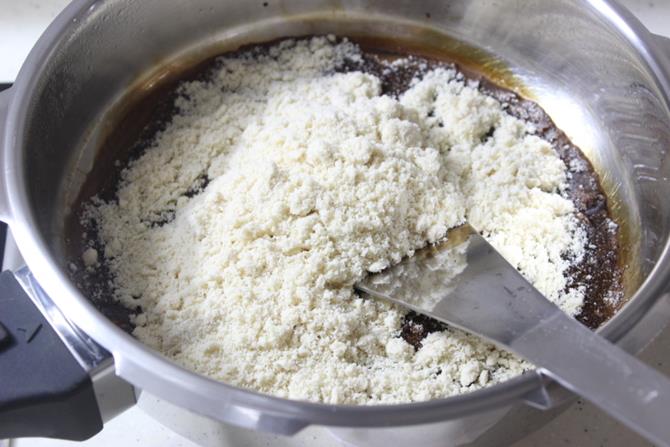 6. Stir well and break up the lumps. you will have to stir, stir and stir well for the powder to blend well with cane sugar. It took more than a minute for me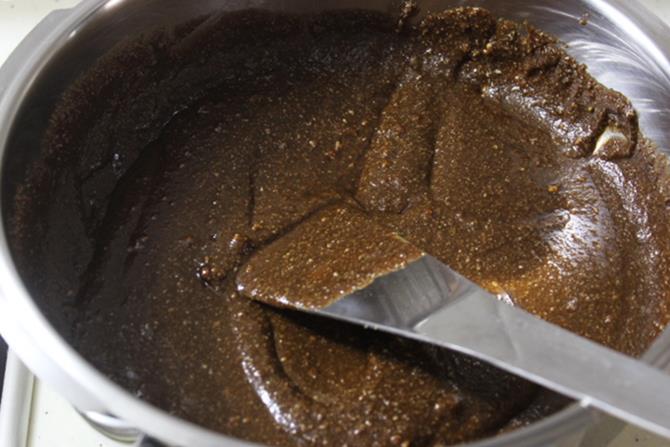 7. Add cocoa powder to a coffee strainer and sieve it over the mixture evenly.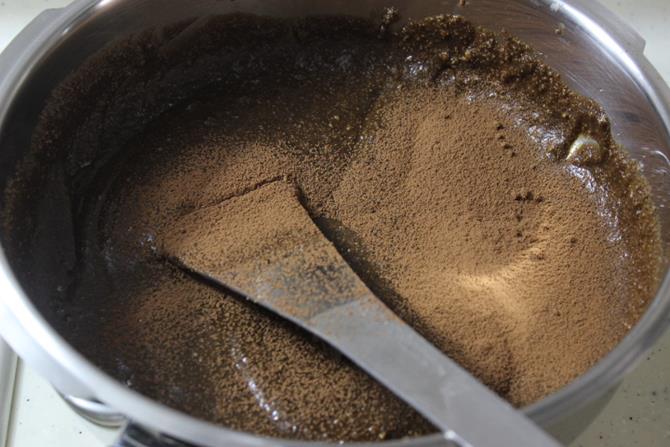 8. Mix well again for about a minutes, there should be no lumps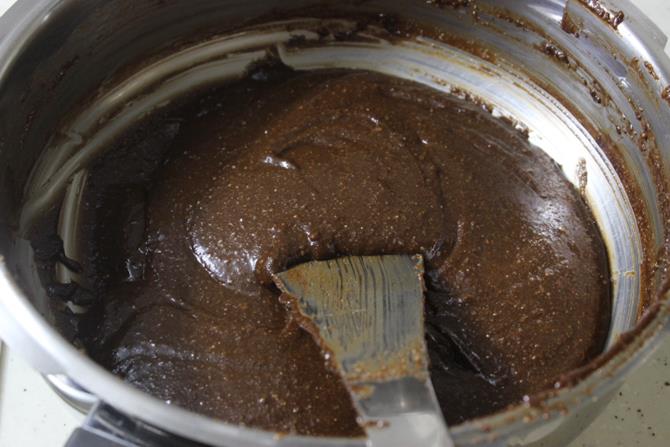 9. Put it back on the stove and cook till it thickens and begins to leave the sides of the pan
10. Take a small portion of the mix and roll it to a ball. The ball should be soft and turn non sticky with in a minutes. While you check, you move the pan from the stove to the platform , to prevent overcooking. Transfer the mix to a greased foil or butter paper, let the temperature come down. When it is still warm. knead the mixture, cover with another foil or butter paper and roll it with a rolling pin. I did not grease my hands, but if needed you can.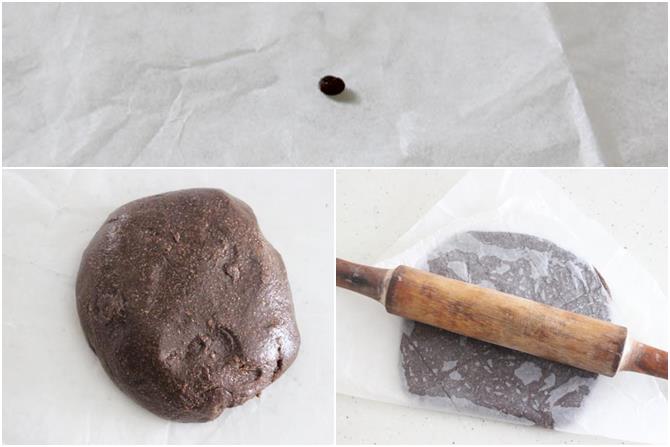 11. Cut to desired shapes. Let them cool completely, store them in an airtight container and refregerate. Finish within a week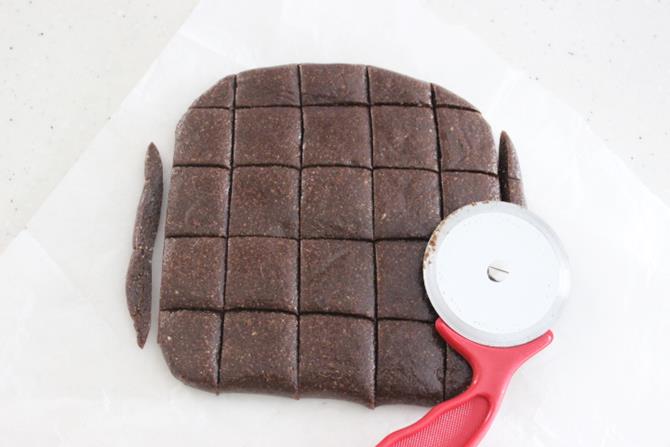 check out more chocolate recipes,
chocolate burfi
chocolate rasmalai
date and nut chocolate bars
chocolate pannacotta without gelatin
chocolate ragi
tofu mousse (eggless)
 
chocolate kaju katli (burfi) recipe
chocolate kaju katli (barfi) recipe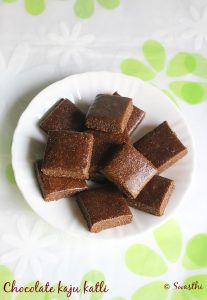 Ingredients (240 ml cup used)
2 cups cashews (1 ½ cups for powder, ½ a cup for topping)
1 cup cane sugar or sugar
80 ml water
1 tbsp. Unsweetened cocoa powder (little more if needed)
1 tsp. vanilla extract or ¼ tsp. cardamom powder
1 to 2 tbsp. milk powder (optional, refer notes)
How to make the recipe
Clean the cashew nuts and lightly roast till crunchy. They can be roasted in the microwave for about 2 minutes. The color of the cashews should not change.
Once cool add them to a blender and powder finely.
Grease a foil or butter paper ready
Add molasses, vanilla and 80 ml water to a heavy bottom pan and melt on a low flame.
Bring it to a boil and let it boil for one minutes
Add the powdered cashew nuts and take off the pan away from the stove. Stir well and mix to blend the powder well with molasses. Make sure there are no lumps
Sieve cocoa to the pan, mix well again
Put the pan back to the stove, cook the mixture, till it begins to leave the sides of the pan. This alone is not enough, you must be able to make a non-sticky soft ball with the mixture. Grease your fingers take a small portion of the hot mixture and roll it to a ball.
Transfer the mix to the greased sheet. Leave it to cool until warm
When warm, knead it well, cover it with a foil or butter paper and using a rolling pin, roll to make a flat square
Cut to desired shapes, you can use a pizza cutter to cut.
Cool and store them in an airtight jar. Refrigerate and finish in a week
Allow it to cool fully and transfer it to an air tight container.
Notes
If the barfi doesn't set well, then use milk powder as needed. Add it to a coffee strainer, seive it over the mixture to prevent lumps of milk powder. Grease your palms and knead it. follow the rest of the steps.