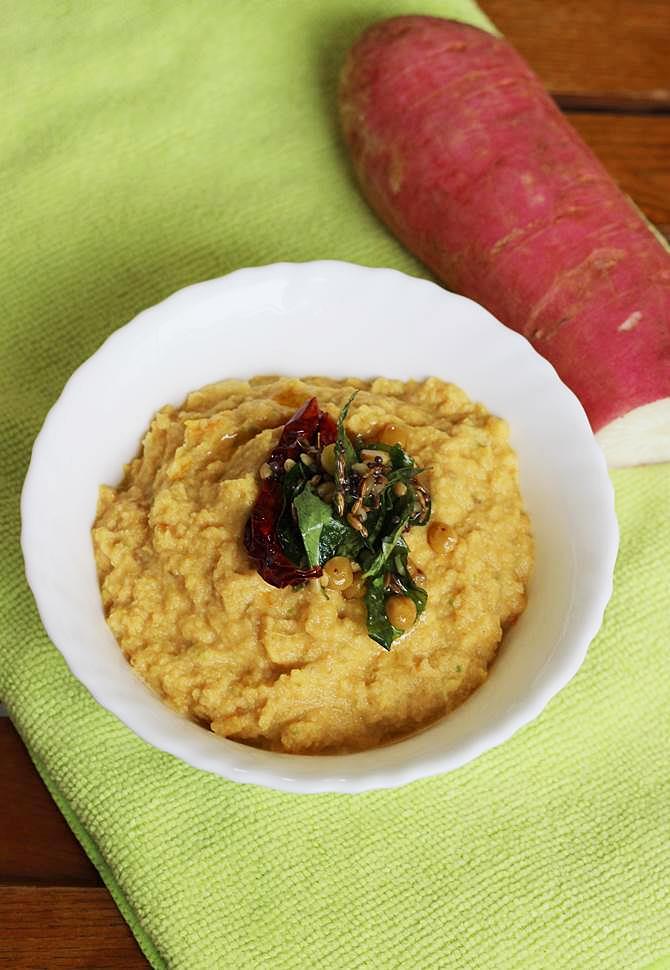 radish chutney or mullangi pachadi can be used as a side dish to accompany rice, chapathi or any indian breakfasts like idli, pesarratu, pongal or paratha.
 
mullangi is called as mooli in hindi and radish in English and is often used to make mullangi sambar, stir fry or chutney.
 
to make radish chutney I have used red radish, you can replace it with white one too.
 
Using Ginger reduces the smell of radish in this chutney. Dals can be replaced with peanuts or coconut to suit your taste.
 
radish chutney making with step by step photos
1. Dry roast dals until golden. Add cumin to the dals. Cool all these. Add oil to a hot pan, fry chilies and set aside to cool as well. Saute radish for 8 to 10 minutes or until the raw smell goes off. Set this aside as well in a plate to cool. Saute tomatoes with salt and turmeric until mushy.



2. Powder the dals and then add garlic or ginger and blend along with radish and tomatoes. Heat oil and make the tempering or poppu with seasoning ingredients.


find radish chutney or mullangi pachadi recipe below
radish chutney or mullangi pachadi recipe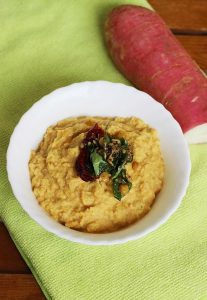 chutney made with radish and then tempered.
Ingredients (240 ml cup used)
1 cup grated radish or cubed to small
½ to ¾ tbsp channa dal / senaga pappu
¾ to 1 tbsp urad dal / minapappu
½ tsp cumin
¼ cup tomatoes cubes or tamarind paste as needed
2 to 3 hot green chilies or dried red chillis
1 inch ginger or 1 garlic clove
Seasoning
oil as needed
pinch of hing
1 sprig curry leaves
pinch of mustard
pinch of cumin
⅛ tsp chana dal (optional)
⅛ tsp urad dal (optional)
garlic crushed optional
How to make the recipe
Roast the dals separately till you get an aroma, off heat &add cumin to the hot pan. Set this aside to cool.
Fry the chills set aside. Add grated radish and fry for 8 to 10 on a medium flame, If you want to get the best health benefits and can bear with the smell, then just saute it for about 3 to 4 minutes. set aside.
Add salt to tomatoes and fry till they turn pulpy. Skip if you are using tamarind paste.
Once cool, powder dals and cumin to a fine powder in a blender jar.
Add ginger, green chilies, radish and tomatoes, adjust salt. Grind it to smooth, if needed add very little water. I did not use.
Heat a small pan with oil, add mustard, cumin , garlic and dals. Fry till the dals turn golden. Add curry leaves and hing. Saute and add the chutney to the seasoning.Serve radish chutney with rice, idli, dosa, pesarattu or even with bread.
more mullangi recipes, check
mullangi sambar
mullangi stir fry
radish salad
mullangi with spring onions