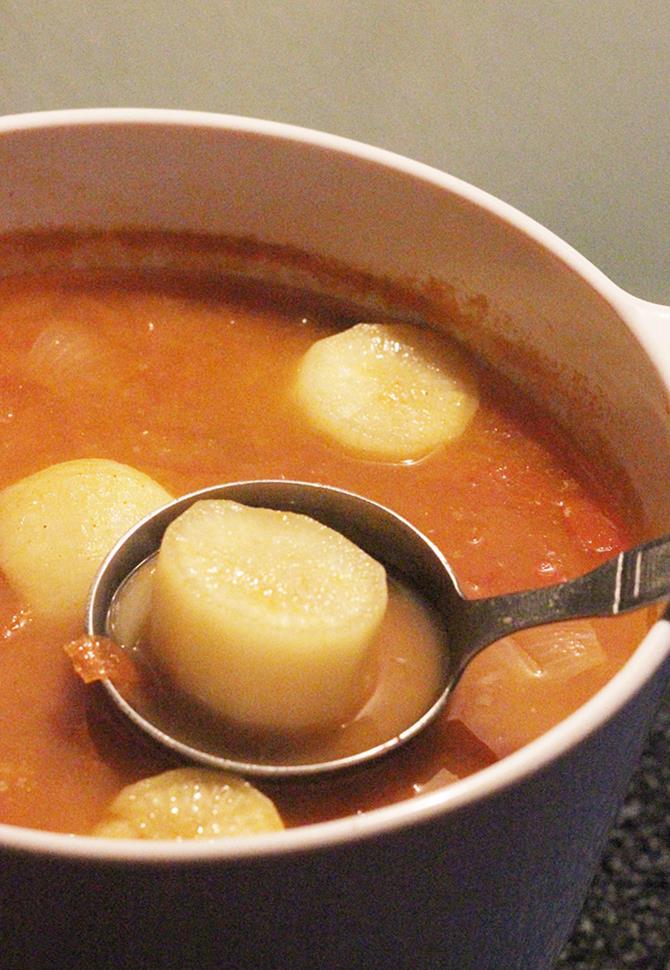 mullangi sambar or radish sambar recipe – one of the healthiest sambar varieties
Radish is called as mullangi in south Indian languages and mooli in hindi. It has been used in Indian cuisine to make various dishes like mooli paratha, mullangi sambar, radish chutney, mullangi kosambari and radish stir fry.
 
For years, I had kept myself away from this vegetable due to its strong flavor. After reading the health benefits of radish which are immense I started using it often in my dishes.
 
mullangi sambar or radish sambar recipe is from my mum, friends and relatives say she makes the best mullangi sambar. This recipe needs a sweet potato or a fresh drumstick to enhance the taste, especially if you are someone like me who do not favor the strong smell of radish. You can as much add any other vegetables you like.
 
mullangi sambar can be served with plain rice, dosa, idli or pongal.
 
how to make mullangi sambar or radish sambar with step by step pictures
1. I used one radish and one sweet potato along with few shallots and one tomato. you can use drumstick or other vegetables to suit your liking.
2. Add 4 cups water to a pot and cook till the vvegetablesare soft cooked.Add sambar powder and tamarind paste. if using coconut add it now. i did not use it.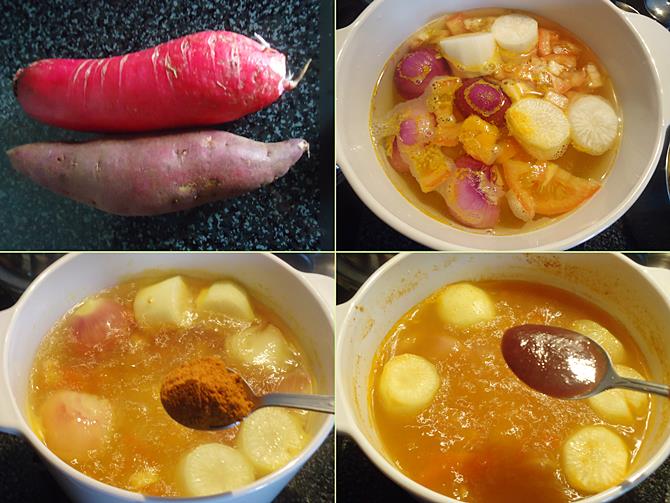 3. Since it takes a lot of time to cool the dal, my preferred way to have a smooth dal, is to pass it through a colander and stir with the ladle.
4. Temper with tempering ingredients.


5. Add coriander leaves to get a good aroma. i did not since i didnt have it at home. mullangi sambar is ready. serve with rice, idli, dosa or pongal.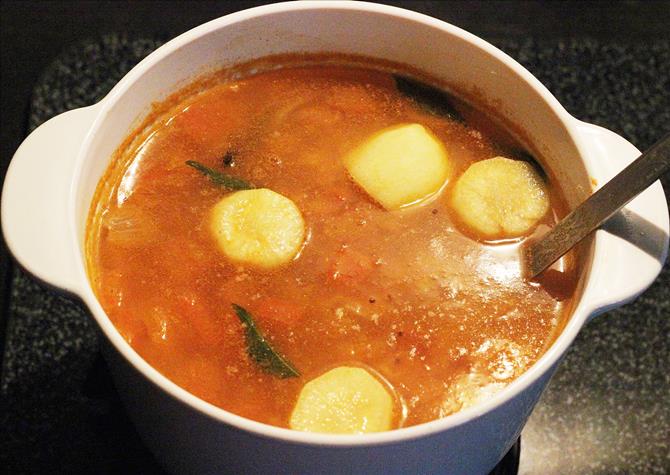 find complete mullangi sambar or radish sambar recipe below
mullangi sambar or radish sambar recipe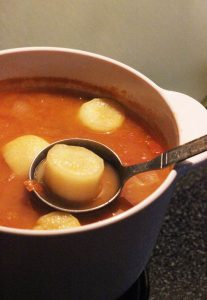 mullangi sambar or radish sambar, a south indian sambar.
Ingredients (240 ml cup used)
½ cup of toor dal / kandi pappu
1 to 2 tbsp. masoor or mung dal (optional)
2 medium sized radish
1 drumstick or sweet potato (optional)
As needed any other vegetables you like
Jumbo pinch of turmeric
1 green chili
10 to 12 shallots or 2 onions halved
1 tomato
Small ball of tamarind or few tbsp. Paste/pulp (adjust the quantity to suit your taste
1 to 1 ½ tsps. sambar powder ( I use Everest madras sambar powder)
Coriander leaves few sprigs
1 tbsp. grated coconut (optional)
tempering
1 sprig curry leaves
½ tsp. mustard
½ tsp. cumin
½ tsp. methi seeds optional
1 garlic (optional)
Pinch turmeric
Jumbo pinch of Hing
1 red chili broken
Ghee or oil for tempering as needed
How to make the recipe
Soak a lemon sized tamarind ball in hot water, squeeze and extract pulp or juice.
Pressure cook dal with 1 ¼ cup water for 1 to 3 whistles or till soft. If cooking directly in the cooker, allow 1 whistle, if cooking in a bowl and placing in pressure cooker, allow whistle thrice.
While the dal cooks, pour 3 to 4 cups of water in a utensil, add chopped radish, drumstick or sweet potato, tomato, onions, green chili, turmeric, salt and other vegetables you prefer. Boil till the veggies are cooked.
Add sambar powder and cook further for 3 to 5 minutes. Add tamarind paste and coconut.
When the dal cools grind it to a smooth paste or pass thru a filter like me to remove the coarse dal. Filter the dal through a colander/ filter and stir with a ladle to let the smooth dal pass thru the filter. There will be hardly a tbsp. of dal left in the colander if your dal is soft cooked, I discard the coarse dal since it is just a tbsp. This is very important else the sambar tastes different more like a pappu pulusu. Bring it to a boil, add coriander leaves if using.
Heat ghee or oil in a separate small pan for tempering, add cumin. methi and mustard, when they begin to splutter add curry leaves, garlic and red chili, sauté for few seconds, add hing and turmeric
Pour this over the boiling mullangi sambar. Off the heat.
other mullangi recipes on this blog,
radish salad
radish chutney
mullangi stir fry
mullangi spring onion stir fry