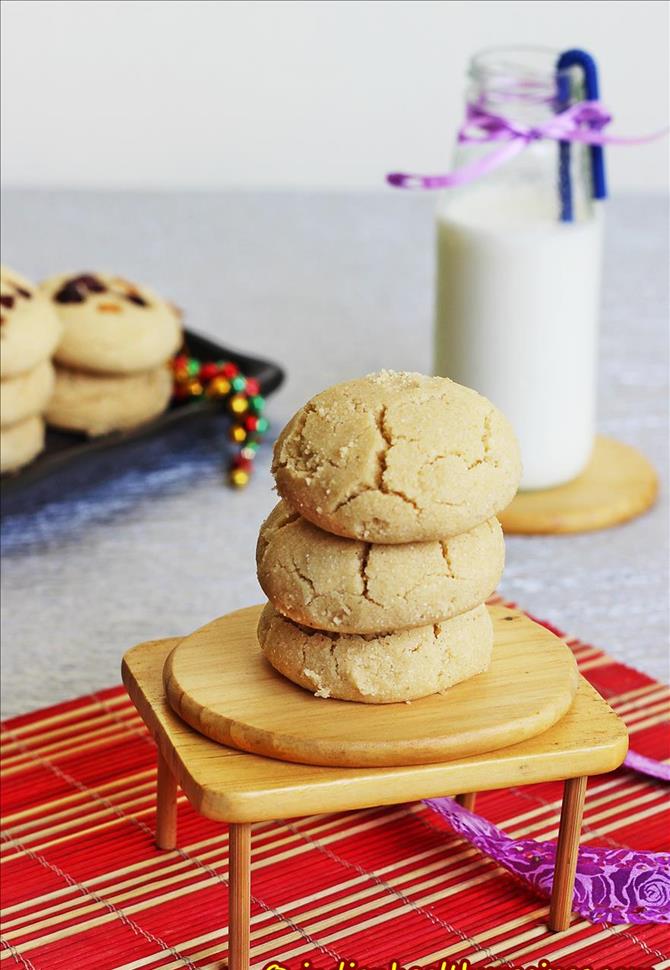 Traditionally nankhatai are prepared with only plain flour. When my younger son turned 11 months, I wanted to introduce him to some soft mouth melting cookies. But I couldn't imagine using plain flour for a little one's cookies. During that I made a homemade brown rice cereal (powder). So I tried these with the brown rice flour and the results were awesome. I had tried these in many proportions which I had jotted down in a notepad. But this time I baked with the following qty of ingredients. However I have also given the other proportions at the end of post. These are crispy and mouth melting. The taste of the cookies depend on the kind of brown rice flour. I use thai hom mali brown rice and sometimes India gate brown basmathi. Both turn out to be good.

Ingredients
Makes around 20
¾ cup of plain flour + 2 tbsps. (Use the 2 tbsps. only if needed)
¼ cup of brown rice flour +1 tbsps.
½ cup of ghee
½ cup +1 tbsps. sugar
½ tsp cardamom powder
½ tsp baking soda
Pinch of salt

Method
Preheat the oven at 160C.
Sieve the flours, salt and baking soda together
Mix the sugar and ghee well
Add flour little by little to make dough. Must not be dry. Use up the 2tbsps of flour if needed. I always use.
Prepare a tray with parchment paper. Make balls of the dough, slightly flatten and bake exactly for 20 mins. Check after 15 mins.

Cool them completely and store in an airtight jar.

version 2
½ cup whole wheat flour +2 tbsp. (optional, use only if needed)
¼ brown rice flour
¼ plain flour
Rest of the ingredients are the same as in version 1

version 3
1/2 cup whole wheat flour
1/2 cup brown rice flour
rest of the ingredients are the same as in version 1

I tried with some tutti fruits, but the fruits got burnt with the 3rd version, i suppose frozen tuti frutis must be used, instead of the ones at room temperature, however iam not sure about it. The plain one turn out to be good but a bit flatter, little harder, darker (Of course more healthier too) than the plain four cookies (the other 2 versions)
Note: Make sure that the rice flour is fine otherwise it will not bind well.