Navratan korma recipe – A creamy, delicious and rich korma made with 9 variety of gems – i.e veggies, fruits and nuts. Navratan literally means 9 gems and korma is a creamy curry. Navratan korma is commonly found on the Indian restaurant menus. It makes a great side dish to include for parties or when we have guests home. It has a unique blend of many flavors, taste and texture.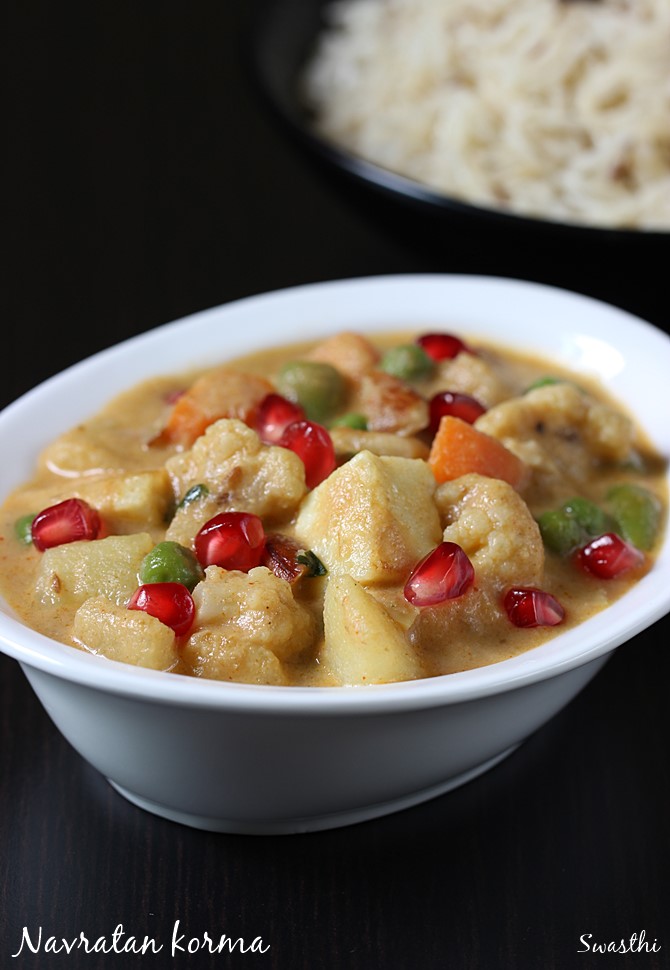 Navratan korma is on the heavier side hence can be served with
Jeera rice
kashmiri pulao
veg pulao
plain paratha
or chapathi / roti, naan or kulcha.
 
I have used potatoes, cauliflower, carrots, peas, beans, paneer, cashews, almonds and pomegranate. The most common additions one can find in the restaurants is pineapple and raisins which i have not used. Pineapples lend a fruity flavor to the dish, it can be used if you like it. Since there is milk cream in this recipe, i have not used fruits, just garnished with pomegranate. This recipe has roughly been adapted from Vahchef.
 
Delicious creamy navratan korma recipe below
Navratan korma recipe | How to make navratan korma recipe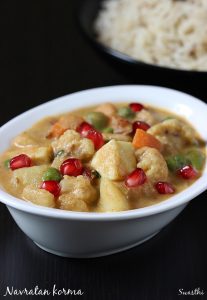 Ingredients (240 ml cup used)
4 medium onions 1 heaped cup cubed
12 cashews (for paste)
1 to 2 green chilli
½ cup peas
½ cup carrots
¾ cup cauliflower
¾ cup potato
½ cup beans
¾ cup paneer
5 to 6 Cashew nuts chopped
5 to 6 Almonds chopped
¼ cup cream
½ tsp red chili powder
Pinch of turmeric
¼ tsp garam masala
½ tsp cumin
¾ tsp coriander powder
Salt as needed
1 cup water
¼ cup pomegranate for garnish
Few pineapple chunks (optional)
raisins few (optional)
1.5 tbsp oil
½ tsp cumin
2 cardamoms
2 cloves
small cinnamon stick
1 bay leaf
½ tsp ginger paste or ¾ tsp ginger garlic paste
How to make the recipe
Blanch onions and cashews. Cool them and blend to a paste.
Fry the nuts and raisins and set aside. Fry paneer for 2 mins and set aside.
Wash cauliflower in hot water and drain them.
Steam the potatoes until half done, then add the rest of the veggies and steam together until just cooked. Do not over cook them.
Fry cumin, bay leaf, cardamom and cloves in hot oil for a min.
Add ginger garlic paste and fry until the raw smell has gone.
Add the ground paste and cook until it begins to leave the pan.
Add chili powder, garam masala, cumin powder and coriander powder along with salt.
Saute until oil begins to separate from the mixture.
Pour ¾ to 1 cup water and bring to a boil.
Add all the steamed veggies and cook for 2 mins.
Add cream and stir.
Add fried paneer and nuts. Cover and cook just for a min. Off the stove. If using pineapple add them.
Garnish with coriander, pomegranate and raisins.
Step by step photos on how to make navratan korma
1. Bring 2 to 3 cups water to a boil in a large pot and add cubed onions and cashews.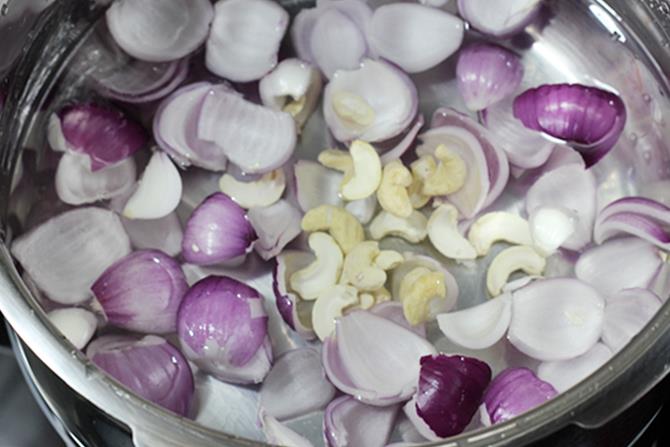 2. Cook for 2 to 3 mins until the onions look half cooked. Transfer them to a colander with a slotted spoon. Set aside to cool.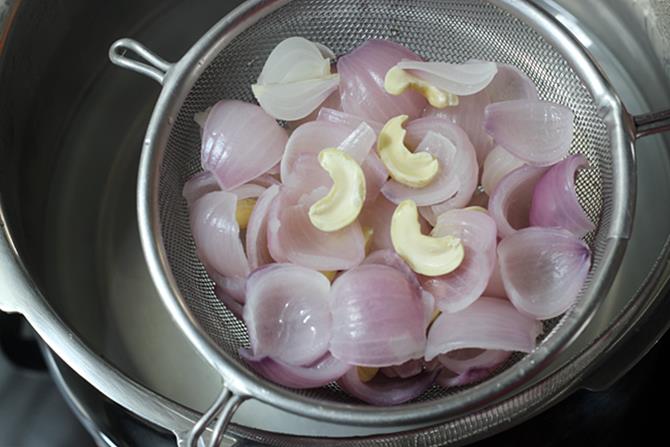 3. To the same pot, add cauliflower florets.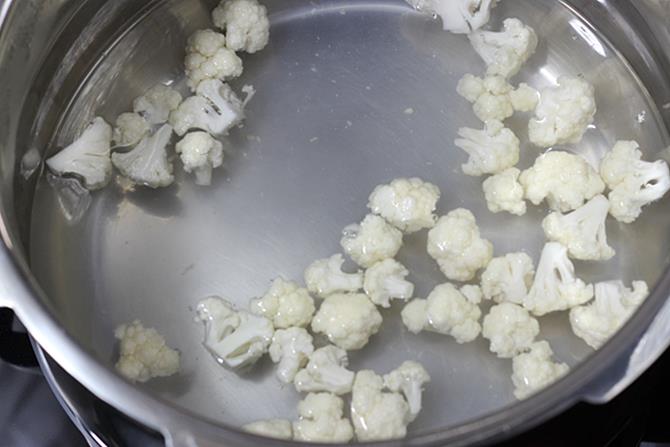 4. After 2 to 3 mins, transfer them to the colander.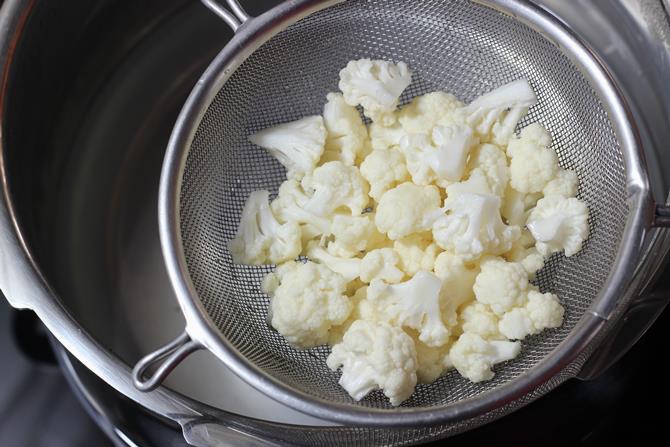 5. Using fresh water, steam potatoes and beans first until half done, then add carrots, peas and cauliflower. Steam until just done. They should not turn mushy.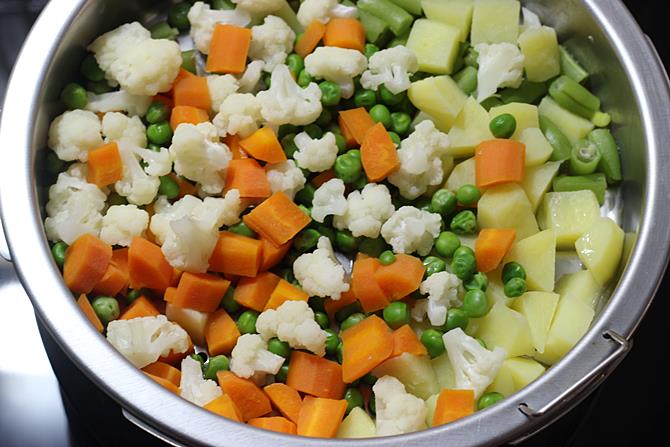 6. Add the cooled onions and cashews to a blender along with chilli.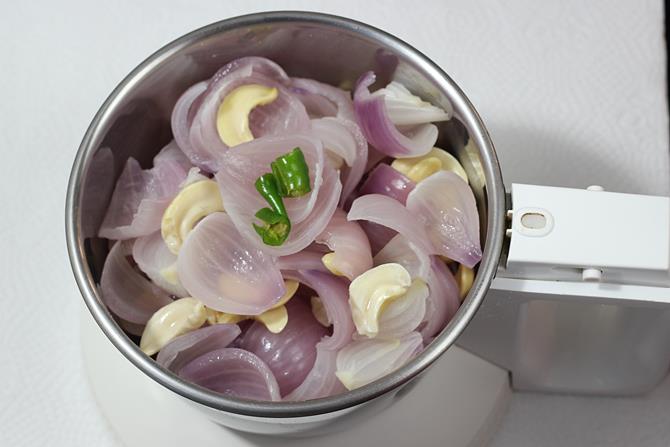 7. Make a fine paste of this without adding water.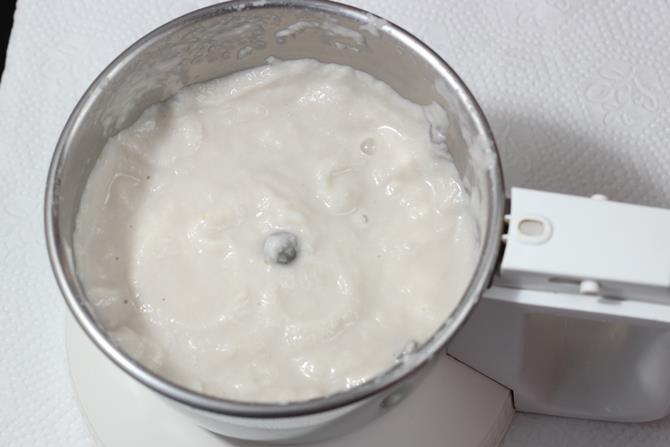 8. Saute paneer for 1 to 2 mins. Set them aside. This is an optional step. You can also fry the nuts and raisins in the same pan and set aside.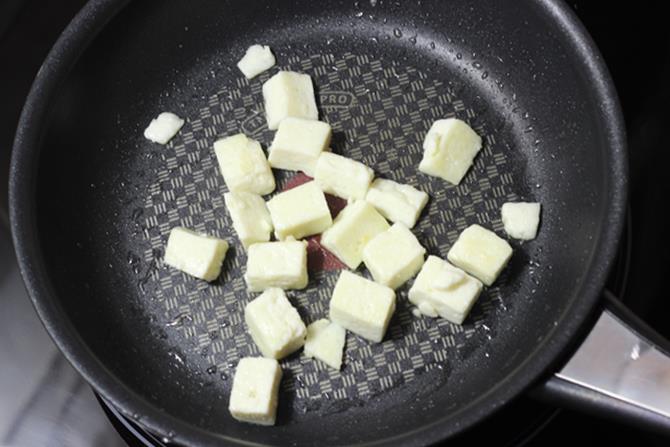 9. Add oil and heat up. Saute bay leaf, jeera, cardamoms, cinnamon and cloves in hot oil for 1 min.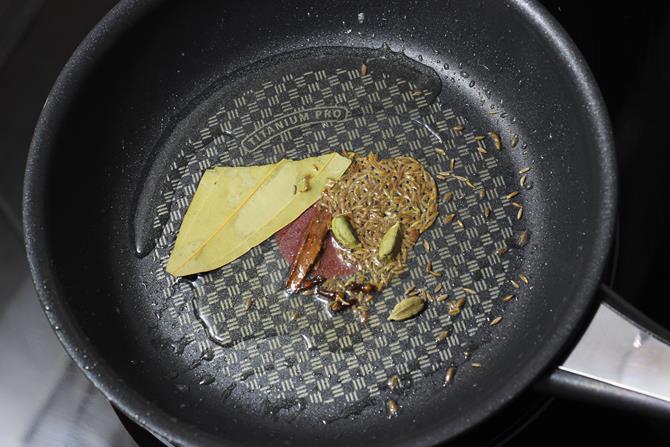 10. Saute ginger garlic paste until the raw smell goes off.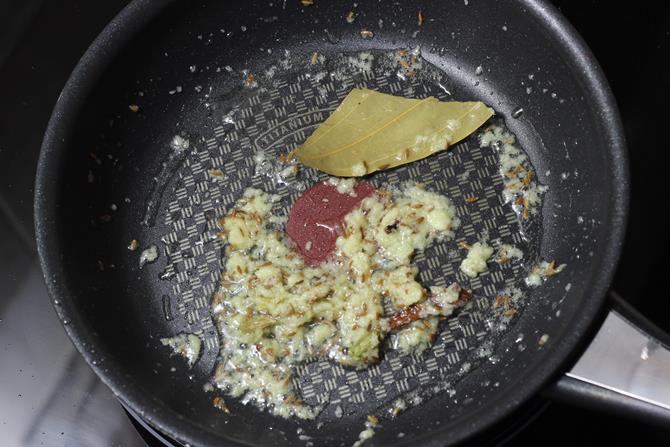 11. Add the onion cashew paste.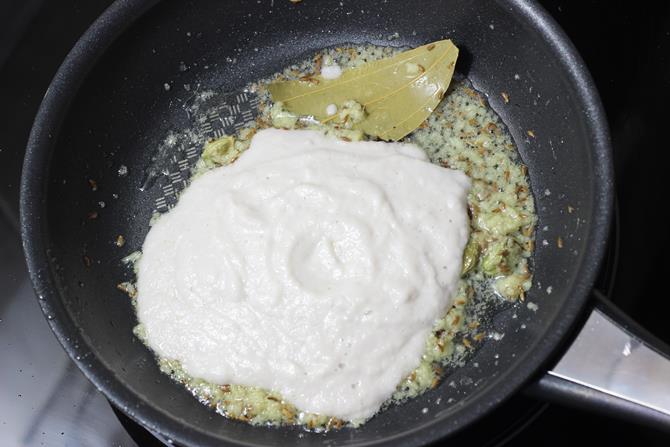 12. Fry until the paste begins to leave the sides of the pan. Add only a pinch of turmeric, garam masala, coriander powder, jeera powder and red chilli powder. Usually no red chilli powder is added to this recipe and the heat comes from green chilies. But i like to add a bit of it.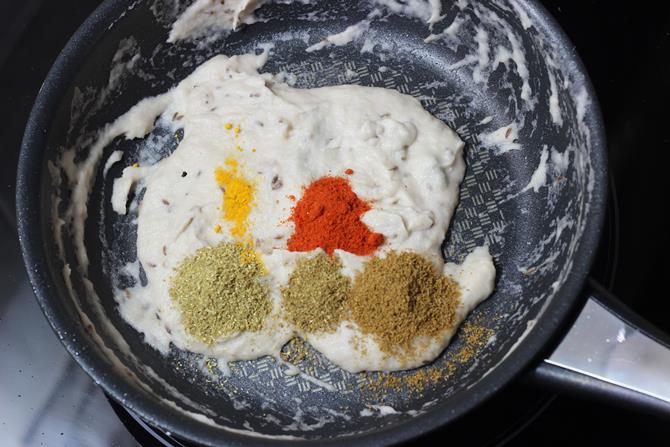 13. Saute until the paste begins to leave the oil. Add salt, you can also add it in the earlier step.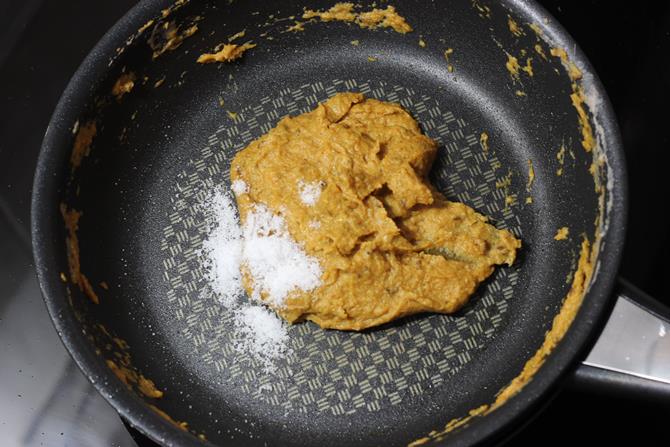 14. Add water to bring it to a consistency.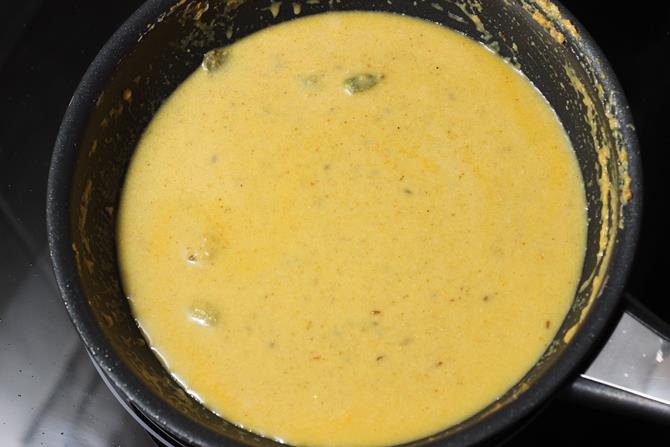 15. When it is bubbling well, add veggies. Stir and cook for 1 to 2 mins.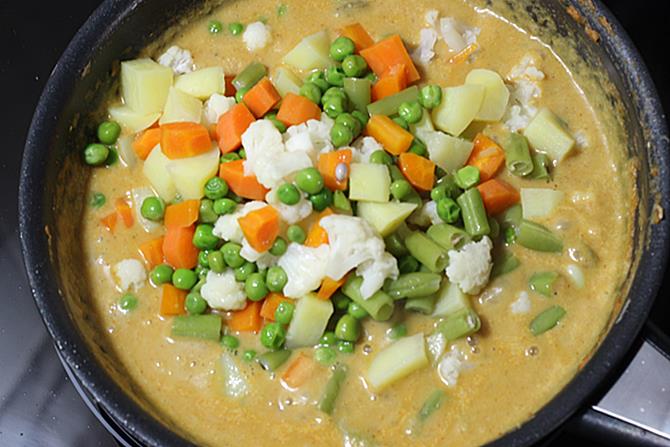 16. Reduce the flame to low, add cream and stir.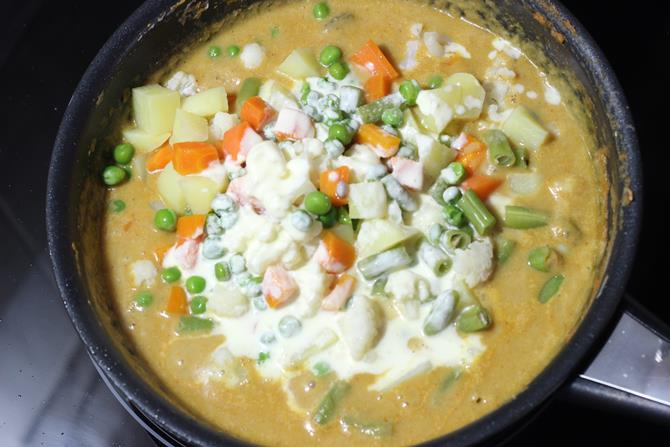 17. Add paneer and chopped almonds, cashews. Raisins as well if using.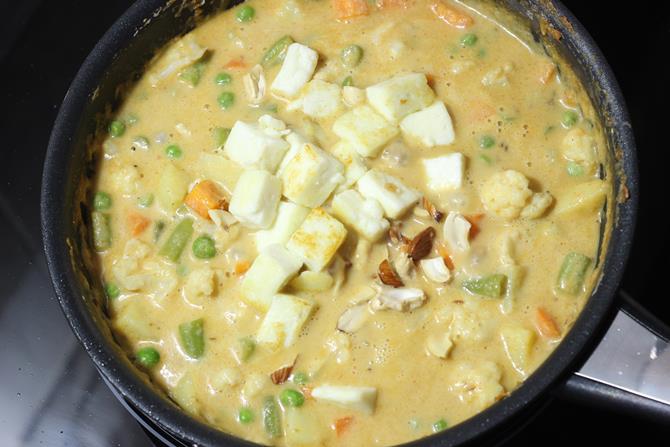 18. Cover and cook on a very low heat just for 1 to 2 mins. Over cooking can make paneer hard. If you have fried paneer at step 8, i suggest only adding it to the hot korma and cover. Do not cook further.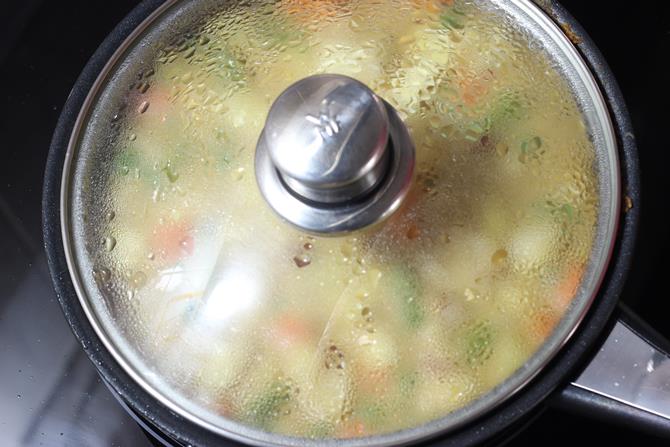 19. Off the stove and add coriander leaves. If using pineapples, you can add them now.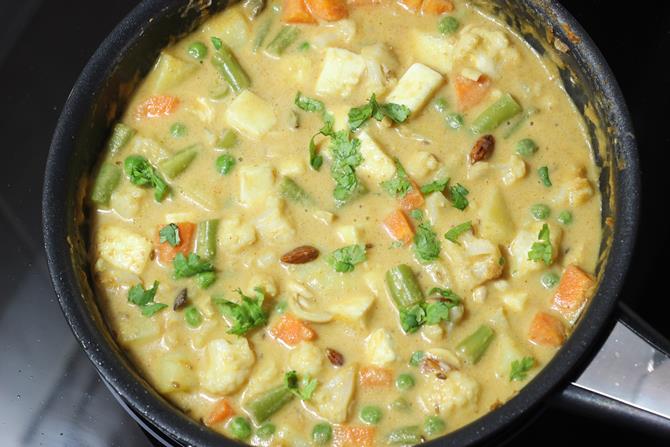 Transfer navratan korma to a serving bowl and garnish with pomegranate. You can also garnish with roasted cashews and raisins.