oats burfi ! Doesn't it sound weird? I felt so when I heard about it first time from my mom. My mom has been making these for many years.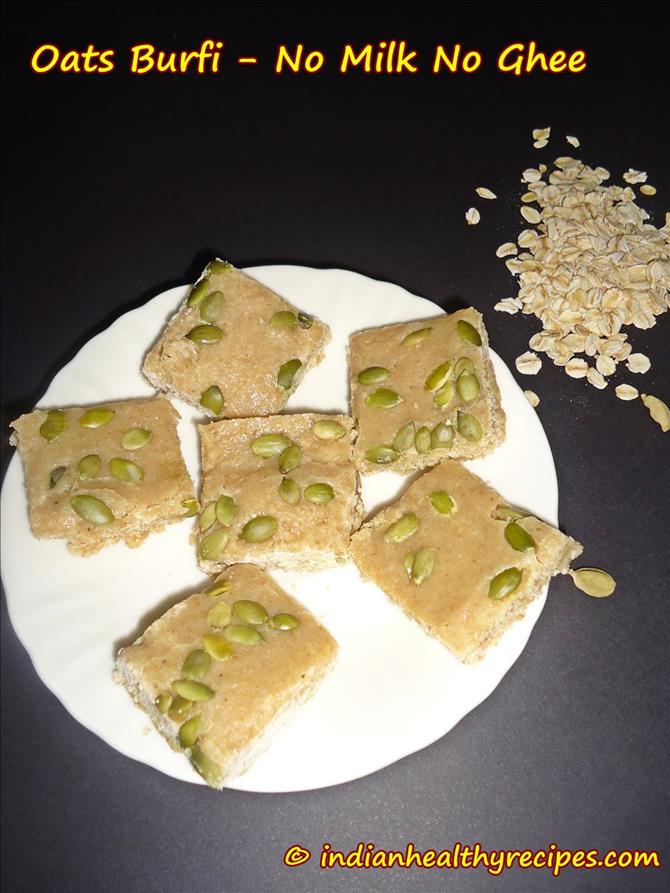 Usually anything cooked with oats turn sticky but this oats burfi doesn't turn sticky. It tastes good and mouth melting.
 
To sweeten the burfi we need to use sugar and no ghee is used instead olive oil or coconut oil can be used. These can be stored easily for about 2 weeks.
 
To make oats burfi, one needs to know sugar syrup consistency properly. Sugar syrup should reach a string consistency otherwise the burfi becomes sticky.
 
more oats recipes : oats upma
 



oats burfi recipe | oats fudge – vegan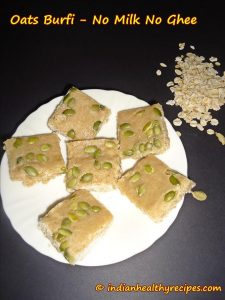 Ingredients (240 ml cup used)
1 cup Organic sugar
1 ¾ cups powdered oats
¼ tsp cardamom powder
1 tsp rose essence or any (optional)
1 tbsp. olive oil or almond oil or coconut oil
40 ml water
Any nuts or desiccated coconut for topping (I used pumpkin seeds)
How to make the recipe
Mix sugar and water and begin to boil on a medium flame, keep stirring.
Add cardamom powder and essence.
When the syrup reaches a string consistency, add the powdered oats few tbsp. At one time, mix well to remove any lumps. Refer the pic on how to check the string consistency, take a small quantity of syrup between the thumb and the forefinger, you can see a sticky consistency.
Add oil & Continue to cook the mix on a medium flame, constantly stirring it to prevent burning. After sometime the mix leaves the sides of the pan. When the mix becomes thick forming a single ball & looks dry, off the flame. At this stage you can even make a small ball and check with your greased fingers, the ball must not be soggy and sticky but must be a stiff ball. This took around 10 to 12 mins after I added the flour.
Transfer this immediately to a greased tray. Tuck the desired toppings. After 3 to 5 mins, cut to desired shapes.