Oats dosa recipe. Crispy, delicious and healthy oats dosa for a quick breakfast, brunch or dinner. I am sharing 2 methods of making these. The first one is a quick and easy method to make an instant oats dosa. The other one is using urad dal dosa batter or leftover dosa batter, definitely a healthier way to have oatmeal dosas. Both the recipes yield thin, crispy and delicious dosas.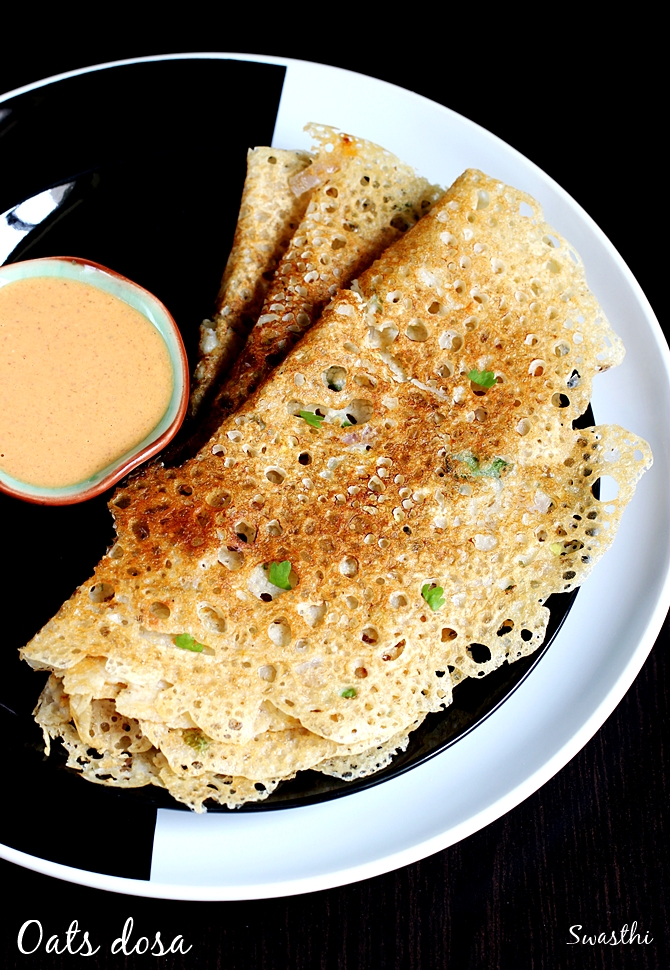 Method 1 – Instant oats dosa
To make the oatmeal dosas instantly, along with oats we can use either rice flour, wheat flour or semolina. For those who like to refrain from consuming refined foods, semolina may not be a good choice. Only rice flour yields crispiest dosa, using half rice and half wheat flour also yield good dosas. To use only wheat flour, quick cook oats work best.
You may also like to check this masala oats dosa.
You may also like these 30 oats recipes
Oats cheela
Oats upma
Oatmeal uttapam
Oats Idli
Oats egg omelette
Find complete recipe of Instant oats dosa below
Oats dosa recipe | How to make oats dosa recipe | Instant oats dosa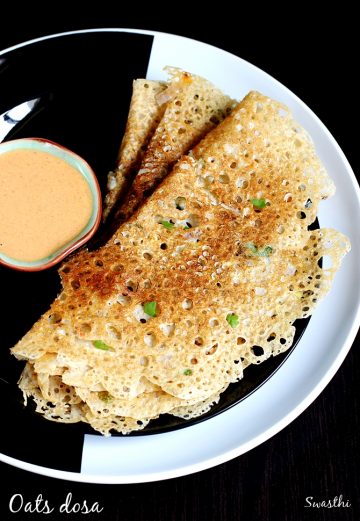 Instant oatmeal dosa made with basic ingredients. These make a good breakfast or a evening snack.
Yield / Serves:
4 to 5 dosas
Ingredients (240 ml cup used)
½ cup oats (rolled or instant)
½ cup rice flour (or ¼ rice flour and ¼ wheat flour or semolina)
Salt as needed
2 small green chili chopped
½ tsp. cumin
2 tbsps onions chopped
1 sprig curry leaves chopped
½ tsp. crushed or minced ginger
¼ cup curd (optional, refer notes)
1 ¼ to 1½ cups water
Oil as needed
How to make the recipe
Recipe instructions in the step by step picture guide below
Notes
Curd lends a unique aroma and deep golden color to the dosa. You can also skip it.
Nutrition Information
Serving size:
2
Calories:
583
Fat:
20g
Saturated fat:
2.2g
Unsaturated fat:
17g
Trans fat:
1.1g
Carbohydrates:
86g
Sugar:
0.83g
Sodium:
234mg
Fiber:
9.7g
Protein:
16g
Step by step photos on how to make oats dosa recipe
1. Add oats to a blender jar. If using quick cook oat, you can skip the powdering step.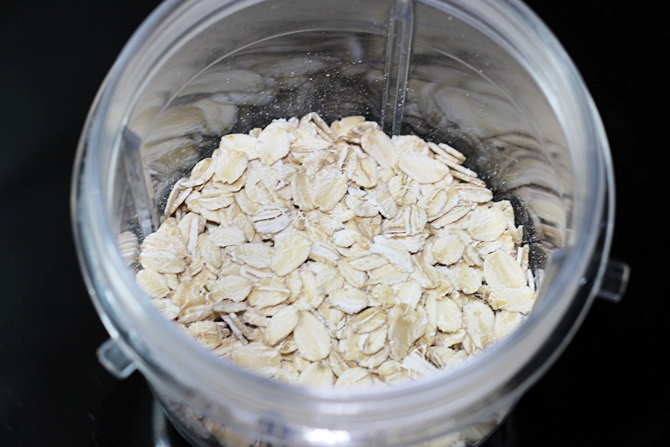 2. Make a fine powder.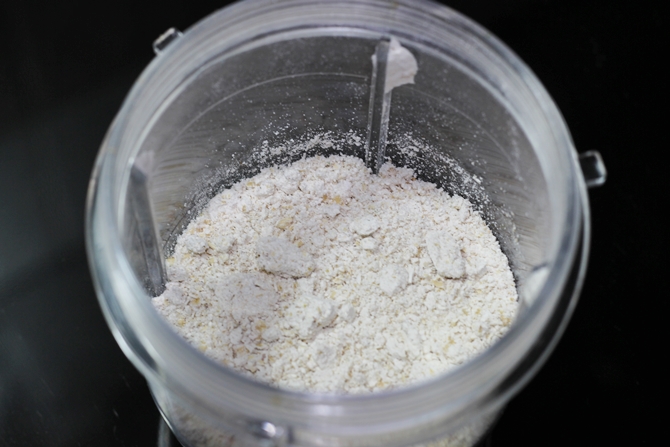 3. Transfer to a mixing bowl.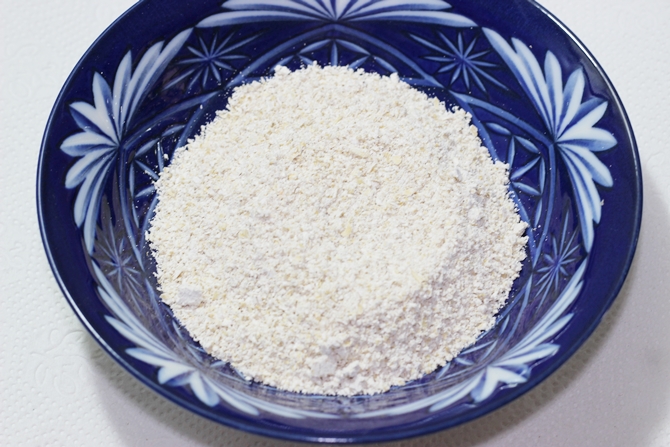 4. Add salt, cumin and rice flour. You can also use half rice flour and half wheat flour or semolina.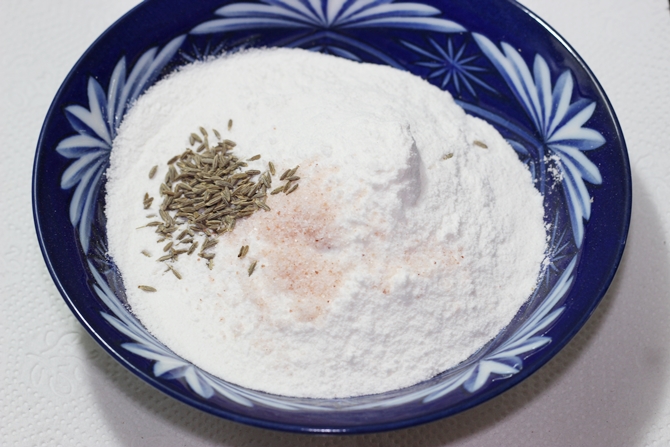 5. Add chopped onions, curry leaves, coriander leaves, grated or minced ginger and green chillies.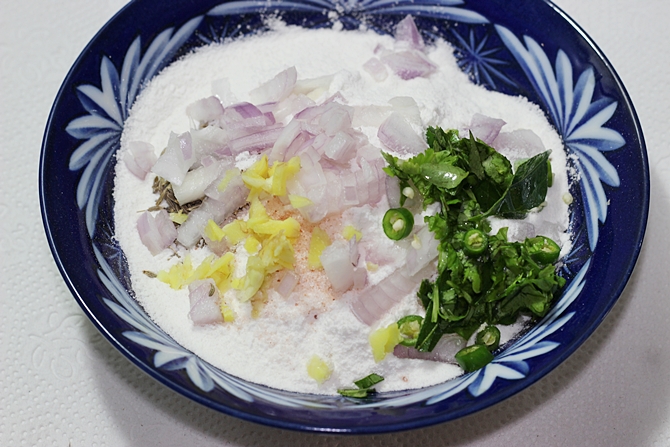 6. Add yogurt and water.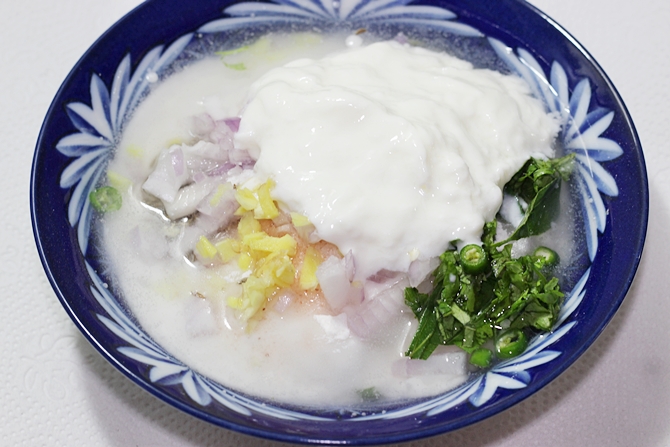 7. Mix the ingredients to a free flowing batter like we make for rava dosa. You can add more or less water to adjust the consistency.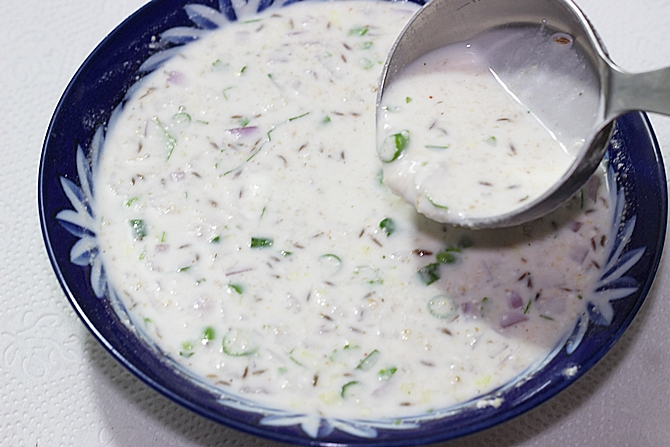 8. Grease your cast iron griddle or non stick dosa tawa. Heat it well. Begin to pour the batter slowly.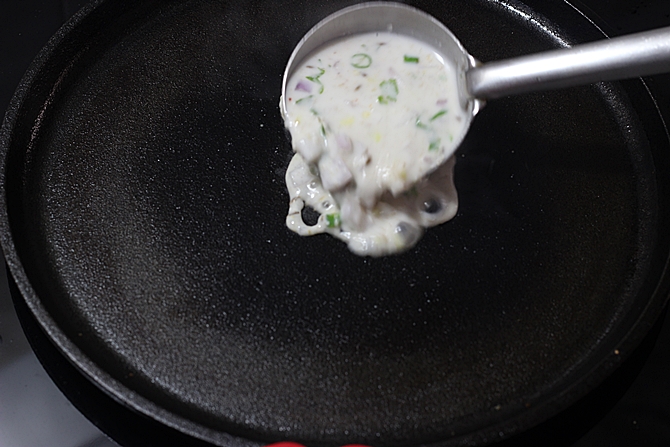 9. Pour the batter making a roundel. Do not spread the batter just pour it.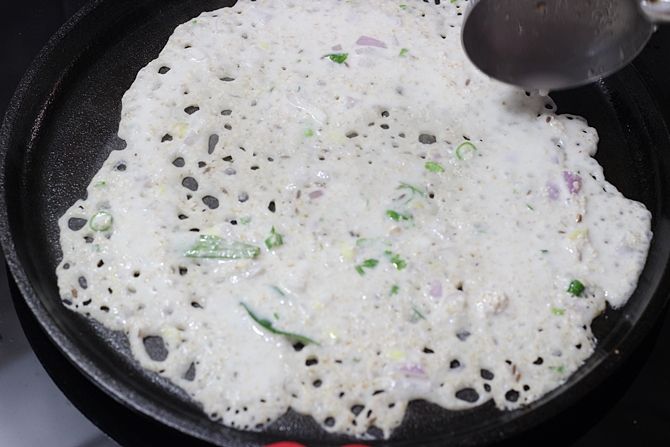 10. Add oil around the edges and cook on a medium heat.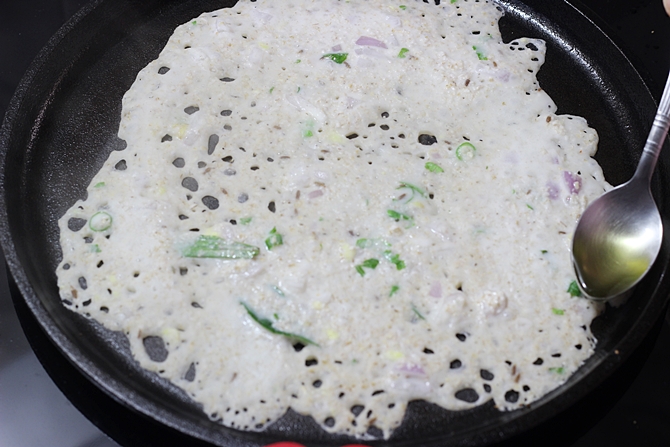 11. After few minutes, you can see the edges become loose from the pan, lift it with a wooden spatula.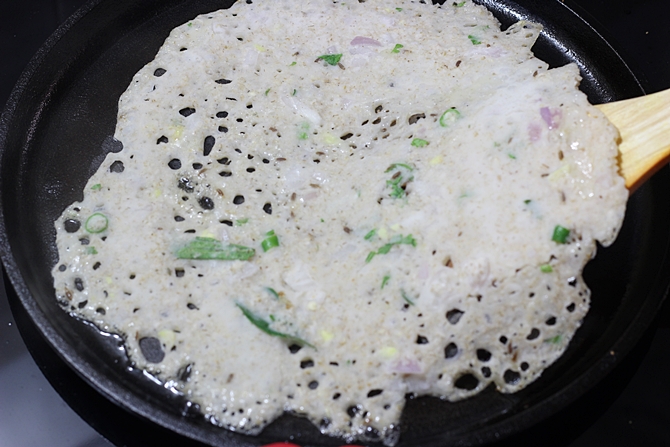 12. Flip it and cook until done. Flip it back and cook again until the dosa turns crisp.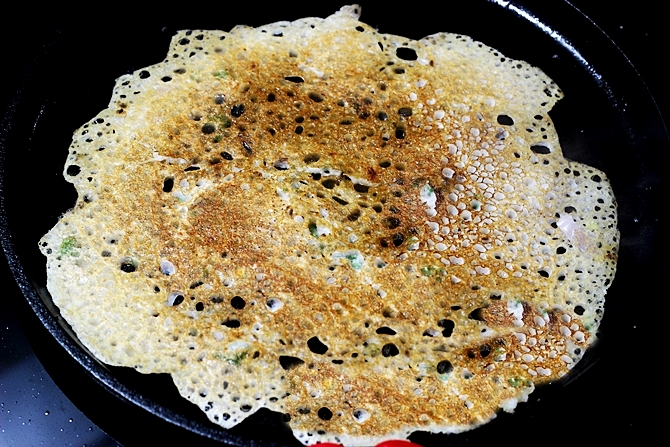 Serve hot with a chutney.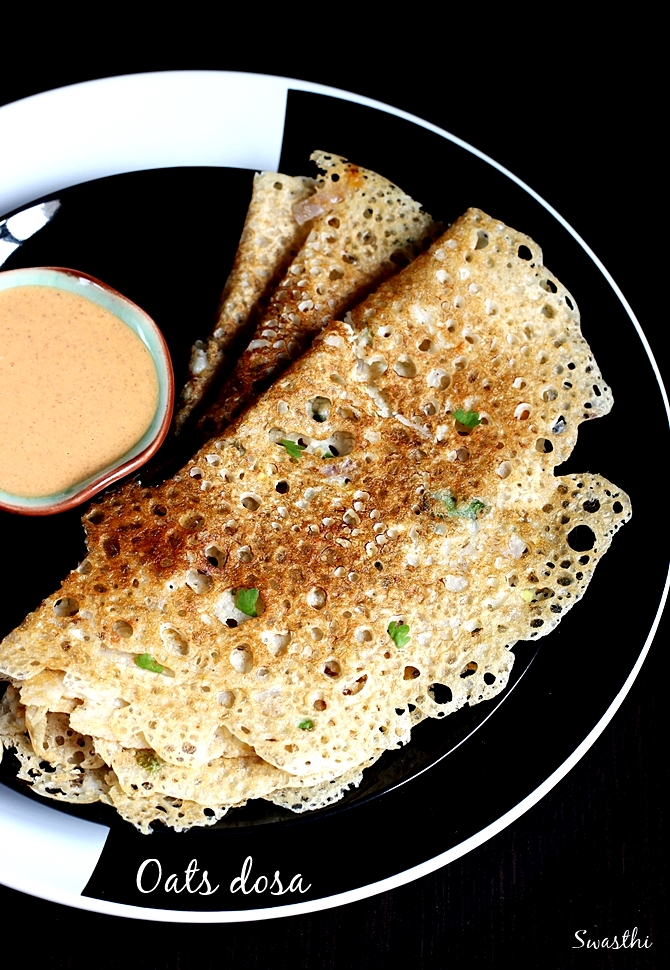 Method 2- oats dosa recipe using urad dal batter or dosa batter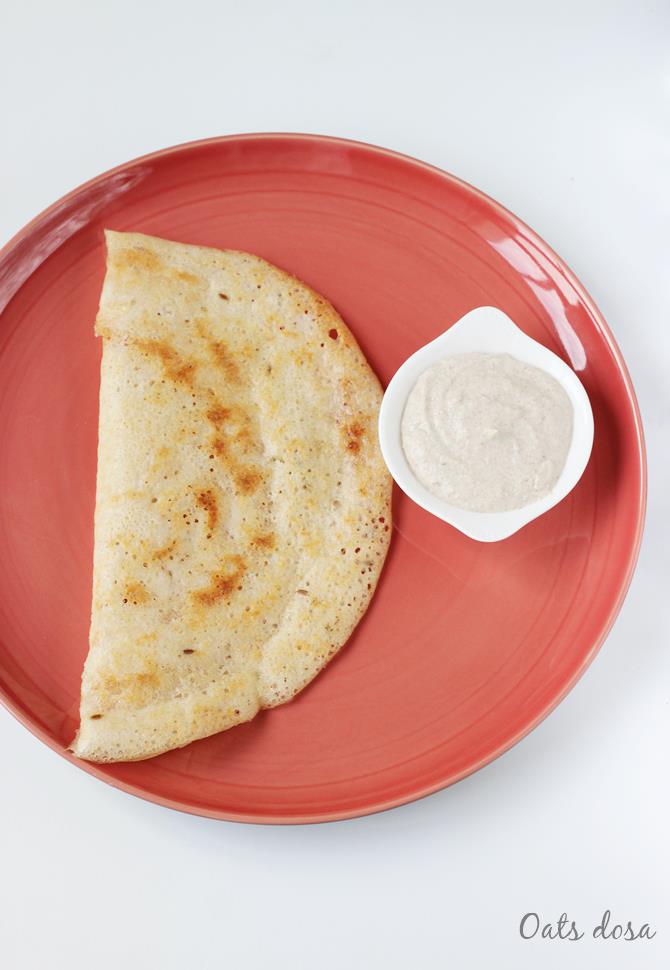 Ingredients
1 cup thick fermented urad dal dosa batter
2 to 3 tbsps. Semolina/ upma rava (optional)
¼ cup of powdered oats
Water as needed
Salt to taste
Method
Mix all the 3 ingredients with little water and salt and bring it to a dosa batter consistency, do not make the batter runny.
Set aside for 10 mins, if the batter becomes too thick, add some more water and bring it to the right consistency.
Heat dosa tawa till smoky hot, sprinkle little water, allow the water to evaporate, then pour the batter with a laddle and spread it to a thin round layer with the base of the laddle. You can use even a stainless steel cup instead of a ladle.
Spread little oil around the edges of dosa and allow it to fry on a medium flame till the dosa is ready to flip to the other side.
Flip the dosa to the other side and toast for a min or 2, this step is optional.
Serve hot with any chutney of your choice.