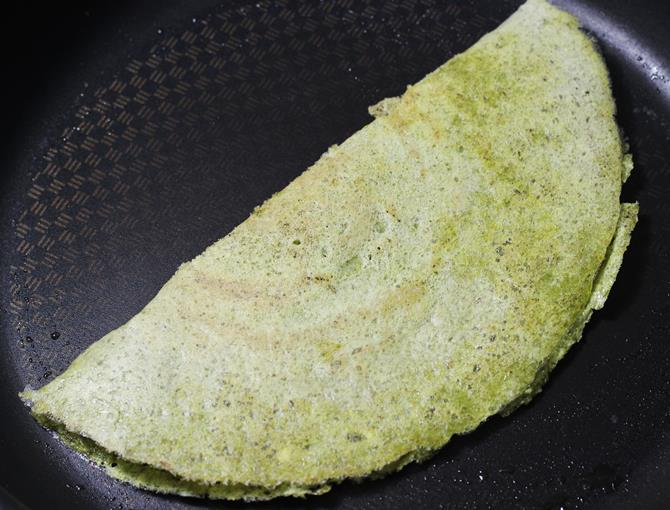 Earlier I had posted an oats pesarattu recipe that was mouth melting and tasted buttery but not crispy the way kids would like. Last week I had some time to try out this crispy version of oats green gram dosa. I wanted to share since it came out well. I made more batter and refrigerated and tried the next day and was surprised as they came out crispy on the 2nd day too. To complement the oats green gram dosa, we need a really good chutney.
 
oats green gram dosa goes great as a weekend brunch or for breakfast. It is healthy and can be often made easily. This dosa can also be made instantly using yellow moong dal and oats. They turn out good and crispy as well. But the dal needs to be soaked for just one hour.
 
more green gram recipes
crispy pesarattu
 
step by step photos on making oats green gram dosa


 
Do try this for your family, an absolutely healthy breakfast recipe.
 

oats green gram dosa | oats pesarattu recipe with fresh batter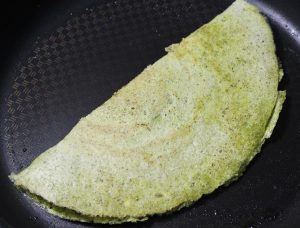 Ingredients (240 ml cup used)
1 cup of green gram
½ cup of rolled oats
¼ cup of parboiled rice
Salt to taste
1 "piece of ginger
2 to 3 green chilies
¼ to ½ tsp cumin
Oil or ghee
How to make the recipe
Wash and soak green gram and parboiled rice and oats separately in enough water for at least 6 hrs.
Rinse well green gram and rice and transfer them along with all the other ingredients to a blender jar. Grind to a smooth batter.
Heat a pan till hot enough, pour a ladle of batter and spread the batter to a thin layer, drizzle some oil or ghee around the edges, fry till slightly brown or crisp.
Drizzle some water on the pan, wipe off with a kitchen tissue and proceed to make the next one till you finish
Serve oats green gram dosa with chutney.