Oats khichdi is another easy oats recipe that can be prepared without much effort. It makes a good, nutritious and healthy breakfast on a busy day. It can also be a quick fix to a meal or dinner when one doesn't have much time to cook. This can also be served to babies from 8 months. This can be cooked to slightly grainy or mushy to suit one's liking.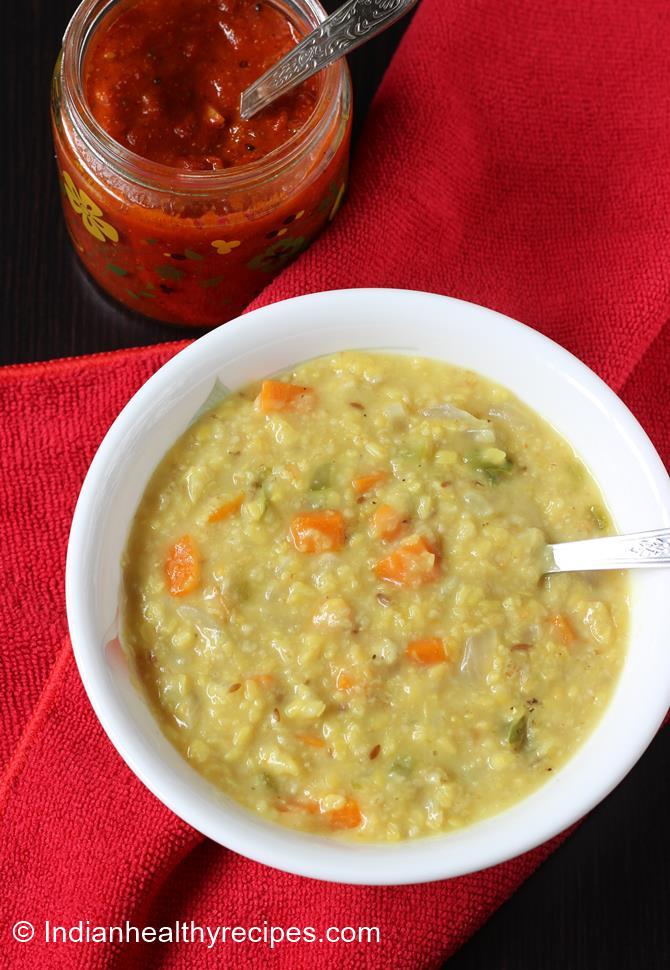 khichdi is an Indian dish made of rice and lentils (dal). This is made with slight variations with an addition of garam masala or vegetables. Those following an ayurvedic diet believe it to be nutritious, light and is said to correct digestive disorders or soothe an upset tummy.
This oats khichdi recipe is adapted from an ayurvedic book, i replaced rice with oats. Using oats does not make the khichdi sticky since a good amount of dal and veggies are used.
You can also check these 30 Indian Oats recipes
Oats upma
Oats Idli
Oats dosa
Oatmeal pongal
Oats khichdi recipe card below
Oats khichdi recipe | How to make vegetable oats khichdi | Oats recipes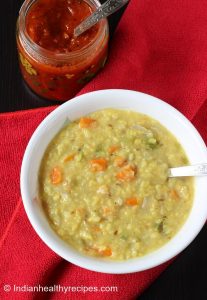 Oatmeal and lentils cooked along with mixed vegetables to make a healthy dish.
Ingredients (240 ml cup used)
¼ cup moong dal / yellow split mung beans
½ cup oats
½ tsp cumin / jeera
½ tsp ginger grated or crushed
1 ¾ to 2 cups water (regular rolled oats may need more)
Salt as needed
ghee as needed
Generous pinch of turmeric
Pinch of hing (avoid for babies)
½ to ¾ cup chopped veggies (use any)
Carrots
Onions
Bell pepper
Cauliflower
How to make the recipe
Wash and soak moong dal in water till used.
Wash and chop veggies.
Add ghee to a hot pot. Add cumin. When they sizzle, saute ginger till it turns aromatic. Do not burn.
Add hing if using.
Add all the veggies and saute for about 2 to 3 minutes.
Drain the water from dal and add it to the pot. Fry for about 2 to 3 minutes till the dal smells good.
Add oatmeal, salt and fry for about 2 minutes.
Pour water. You can adjust the quantity of water to make it mushy or slightly grainy. On a medium flame, pressure cook for one whistle.
If desired can add little more ghee.
Serve oats khichdi warm.
Notes
If your baby is on a gluten free diet, you will have to use gluten free oats to make this khichdi.
How to make oats khichdi recipe
1. Wash and soak dal until we need it, this helps dal to get cooked faster.  Heat ghee in a pot, saute cumin till they begin to sizzle. Add ginger and fry until it begins to smell good. Add hing. For babies under an year old you can avoid using hing. You can also add bay leaf.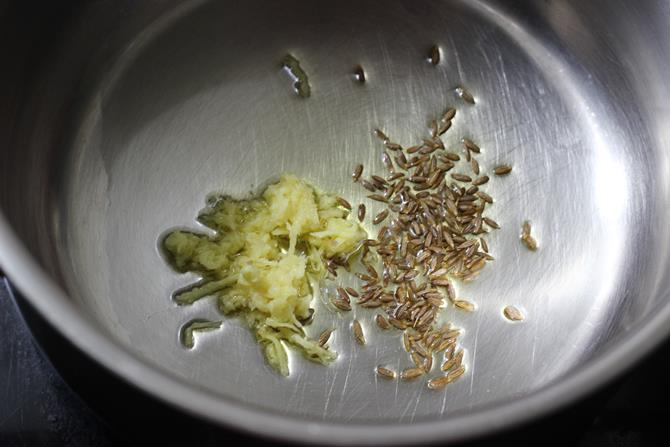 2. Add chopped veggies, green chilli and saute for about 2 to 3 minutes. Veggies like chili, carrots, cauliflower, capsicum, onions go well with this khichdi. For babies you can try with cauliflower, carrots, methi, palak, pumpkin or bottle gourd. You can also add 1 small deseeded and chopped tomato if not making for baby. Saute until the tomatoes cook and turn mushy. The raw smell of tomato must go off.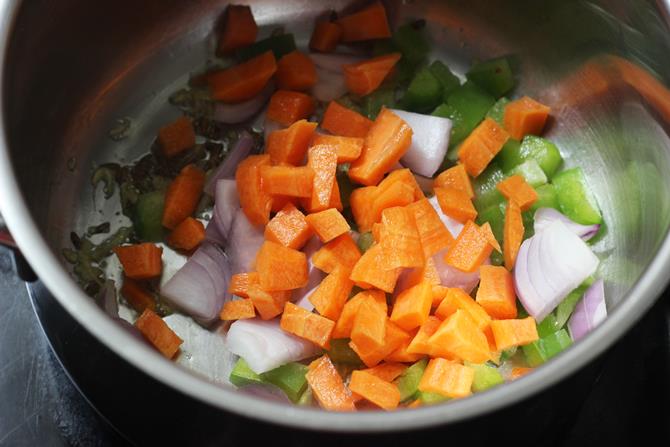 3. Add moong dal, turmeric and saute for about 3 minutes without burning. You can also use a bot of red chilli powder and garam masala (optional).Khichdi gets a good aroma by sauteing dal in ghee.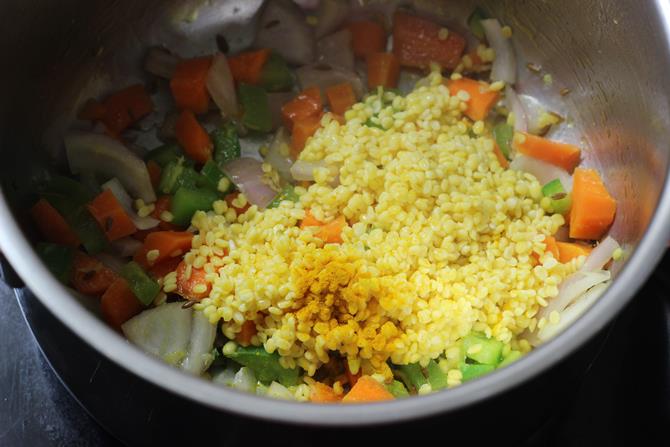 4. Add oats,salt and saute for 1 to 2 minutes.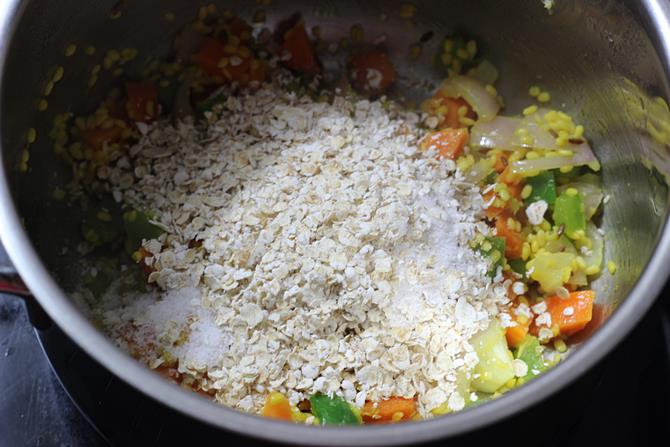 5. Add 1 ¾ to 2 cups water. Stir well.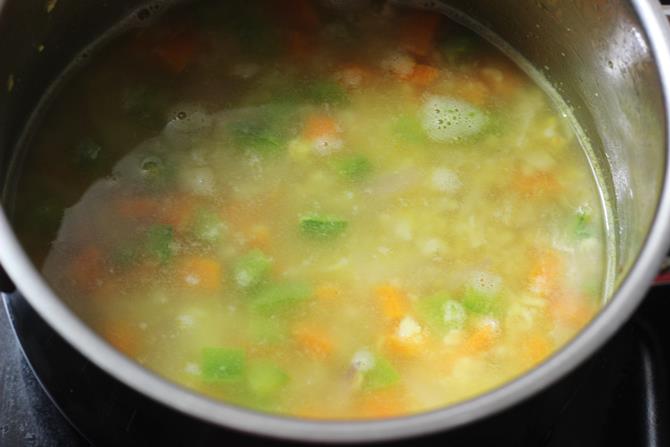 6. Pressure cook on a medium flame for 1 to 2 whistles. When the pressure goes off, open the lid. I usually cook it in a pot on a medium flame until done. After few readers commented that their dal didn't get cooked well or took longer, i tried pressure cooking. It did work well. Make sure the flame is medium and not high. If you are not on a low fat diet, add half a spoon of ghee towards the end. If making for baby, mash up well with a spoon before feeding. It can be pureed as well once it cools down. For babies older an year, try to just mash and feed.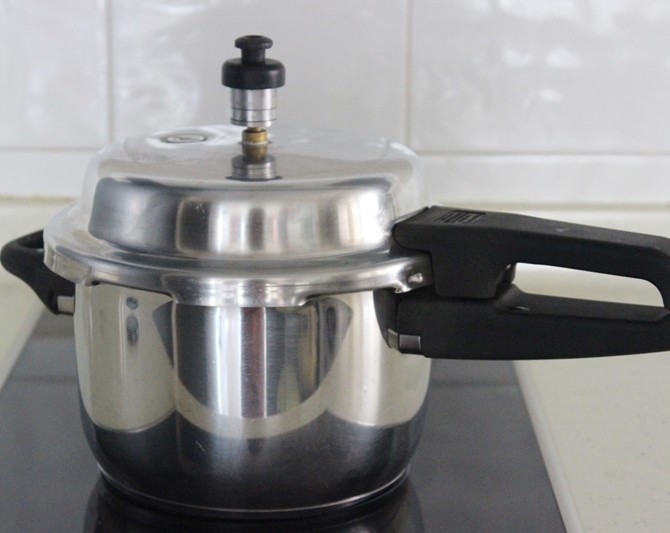 I like to sprinkle little pepper powder and ghee. Serve oats khichdi warm. It can be served with pickle or papad.