Pakodi, pakoda, pakora are different names to deep fried fritters made using gram flour or besan. The basic pakora are made with onions & are known as onion pakora. There are so many fancy variations of making these pakoda & are also made with different ingredients like potatoes, corn, spinach, chicken, fish and even with lentils. This South Indian style onion pakoda are unique and is the best I have ever made, so crunchy, light, delicious & addictive. The best part is that they stay crunchy for the next few hours without turning soggy.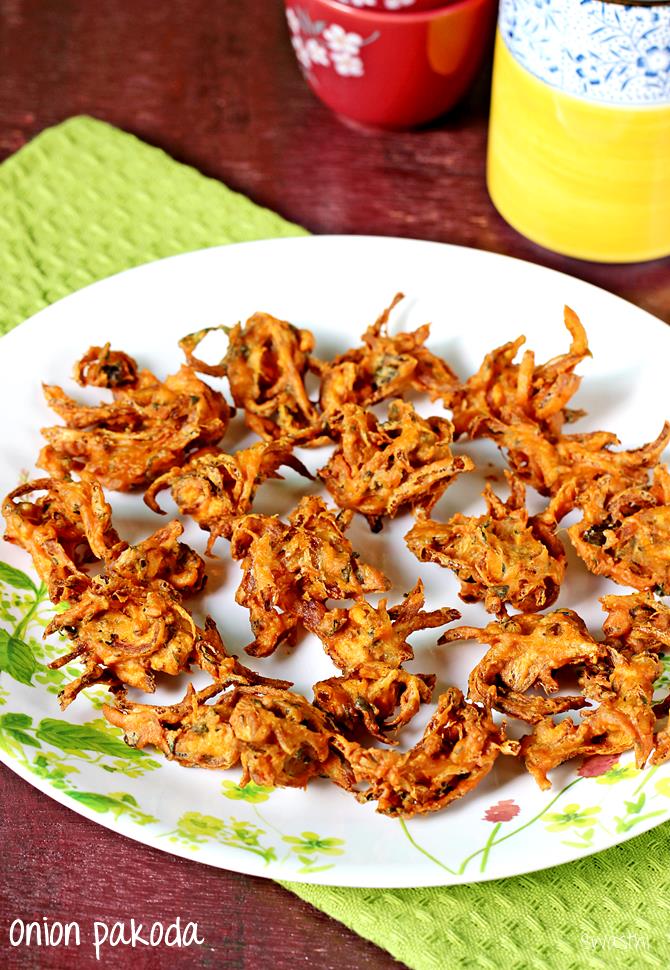 So they make a great party or get together snack to enjoy with your masala tea.
For more pakoda recipes, you can check
Palak pakoda
Mix vegetable pakoda
Corn pakoda
Bread pakora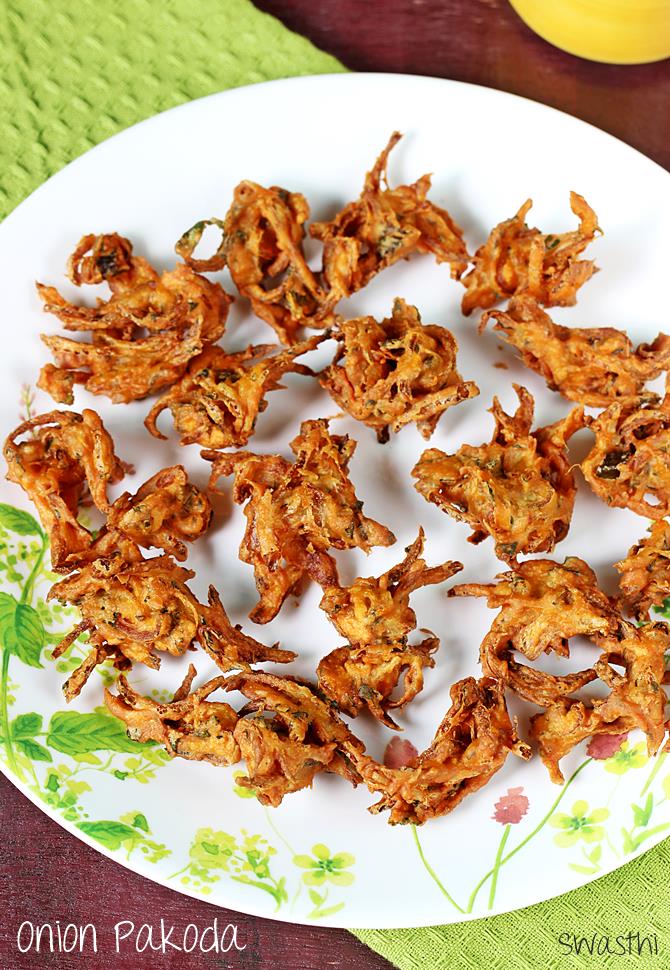 Pakodi recipe, South Indian style onion pakoda
Pakodi recipe | Onion pakora recipe | South Indian style onion pakoda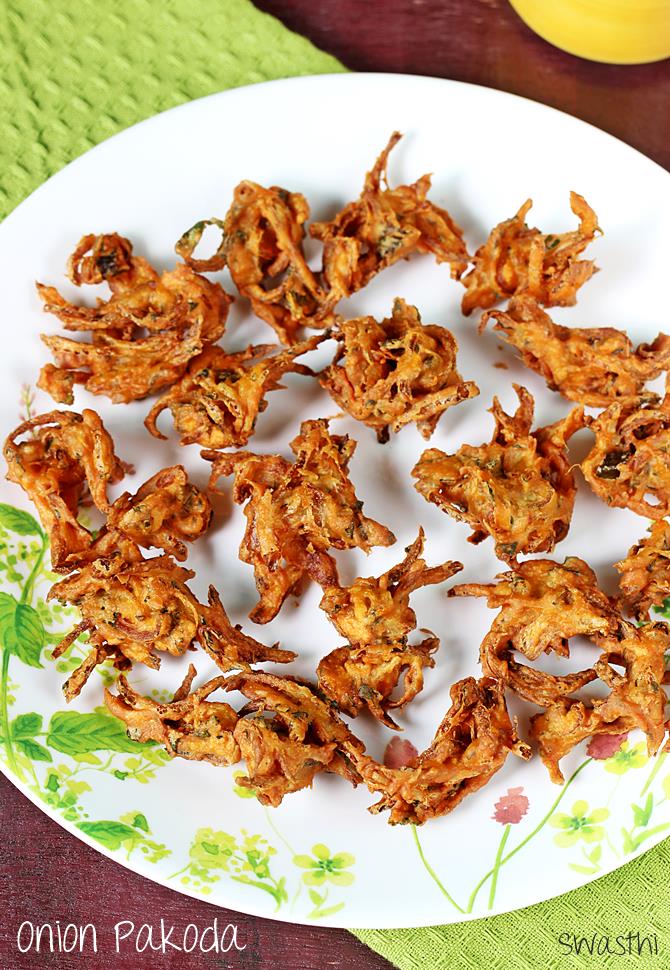 Pakodi or onion pakora are deep fried fritters popular across India. These are served as tea time snacks.
Ingredients (240 ml cup used)
1 ¼ cup thinly sliced onions
¾ tsp ginger garlic paste
2 green chilies chopped
Few mint or pudina leaves chopped finely
Few curry leaves chopped finely
Few coriander leaves chopped finely
Salt as needed
¼ cup besan / chick pea flour / gram flour
2 tbsps rice flour
2 tbsps corn flour
¼ to ½ tsp red chili powder
⅛ tsp turmeric / haldi
½ tsp ajwain
1 tbsp very hot oil
Oil for deep frying
optional (to use if needed)
1 tbsp besan
½ tbsp rice flour
½ tbsp of corn flour/ corn starch
How to make the recipe
Prepration
Wash and peel onions. Wash and slice them thinly. Chop chllies, mint, coriander and curry leaves.
Mix together onions, salt, chilies, ginger garlic paste and leaves. Mix very well for 30 seconds. Set aside for 10 mins.
Add all the flours, chili powder, turmeric and ajwain. Mix together.
Add 1 tbsp oil to a pan and heat it. When it turns very hot, add it to the mixture. Mix it.
Making onion pakora
Heat oil in a deep kadai or fry pan.
When the oil is hot enough, drop small portions of the mixture in the hot oil.
Fry on a medium heat stirring often until they turn golden and crunchy.
Drain them on a kitchen tissue.
Fry onion pakora in batches until you finish the entire mix.
Serve onion pakoda hot with tea.
How to make onion pakora recipe
1. Add thinly sliced onions, green chilies, ginger garlic paste, finely chopped coriander, mint & curry leaves to a bowl. Sprinkle salt all over. Gently mix for about 30 secs and set aside for 10 minutes.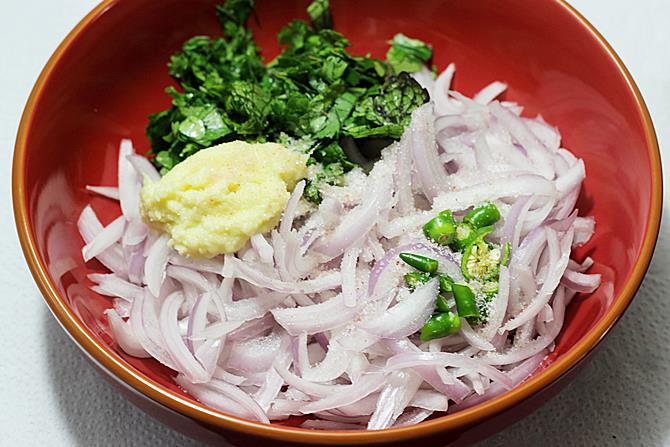 2. You will see onions release moisture.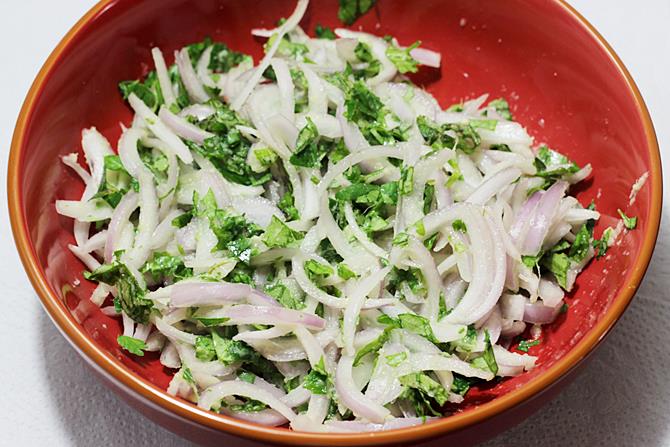 3. Add besan, rice flour and corn flour (corn starch).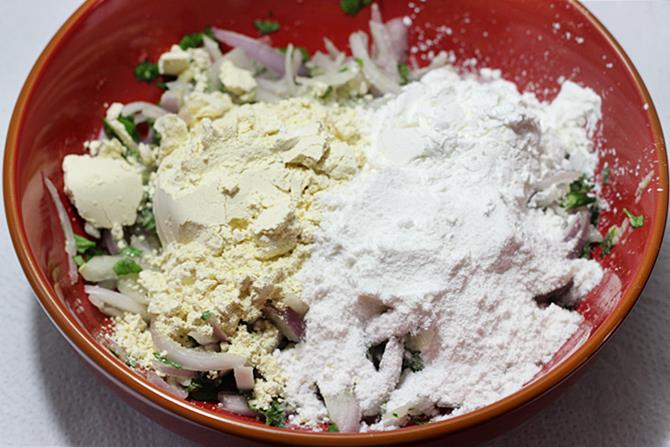 4. Add red chili powder, turmeric and ajwain.


5. Mix well to make a tight dough. I have not used water at all. The mixture should look something like shown in the picture. But if it is too dry and doesn't bind together then you may can sprinkle some water. The quantity of flours mentioned in the recipe works well for our taste. If you like more flour in your pakora, then you may also use up the flour mentioned as optional in the recipe card.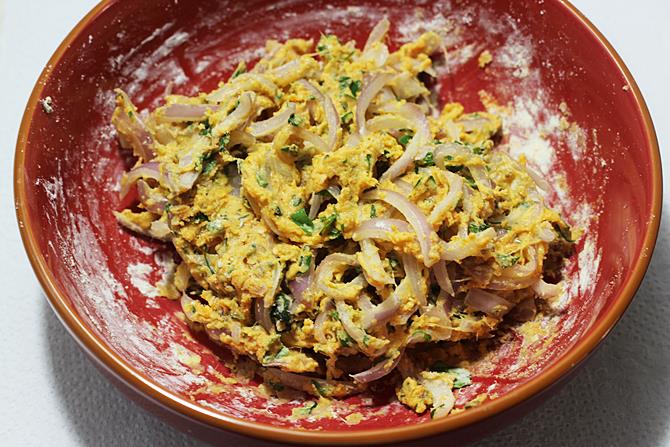 6. Heat up 1 tbsp oil in a kadai. It must turn very hot. Pour it to the dough. Mix it.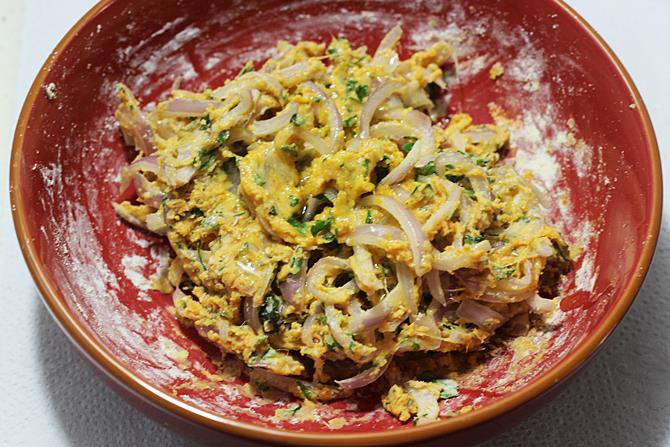 7. Heat oil in a kadai for deep frying. Test if it is hot enough by dropping a small portion of the mix. If the oil is hot enough the dough raises, make sure it is not smoky hot as well.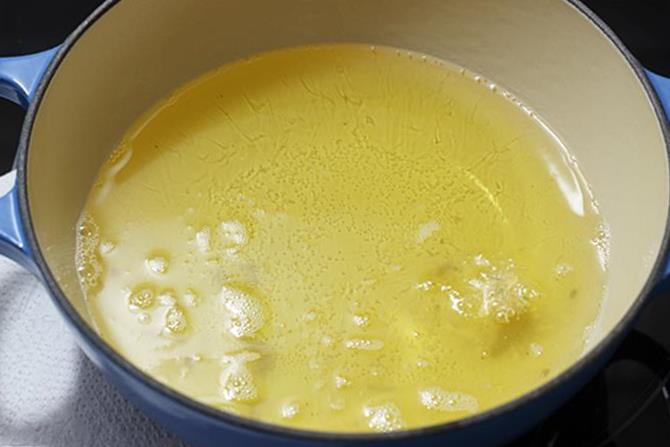 8. Take small portions and drop in the hot oil. Do not add the mixture in large lumpy portions.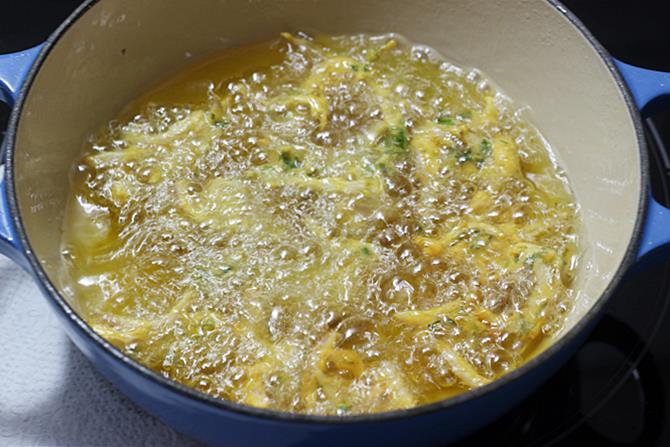 9. Fry until golden on a medium flame stirring often. When they are done, bubbles will reduce.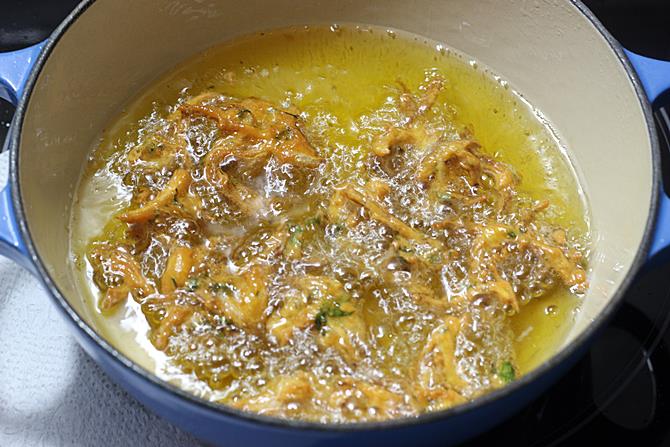 10. Drain them on a kitchen tissue.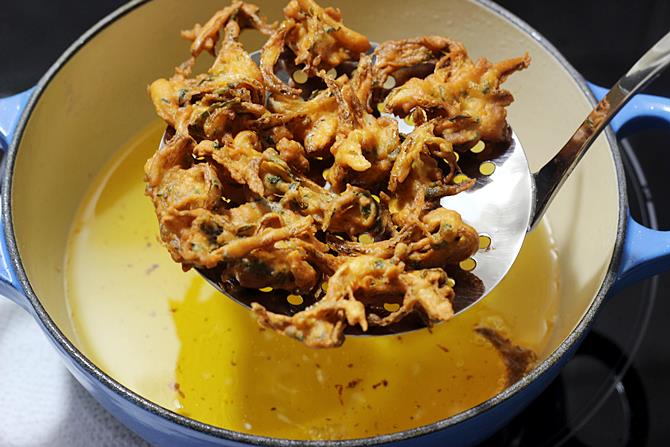 Serve onion pakoda hot or warm. These can also be reheated quickly in a oven at 220 C for 3 to 5 mins depending on the size.