Onion tomato chutney recipe to accompany South Indian Breakfast like idli, dosa, pesarattu, pongal. Tomato chutney can be made in many ways, I am sharing the recipe that uses onions along with tomatoes.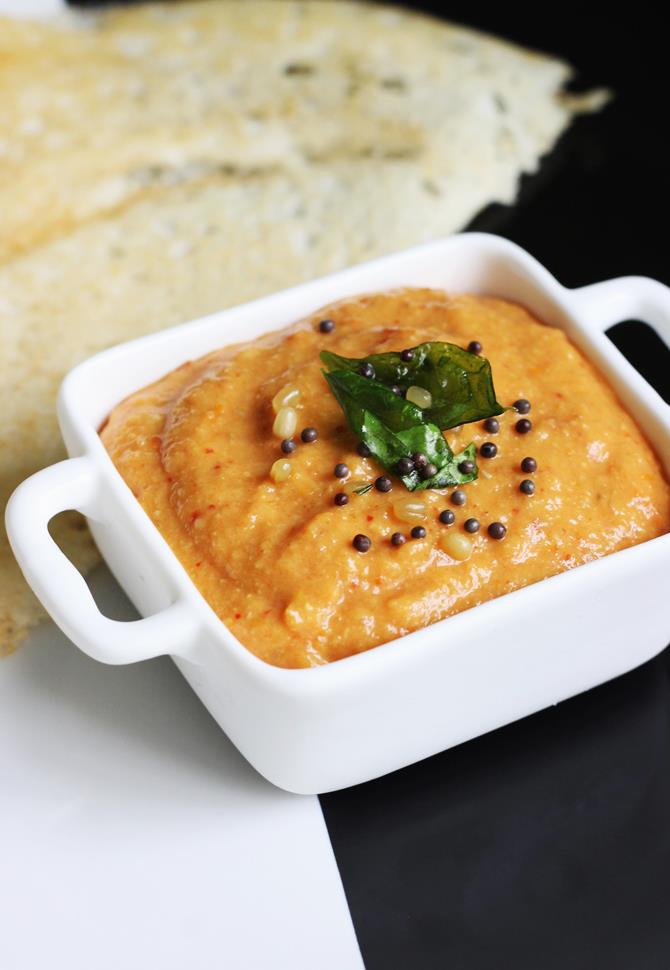 Onion tomato chutney has a hint of sweetness from the lightly fried onions, spice from red chilies, a nutty flavor from the dals/lentils and tang from tomatoes and tamarind pulp. To get a tasty chutney, chana dal, urad dal or sesame seeds can be used. One of these or a mixture of all these can be used to suit your liking.
To make onion tomato chutney, shallots or large onions can be used along with Ginger or garlic. The amount of onions, tomatoes and red chilies can also be altered to suit ones taste. The color of the chutney may vary based on the type and number of red chilies used.
Vide of onion tomato chutney recipe
You can also check this 1 minute video.
Other tomato chutney recipes on the blog
Andhra style tomato chutney
Green or raw tomato chutney
Tomato pachadi (pickle style)
You can also check this collection of 40 Chutney recipes.
Onion tomato chutney recipe below
Onion tomato chutney recipe | How to make onion tomato chutney recipe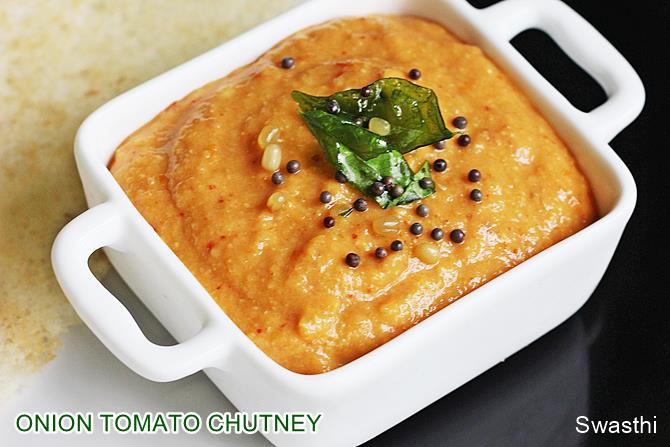 Onion tomato chutney to accompany Indian breakfasts like idli, dosa, pongal.
Ingredients (240 ml cup used)
2 medium onions
3 tomatoes(adjust to suit your taste)
3 to 5 red chilies
1 tbsp. chana dal / senaga pappu
½ tbsp. urad dal / minapa pappu
½ to ¾ inch ginger or 1 to 2 garlic clove chopped
½ tsp. jeera
Salt as needed
tamarind paste or lemon juice as needed (optional)
pinch of turmeric or as needed
1 tsp oil
tadka or temper
1 tsp.oil
¼ tsp urad dal
pinch of hing
1 sprig curry leaves
¼ tsp mustard
¼ tsp cumin
pinch of hing
1 broken red chili
How to make the recipe
Dry roast dals till golden. Add cumin to the pan and set aside to cool.
Add oil to the pan, fry red chilies till crisp. You can set them aside with the dal or can keep them in the pan.
Add onions and lightly fry. You can add garlic now. Just for 2 to 3 minutes on a medium to high flame to bring out the aroma. Set these aside or keep them in the pan.
Add chopped tomatoes and sprinkle turmeric and salt. Fry till the tomatoes turn mushy and soft. Cool this as well.
Add dal, cumin and red chilies to a blender. Make a fine powder. Add garlic, onions and tomatoes. Blend well to a smooth chutney. We don't need to add water.
Heat oil in the pan, add cumin, mustard, urad dal. When the dal turns golden, add curry leaves and red chilies. Fry till the leaves turn crisp. Add hing.
Add onion tomato chutney to the pan and mix. Serve with idli, dosa and pesarratu.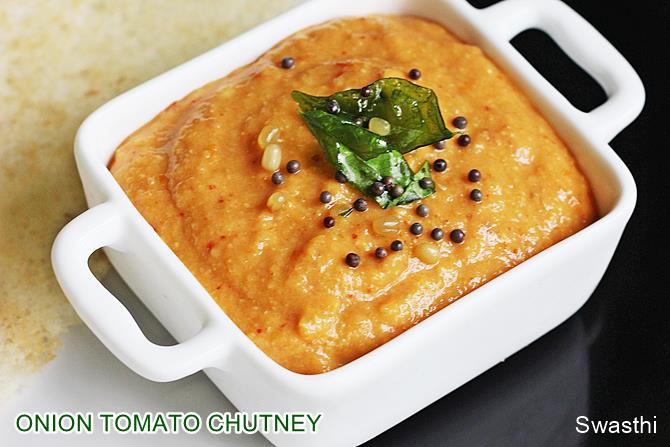 How to make onion tomato chutney
1. Dry roast chana dal and urad dal till golden and aromatic. Add cumin to the hot pan. Set aside to cool. I generally do the roasting of dals and cumin in large quantity and use whenever needed.
2. Fry red chilies till crisp in 1 tsp oil. Set aside you can cook them further.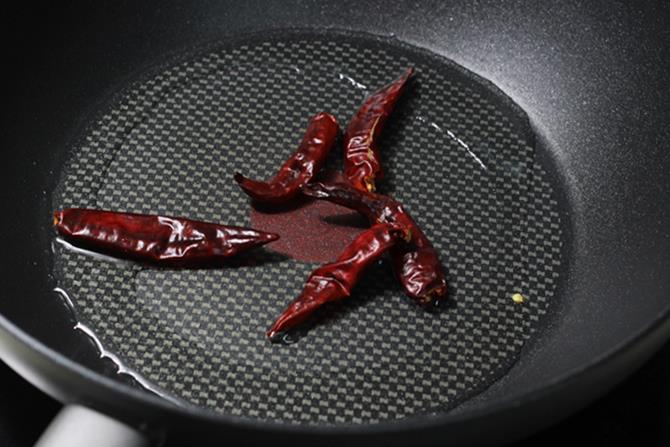 3. Fry onions & garlic for about 2 to 3 minutes.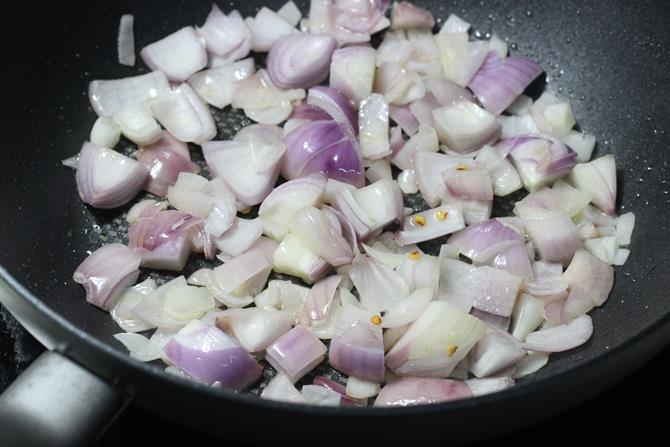 4. Sprinkle salt, turmeric over the chopped tomatoes and fry until mushy.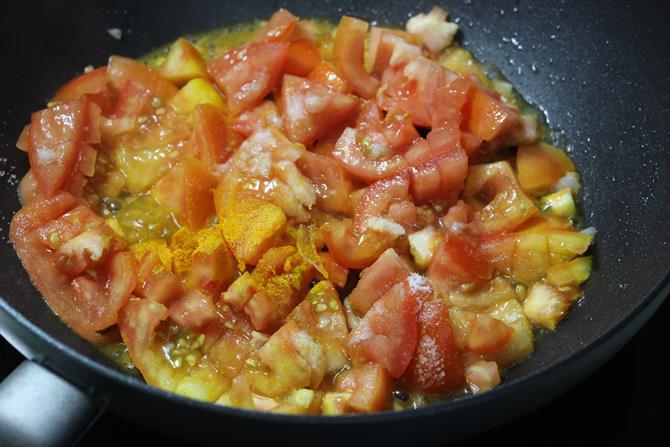 5. Set aside to cool.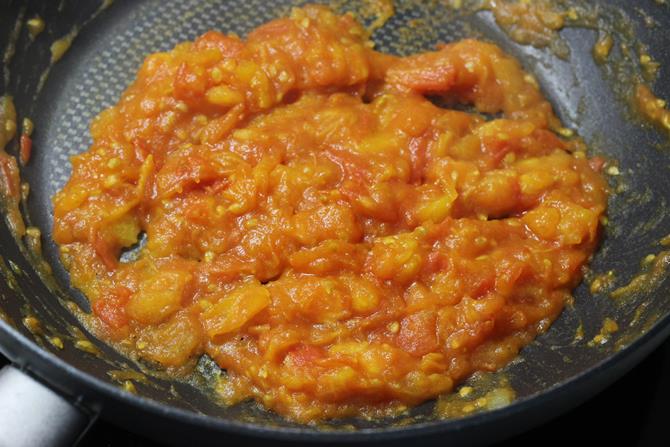 6. Add red chilies, cumin and roasted dals to a blender jar.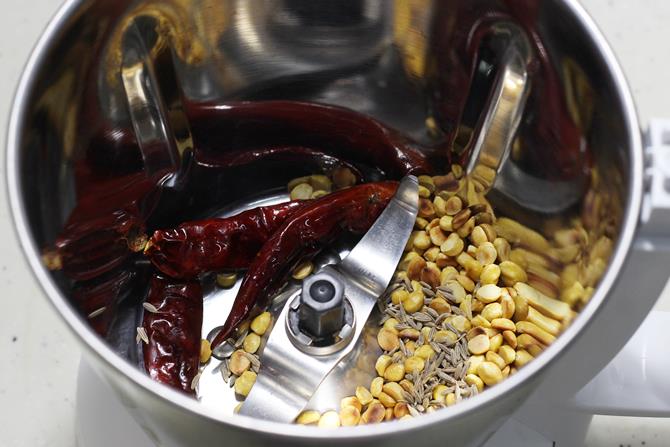 7. Make a fine powder.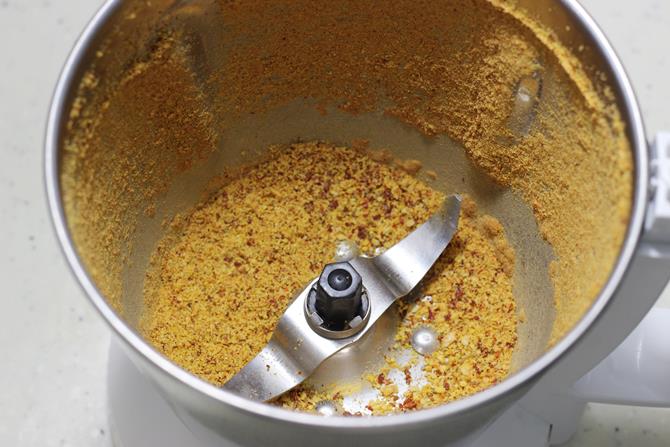 8. Add garlic or ginger, and tomatoes, onions.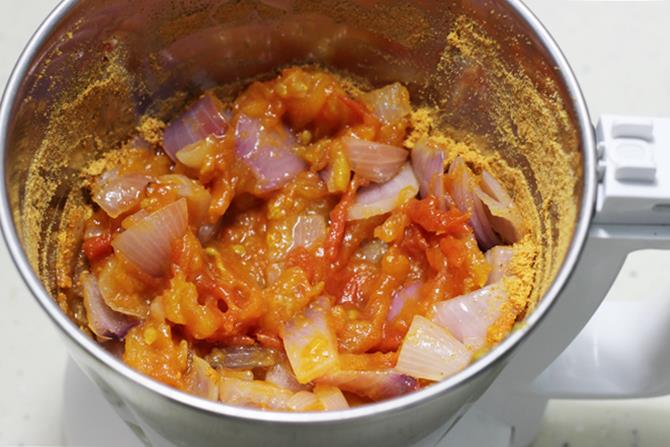 9. Blend to a smooth or coarse texture to suit your liking.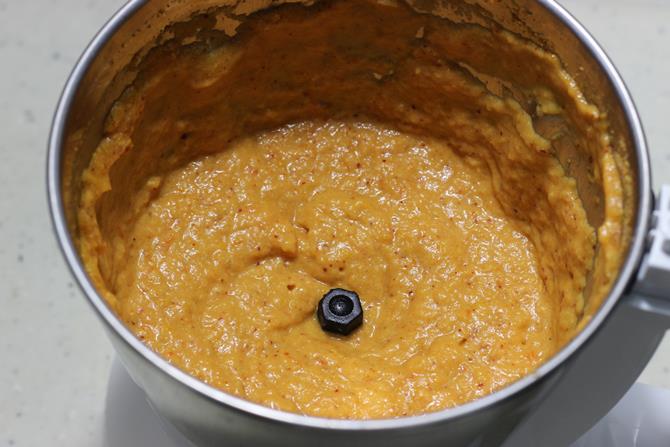 10. Heat oil in a pan and temper onion tomato chutney with the tempering ingredients.