Pakora recipes – Collection of 17 pakoda & bajji recipes. Pakoda or pakodi is one of the most commonly eaten deep fried crisp snack made from gram flour or besan. To make pakora, a main ingredient like onion, potato, mixed vegetables, bread, chicken, eggs etc are used along with besan and other basic spices. I am have compiled 17 super quick and easy pakora, pakoda and bajji recipes to enjoy this monsoon. Based on the regions these Indian fritters are known by different names and are made slightly different.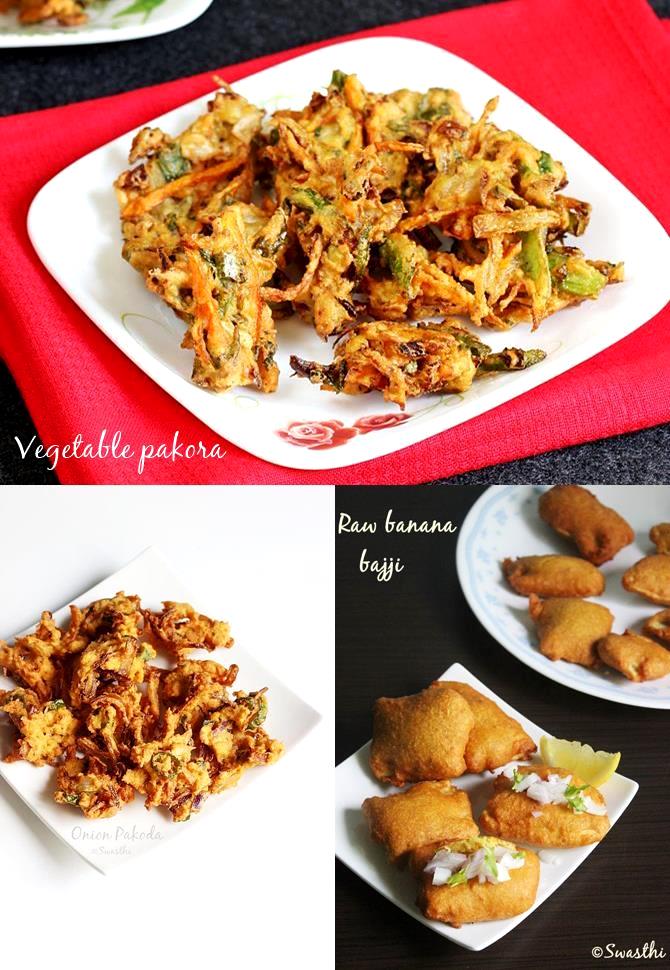 I hate to deep fry the veggies or meat as most of the nutrients are lost. But most times I make pakora just to use up the surplus vegetables or meat during the weekend.
Here are some tips to make crisp fried pakora that are not oily, taste best and remain crunchy for long time.
1. Flour: Though besan/ chickpea flour is the main ingredient used for making pakora. An addition of little semolina, rice flour or corn flour brings in added extra crunch. As an alternate you can also use ladoo besan or coarse besan which makes them crunchy.
2. The consistency of batter or pakoda mixture:
Some recipes call for making batter like bread pakora , raw banana bajji, aloo pakora etc. Make sure the consistency of batter is not very thin or thick. If the batter is too thick, it doesn't coat well the supposed ingredient like bread or aloo what ever used. Making thin batter, makes the fritters soak up lot of oil and do not keep them crunchy for long. So the batter must be neither too thick nor too thin. For making pakoda, the mixture must be firm and not of dripping consistency else they do not turn crunchy and soak up oil.
3. Other ingredients : Ginger, ginger garlic paste, ajwain, cumin , onions, mint or curry leaves are some of the ingredients used which add aroma to the fritters.
Collection of 17 quick bajji or pakora recipes
These make a great weekend or evening snack that can be enjoyed during monsoon with masala chai.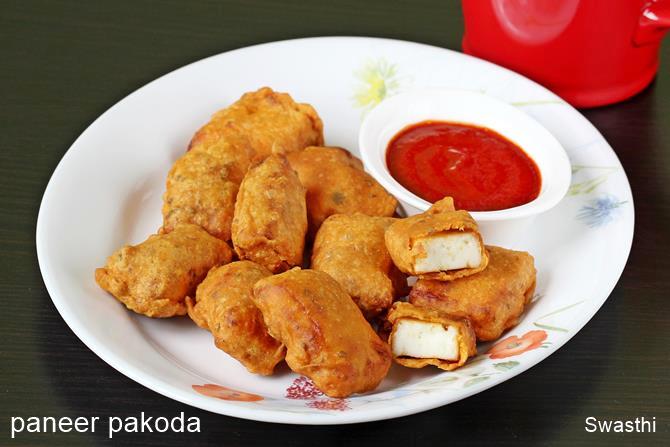 Paneer pakoda : Deep fried spicy Indian cottage cheese pakodas that can be made just under 15 mins. One of the best snack to enjoy with your family, friends or guests.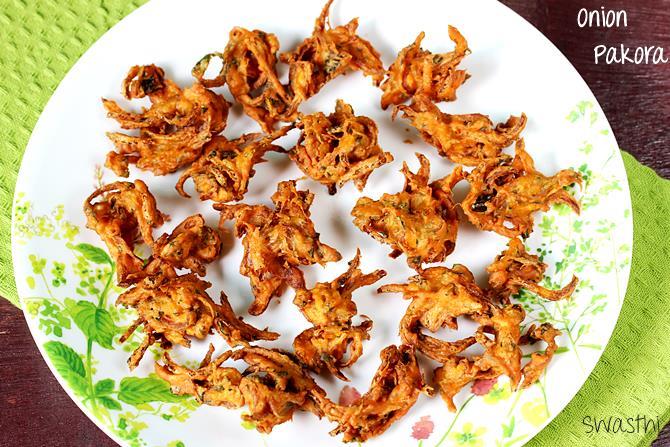 South Indian Onion pakoda or pakodi – Street style recipe to make crunchy, delicious and addictive fritters.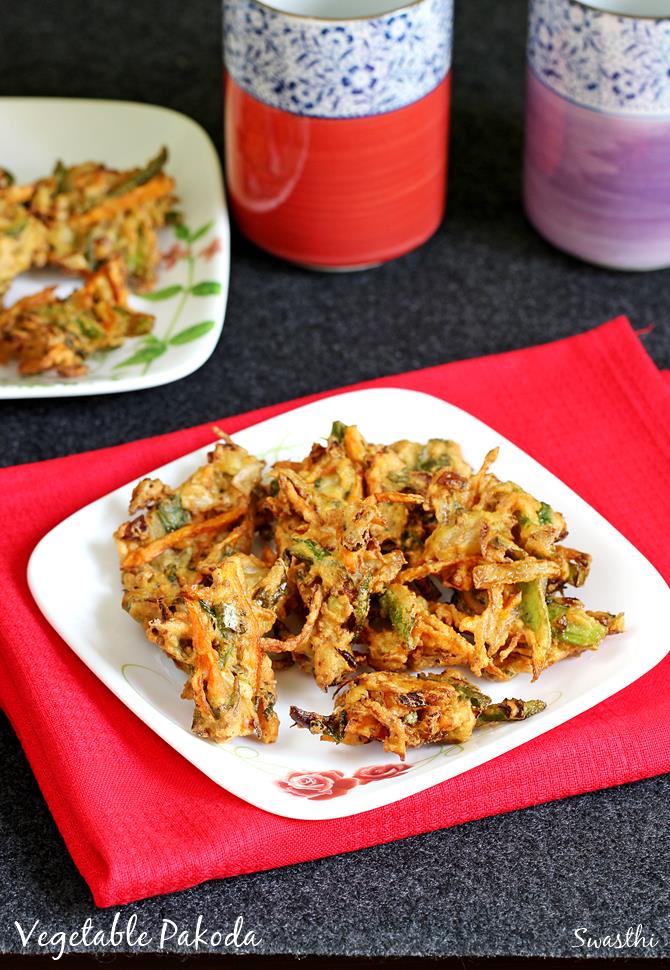 Mix vegetable pakoda : Made with mixed vegetables like carrot, beans, cabbage, onions etc. You can use any of your favorite veggies. A great way to use up all left over veggies in your refrigerator.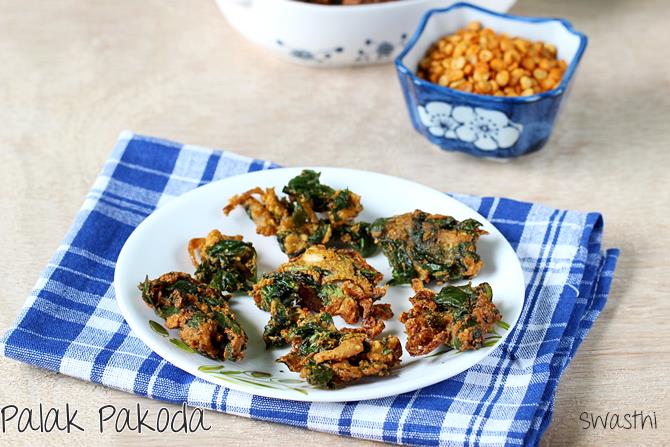 Palak pakoda – Spinach fritters made with gram flour and minimal spices. These also go very well as a side in a meal with some rasam or sambar.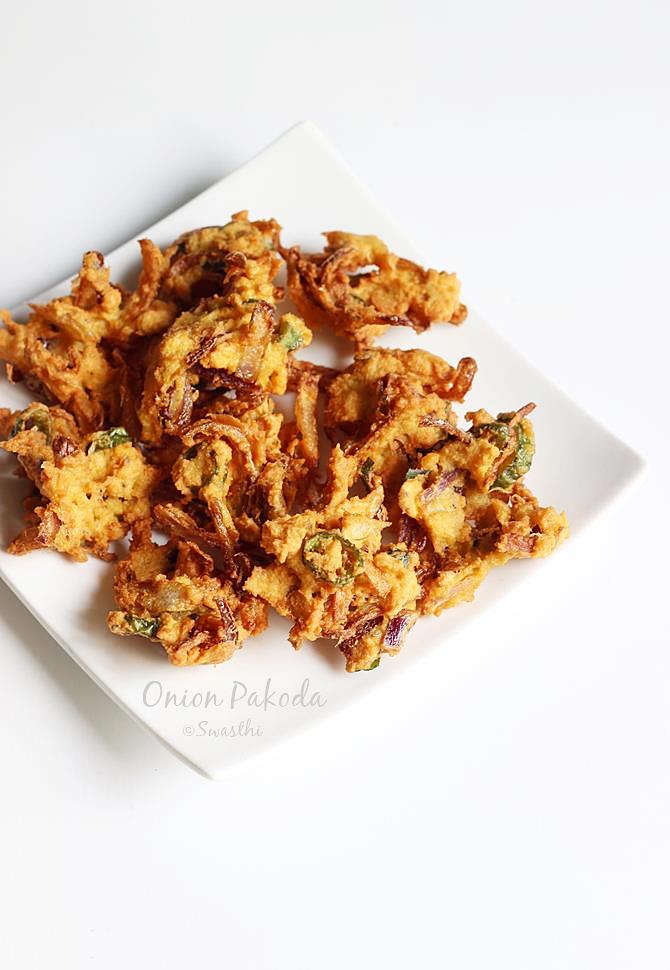 Onion Pakoda recipe : Crispy fried onion fritters made in South Indian style. These almost turn out like the street style fritters that one can find on the streets of South India. Absolutely flavorful and crunchy.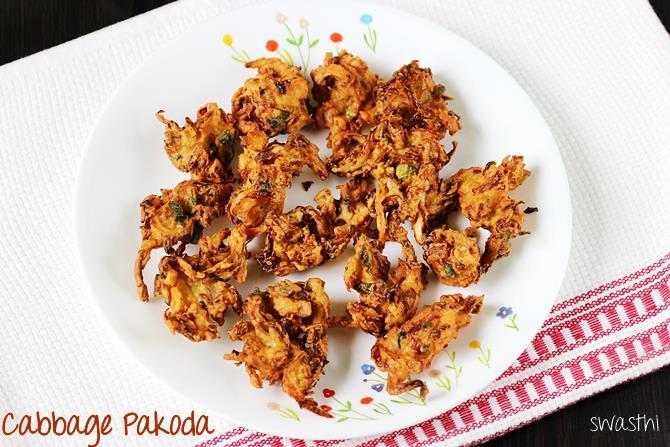 Cabbage pakoras – Extra crunchy and very flavorful cabbage fritters.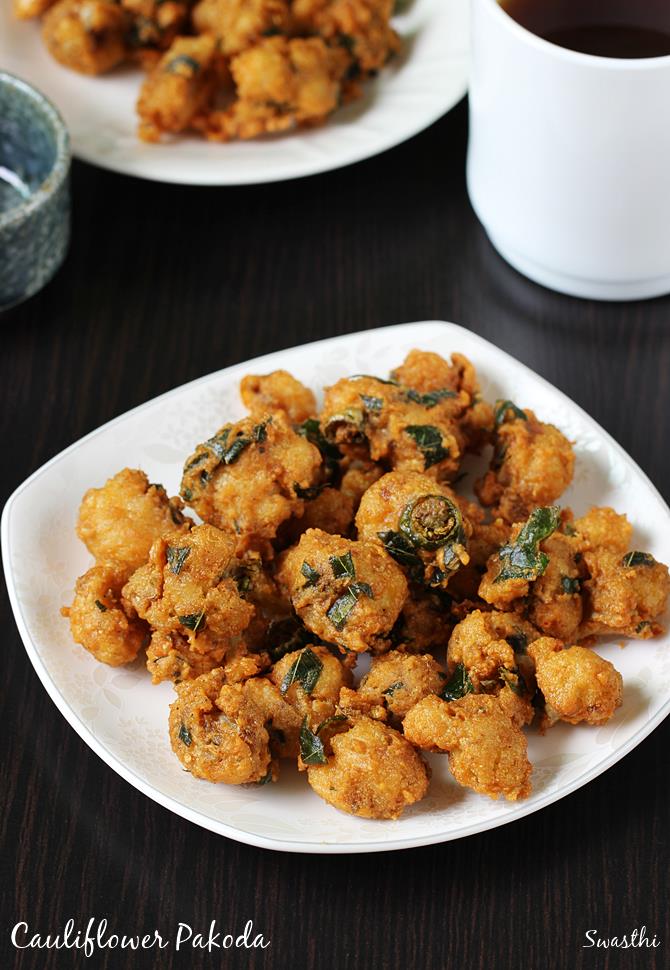 Cauliflower or gobi pakoda – As the name says these are made with cauliflower and some garam masala which makes these flavorful and crunchy.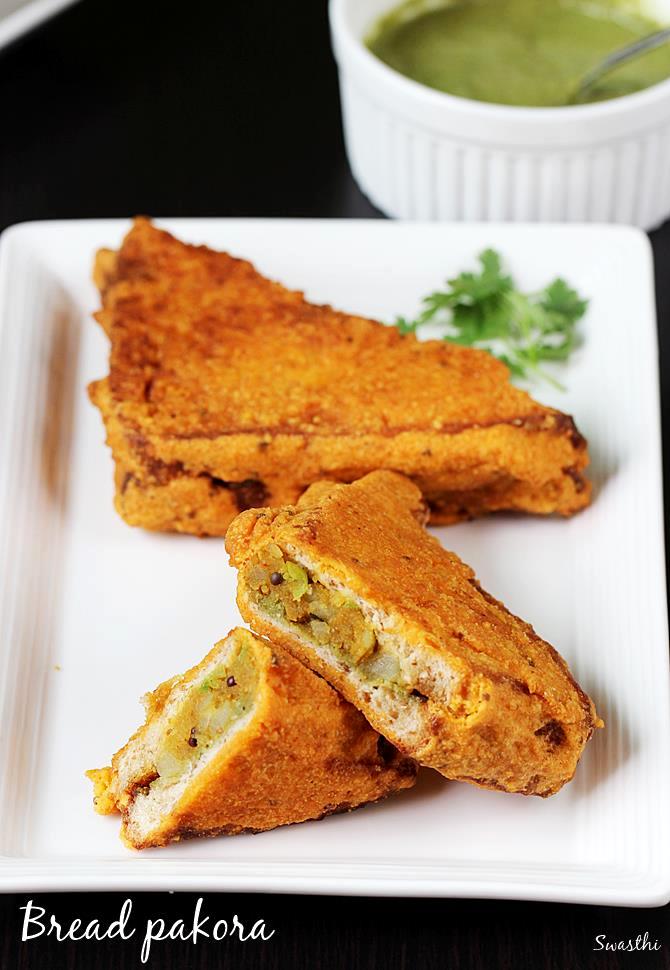 Bread pakoda / Bread bajji : There are two ways of making these with potato stuffing and without stuffing. If you have some left over bread then this may be a good way to use up for your evening snack.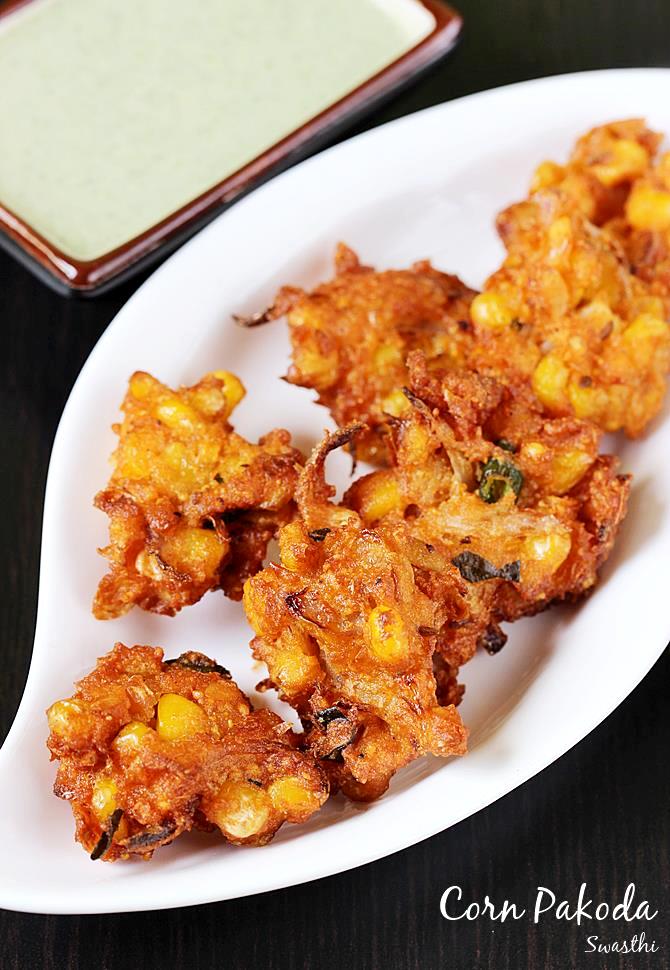 Corn pakoda recipe – These are made with sweet corn kernels in South Indian style. They turn out crunchy and delicious. Corn on the cob or frozen sweet corn kernels can be used.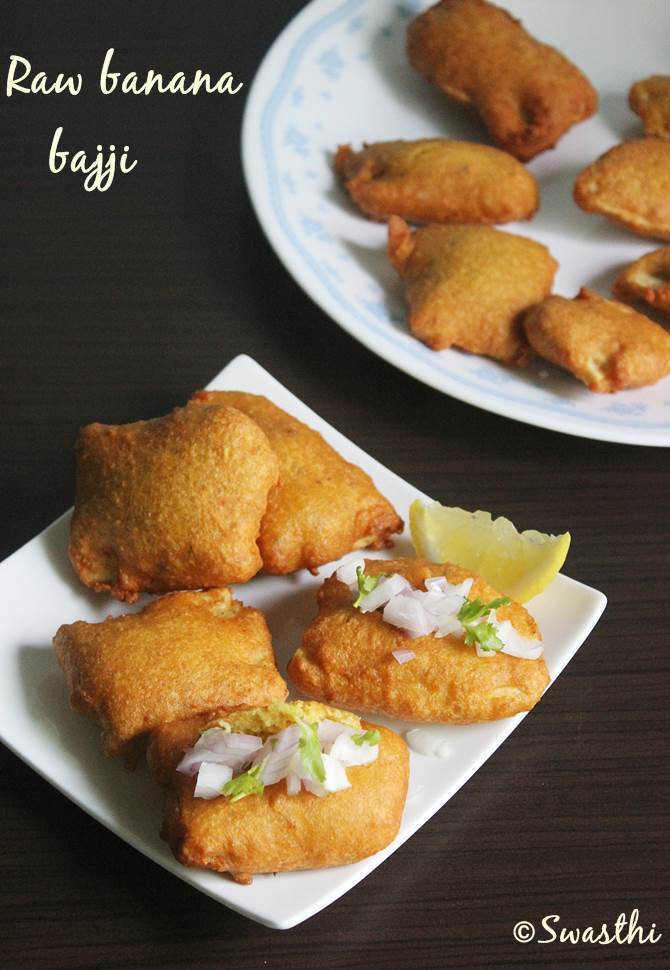 Raw banana bajji also known as banana pakora. These are usually garnished with raw onions, lemon juice , coriander leaves and green chilies etc.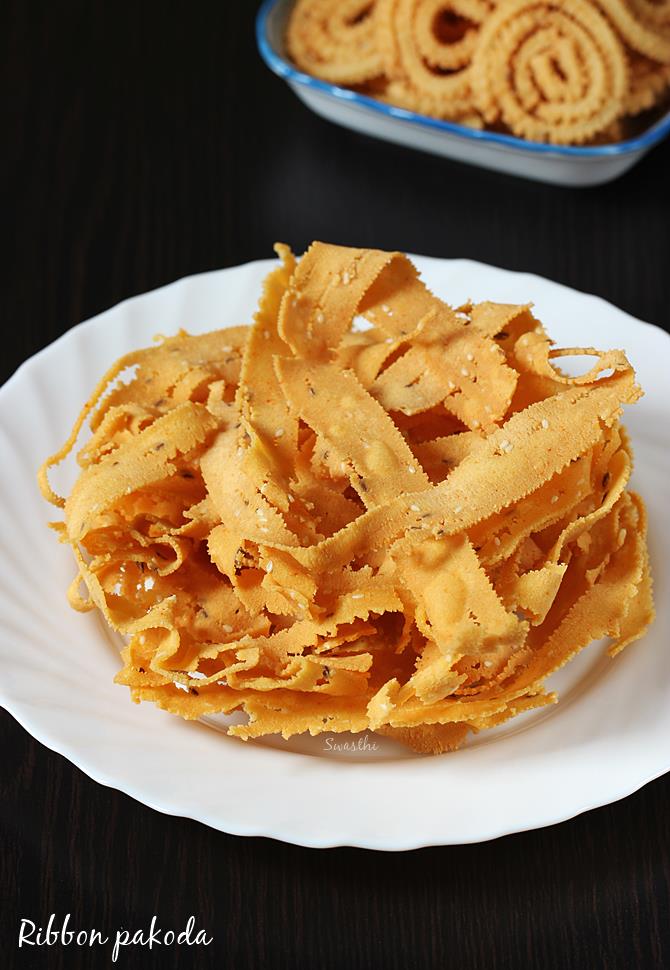 Ribbon pakoda : Also known as ribbon murukku, are made during festivals in most south Indian homes. These are very easy to make any time and can be stored for about 10 to 15 days at room temperature.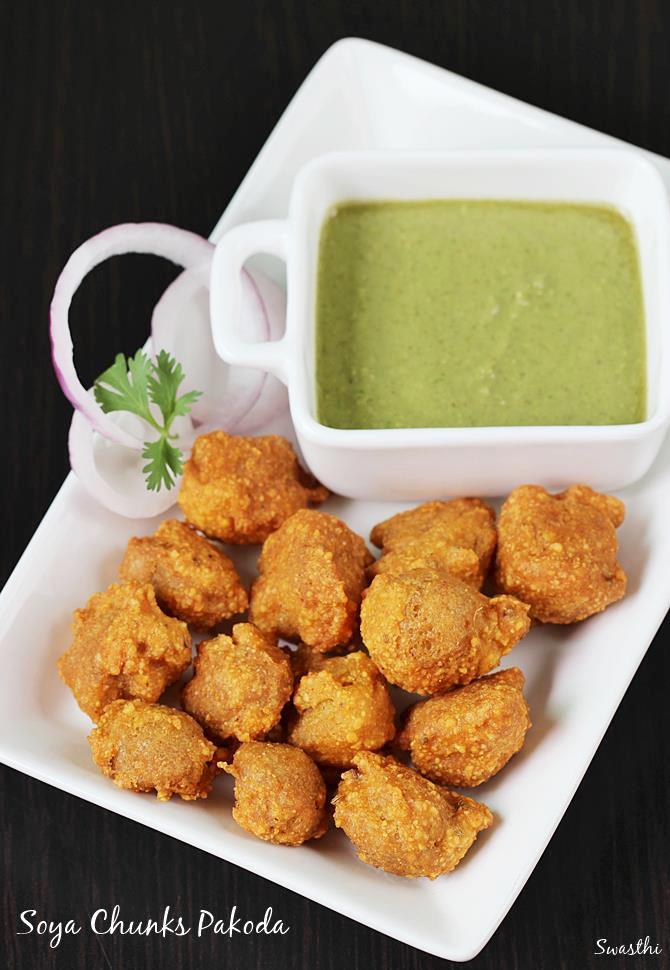 Soya nuggets pakodi : Meal maker chunks dipped in spiced besan batter. These turn out crunchy and soft from inside.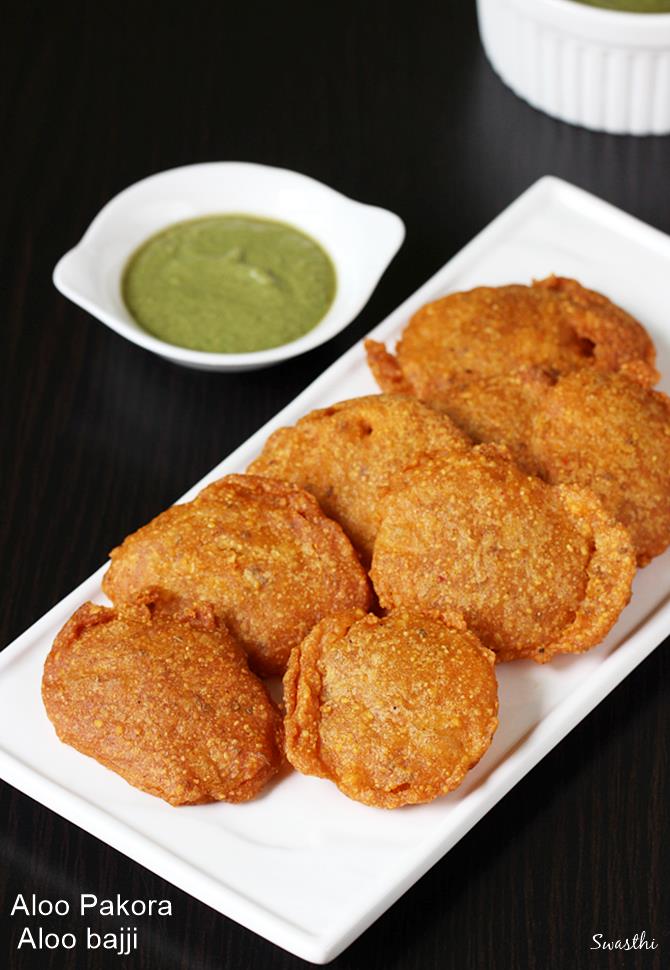 Aloo bajji : Potatoes are the most versatile veggie that most of us stock at home. When you are left with no snacking ideas, try these crunchy pakoda.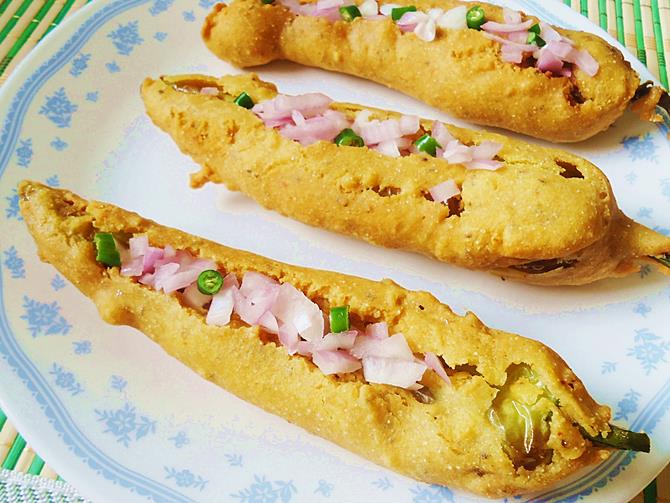 Chilli bajji also known as mirchi pakora, mirapakaya bajji These are made in andhra style, stuffed with onions, coriander leaves, lemon juice etc.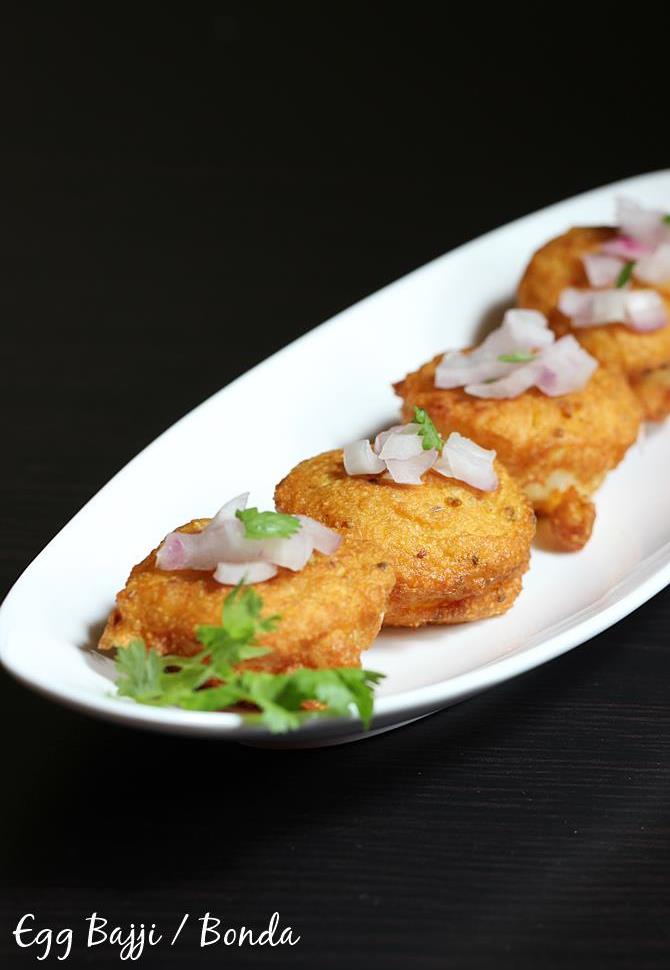 Egg bonda: Boiled eggs are sliced, dipped in spiced besan batter and deep fried.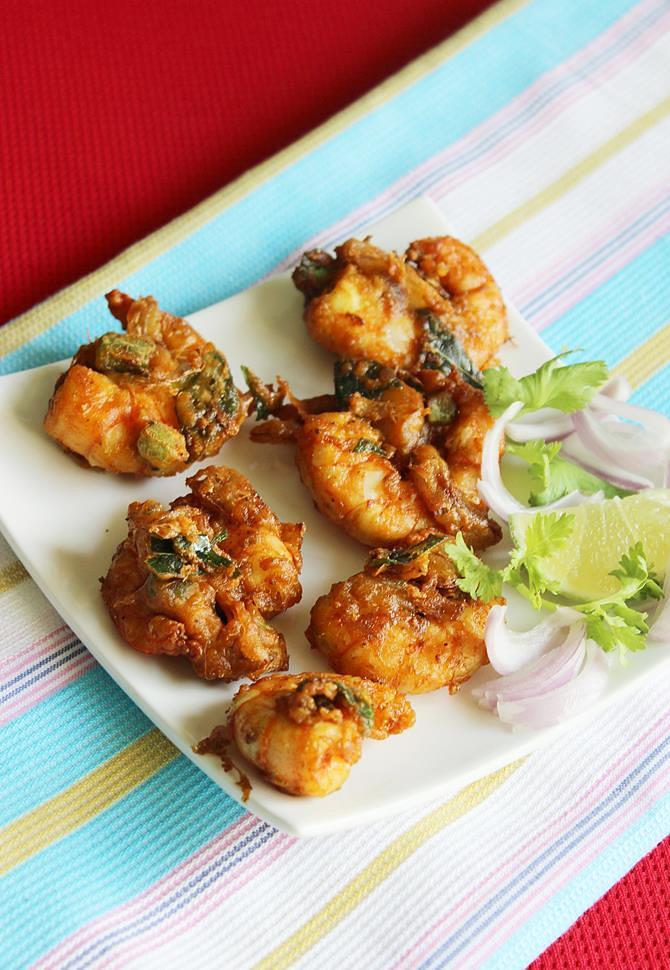 Spicy prawn pakoda : Tiger prawns fried with besan batter.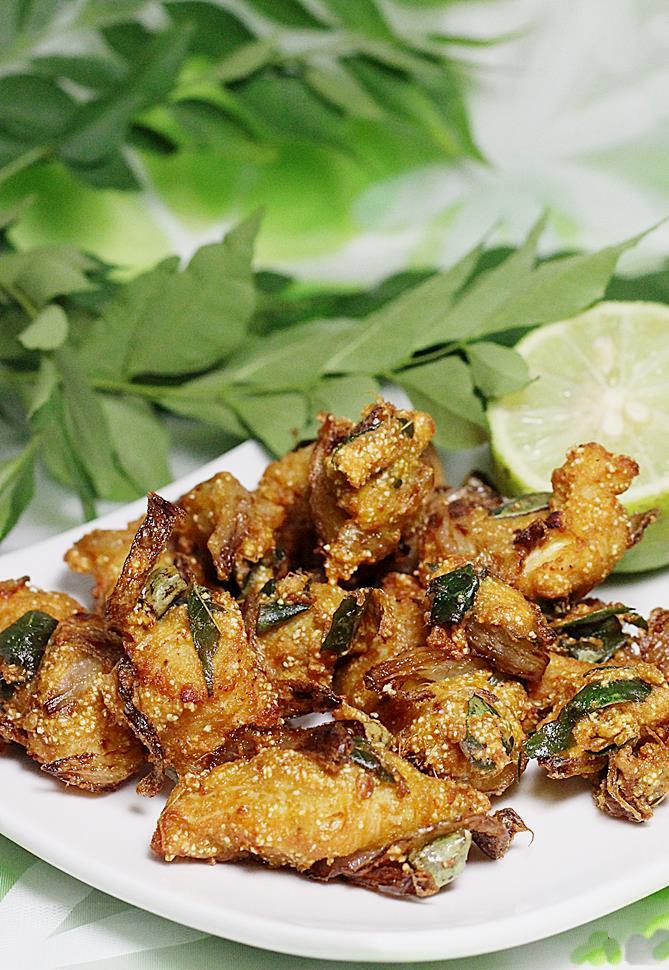 Chicken pakoda: These are made with shredded chicken, onions, spices and besan.