Palak paratha recipe – easy, healthy and delicious spinach paratha with step by step photos. I make this often for the lunch box or for the weekend lunch. Regular use of spinach helps us to prevent iron deficiency and boosts our immunity. This is one of the best ways to include it in our diet since the leaves are lightly cooked and most nutrients are still preserved. These paratha go well with any chutney, simple dal , or vegetable curry (dry or gravy). I made these with beetroot chutney and vegetable salad.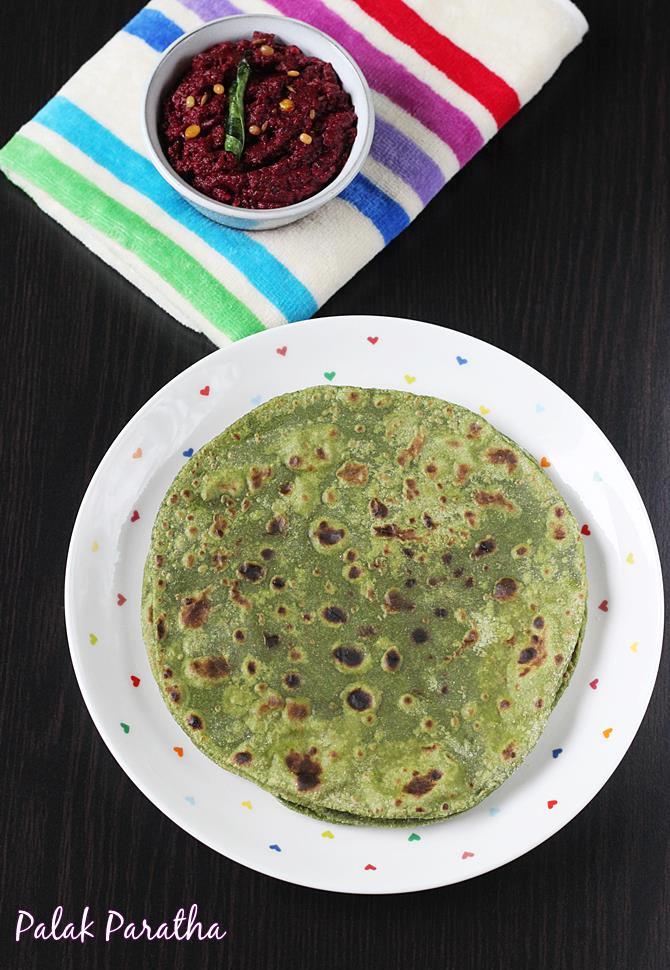 Palak paratha recipe has already been shared briefly on a few kids recipe posts, now thought of sharing the same with detailed step by step photos. You can also use these to make rolls for kids, will share it soon.
You can also check these palak recipes on the blog,
palak paneer
palak chole
aloo palak
dal palak
palak paneer bhurji
You can also find more Paratha recipes here.
Palak paratha recipe – spinach paratha recipe below
Palak paratha recipe | Spinach paratha recipe | Palak recipes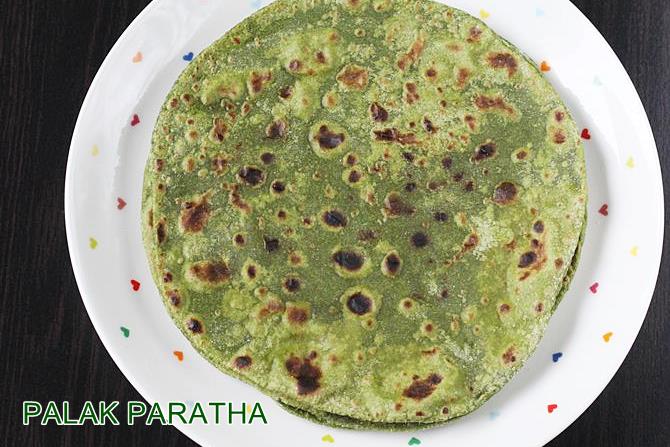 Ingredients (240 ml cup used)
1.5 cups atta / whole wheat flour
1.5 cups palak / spinach roughly 125 grams.
½ inch ginger or 1 to 2 garlic cloves
garam masala (optional)
1 small green chili (optional, skip for kids)
Salt as needed
1 to 2 tbsp. water to blend palak (optional)
Oil for kneading
Ghee for toasting
How to make the recipe
Wash spinach and drain completely. Add them to a blender with chili, ginger or garlic and make a fine puree with the help of 1 to 2 tbsp water. Use water only if needed.
Add the puree to the flour along with salt and spice powders.
knead together to make a dough.
Add little oil and knead well to make a soft pliable dough.
Set this aside for 20 to 30 minutes.
Make equal sized balls.
Flour the rolling area and roll the parathas, slightly thicker than roti. Sprinkle flour over the paratha as needed to prevent sticking.
Heat a tawa and begin to toast.
When the paratha begins to get bubbles over it. Flip it to the other side and cook . Smear little ghee. Press gently for the paratha to puff.
step by step photos on how to make palak paratha recipe
1. Pluck each leaf of spinach, check for worms. Add them to a large pot filled with water. Once done, sprinkle some crystal salt and leave it for a while. This helps to get rid of pesticide residues. Then rinse them a few times in fresh water. Drain off to a colander completely.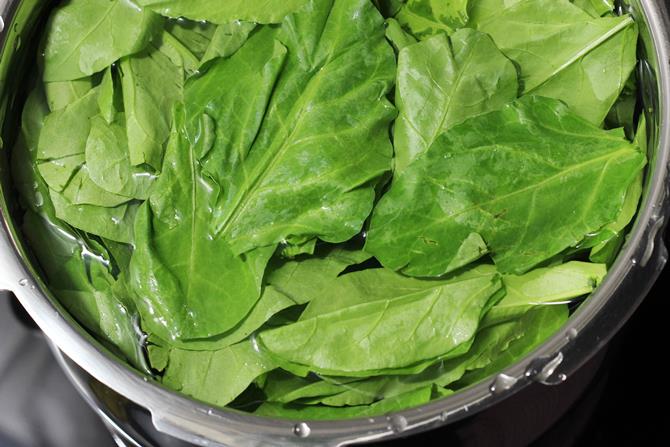 2. Add them to a blender jar with ginger or garlic, chilli. Skip chili for kids. I usually add 1 to 2 tbsp. water to the jar since i drain the spinach completely. This helps to blend to a smooth puree. Adding too much water will make the dough sticky and you may need to add more flour.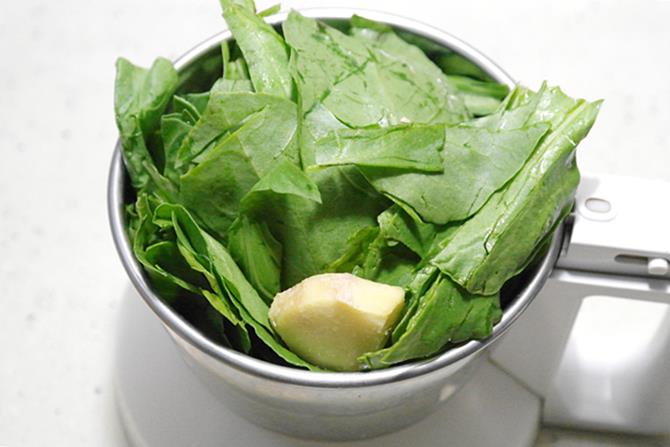 3. Add flour, puree, garam masala and salt. I do not use garam masala and salt, but can be used for added flavor.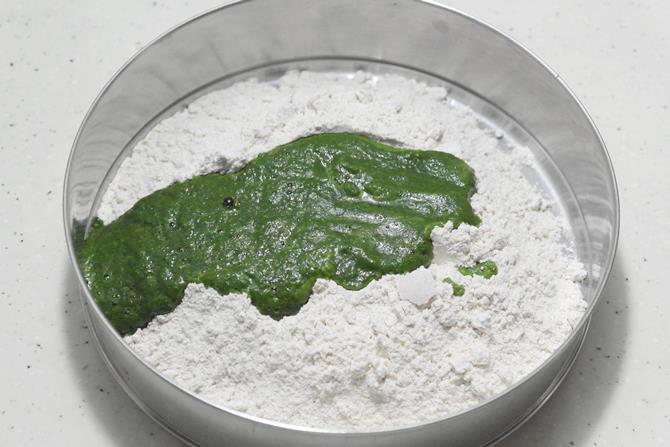 4. Knead to make a dough. Add oil.


5. Knead again to make a soft dough. Smear oil and set aside for 30 minutes.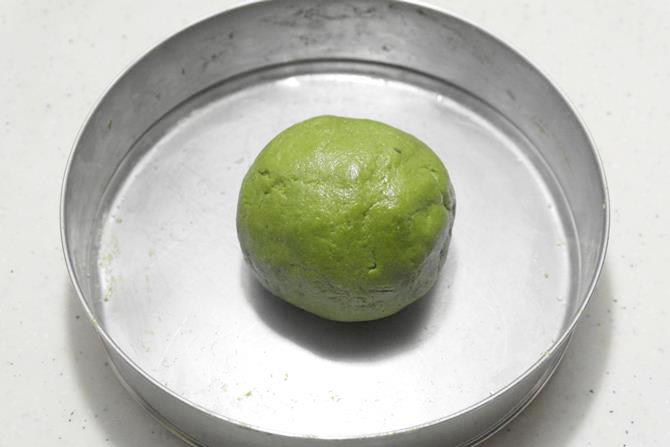 6. Divide the dough to equal sized balls and set aside. You will get about 6 to 7 parathas depending on the size and thickness.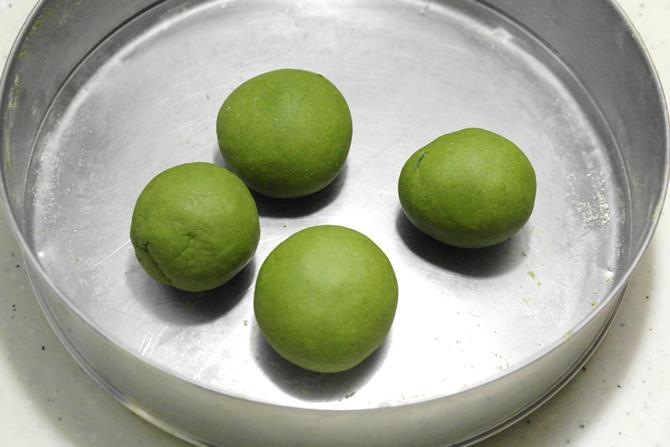 7. Sprinkle little flour over the rolling area and then over the ball. Flatten a bit and roll them. Lightly sprinkle flour as needed to prevent the paratha from sticking.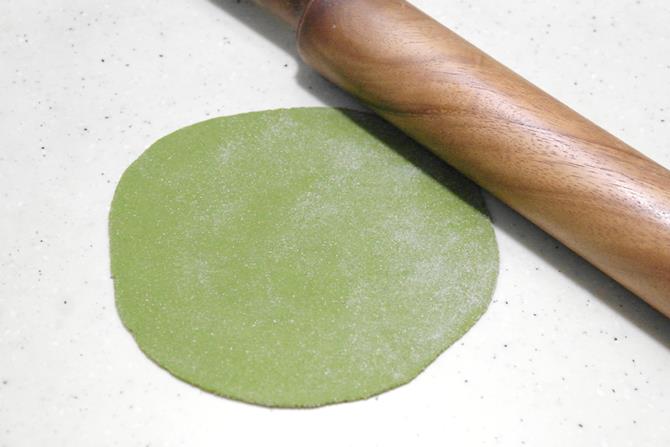 8. Heat a tawa on a high flame, place the paratha when the tawa is hot enough.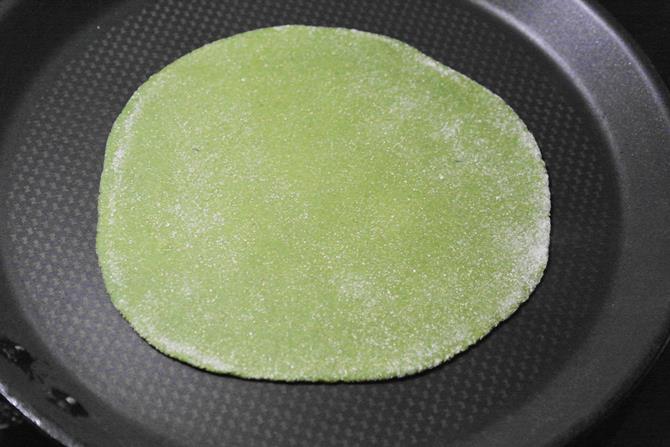 9. Very soon you will begin to see bubbles.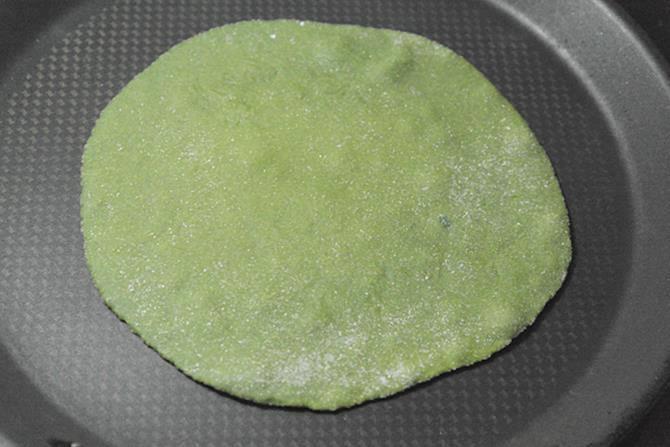 10. Flip the paratha to the other side and smear ghee over the paratha.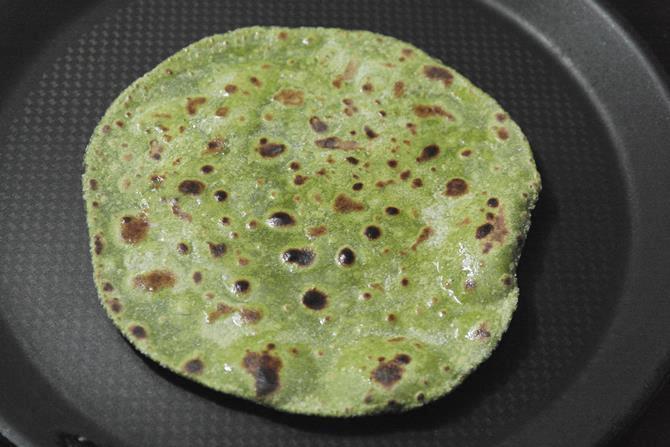 11. Gently press the paratha to help it puff up. It may not puff if it is too thin or doesn't get enough heat. Clean up the tawa to remove any dry flour before you begin to roast the next one.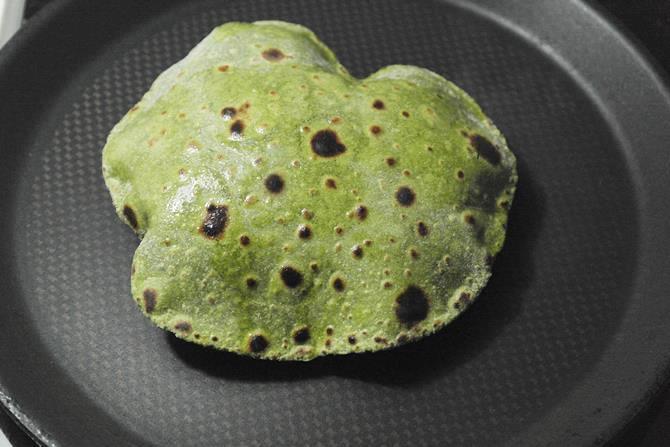 Stack spinach paratha to keep them soft. Place them over a kitchen towel. When they cool down, place them in a box to keep them soft for hours.