Panakam recipe – Sri rama navami recipes . Panakam, chalimidi, vadapappu are some of the naivedyams that are offered to Lord Rama during Sri Rama Navami, Goddess Varalakshmi during varalakshmi vratam / puja and to goddess Durga during Durga Navaratri. Sri Ram Navami falls on the 9th day of chaitra masa every year and it was on this day Lord Sri Rama was born. So this day is celebrated as a festival by Hindus.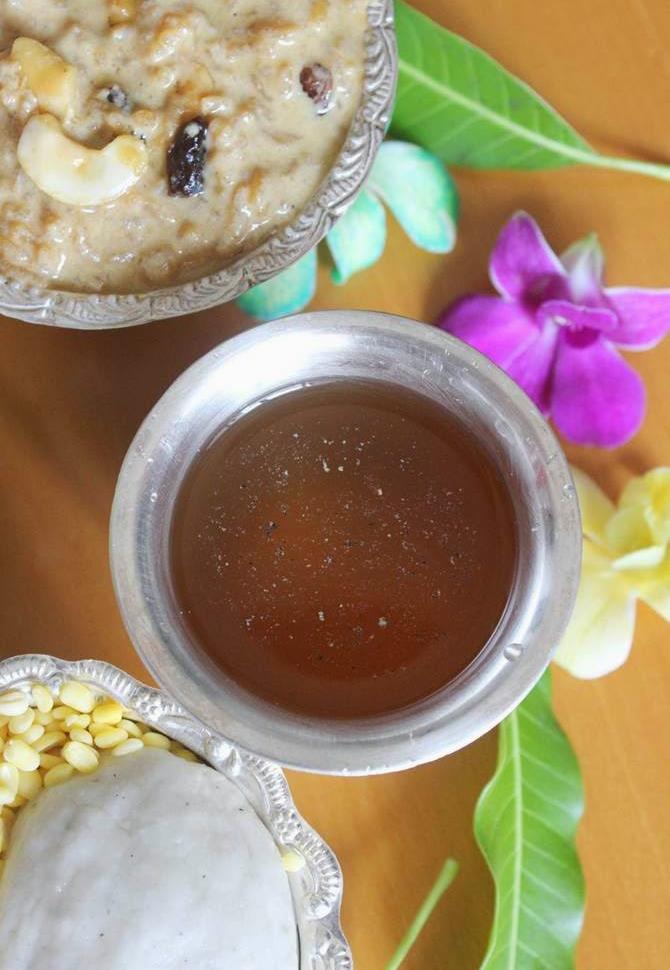 Panakam and chalimidi are considered to be auspicious and prepared on special occasions like festivals, wedding etc. There are two ways of making chalimidi, pachi chalimidi and pakam chalimidi. I have included the recipes of both.
 
I got to prepare these on the day of ugadi for naivedhyam. This time I offered panakam and chalimidi vadpappu too for ugadi to make the naivedhyam count 7. Since they are easy to prepare, i chose them. My chalimidi looks dry since the pictures were shot after 6 hours of preparing it. Chalimidi is served with vada pappu. Ensure that you drain water thoroughly from pappu.
 
If you are looking for more naivedhyam recipes or andhra festival recipes check out
Poornam boorelu
Garelu
Rava appalu,
Bellam paramannam
Senaga pappu paysam
Chakkara pongal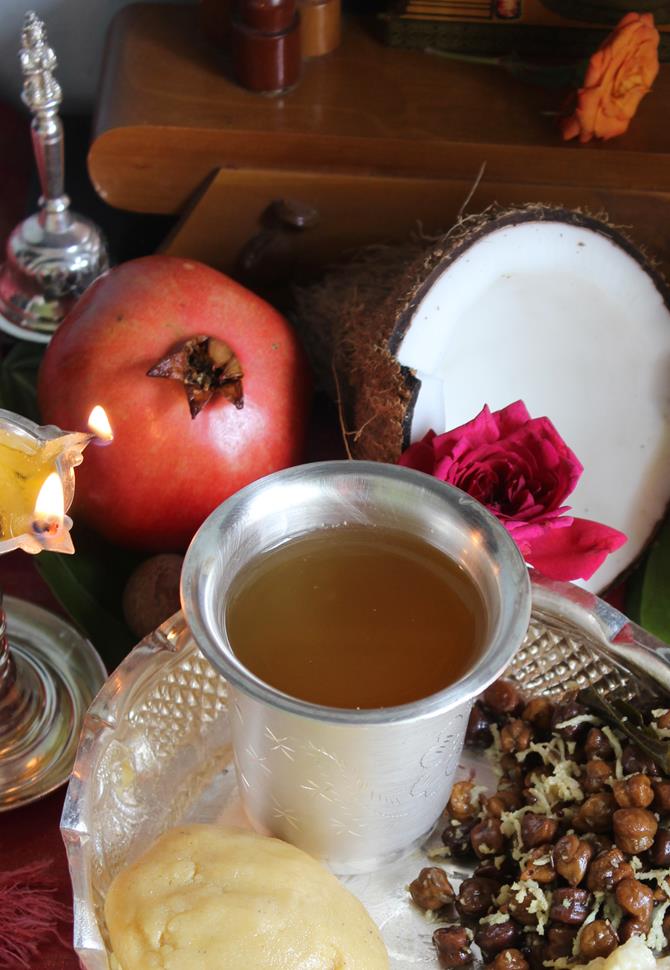 Panakam recipe and chalimidi vadapappu recipes below
Panakam recipe | Chalimidi vadapappu recipes | Sri rama navami recipes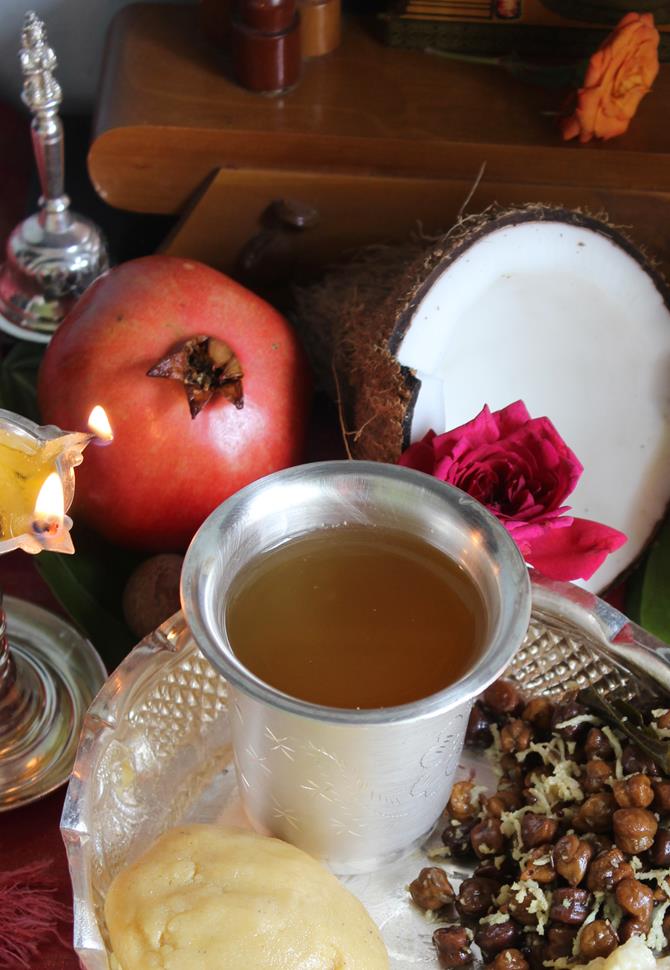 Ingredients (240 ml cup used)
for panakam
4 tbsp. Grated Jaggery
2 cups Water
Pinch of cardamom powder or powder 1 big cardamom
Pinch of dry ginger powder
Pinch of coarsely crushed pepper
for Vadapappu
for chalimidi
½ cup jaggery
1 cup Rice flour (even the store bought flour works fine.
few tbsp. water
How to make the recipe
for making panakam recipe
Mix jaggery and water and stir till jaggery melts. Strain to remove impurities.
Add cardamom, ginger powder and crushed pepper.
for making vadapappu
Soak moong dal for one to 2 hours. Drain off the water completely.
for making chalimidi
Mix jaggery and rice flour well. Sprinkle little water and knead well to get a dough. Do not add too much water. Dough should hold shape.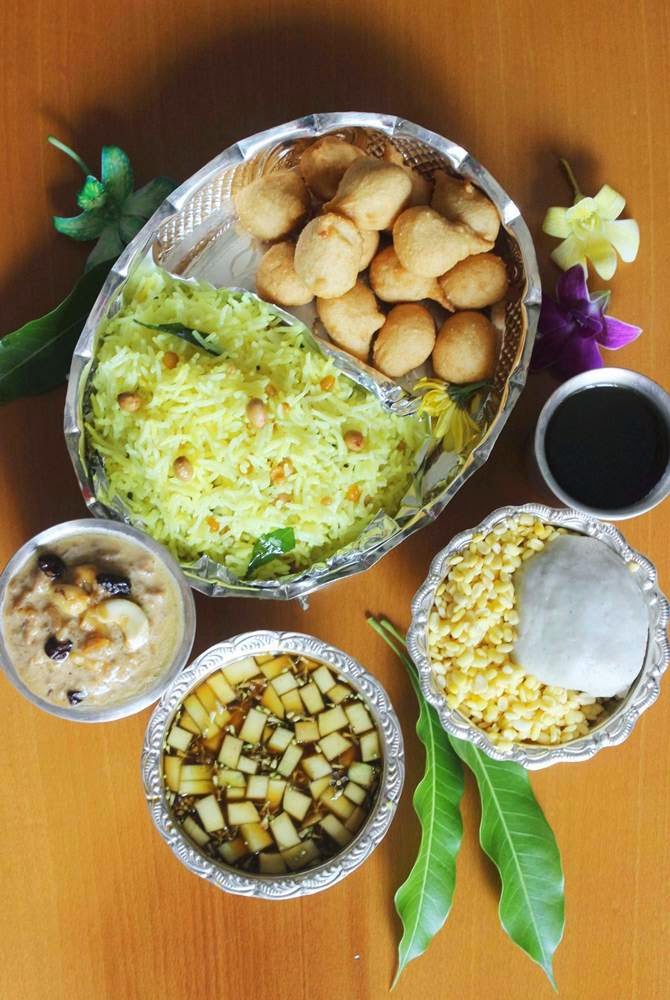 For making pakam chalimidi
ingredients needed  
½ cup sugar
½ cup water
1 cup Rice flour (even the store bought flour works fine. or refer my pachi chalimidi to know how to make rice flour)
Pinch cardamom powder
¼ cup +1 tbsp. ghee (yes we need so much else it will not taste good)
Chopped coconut pieces as desired (I did not use)  
method  
Roast coconut pieces in ghee till you get a nice aroma. Set the pan aside with coconut and ghee together. I did not use coconut since I was in a hurry.
Mix sugar and water, boil till the syrup reaches a soft ball consistency.(*updated) Drop a spoonful of syrup in a bowl of water, you must be able to make a ball.
Immediately add ghee and coconut, give a quick stir. Move it away from the stove.  Add rice flour and stir to remove lumps. You must be quick in doing this.
Add another table spoon of ghee at the end. This prevents it looking dry like mine. cool it thoroughly. it will be runny when u make it but will firm up once cool. Make a ball and set aside.