Tawa paneer masala recipe – This is one of the quick side dishes to accompany roti or rice. Though paneer tikka masala and paneer butter masala are the most popular among paneer recipes or gravy dishes, they do consume a bit of more time than today's quick paneer masala that just takes 25 minutes.
 
Paneer masala is made on the tawa and can also be made in a kadai as well using the same recipe. It's just a matter of convenience to make in a tawa, after you make your roti, chapathi, you can use up the same tawa.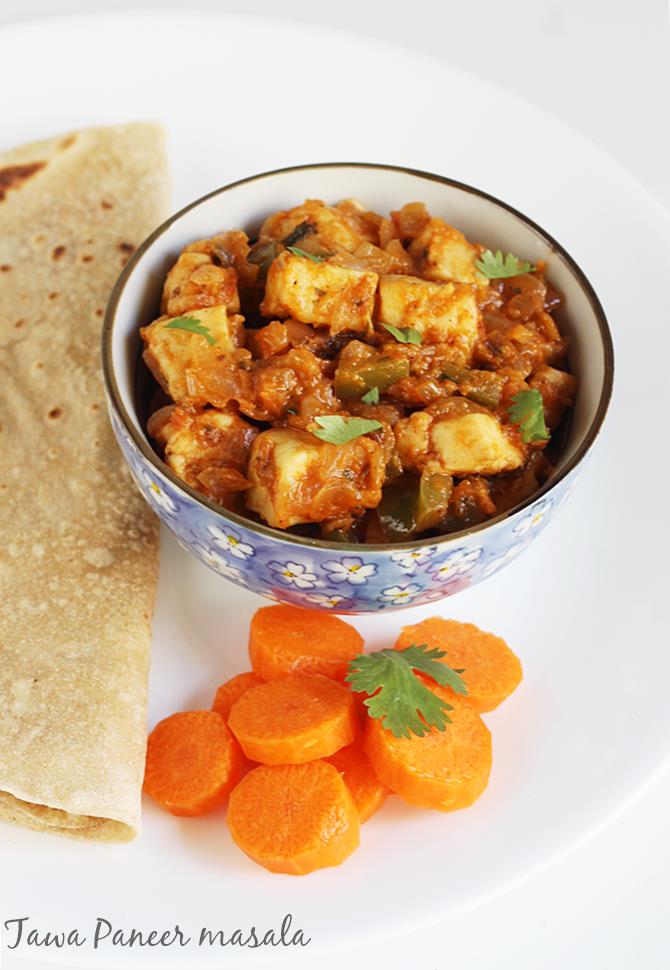 This recipe of paneer masala is kept very simple, is made with basic ingredients and with just one tbsp. oil. This is also a no butter paneer masala and is been adapted roughly from Sanjeev kapoor's recipe of babycorn, capsicum and paneer masala. So you can play around using your favorite veggies like baby corn or mushroom.
This recipe needs tomato puree and it is used to speed up the process of cooking tomatoes which would take a little longer otherwise.So if you do not want to puree the tomatoes you can add them chopped finely or use a ready made tomato puree. Adjust the quantity to match the sourness to your taste.
 
For more Paneer recipes, you can check
Paneer bhurji
Methi paneer
Paneer jalfrezi
 
Find tawa paneer masala recipe below
Tawa paneer masala recipe | Paneer tawa masala recipe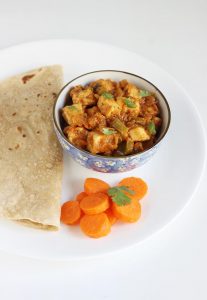 simple and easy to make tawa paneer masala
Ingredients (240 ml cup used)
One cup finely chopped onions
½ tsp cumin
¾ tsp. grated or crushed ginger
One tbsp. oil
¾ cup tomato puree or one large sweet tomato 1 cup pieces(refer notes)
¼ cup capsicum
2 cups cubed paneer
¾ tsp. garam masala powder (adjust to suit your taste)
¼ to ½ tsp. kasuri methi
Salt as needed
Optional ingredients
2 to 3 tbsp. Cream or 5 to 6 cashews (refer notes)
How to make the recipe
Heat a tawa with oil, add cumin and allow to splutter. Add grated ginger and fry till you smell it good.
Add finely chopped onions, sprinkle salt and fry evenly till they turn golden.
While the onions fry, puree the tomatoes. When the onions turn golden, add tomato puree and mix well. Fry until the tomato puree thickens and the raw smell disappears.
Add capsicum, red chilli powder and garam masala. Mix and fry till the masala smells good for about 2 minutes.
Add paneer and kasuri methi. Stir well.
Add very little water to adjust the consistency to suit your taste.
Allow it to cook for few minutes for the gravy to thicken. Do not overcook, transfer the paneer masala to a serving bowl otherwise it may turn rubbery.
Garnish tawa paneer masala with coriander leaves. Serve with rice or chapathi.
Notes
If using cream add it at the last step instead of water. Add the cream to a bowl first and then add little tomato gravy to the bowl mix. Then add back to the tawa to prevent curdling.
If using cashews. Add them to tomatoes and puree.
Adjust the quantity of tomatoes to suit your taste and do not use very sour tomatoes.
How to make paneer masala on tawa
1. Add oil to the hot tawa, sprinkle cumin. When it splutters then add grated ginger and fry for one to two minutes, till it begins to smell good. Do not burn it.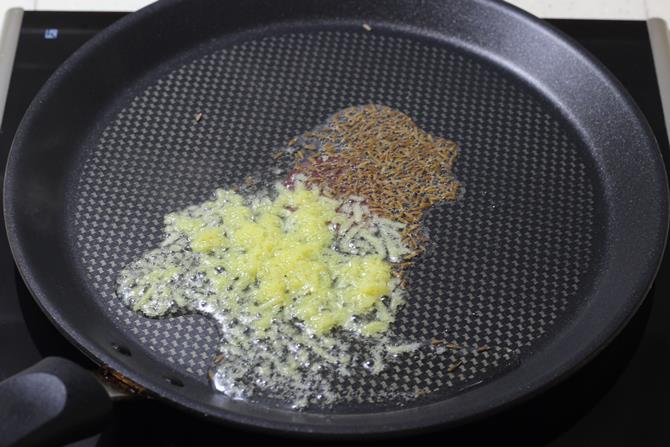 2. Add chopped onions and salt. Keep stirring and fry evenly till they turn golden.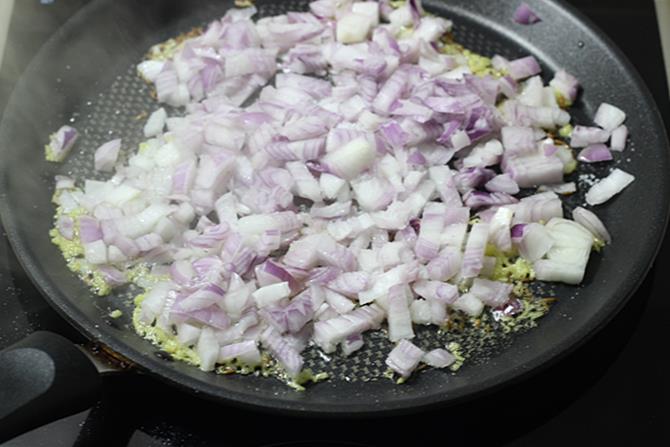 3. When the onions are frying, you can add the chopped tomatoes to a blender jar and puree it. If you wish to add few cashews to make the gravy rich, you can add it now.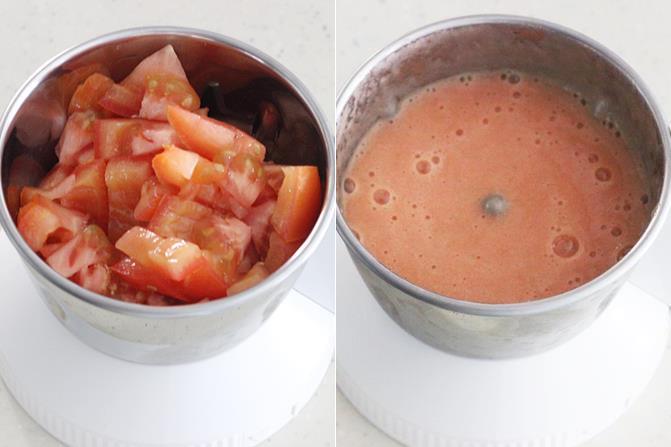 4. When the onions turn golden, pour the tomato puree. Cook till the raw smell of the tomatoes vanishes. Keep stirring to prevent burning.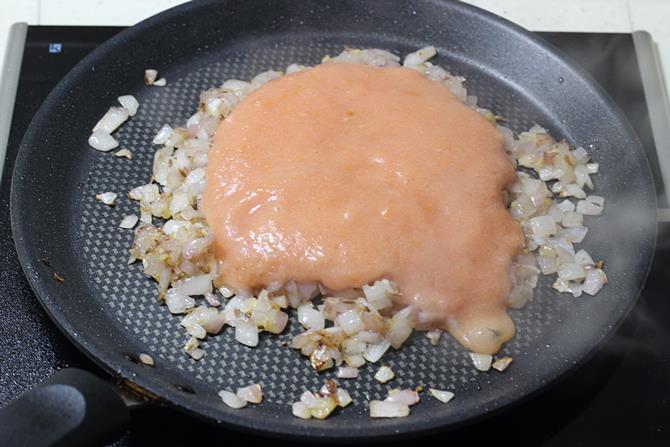 5. Add garam masala, red chili powder and capsicums.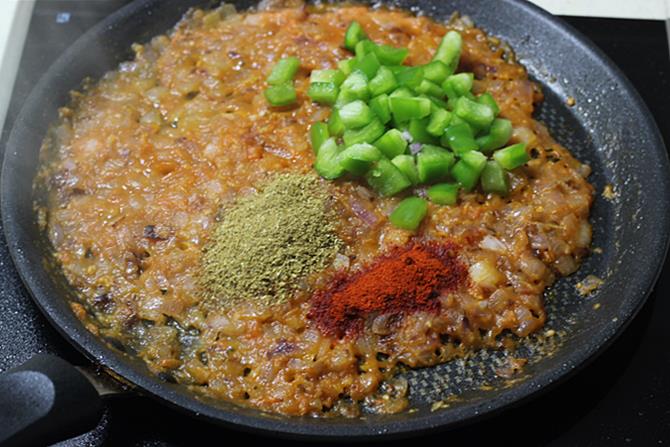 6. Mix well and fry till the mixture smells good of the masala. This usually takes 2 minutes.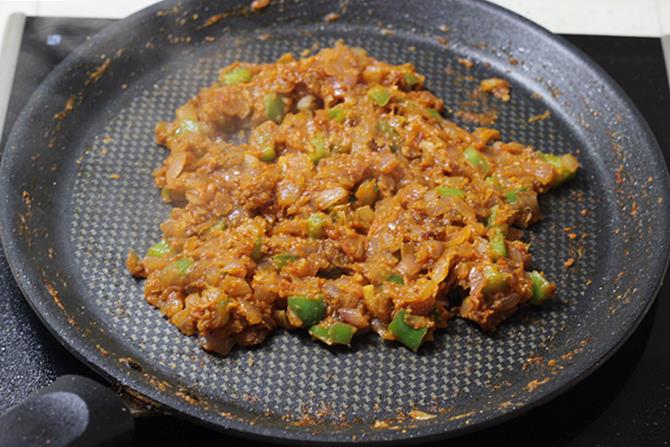 7. Add paneer and sprinkle crushed kasuri methi. I rinsed the paneer since i used store bought, hence little moisture in the tawa.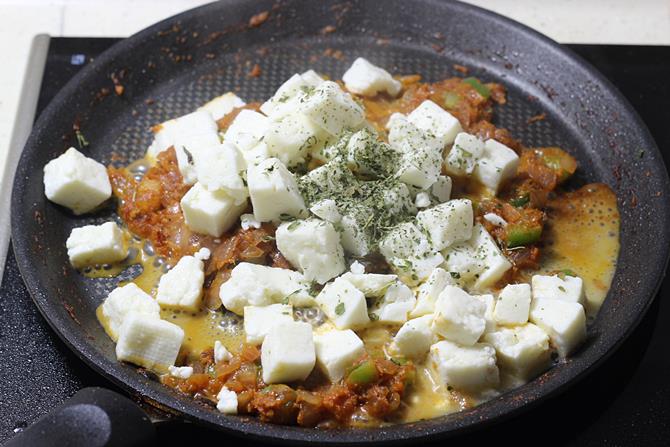 8. Mix every thing well and cook. If needed add little water to bring the gravy to your desired consistency. Cook for about 2 to 3 minutes till the gravy reaches a thick consistency. If using cream, skip water. Pour the cream to a bowl and add little tomato onion mixture from the tawa to the cream and stir , add back to the pan.This helps preventing the cream to curdle. Switch off the stove.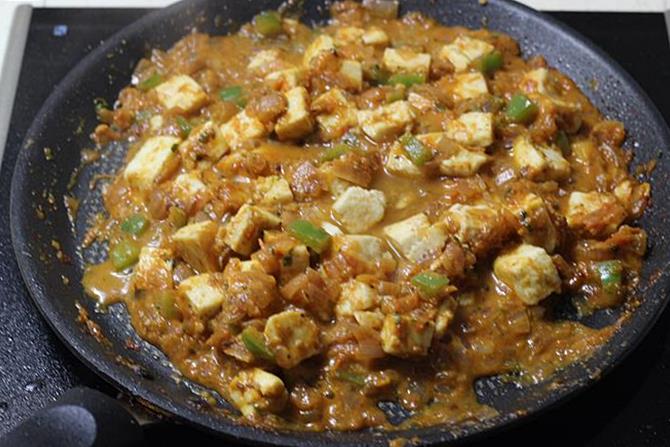 Garnish tawa paneer masala with coriander leaves. Serve with rice or roti.