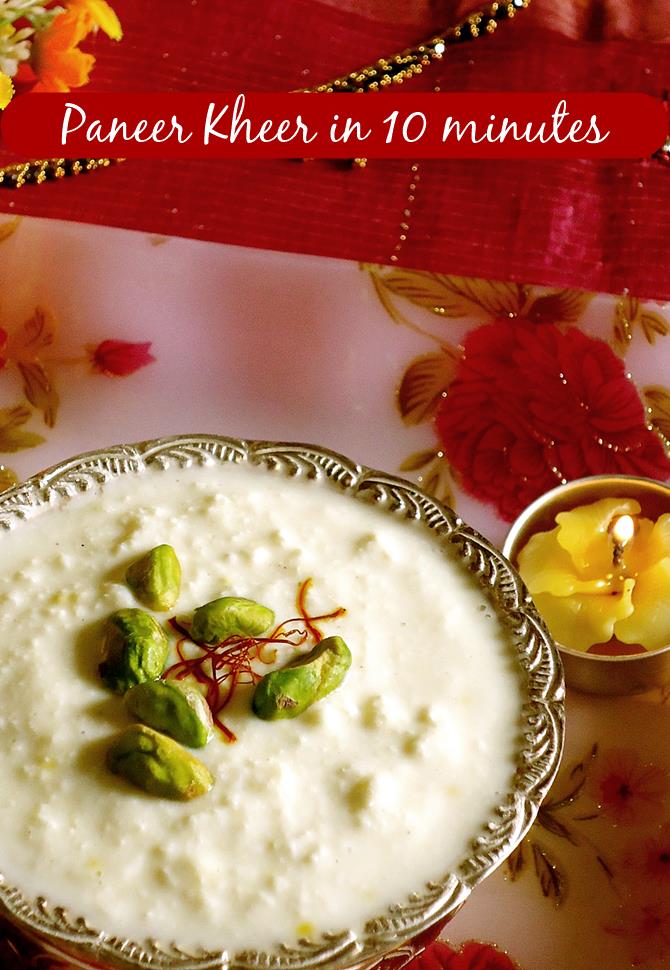 paneer payasam or kheer is a bengali sweet dish called as chenna kheer. Often prepared during navratri durga puja. It is one of the quick sweets that can be prepared very quickly if we have paneer in hand.
 
Indian cottage cheese is called as paneer or chenna. It is made by curdling the milk.
 
To make this paneer kheer, we need chenna and sugar & milk or condensed milk.
 
I have shared so many quick and easy to make sweets with paneer and condensed milk like kalakand, rasmalai, chocolate ramalai, sandesh. These dishes are amazingly easy to make and taste delicious.
 
The tinned condensed milk may not be a healthy option, but still they provide us with a convenience to make a yummy desert in no time, especially during festivals and occasions when we run out of time.
 
how to make paneer payasam recipe or kheer in 10 minutes
paneer payasam recipe | paneer kheer recipe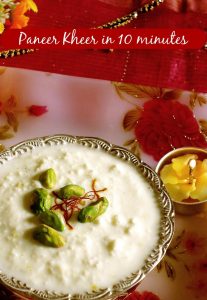 paneer kheer made using condensed milk and paneer. Condensed milk can be substituted with thick almond milk
Ingredients (240 ml cup used)
½ cup of paneer crumbled (Frozen packed paneer can be used)
200 ml milk (adjust)
40 ml condensed milk (refer notes for substitute)
⅛ tsp cardamom powder
Few strands of saffron
Few drops of rose essence (optional)
Few unsalted toasted pistachios
How to make the recipe
Crumble the paneer completely, if any and set aside.
Mix milk, cardamom pow and condensed milk (or almond milk, if using) and bring it to a boil on a low flame.
Add the paneer and mix well to blend with milk properly. There must be enough milk for the paneer to blend well. If required can add more milk. let it boil on a low flame for 2 to 3 minutes. Serve chilled or warm . Garnish with nuts
Notes
condensed milk can be substituted with Almond milk from 20 almonds and few tbsp sugar ,soak almonds overnight, blanch and grind to a very smooth paste with 40 to 60ml milk