Paneer recipes – Collection of 50 delicious Indian paneer recipes – Paneer is a basic kind of cheese that is used in Indian cuisine. It is a common source of protein and calcium to the vegetarian Indians. Most people love to enjoy it in a makhani gravy or palak gravy. But it is also used to make Indian desserts, bakes, snacks and curries. It can also be cooked with other vegetables like bell pepper, green peas, leafy greens, mushrooms and potatoes.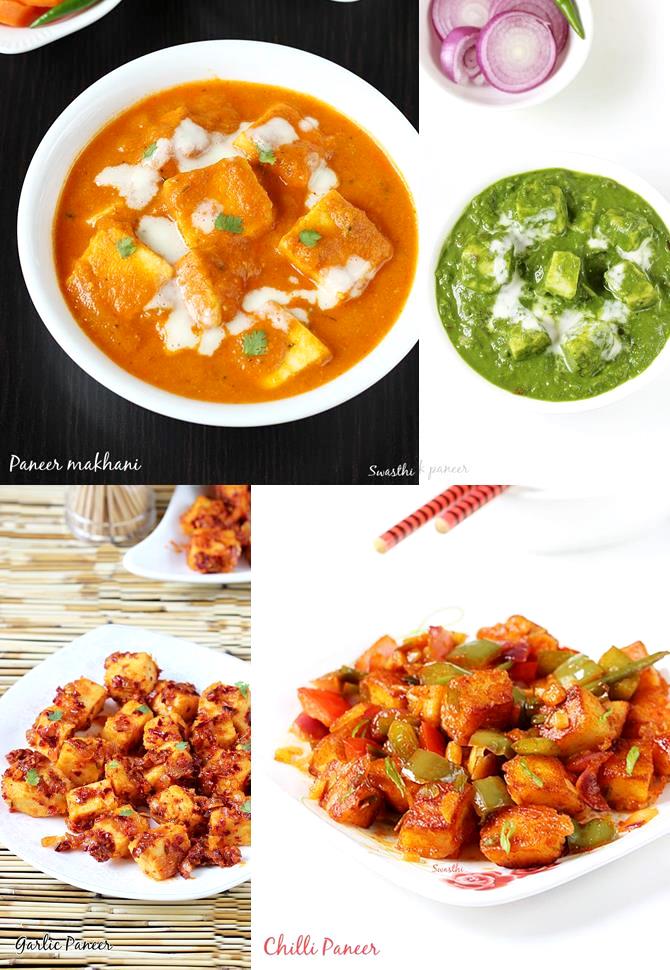 Here are the 50 recipes from this blog which are a favorite among the readers. Most of these are restaurant style, healthy, home style, north Indian and south Indian recipes. You can also check this complete collection of Indian paneer recipes for a wider choice. You may like to check this link on How to make paneer at home.
Paneer recipes – Gravy & curry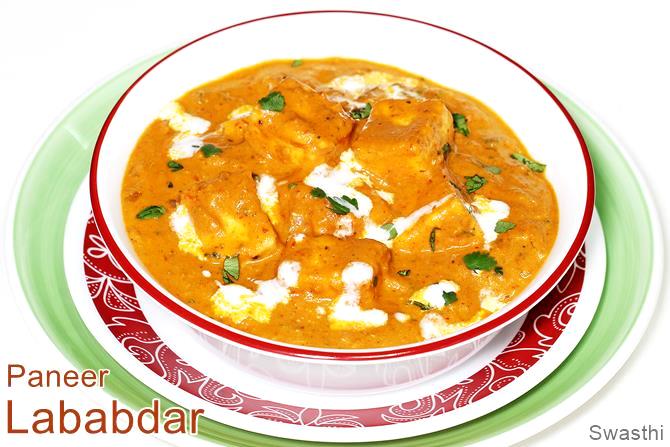 Paneer lababdar recipe – with video & step by step photos. Restaurant style rich, very flavorful & delicious north Indian style gravy, quick to make. It can also be made ahead and refrigerated. Serve this with roti, plain paratha, plain rice, naan or jeera rice.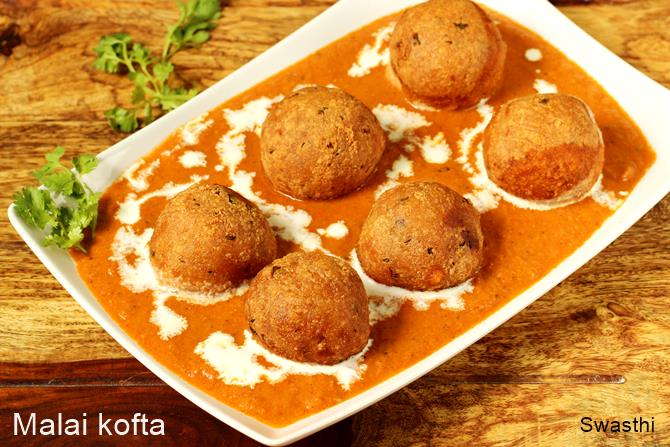 Malai kofta curry – Popular North Indian style malai kofta with video & step by step photos. Fried koftas dunked in delicious, creamy and thick restaurant style gravy. This can be prepared on weekends, festivals or when you have guest home. This can be served with plain basmati rice, Jeera rice, ghee rice or naan, roti or even plain paratha. You can also check a similar recipe – Dhaba style paneer egg curry most commonly served in dhabas along with Jeera rice, tandoori roti or naan.
Chilli paneer: An Indo Chinese appetizer that is quite popular in the restaurants and also in street stalls. Sweet, sour and hot tasting batter fried Indian cottage cheese sauteed in chilli garlic sauce. It can be made to a dry or gravy dish. This recipe helps to make both. You can also check this similar recipe made in Indo chinese style – Garlic paneer. Both of these can be served as a side with basmati rice, noodles or even as a starter or snack. They can also be wrapped in roti and had as a paneer kathi roll.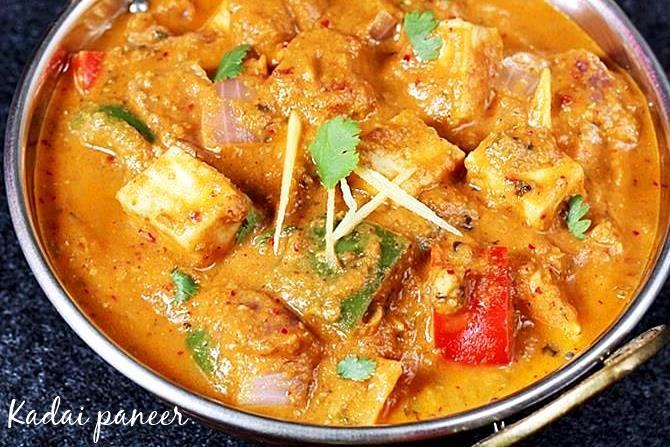 Kadai paneer gravy is another simple and flavorful dish made basic freshly ground spices known as kadai masala. There is no cream used in this recipe. This is served with roti, naan or with plain rice. A very unique tasting dish and is a must try. You can also check this dry kadai paneer that goes good in lunch box and can be served as a filling in breads and kathi rolls.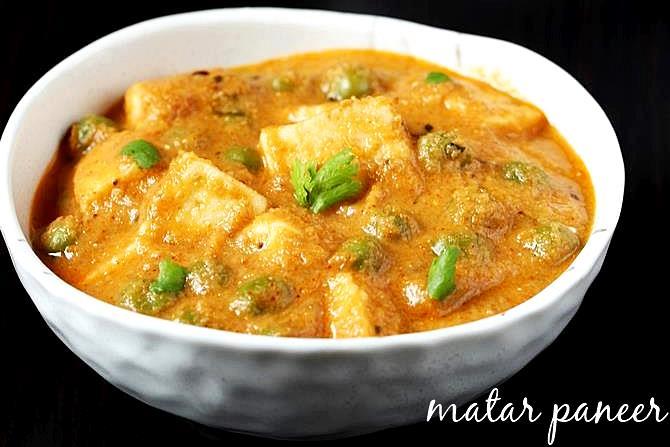 Matar paneer: Simple curry made of fresh or frozen green peas and paneer in a onion, tomato gravy. This is usually made when fresh peas are in season during the winters. But even frozen peas can be used to make it. A similar recipe is this chana paneer. Both these dishes can be served with rice or roti.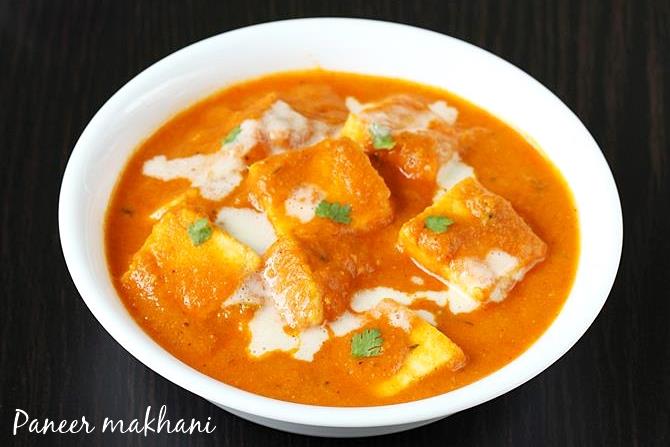 Paneer Makhani is a delicious popular Punjabi dish. Indian cottage cheese is added to cashew tomato gravy & topped with cream. This is a no onion gravy and can also be made without garlic on festive occasions. It is served with roti, naan or simple flavored rice like jeera rice, ghee rice or pulao. You may like to check this Navratan korma (restaurant style), Shahi paneer and Paneer kurma / korma.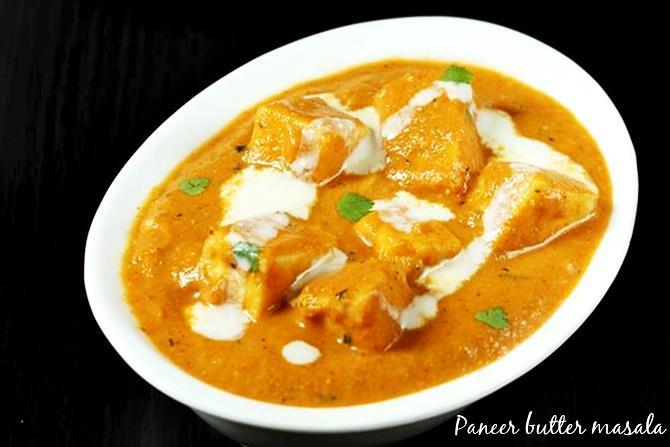 Paneer Butter masala is a variation to makhani gravy and is popular in the restaurants. Slightly different from the makhani gravy. Indian cottage cheese is simmered in delicious onion, tomato gravy. This is one of the most popular paneer recipes on the blog. You may also like to check this simple paneer masala without cream, butter or cashews.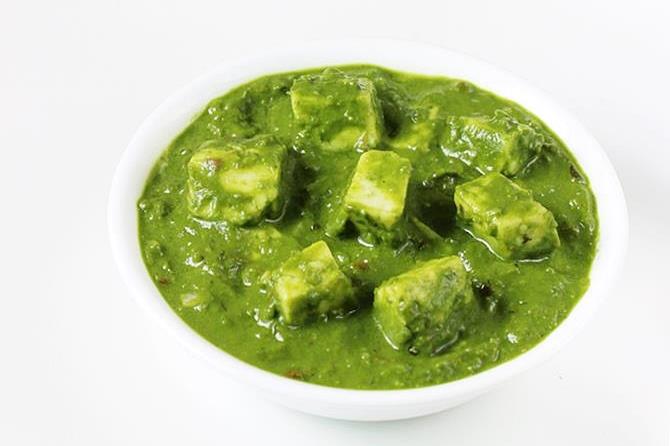 Palak Paneer: Indian cottage cheese is added to rich spinach or palak gravy. There are so many ways it is made. This is one such recipe but made healthy and delicious. Paneer is not blanched in this recipe which helps to retain the nutrients, taste and color of the palak or spinach. You can also check this palak paneer bhurji, which you can make when you are short of time as there is no blending or grinding work involved.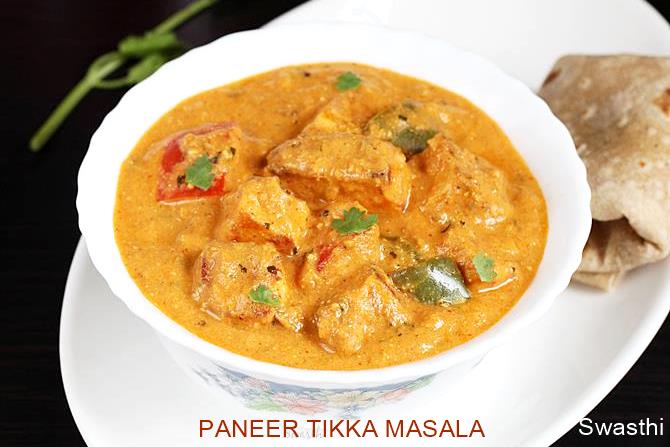 Paneer tikka masala – Tikka is a marinated and grilled chunk of paneer. In this post, I have shown how to make tikka on tawa & oven (both) and then making a restaurant style thick creamy gravy to which grilled paneer is added. You can also follow the dungar method explained in the post to get a real grilled tandoori like smoky flavor. You can also check this healthy Methi paneer, no curd, no cream used.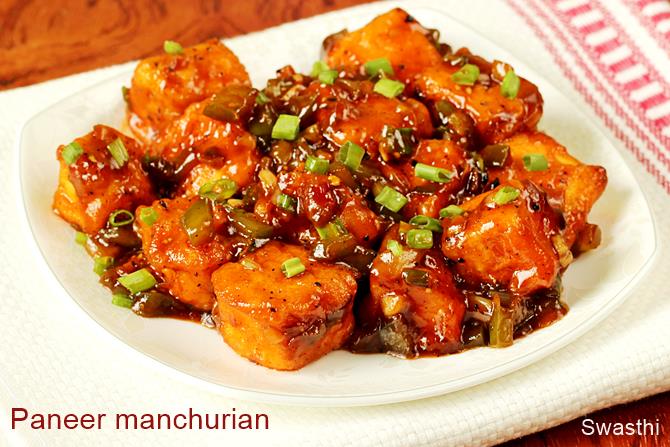 Paneer manchurian recipe – Popular restaurant style starter and side dish to serve with noodles or fried rice. To make this recipe, Indian cottage cheese is batter fried till crispy and then added to freshly made manchurian sauce.
Simple & quick recipes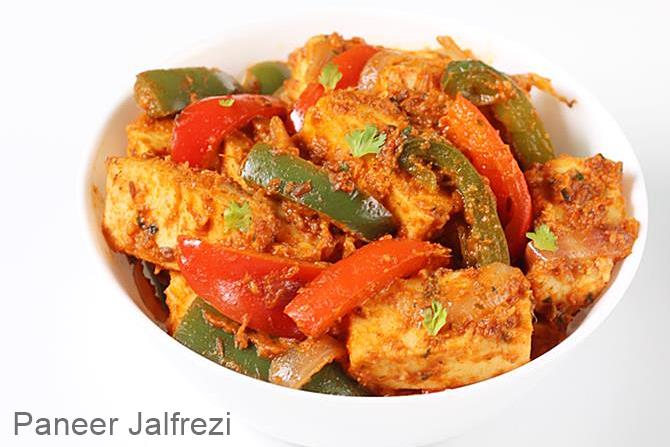 Paneer jalfrezi – Restaurant style dish, adapted from chicken Jalfrezi which is mostly popular in UK. This recipe is very quick to make, just under 25 minutes, very flavorful, delicious, spicy and goes well with any thing like rice, bread, roti, naan etc.
Paneer Bhurji – Bhurji means scrambled. Here in this post I have shown how to make your own paneer at home and make spiced bhurji. This is a good recipe to try if you prefer homemade paneer or have young kids who still cannot eat the chunks. Recipe with step by step photos.
Aloo paneer – Simple recipe made with potatoes and Indian cottage cheese. This is a side dish you can serve in a meal and it also goes well in the lunch box or school box. In this recipe, all the ingredients are stir fried in a pan to bring out the flavors and then spice powders are added.
Vegetable paneer stir fry – This is a must try if you like simple foods. Paneer is added to stir fried mixed vegetables. This can be served as a side in a meal or with just plain rice. It can be packed in office tiffin box or school box with bread, roti or basmati rice.
Tawa paneer masala– This is one of the popular street foods made on a large tawa. The ease of this recipe is to make on the tawa after toasting the rotis. The speciality of this dish is it acquires a unique aroma when made on tawa. Making this recipe is a breeze as there is no blending involved and just made with fine chopped onions and tomatoes. This dish tastes spicy, hot and delicious. Like the restaurant served dishes the gravy is not smooth but chunky but still tastes very good.
Appetizers, Brunch, Snacks – Paneer recipes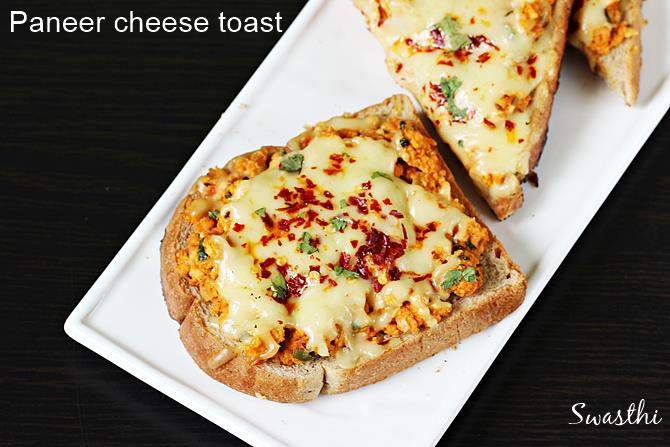 Paneer cheese toast – One of the most delicious toast that can be had for a evening snack or for a meal with some soup. You can also check this paneer sandwich and this 10 mins panir bhurji sandwich. Made with fresh veggies & crumbled spiced Indian cottage cheese. Goes well even in lunch or snack box. It can be made on a tawa / pan or toaster.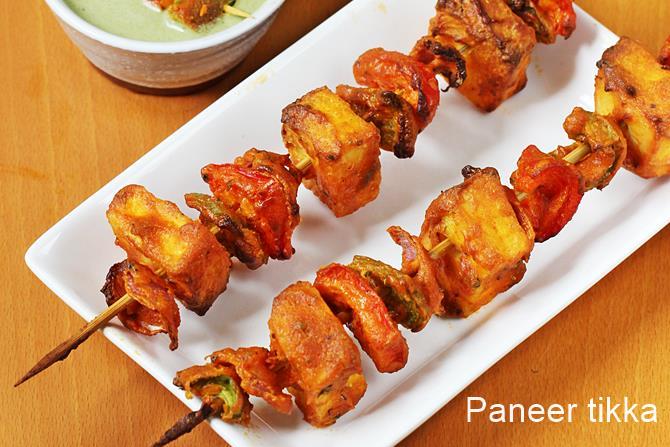 Paneer tikka on stove and in oven – Indian cottage cheese cubes marinated in yogurt and spice mixture, grilled to perfection. A delicious starter, can also be served as a snack. You can also check this amritsari paneer tikka without yogurt.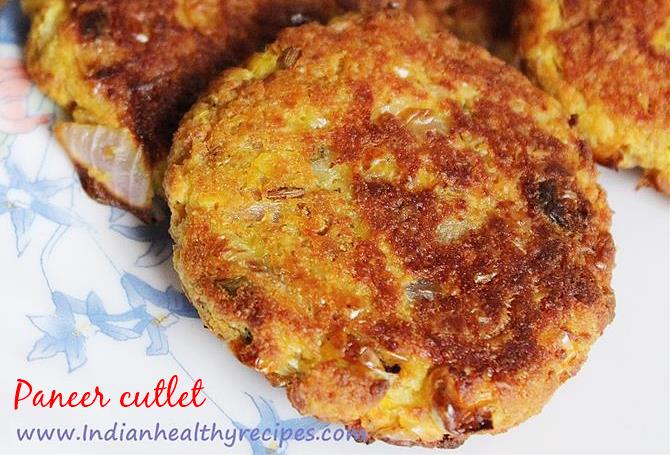 Paneer Cutlet: Tikki made of crumbled cottage cheese and other basic ingredients. These patties can be served as a snack or in a burger as well. You may also like to check this Dahi kabab recipe made using dahi and other spices.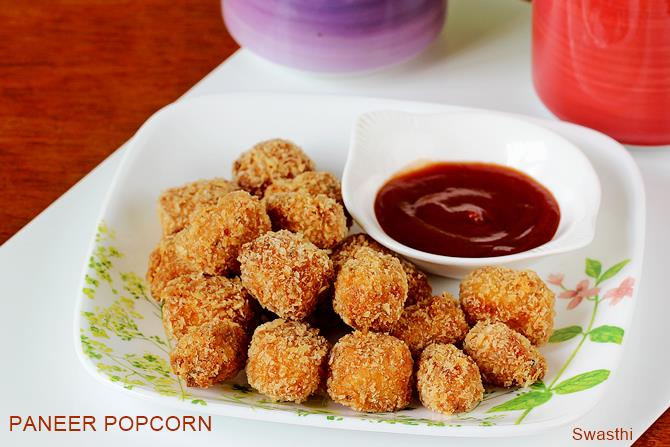 Crunchy paneer popcorn – Bite sized crunchy popcorn made with Indian cottage cheese. Adapted from KFC style chicken popcorn. You can also check these Spicy panir pakora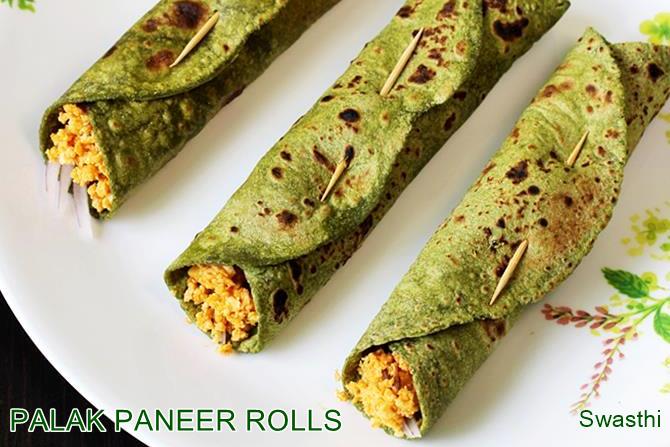 Palak paneer rolls – Healthy, delicious rolls made with palak paratha & Indian cottage cheese.
You can also check these
Paneer paratha – simple paratha without stuffing. Quick to make and kids & toddlers special, goes well in school box.
Paneer 65 – Delicious, crispy south Indian restaurant style starter or appetizer. Good to have as a snack or starter. It can be on its own & doesn't need any side.
Paneer bread rolls – Good way to use up left over breads. Makes a nice evening snack. These also go well in kids' school box.
Paneer recipes with rice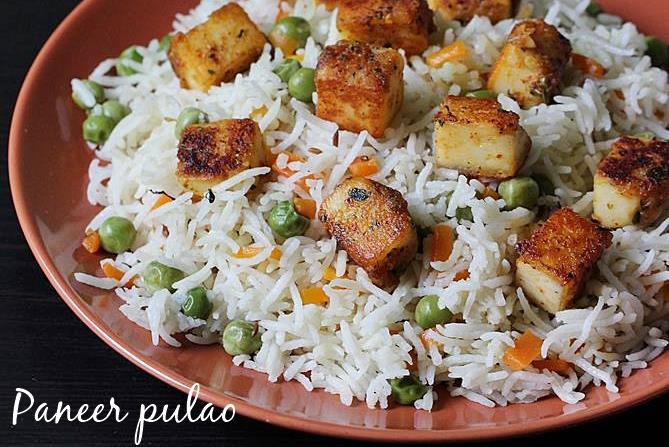 Paneer Pulao: This is a great way to add protein to your regular pulao, a one pot dish. Marinated and fried Indian cottage cheese is used to make this pualo rich and special. This can be served alone or with a simple raita. This goes very well in lunch box or on the kids' party menu.
Paneer Biryani – Dum style hyderabdi biryani with step by step photos.
Paneer Fried rice – Kids' friendly dish to make for kids parties or even for school box or quick dinner.
Sweets made with paneer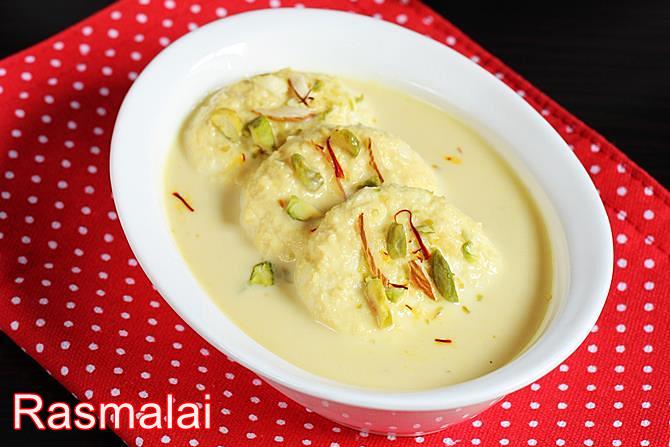 Bengali rasmalai – Soft melt in the mouth cheese discs served with thickened & sweetened milk, rabdi.
Rasgulla – Popular bengali dessert made with chenna and sugar syrup. This post shares how to make chenna at home and then prepare it to make rasgulla.
Sandesh – quick to make delicious sweet. Another popular sweet usually made during festivals like duga puja, navratri and diwali.
Malai ladoo – This post shares how to make paneer at home and then use it to make malai ladoo. These are delicious and melt in the mouth.
Kalakand
Gajar kalakand
Chum chum
Chocolate rasmalai
Chocolate sandesh