Paneer tikka masala recipe, Learn to make one of the most popular paneer recipes in a restaurant style. This paneer tikka masala gravy pairs great with roti, plain paratha, butter naan, kulcha or jeera rice or plain biryani (biryani rice). I truly treasure some of the restaurant style paneer recipes that I have been making for years. Paneer butter masala and this paneer tikka masala recipe have always been on top at home and among my friends.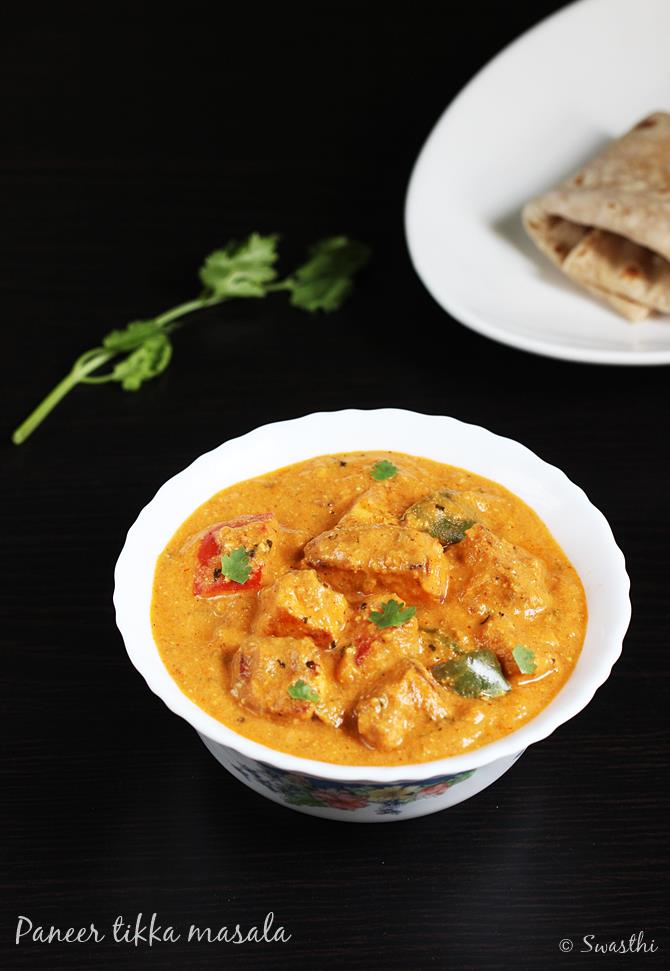 Over the years, a very old recipe from Chef Sanjeev kapoor's collection has been modified by me several times, to make it easier and convenient for a home preparation without having to compromise the taste, which turns out to be like the restaurant style paneer tikka masala – creamy and delicious.
To make paneer tikka masala, tikka can be made on tawa on stove top or in a barbeque or oven. I see no point in threading them to the skewers, if I have to use them for making the gravy. Tikka made on stove top are good to use for gravy and are soft.
You can also made check this detailed post on making Paneer tikka in an oven and stove top. For the restaurant style color, I suggest using a good Kashmiri or byadgi red chilli powder. I would not prefer to use food colors.
For more Paneer recipes, do check
Paneer lababdar
Paneer butter masala
Matar paneer
Kadai paneer gravy
Malai kofta
Kadai paneer
Chilli paneer
Paneer tikka masala recipe card below
Paneer tikka masala recipe | Restaurant style paneer tikka masala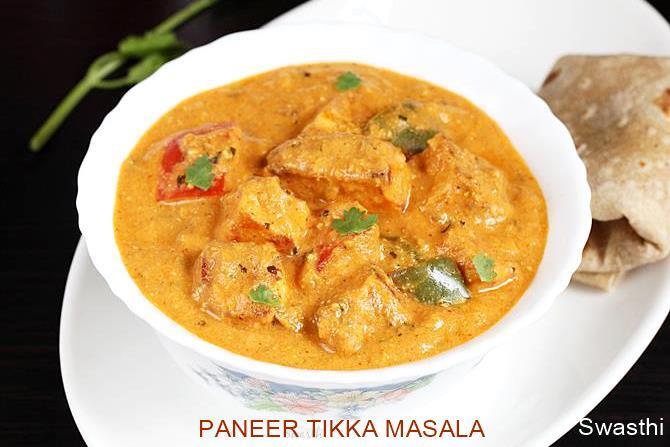 Paneer tikka masala gravy prepared in a North Indian Restaurant style. Indian cottage cheese is cooked in onion tomato based gravy that is rich and delicious.
Ingredients (240 ml cup used)
200 grams paneer or 1 ½ cup paneer
½ cup onions cubed layers seperated
½ cup capsicum/ bell peppers (green or red)
marination
½ cup of hung curd/yogurt (refer notes how to make hung curd)
1 ½ tsp ginger garlic paste
¾ tsp chili powder
¾ tsp garam masala or tandoori masala
⅛ tsp turmeric
salt to taste
1 tsp oil (optional)
¼ tsp kasuri methi/ dried fenu greek leaves
to puree
12 to 15 cashew nuts or 2 tbsp. cashew paste
1 to 1 ¼ cup of ripe tomatoes chopped
1 cup cubed onions (discard basal plate of the onion)
Gravy ingredients
1 small bay leaf
2 green cardamoms
1 ½ tsp ginger garlic paste
¾ to 1 tsp red chili powder
1 tsp garam masala
¼ tsp kasuri methi
2 to 4 tbsp of cream (can use cashew milk or almond milk for healthier option)
few coriander leaves chopped
oil or butter as needed
How to make the recipe
Firstly, marinate paner and veggies with the marination ingredients mentioned above.
Add chopped tomatoes, cashews and onions to a blender and make a smooth puree, Set this aside. Before you cube the onions, make sure the basal plate of the onion that joins the layers is discarded to avoid bitter taste.
Making paneer tikka in oven or tawa
You can grill in oven or fry the tikkas on stove in a tawa. If making in a oven, preheat the oven to 220 C and thread these to a skewer and grill for 8 to 10 minutes on both sides.
To make on tawa. Heat a tbsp oil or butter in a wide pan on a high flame, drop the paner in the tawa and toss them on a high flame till the marinade dries up and it turns golden. Over frying can make it harder and rubbery.
Now in the same pan, place the veggies on the pan and flip to the other side till the marinade sticks up to the veggies and they look partially charred.
Making paneer tikka masala gravy
Heat oil in a pan, add bay leaf and cardamom. Fry ginger garlic paste until the raw smell goes off.
Add the onion tomato puree,and cook until the mixture begins to leave the sides. Add garam masala , chili powder and salt. Saute for a minute.
Add 1 cup water , Bring it to a boil and cook on a medium flame till you see a thick gravy. Traces of oil are seen on top of the gravy at this stage. Add kasuri methi and cook for 1 to 2 minutes.
Add paneer tikka along with veggies and cook for 2 mins on a medium heat, overcooking can break panir and can make them rubbery too.
Pour the cream of your choice, add coriander leaves. mix and off the stove. Serve paneer tikka masala with roti, butter naan or veg pulao.
Notes
1.To make the hung curd, add around 1½ cups yogurt / curd to a thin muslin cloth or a clean handkerchief and tie it up and hang it in the refrigerator for about 2 to 4 hours. use only ½ cup of the hung yogurt
Nutrition Information
Calories:
504
Fat:
38g
Saturated fat:
20g
Carbohydrates:
20g
Sugar:
9g
Sodium:
322mg
Fiber:
4g
Protein:
21g
Cholesterol:
88mg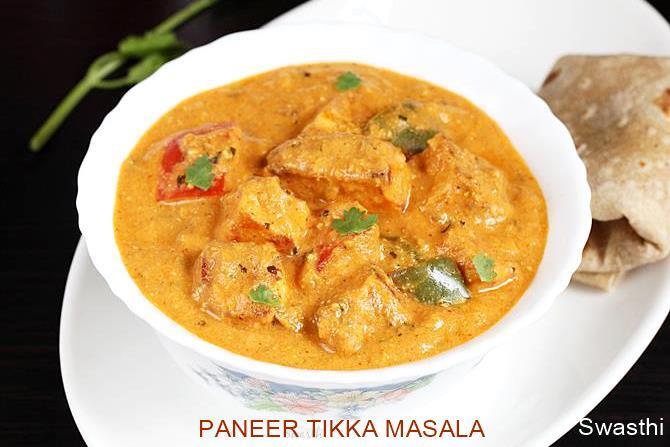 How to make paneer tikka masala
1. Cube onions and separate the layers. Cube capsicum as well. Make sure the size of onion and capsicum cubes are almost the same as paneer. Set these aside. If you do not have hung curd, add 1.5 cups curd to a thin muslin cloth, squeeze off the excess water and use. You can also check another method i shared in the recipe card notes above.
2. Add to a bowl the following ingredients: ½ cup hung curd yogurt, 1 ½ tsp. ginger garlic paste, ¾ tsp red chili powder, ¾ garam masala, 1/8 tsp turmeric, ¼ tsp kasuri methi, 1 tsp oil and salt as needed. I also used 1 tsp lemon juice to add tang as my yogurt was very fresh. Do not use it if your tomatoes or yogurt is even slightly sour. You can add more chili powder or tandoori masala for a good color.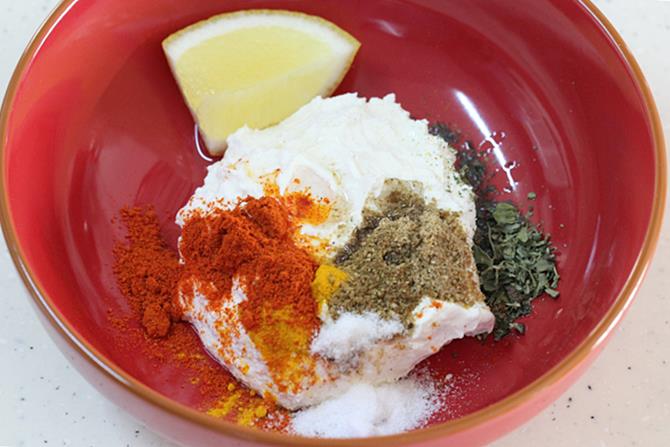 3. Mix everything well. I forgot to add ginger garlic at step 1 so added it here.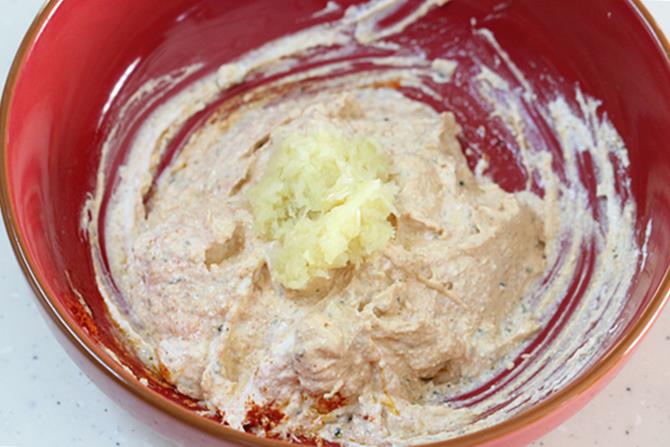 4. Add panir and cubed veggies.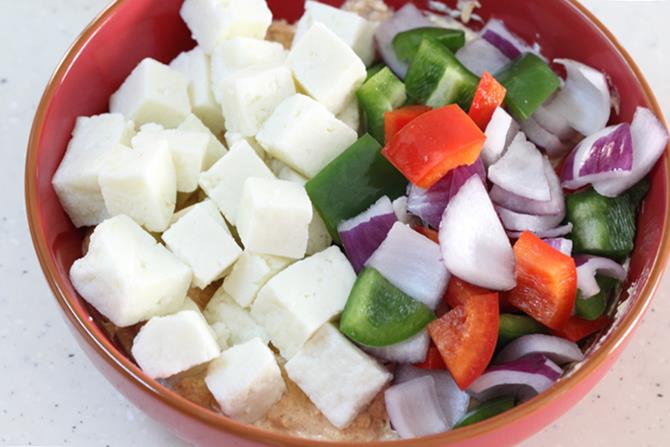 5. Mix everything well.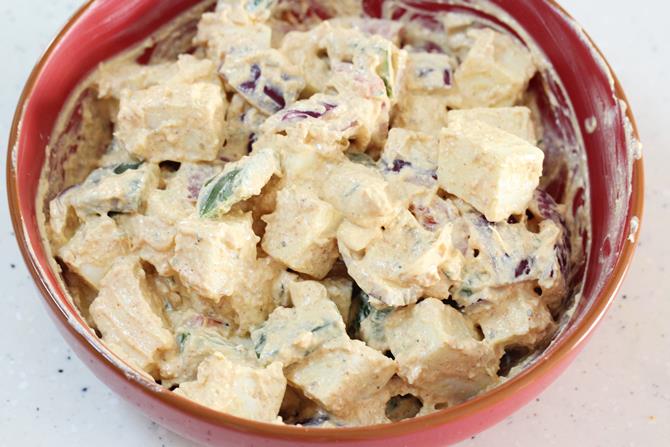 6. For the paneer tikka on tawa, stovetop : Heat 1 tsp oil in a wide tawa on a high flame, drop paneer cubes in the tawa.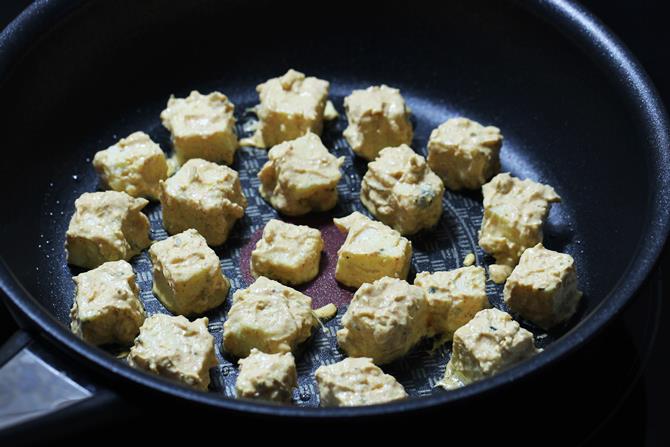 7. Flip them to the other side and cook on a high flame till all the marinade dries up and the paneer turn golden. This takes only 2 to 3 mins. Set aside. Do not over fry them, they can turn harder.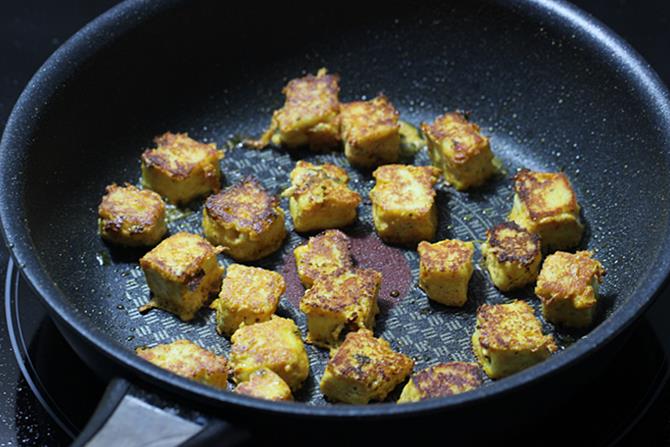 8. In the same pan, place the veggies and cook till the marinade dries up. The veggies look partially charred. Do not overdo else they lose the crunch.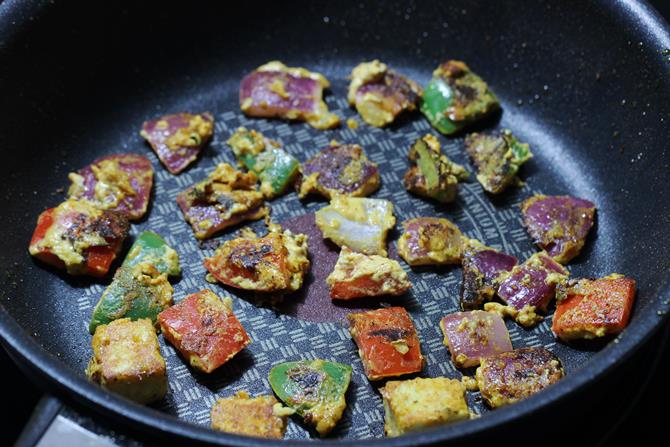 9. To grill tikka in oven, put them on to skewers alternately paneer, onion and capsicum. Bake in a preheated oven at 220 C for 8 to 10 minutes. you may need to adjust the timing as needed depends on the size of cubes and oven too.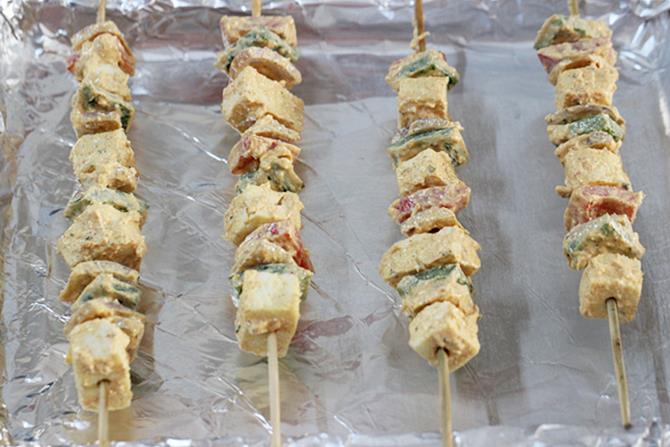 10. You may need to flip the skewer and then grill again if your oven does not have a fan.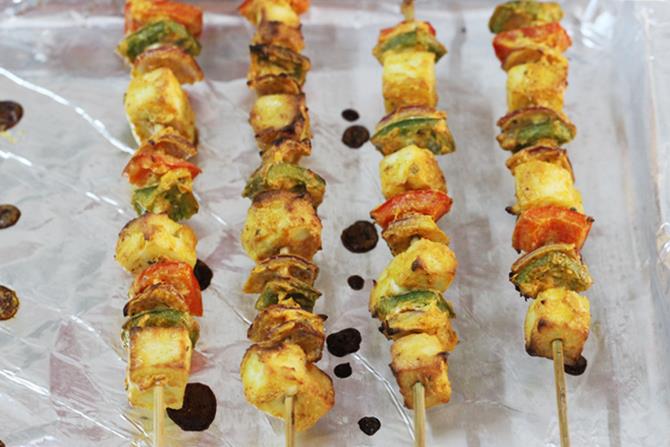 11. Add 1 cup cubed onions (discard basal plate of onion to avoid bitterness), 1 ¼ cup tomatoes and 10 to 12 cashews to a blender jar.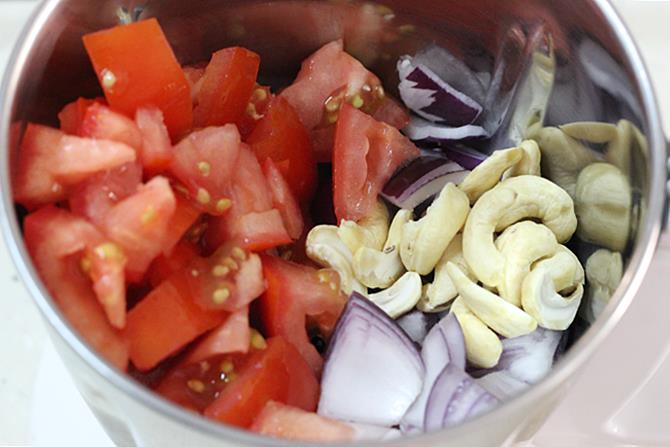 12. Make a fine puree.Set aside.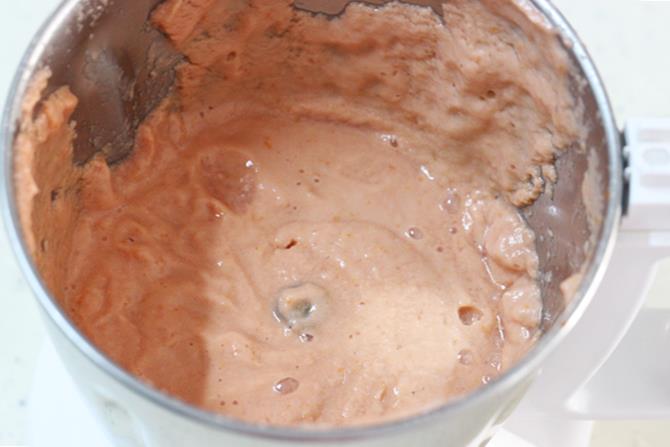 13. Heat butter or oil in a pan, add bay leaf and cardamom. Saute for 1 to 2 minutes. Add ginger garlic paste and fry until the raw smell goes off. This step is very important else the smell of garlic may not be good in the dish.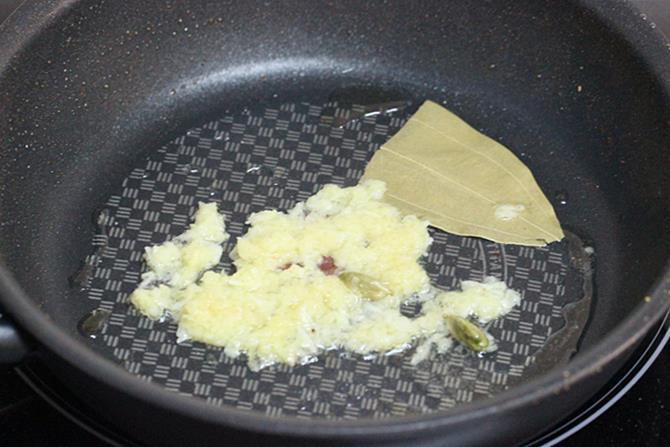 14. Pour the onion tomato puree to the pan. Be careful it will begin to splash out of the pan, you can partially cover and cook. You will be left with about 1 tbsp yogurt marinade after making tikkas. You can add that as well now if you do not like to discard it. I did not use it. Saute until it thickens and begins to leave the sides of the pan. This may take around 6 to 7 minutes.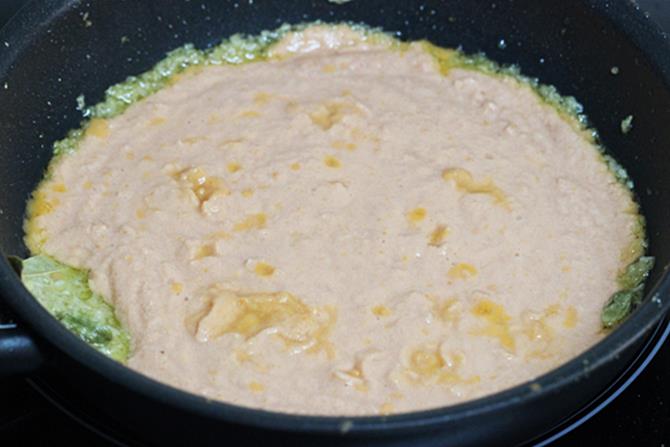 15. Add chili powder, garam masala and salt. Saute until the smell of chili powder has gone. This may just take 1 to 2 minutes.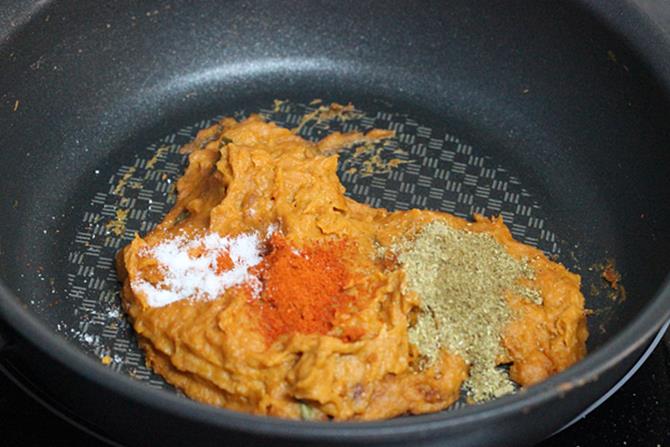 16. Add 1 cup water, if needed ¼ cup more to bring to a desired consistency.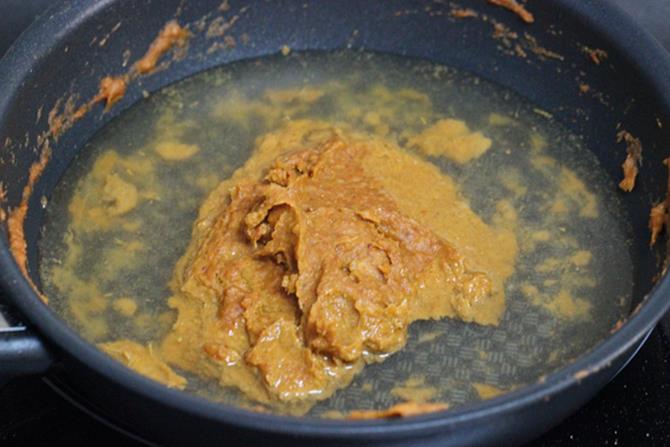 17. Mix everything well and cook on a low flame until the sauce simmers well and thickens. When the gravy turns thick you will see some oil separating on top. Add kasuri methi. Continue to cook for another minute.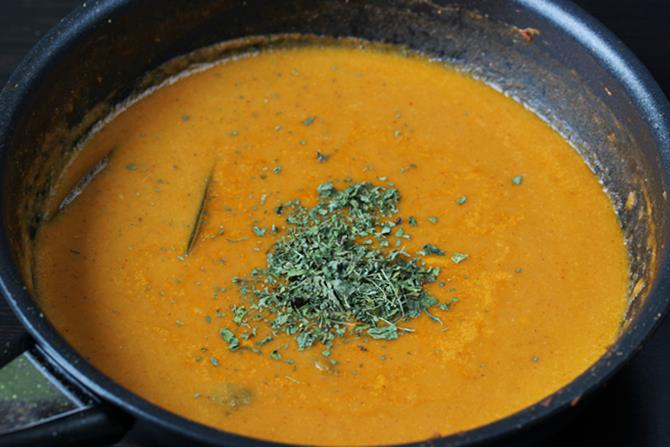 18. Add the grilled tikkas in the gravy. Mix and cook just for a minute. Make sure the gravy is thickened before adding paneer.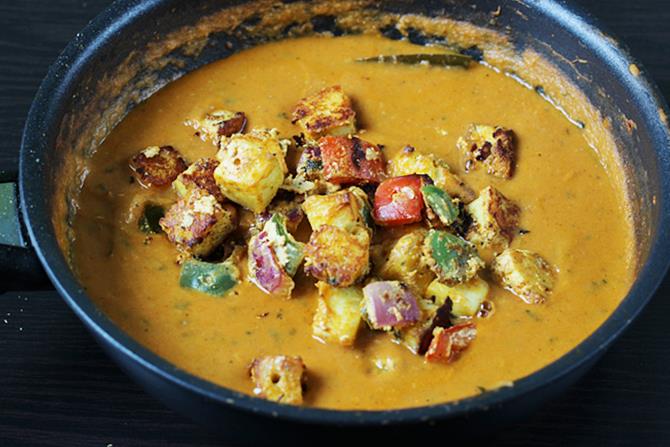 19. Pour cream and stir. Cook for just another minute or two.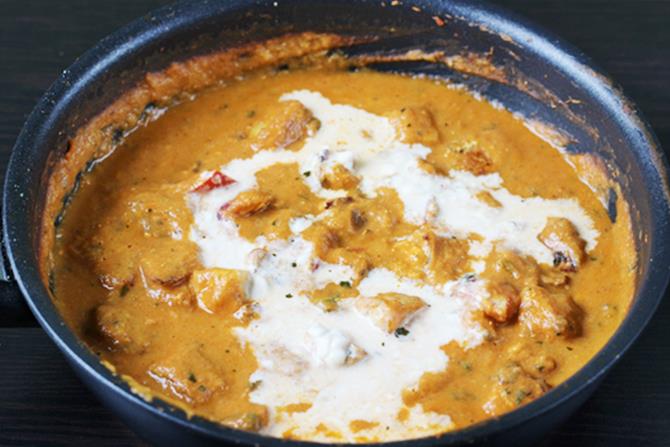 To give a smoky flavor to the dish try using this dhungar method using charcoal. Please note that it could be dangerous doing on a gas stove. I suggest doing it out of the kitchen, using another source like a large candle. Cut a large onion to half. Remove off a few layers from the center of one half of the onion. Place it in the center of the pan. Burn a small piece of charcoal over direct fire holding it with a tong. Make sure it burns well so that it can release the smoke. Take it away from the candle – place it over the onion. Add 1/2 tsp ghee. By now it should begin to emit smoke else repeat burning the coal. Make sure charcoal is not touching the food. Cover The pan with a lid immediately. Leave it for 5 minutes.
Garnish with fresh coriander and green chilies. Serve paneer tikka masala hot with butter naan, roti, plain paratha or jeera rice.