Paneer tikka recipe in oven and gas stove or tawa. Paneer tikka is one among the most after sought North Indian starters in Indian restaurants. Paneer tikka literally translates to Indian cottage cheese chunks – Indian cottage cheese is known as "paneer" and chunks are known as "tikka". These chunks are marinated in spiced yogurt and grilled to perfection. The resulting chunks are delicious, flavourful and makes a meal exotic when served with this.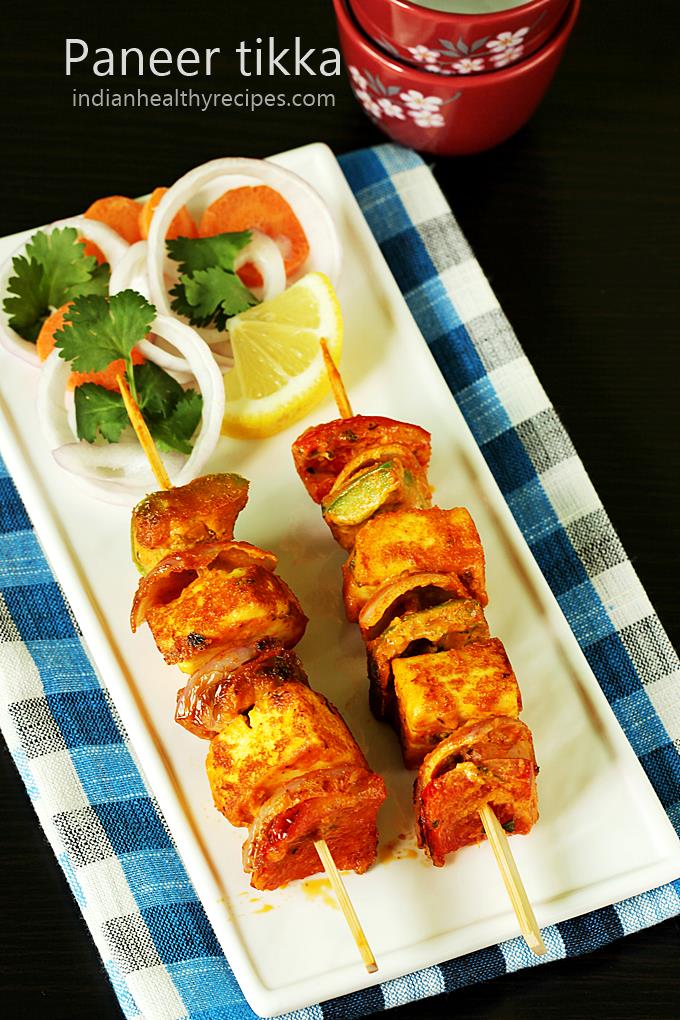 Traditionally paneer tikka was made in clay ovens known as tandoor, with time and trend now they are also made in ovens and even on gas stove using tawa (Indian pans). I am sharing both the methods i.e paneer tikka in oven and on gas stove or stove top.
No matter whether we make on stove top or in oven or in tandoor or barbeque the marinade made is standard and same. This recipe yields a delicious starter that is just like the one served in restaurants.
Making paneer tikka is a frequent affair at home, since I use them in so many ways like wraps, sandwich, pizza and even for making fusion fried rice and for making paneer pulao.
To make paneer tikka, I have not used any food color. Adding little oil to the marination helps to get a good color from turmeric and red chili powder. Use a good and enough quantity of chili powder to get a vibrant color.
You may like to Paneer recipes
Amritsari paneer tikkas without curd
Paneer popcorn
Paneer pakora
Panir tikka masala
Paneer butter masala
Matar paneer
Kadai Paneer
Paneer tikka recipe – with & without oven made on tawa
Paneer tikka recipe | How to make paneer tikka (oven & gas)
Paneer tikka made on stove top (gas stove) with & without a oven.
Ingredients (240 ml cup used)
1 to 1 ½ tbsp oil
2 ½ tbsp. besan / gram flour
1 to 1 ¼ tsp red chilli powder
Salt as needed
⅛ tsp turmeric
¼ tsp garam masala
½ tsp coriander powder
½ tsp kasuri methi / dried fenugreek leaves
1 tsp ginger garlic paste
½ to ¾ tsp ajwain / carom seeds (optional)
6 tbsps or ¼ cup + 2 tbsp thick curd or hung yogurt or greek yogurt
Lemon juice as needed (skip if curd is sour)
1 heaped cup paneer about 175 grams
1 cup onions cubed layers separated
1 cup capsicum (can substitute half with deseeded tomato cubes)
How to make the recipe
Mix together besan and oil in a pan without lumps.
This step is optional, but it lends a restaurant style flavor. Saute until the flour turns bubbly without burning and the raw smell goes away. Cool this completely.
Add the rest of the ingredients and mix well.
Add the paneer, onions and capsicum. Mix gently.
Refrigerate for atleast 2 hours. 4 to 6 hours is best.
Making paneer tikka on tawa
To grill these on tawa, grease a non stick pan very well. Add little oil and place the paneer on the tawa. Cook on a medium heat on all the sides. Set these aside.
On the same tawa, layer the veggies flipping on the other side until all the marinade turns crisp and dry. Remove them to a plate and put them on a skewer alternately onion-capsicum-paneer. Do not put them on a skewer first and fry on tawa as the raw smell of the ingredients will not go away.
Making paneer tikka in oven
Rinse the skewers well and line alternately onion-paneer-capsicum.
You will be able to put on 3 cubes of paneer and 4 sets of onions & capsicum on each on one skewer.
Preheat the oven to 180 C. Grill these for about 10 mins, then if needed brush butter or oil and then grill at 200 C for 5 mins.
Serve paneer tikka with mint chutney as a starter.
How to make paneer tikka recipe – step by step photos
1. Add oil and besan to a pan. Mix together to make sure there are no lumps.


2. You can skip this step, but sauteing besan in oil lends a unique restaurant like aroma to the tikkas. Fry besan until the raw smell goes away. When done, it will begin to bubble up and smell good. Switch off the stove before it gets discolored. Cool this completely.


3. Add ginger garlic paste, turmeric powder, salt, kasuri methi, red chili powder, garam masala, coriander powder and ajwain. Mix together everything well.


4. Add thick yogurt. I used hung curd that still had a bit of whey in it.


5. Add lemon juice. If your curd is sour or even slightly sour, you can skip lemon juice at this stage.


6. Mix everything well now. You can add more or less red chili powder after checking the spice levels.


7. Add paneer cut to 1 by 1 inch size cubes. Also add onions and capsicums.


8. Mix everything together gently. Refrigerate for at least 2 hours. 4 to 6 hours lends a good aroma.


9. Line them to skewers alternately onions, capsicum and then paneer. Preheat the oven to 180 C and grill for 10 mins. The next 4 to 5 mins i do it at 200 C. In between once you can brush them with oil or melted butter.


Serve hot with restaurant style mint chutney.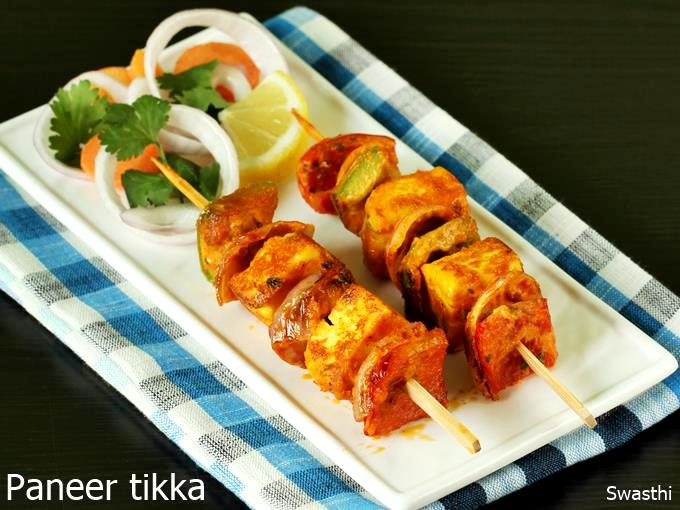 Paneer tikka on gas stove without oven
Making paneer tikka on stove top (on gas stove) without an oven is one of the easiest tasks and they taste as good as the ones made in an oven. Especially when you have to make for a crowd, this seems to be the easiest one with no waiting time for the oven to finish the batches. I do not thread them on to the skewers first, but instead I roast them first and put them on to the tooth picks or skewers. This way they are cooked well.
Tawa paneer tikka made on gas stove can be served as an appetizer or can even be used to make wraps, sandwich or pulao.
1. Grease a tawa well. Any tawa that has a non stick coating or iron tawa that has been seasoned or greased well can be used. Add 1 tbsp oil and place all the paneer on the tawa separately. Cook on a medium heat on all the sides.


2. Cook them even on the sides other wise the masala will remain raw. I use a small wooden tong to slip them to all the sides. You can also do it with 2 wooden spoons.


3. Place all the onions and capsicum and toast them until the masala dries up. Transfer all these to a wide plate.


Put them on to skewers or tooth picks.