Beerakaya pappu recipe. Most andhra restaurants serve a variety of dal dish in the vegetarian meal like this beerakaya pappu. These dal dishes would be with a vegetable, chilies and tangy tomatoes thus the dal tastes tangy, hot and tasty. This beerakaya pappu is one of the everyday andhra pappu dishes that is made in most homes as well.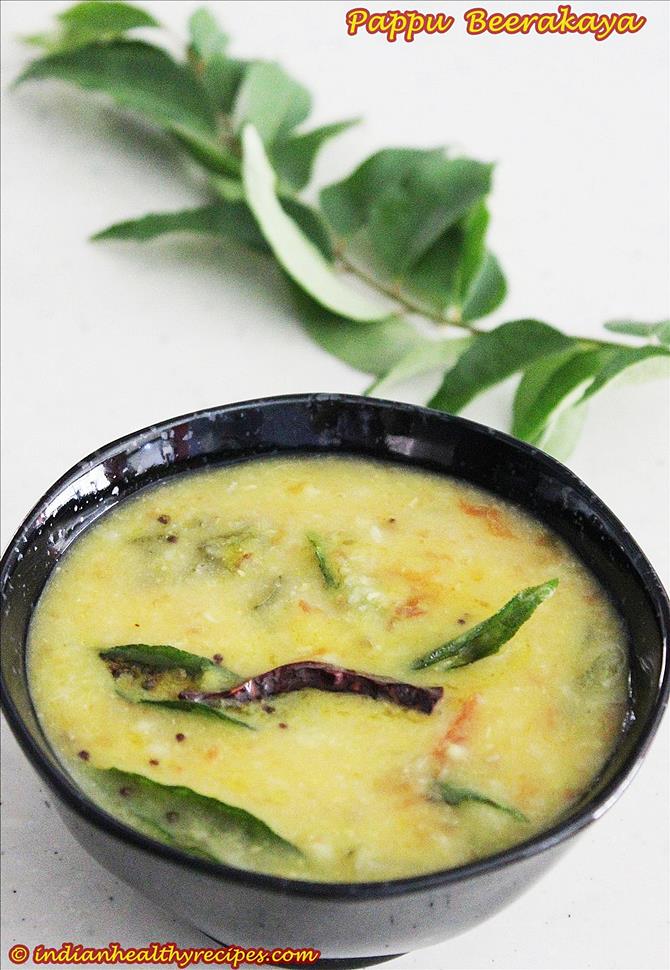 My way of making dal at home is super simple with very few ingredients and so very different from this andhra restaurant style dal. When SIL was here last April, she did not like my too simple pappu that I prepare and she mentioned how an andhra restaurant style dal is prepared which she and her kids love.
I tried out the way she told me and this beerakaya pappu turned out something similar. I have not used red chili powder, since it becomes too hot for my kids. The color might vary if you add it.
Beerakaya pappu goes well with rice, chapathi or phulka too.
For more beerakaya recipes, check
beerakaya curry
beerakaya pachadi
beerakaya fry
ridge gourd curry with milk
Beerakaya pappu recipe below
Beerakaya pappu recipe | how to make beerakaya pappu recipe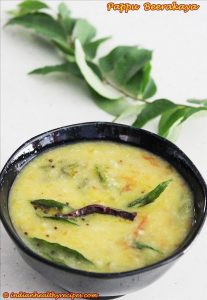 Beerakaya pappu is dal and ridgegourd cooked with tomatoes and then seasoned with mild spices.
Ingredients (240 ml cup used)
¼ cup of Toor dal /kandhi pappu
¼ cup of Moong dal / Pesara pappu
¼ cup of Masoor dal (can increase to ½ with increased quantity of water)
4 to 5 hot green chilies
1 medium sized onion
2 large tomatoes
Tamarind paste as needed
¼ tbsp. red chili powder (I have not used)
2 cups of chopped tender ridge gourd pieces (you can replace with bottle gourd or round cucumber or palak or can use mixed vegetables)
½ to 1 tsp ginger garlic paste
Salt to taste
Talimpu or Seasoning beerakaya pappu
3 sprigs of fresh curry leaves
4 to 5 slightly crushed garlic cloves
⅛ tsp mustard
¼ tsp cumin / jeera
Generous pinch of hing
¼ tsp turmeric
2 broken red chilies
Oil as needed (ghee gives a good aroma)
How to make the recipe
Wash and pressure cook dal, ridge gourd, onions, green chilies, tomatoes,ginger garlic paste with 2 to 2 ½ cups of water till smooth. I usually cook directly in the cooker for 2 whistles
Once the pressure is off, mash the dal to smooth, add tamarind pulp, red chili powder, turmeric and salt and bring it to a boil.Adjust the consistency by adding water if desired.
Heat oil in a pan for tadka, add red chilies, mustard, and cumin when they begin to splutter, add garlic and curry leaves and fry till the curry leaves turn crisp. Add hing
Pour this over the boiling dal. Off the heat and mix well. Serve beerakaya pappu with rice ghee and pickle.
For more pappu recipes, you may check
tomato pappu
palakura pesara pappu
gummadikaya pappu
sorakaya senagapappu kura
podi pesara pappu beerakaya