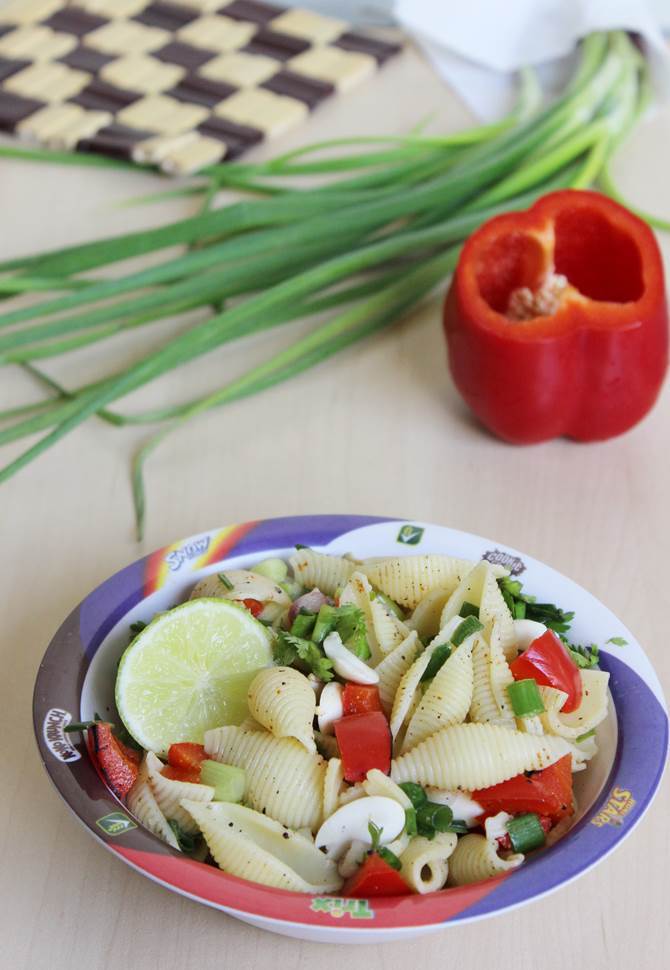 pasta chaat recipe for kids
Many kids are crazy for pasta. Masala pasta is my kids favorite. Some kids like to eat pasta drenched in a sauce, while some like to eat dry like fried pasta or pasta muffins. Kids need variety; they tend to feel bored with any dish that is served repeatedly. I have 2 kids whose eating habits are just not the same any time; one is a veggie buff who always digs his plate for veggies, while the other refuses to eat anything at the very sight of veggies. When it comes to pasta and noodles, I just do not prepare them plain and my kids have no choice rather than to eat what is served. This is one of the recipes that I prepare with slight variations each time. If your kid does not like raw veggies, then he/ she may not like this.
 
for more pasta recipes, check this collection of pasta and noodles
 
You can top this pasta chaat with some mixture or sev. You can also use dates tamarind chutney or mint chutney/ green chutney. I have not used any this time, since this was my younger ones snack and he prefers it plain without much taste enhancers. It looks dry since I have not used tomatoes. He had it with tomato Basil soup, which was a perfect combo.
 
find pasta chaat recipe below
pasta chaat recipe | Indian kids pasta recipe | pasta salad
Ingredients (240 ml cup used)
1 cup of pasta (cooked al dente) (I used shell pasta, you can use any)
¼ piece of red bell pepper (roasted on the direct flame for 3 to 4 mins) chopped
Few spring onions or chopped onions too
roasted peanuts or soaked blanched almonds as needed
1 to 2 tbsp. Coriander leaves
few drops of lemon juice
coriander leaves
pepper powder
Chaat masala as needed
little amchur (optional)
1 tbsp. olive oil
Optional ingredients
mixture or sev
dates tamarind chutney as needed
green chutneyas needed
red chili powderas needed
1 small boiled potatoes
tomatoes deseeded chopped
grated carrot
How to make the recipe
Bring water to boil, add salt and add pasta and cook al dente.
Rinse thoroughly in cold water, drain completely and set aside
Add all the ingredients to pasta except boondi or sev and toss well. Set pasta chaat aside for 5 mins and serve.