Pav bhaji recipe – pav is an Indian bread and bhaji is mashed vegetables cooked with spice powder. Learn how to make pav bhaji recipe with step by step photos. Mumbai street foods are popular across India. Masala pav, Pav bhaji, Sev puri, Aloo tikki, Dahi vada, Pani puri, Batata vada, samosa and vada pav and are some of them. This pav bhaji recipe is roughly adapted from chef sanjeev kapoor's Cook book 'Ode to Indian Food'.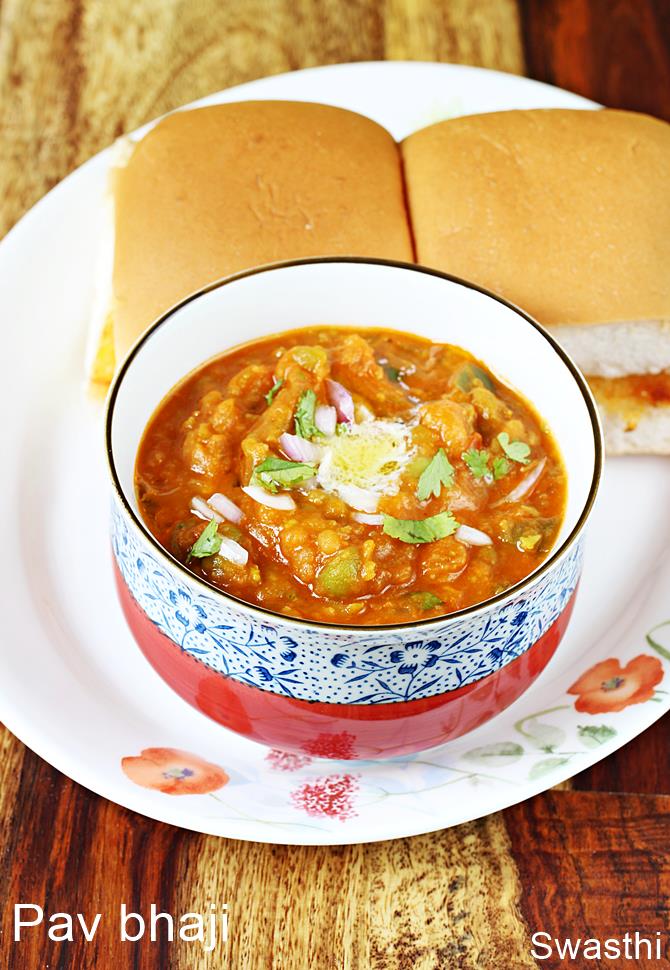 I prepared it several times and came out well every time since the recipe is simple to follow. Over the years I have modified it slightly. This is the best pav bhaji recipe that I have ever tried and loved. You can adjust the amount of veggies to suit your taste and liking.
There are many pav bhaji masala powders available in the market which can be used instantly. Each one differs in the flavor and taste ,but the basic ingredients almost remain the same, and only the quantity of ingredients change. So you can chose the one you like. I like my homemade masala powders so I make my own pav bhaji masala powder at home.
For more street foods check
Sandwich recipes
Pakora recipes
Papdi chaat
Gobi manchurian
Easy egg snacks
Video of pav bhaji recipe
Pav bhaji recipe below
Pav bhaji recipe | How to make mumbai pav bhaji recipe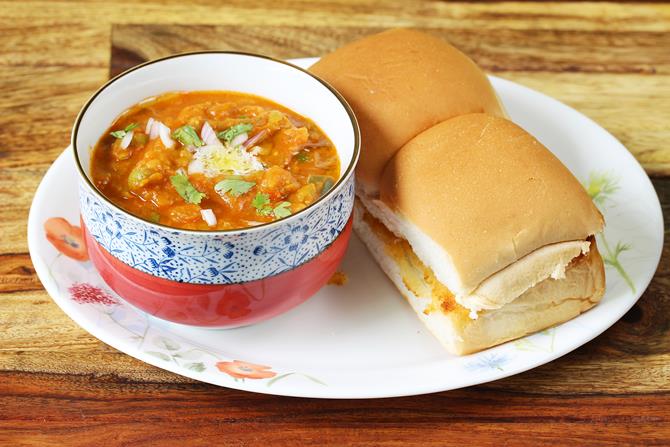 Pav bhaji recipe, India's most popular street food roughly adapted from Chef Sanjeev kapoor's cook book
Ingredients (240 ml cup used)
1 cup cubed potatoes - 3 medium 0r 2 large
½ to ¾ cup green peas
½ to 1 cup cauliflower/ gobi
½ cup capsicum chopped
1 to 2 tbsp butter or oil (2 tbsp. suggested)
2 medium onions (3/4 cup finely chopped )
1 green chili optional
½ to ¾ tsp red chili powder
¼ tsp turmeric / haldi
1 tbsp. paav bhaji masala powder (use more if your potatoes are large)
1 tsp ginger garlic paste
1 large tomato or 2 medium chopped
½ tsp kasuri methi (optional)
Additional butter for pav
Pav (buns) 4 to 6
for garnish (optional)
Lemon wedges
Chopped onions
Coriander leaves
1 tbsp butter
How to make the recipe
Prep of bhaji
Boil or pressure cook cauliflower, potatoes and peas until cooked fully. Mash up well when the pressure comes down. You can also cook these in a pot.
Add butter or oil to a pan and heat up. Add onions and fry till they turn translucent, add ginger garlic paste and chili. Fry till it gets fragrant. Fry capsicums for 3 to 4 minutes.
Add tomatoes, salt. Fry till tomatoes turn soft and mushy.
Add chili powder and pav bhaji masala powder. Mix and fry for another 2 minutes or until the raw smell of the mixture goes away.
Add boiled & mashed veggies.
Pour water just enough to bring to a consistency.
Cook for 3 to 5 mins until the bhaji thickens. Add kasuri methi if using and cook until it reaches a desired consistency.
Making pav bhaji
Slit the pav buns horizontally leaving one edge intact.
Heat butter on a pan. Open the buns and sprinkle some masala on butter. Place the pav & toast it for a min or two.
Garnish pav bhaji with onions, butter and serve it hot or warm.
Nutrition Information
Calories:
176
Fat:
4g
Carbohydrates:
31g
Protein:
6g
How to make pav bhaji recipe at home
1. Add potatoes, cauliflower, and peas to a pressure cooker or a pot. Add water just enough to cover them partially. You can also use carrots if you like.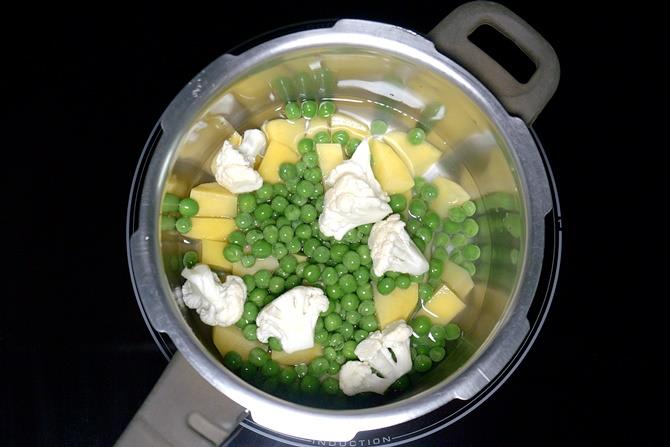 2. Pressure cook for 1 to 2 whistles on a medium flame.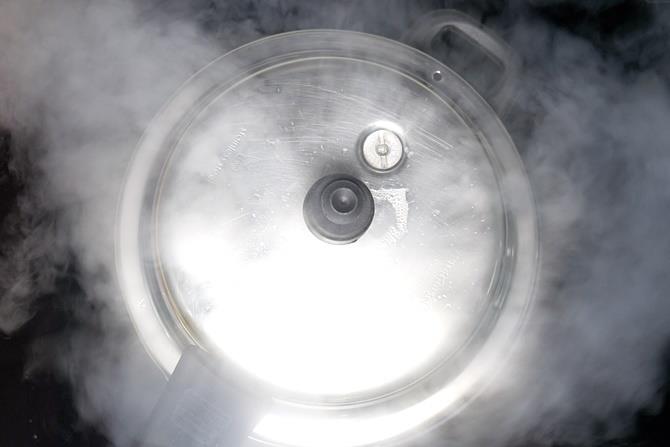 3. When the pressure goes off, open the lid. Veggies should be soft cooked. Mash them well.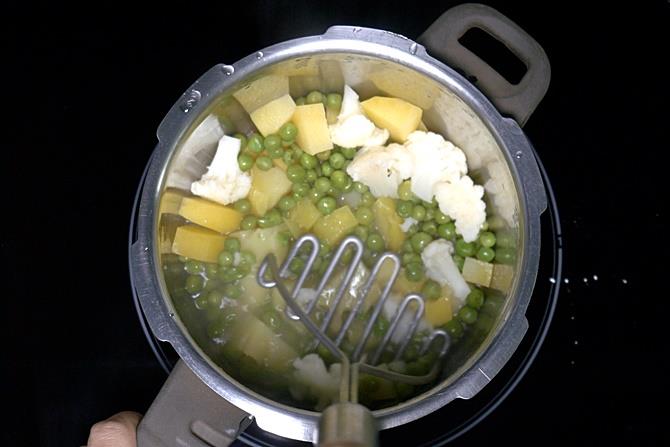 4. Heat butter or oil in a pan. Butter tastes best.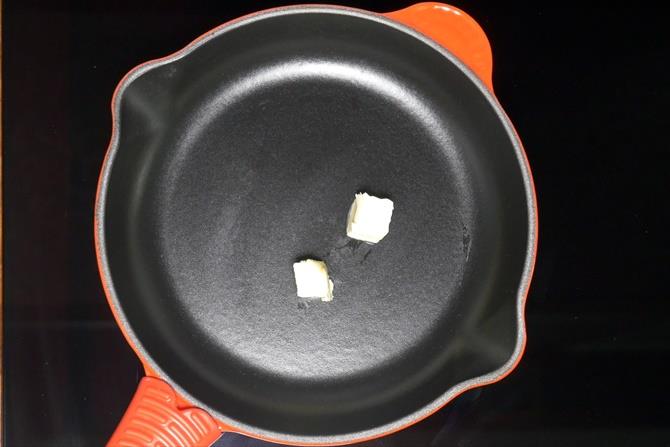 5. Add onions & fry till they turn translucent.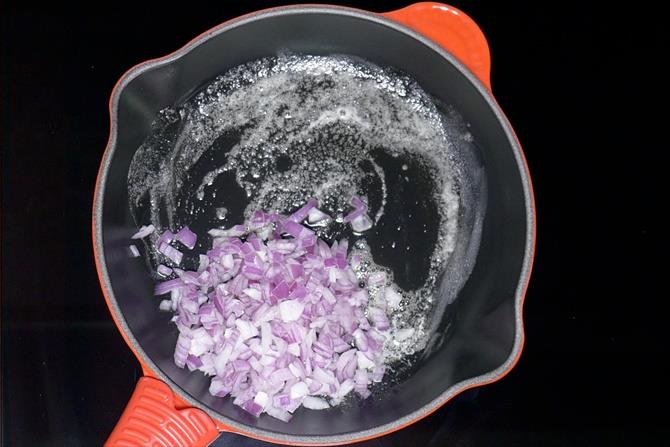 6. Add ginger garlic paste and green chilli. Fry until it smells good. Take care not to burn.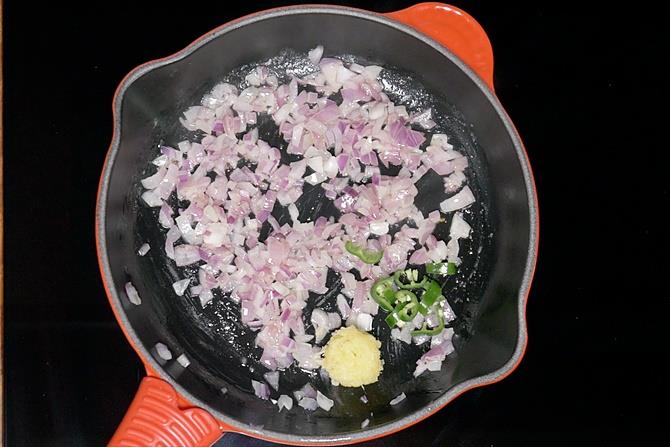 7. Add bell pepper. Fry for 2 to 3 minutes.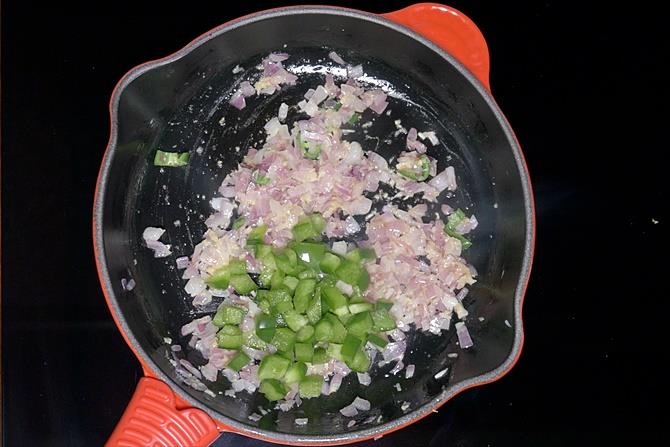 8. Add chopped tomatoes and salt. Fry till tomatoes turn mushy, soft and pulpy.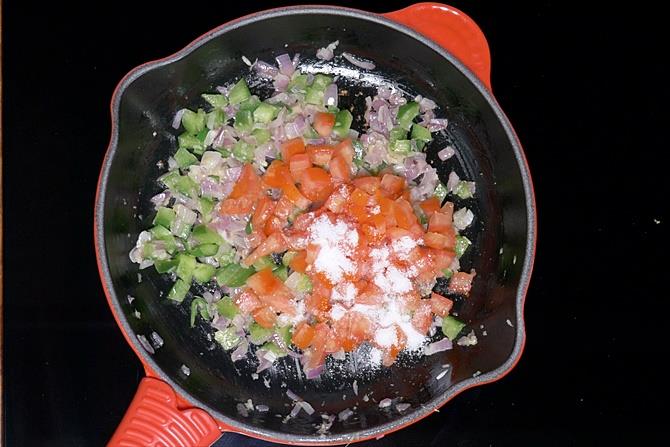 9. Add chilli powder and paav bhaji masala powder.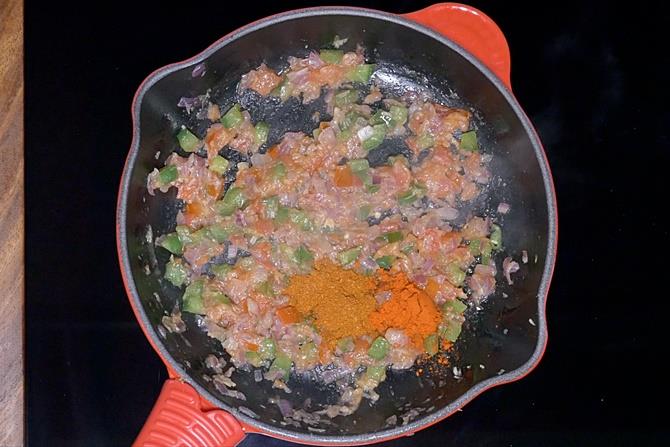 10. Mix well and fry for 2 to 3 minutes.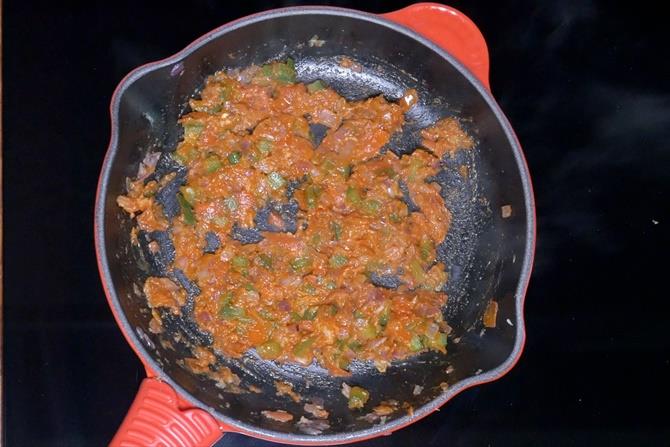 11. Add the boiled & mashed veggies. Add water as needed and stir.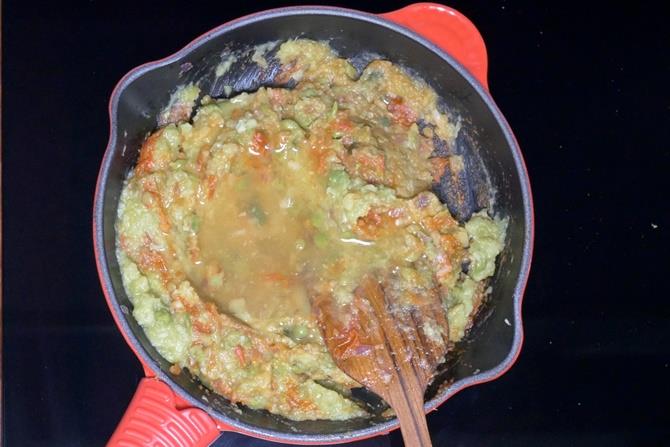 12. Mix well and simmer for a while to bring out the flavor of masala. You can add kasuri methi if you like.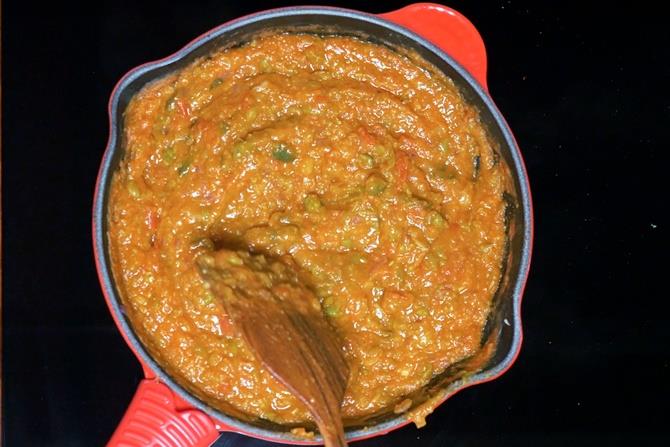 13. When it reaches the desired consistency, add chopped coriander leaves. switch off. Add some lemon juice.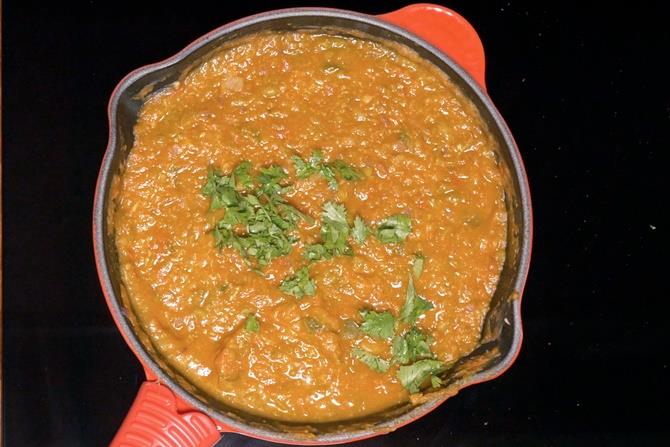 14. Slit the pav horizontally leaving one edge intact. Heat butter on a tawa. Add little masala powder.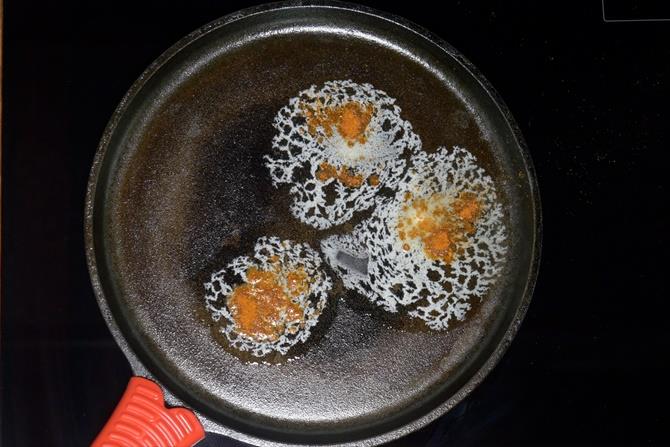 15. Place the pav on the butter and toast for 1 to 2 mins.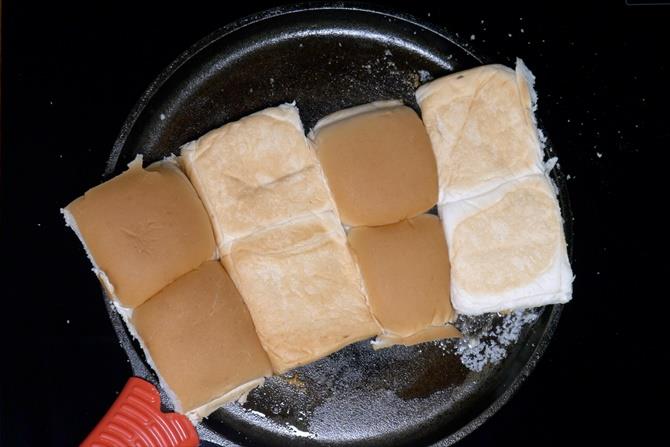 Garnish with coriander leaves, lemon wedges and chopped onions. Top with butter on hot bhaji. Serve pav bhaji with some butter topped and onion.