Pappu charu recipe is a simple traditional andhra recipe like the sambar but made without using sambar powder. I am sharing an easy recipe that yields a tasty pappu charu and this can be used to accompany rice or idli. Generally kandi pappu /toor dal is used to make this but you can also use a combination of pesara pappu and kandi pappu. Only pesara pappu can also be used to make a pesara pappu charu. It is good to have charu made of pesara pappu during summers since it keeps the body cool.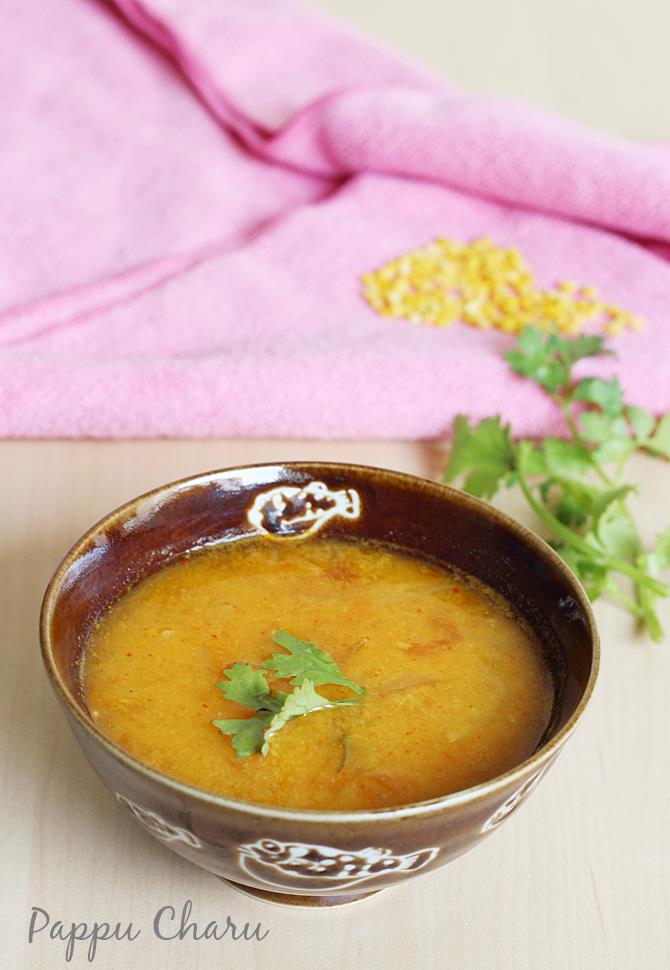 kandi pappu is called as toor dal or tuvar dal. Pesara pappu is called as moong dal in hindi, hesaru bele in kannada is one of the most nourishing and preferred lentil as it is easy to digest and is tridoshic too making it suitable for everyone including babies.
Related traditional andhra recipes,
andhra sambar
drumstick sambar
tomato rasam
kandhi kattu charu
Pappu charu recipe below
Pappu charu recipe | How to make pappu charu recipe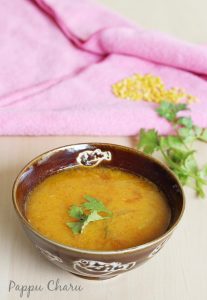 Pappu charu recipe is a lentil soup usually made with very few ingredients to accompany rice or idli.
Ingredients (240 ml cup used)
½ cup kandi pappu or pesara pappu (or a combination)
1¼ cup or little more water to pressure cook
Little tamarind
1 large onion thinly sliced
1 red ripe tomato chopped (optional)
½ tsp. red chili powder
Few sprigs of coriander leaves
Salt to taste
talimpu / tempering pappu charu
1 sprig curry leaves
Generous pinch of turmeric
Pinch of hing
½ tsp mustard seeds
½ tsp cumin seeds / jeera
Small pinch of methi seeds / menthulu
1 broken red chili
1 to 2 garlic cloves crushed
How to make the recipe
Pressure cook dal till smooth. I usually use 1 cup of water for ½ cup of dal and pressure cook for 2 whistles on a medium flame. When the pressure releases mash it well.
Soak tamarind in 1 cup water.
Heat ghee in a utensil. Add red chili, mustard, cumin and methi, when they begin to crackle add garlic, curry leaves, hing.
Add onions and sauté for a min. I like them to be crunchy. If you want them to be soft, fry till they are half done.
Add tomatoes, green chilies sprinkle salt and turmeric, fry till the tomatoes turn fully mushy. If you do not want to use tomatoes, just proceed to next step
Add red chili powder, mix well and fry for a min. Squeeze the tamarind and filter the water to the utensil.
Pour 1 cup plain water, bring it to a boil.
When the water comes to a boil, add mashed dal or filter the dal through a colander like me to remove coarse granules. Adjust the salt.
Bring it to a boil and simmer for 2 minutes. Add coriander leaves.
Serve pappu charu with rice, ghee and papad.
Notes
In winters it can be prepared differently,
The red chili powder is replaced with green chili; a small piece of ginger is crushed and added to the seasoning.
how to make pappu charu with step by step photos
1. Wash and cook 1/2 cup dal with 1 1/4 cup water till soft in a pressure cooker. Mash the dal and set aside. Soak tamarind in 1 cup water. squeeze it and set aside.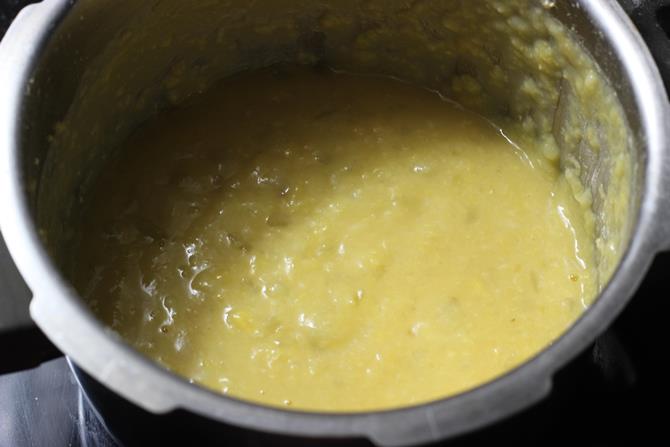 2. Add oil to a hot utensil, add cumin, mustard and methi. When they begin to splutter add red chili, curry leaves, garlic and hing.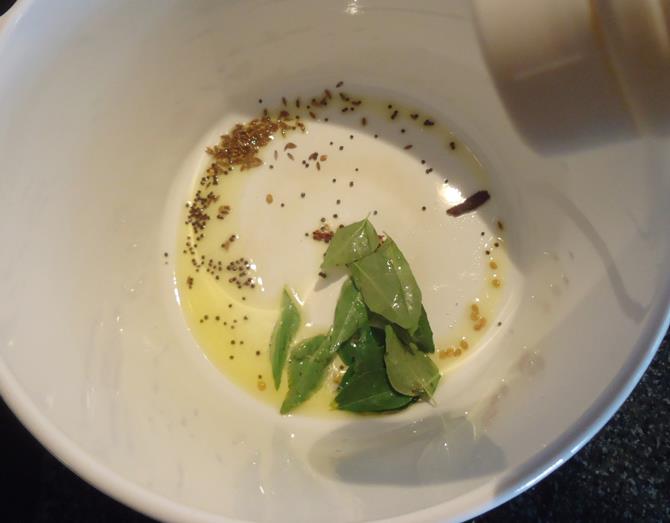 3. When the curry leaves turn crisp, add onions and fry for about 2 to 3 minutes.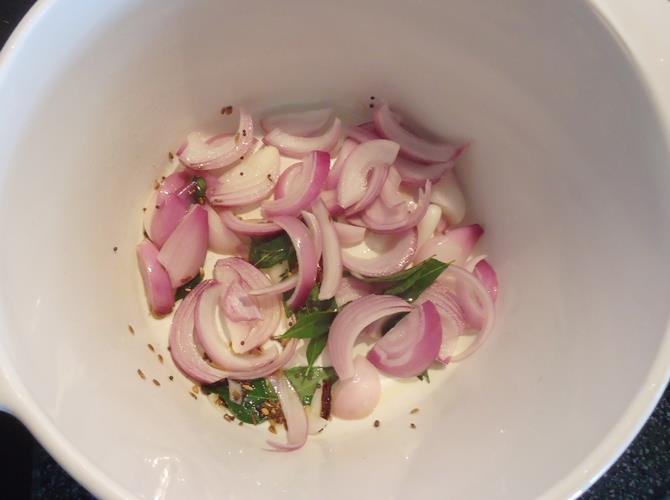 4. Add chopped tomatoes, green chilies, turmeric and salt. Fry till the tomatoes turn mushy.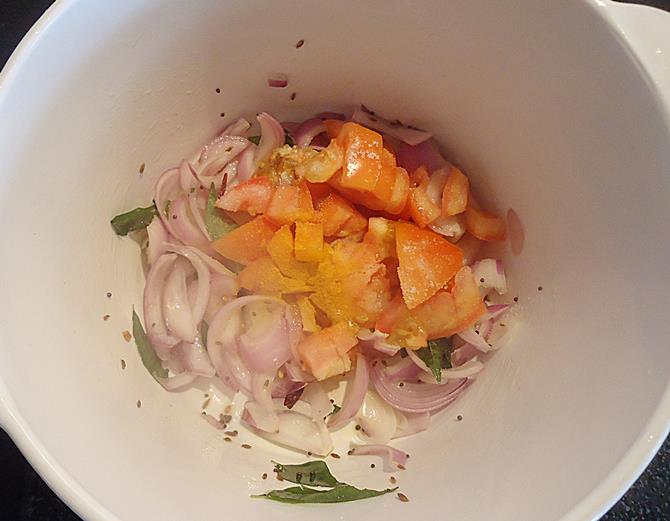 5. Add red chili powder and fry for a minute till the raw smell goes off.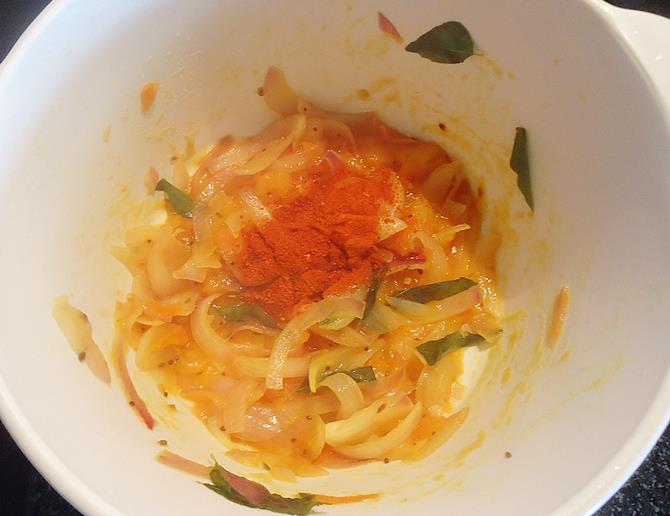 6. Filter the tamarind water and add one more cup of water.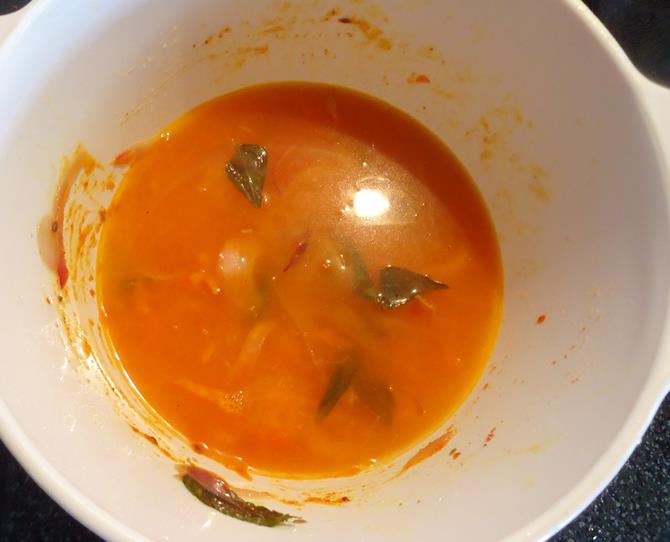 7. When the water comes to a boil, Add mashed smooth dal. I prefer to pass it through a seive to get nice smooth pappu charu. You can skip this if your dal is smooth. Stir well. Check salt, sour and chili. Adjust what ever you like.


8.When the pappu charu comes to a boil, switch off the stove. Add coriander leaves with stalks. keep it covered.