Pineapple fried rice recipe – There are quite a few different ways of making thai pineapple fried rice, the recipe iam sharing is a thai vegetarian pineapple fried rice recipe. It is kids friendly too and makes a good option for the lunch box or for kids' parties. It doesn't need any side since it is loaded with nuts, raisins and is quite heavy and filling. Few versions of thai pineapple fried rice use stock to cook the rice or use curry powder, fish extract, egg etc in the seasoning. This recipe is simple and suitable for vegetarians.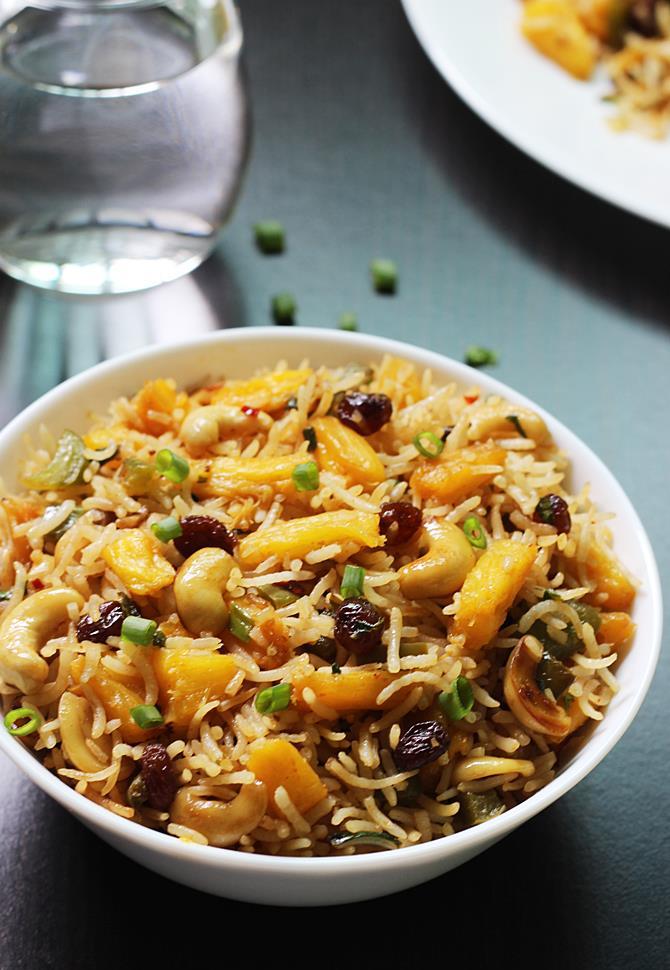 Thai pineapple fried rice is quite popular in Singapore and vegetarian version too is served in the thai restaurants here. A vegetarian one is mostly made without a curry powder, it is just the way we make the veg fried rice but with a generous addition of cashews, raisins, pineapple and some added flavors including MSG.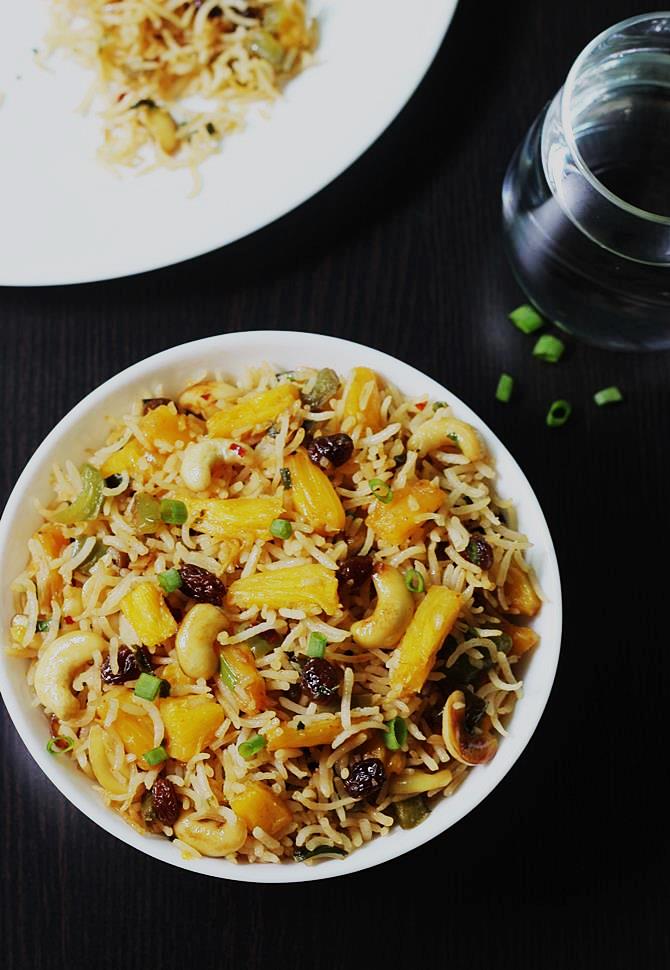 Thai pineapple fried rice recipe below
Pineapple fried rice recipe | Vegetarian thai pineapple fried rice recipe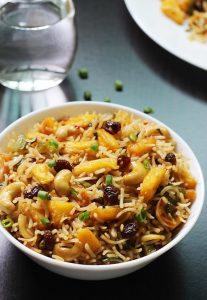 Ingredients (240 ml cup used)
½ cup rice (any non sticky variety)
1 tbsp. butter or oil
½ to ¾ tbsp. chopped garlic
8 to 10 cashews split
raisins as desired
½ cup spring onions and capsicum / bell peppers
1 green chili slit (less spicy variety, avoid if making for kids)
¼ to ½ tsp curry powder (optional) (for kids ¼ tsp works good)
1 to 1½ tsp soya sauce (prefer organic, naturally brewed)(skip for kids)
1 tsp vinegar
salt as needed
1 cup chopped pineapple chunks (use more or less to suit your taste)
1 tbsp. fresh coriander leaves / cilantro (chopped)
little more oil
How to make the recipe
Wash and soak rice for a while and cook in about 2.5 cups water till al dente. Drain the rice and cool completely.
Heat a pan with butter or oil, fry cashews till lightly golden, add raisins and then garlic. Saute until it smells good.
Add chilli, bell peppers, spring onions. Fry until the peppers are lightly cooked but crunchy.
Add soya sauce, vinegar, salt and curry powder if using. Mix well. Add in the pineapple chunks.
Saute the pineapples for about 2 minutes. Add the rice, little oil and then the chopped cilantro.
Toss everything well and fry for 2 to 3 minutes.
Serve hot or warm.
How to make thai pineapple veg fried rice recipe
1. Heat oil in a hot wok/pan. Fry cashews, washed and drained raisins. Usually raisins are loaded with oil based stabilizers as a preservative, so washing is always good if not using organic. I also add garlic and fry till the garlic turns aromatic and cashews turn golden.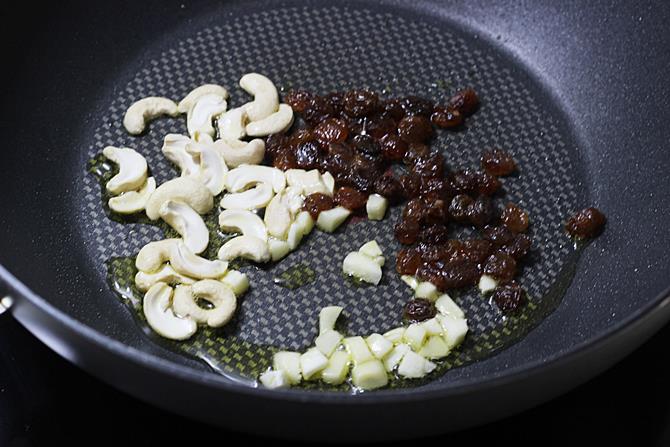 2. Slide the cashews and raisins to a side in the wok/pan. You can set aside if you wish. Add spring onions, bell peppers and green chili. Avoid chili if making for kids.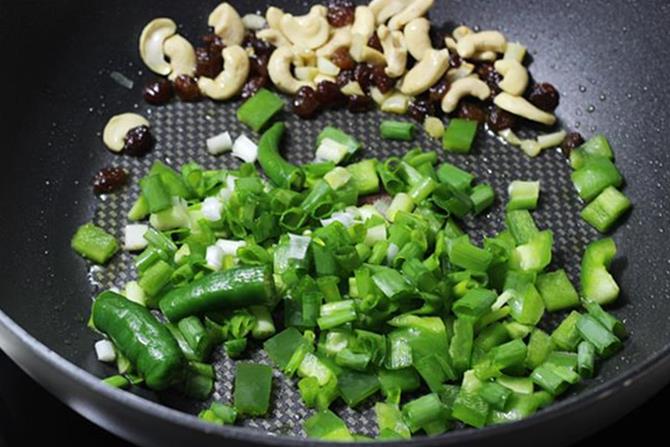 3. When the capsicum is half cooked but crunchy, add soya sauce, vinegar, salt and curry powder if you like. Any basic curry powder having coriander, cumin and red chilies can be used. If making for kids you can skip soya sauce or use very less.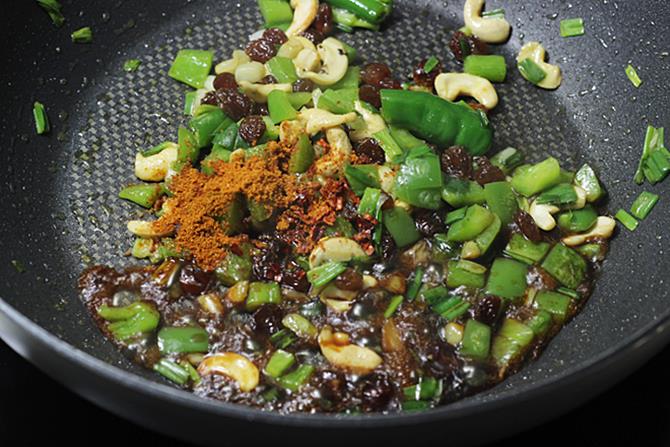 4. Give a quick stir and add pineapples. Saute for a minute or two till you begin to smell pineapple.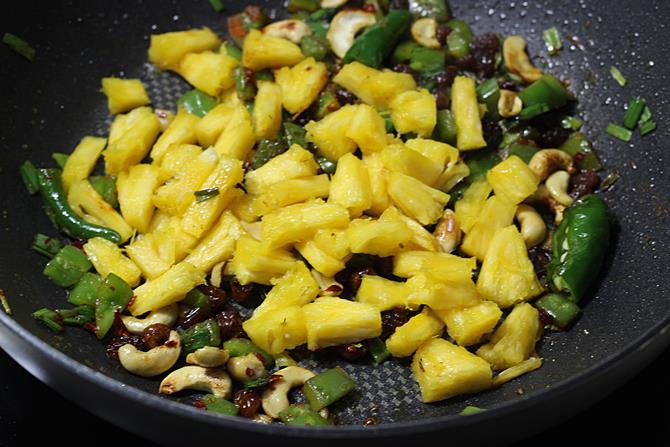 5. Add cooked and cooled long grain rice, little more oil and then finely chopped cilantro.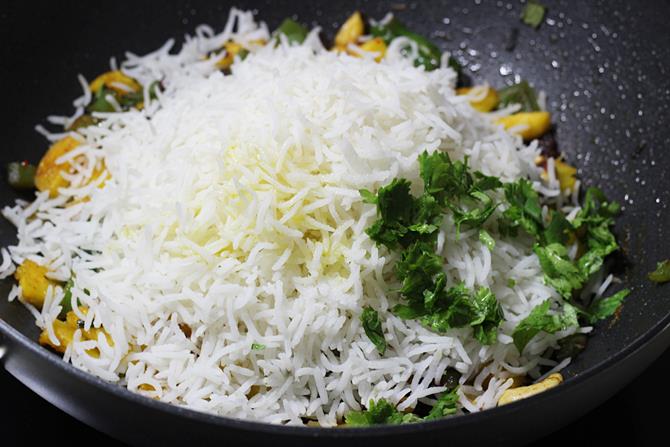 6. Toss everything well and fry for 2 minutes.
Serve pineapple fried rice.