Pizza paratha recipe with video & step by step photos – Kids' favorite Paratha recipe with stuffed pizza sauce & veggies, topped with cheese. Ideal to serve for a meal or evening snack. I have made pizza paratha a few times before and one of the methods shared here has been liked by my kids a lot. Just like the way a pizza is served hot, this paratha too is best served hot. You can also accompany this with some light soup. I mostly make Sweet corn soup or vegetable pasta soup to go with these pizza parathas.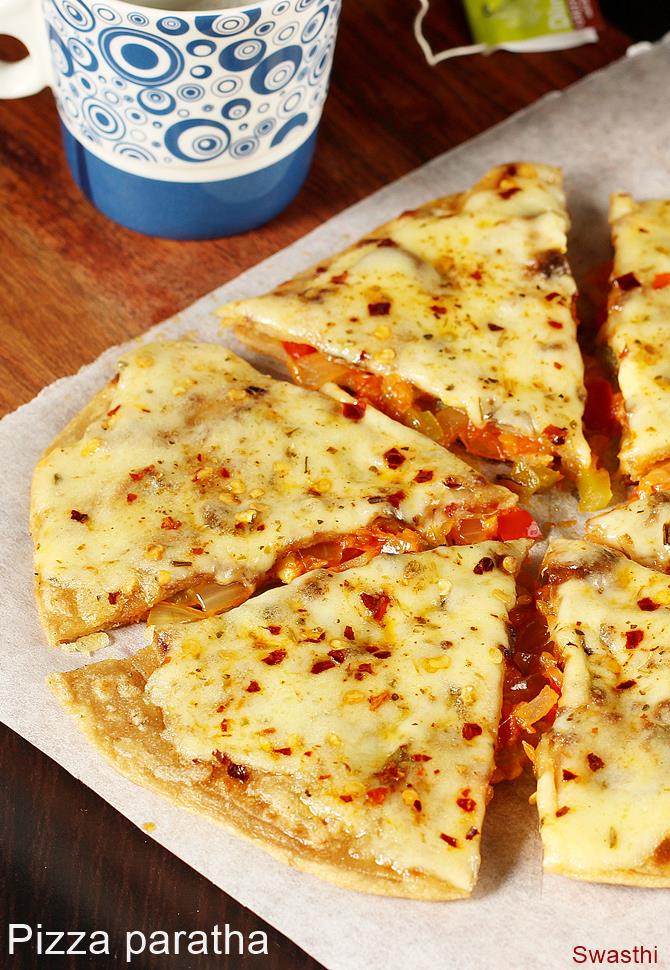 You don't need any chutney or pickle with this paratha if you use a really good pizza sauce. I have used this homemade pizza sauce which is very flavorful and lightly spicy. The taste and flavor of this pizza paratha comes out very very good only by using a good pizza sauce. You can also make the sauce ahead and refrigerate it for about 2 to 3 weeks. However you can also use store bought sauce for convenience.
I have toasted the pizza paratha on the tawa but you can also put it in a preheated oven for 2 to 3 minutes towards the end to brown the cheese slightly. I have used mozarella cheese, you can also use four cheese or pizza cheese, grated, cubed or slices as desired. If using block cheese, do grate it just before using otherwise it may get slightly discolored like mine.
For more pizza varieties, do check
Veg pizza
Atta pizza
Tawa pizza
Bread pizza
Video of pizza paratha recipe
Pizza paratha recipe
Pizza paratha recipe | How to make pizza paratha with whole wheat flour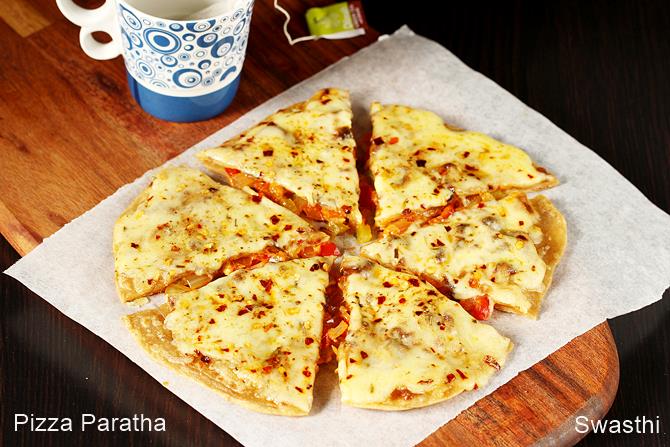 Pizza paratha is a fusion dish - An indian stuffed paratha topped with cheese.
Yield / Serves:
3 pizza parathas
Ingredients (240 ml cup used)
1 ¾ cup wheat flour/ atta
Water as needed
Salt as needed (use very little)
1 to 2 tbsp Oil or as needed
1 ¼ to 1 ½ cup mozzarella cheese grated or use as needed
½ to 1 tbsp of Italian herbs or coriander leaves
¾ to 1 tbsp. red chilli flakes (use as desired)
2 to 3 tbsp of thick pizza sauce
1 medium onion chopped
½ cup capsicums chopped
Sliced Olives (optional)
How to make the recipe
Add atta and salt to a mixing bowl. Pour water little by little and begin to make a dough.
Add ½ tbsp of oil and knead until the dough becomes soft and pliable.
Set this aside till you chop the veggies and get the pizza sauce ready. If you intend to make the sauce at home, do refer to the link mentioned in the intro of this post.
Dust some flour on the rolling board.
Divide the dough to 6 equal parts. Flatten a ball and dust some flour on both the sides.
Method 1
Begin to roll to a round or square shaped roti. Do not make too thick or too thin. Make the rotis and set aside.
Then spread 1 tbsp pizza sauce on the roti. Layer onion, capsicums and olives.
Place another roti over the first one. Seal the edges gently to safe the stuffing.
For this recipe you will get about 3 stuffed parathas. Make them and set aside.
Heat a tawa. When it turns hot, then gently place a paratha on the tawa and cook on both the sides until golden. You will need to toast the edges well to cook them thoroughly.
When the paratha is done. Flip the paratha and immediately spread grated cheese on the hot paratha.
Keep cooking on a low to medium heat until the cheese melts. Sprinkle some italian herbs and red chili flakes.
Cut and serve immediately.
You can also put it in a preheated oven and bake for 2 mins at 220 C to brown the cheese slightly.
Method 2 in the step by step photos
How to make pizza paratha – step by step photos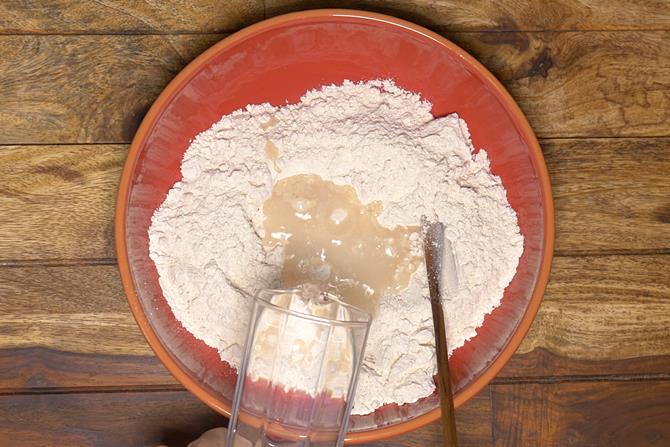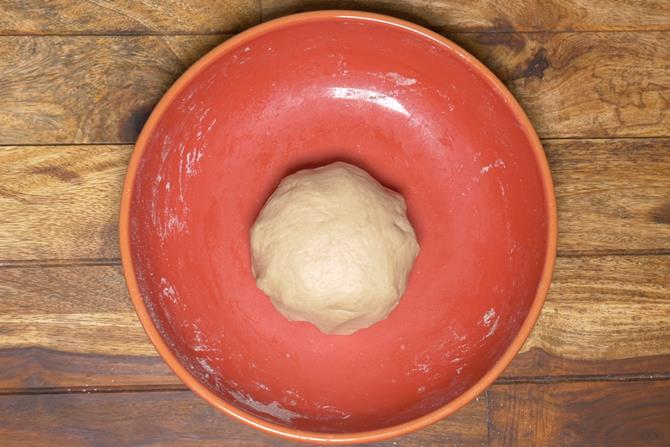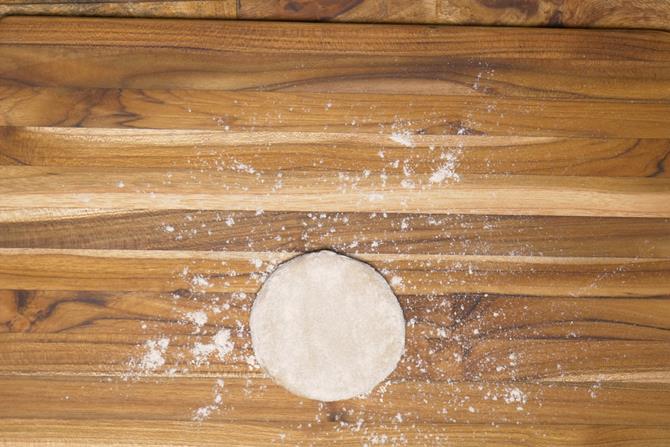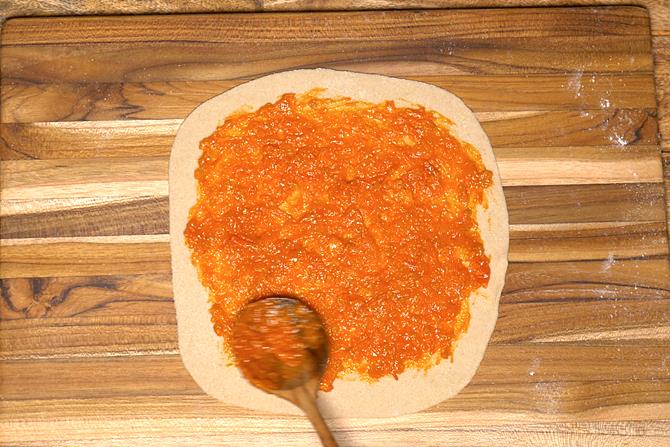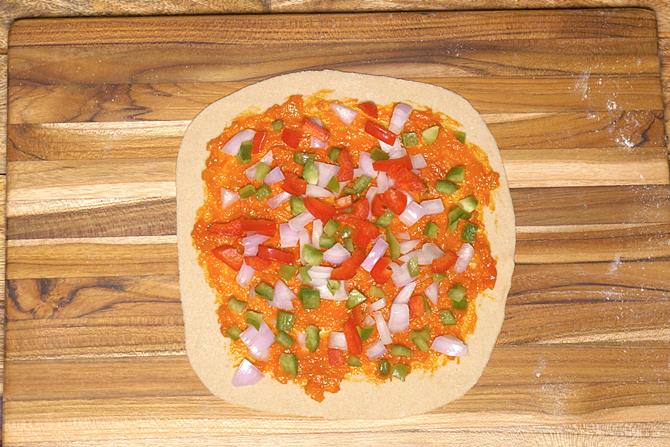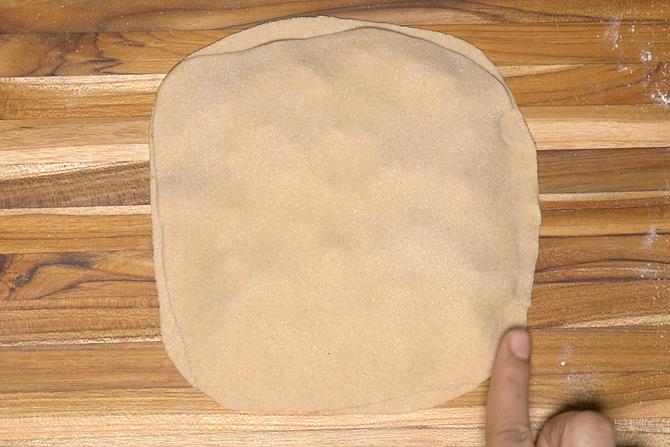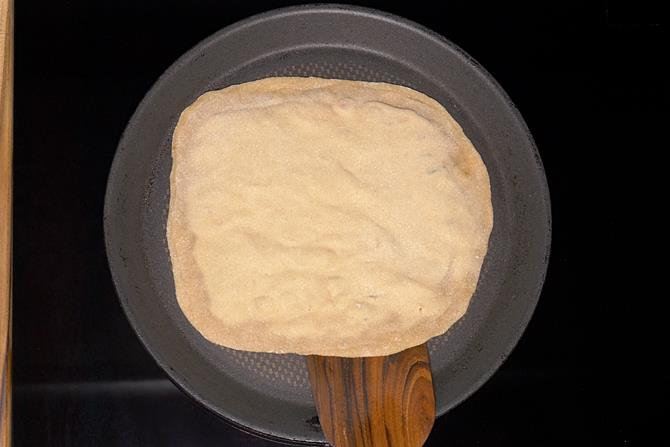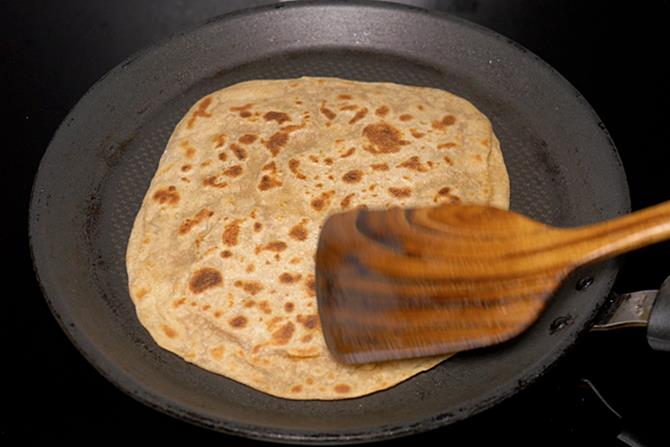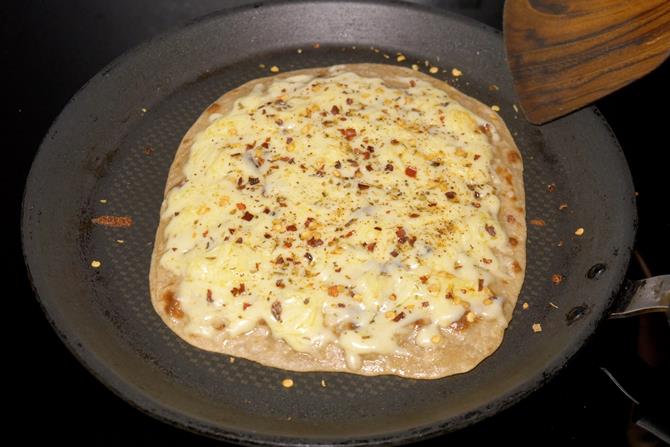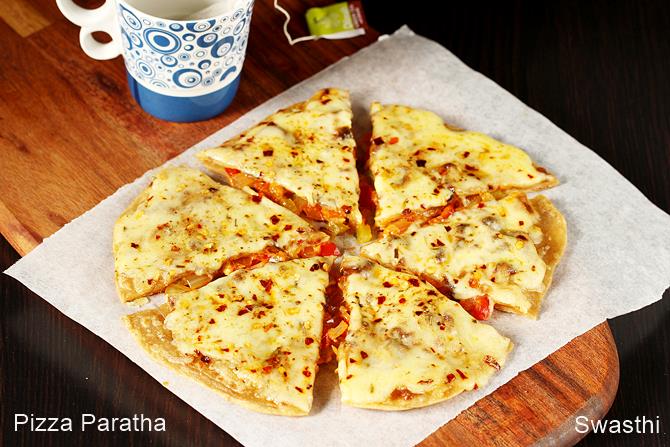 Method – 2